Easy Sheet Pan Beer Bread Recipe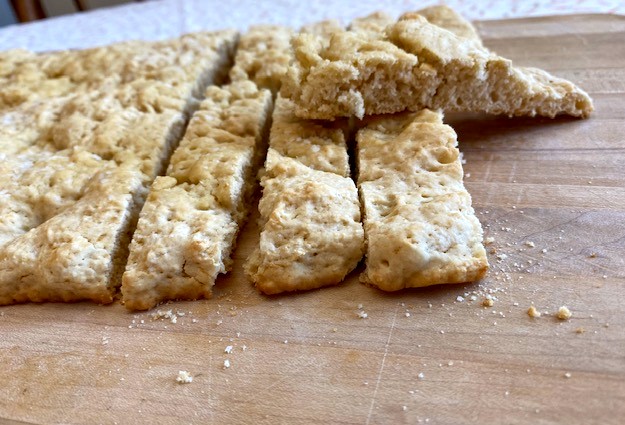 We all know beer bread is amazing, but sheet pan beer bread is flat and crispy, perfect for cutting into tasty dunking fingers for your favorite dips and soups. I admit I stole this idea from my daughter, but it's brilliant.
Beer bread is the easiest bread you can make. It requires very few ingredients, skills, or time. No yeast, kneading, or rise time; you just mix and bake it. Boom! Beer bread happens.
I'm certain this recipe would also be wonderful if you bake it in a loaf pan or free form in a round boule (pronounce it "bool.") If you shape it in that form, you could slice it and make sandwiches. Yummy!
We don't eat much bread anymore, but we make an exception when there is beer bread! Recently, I shared her recipe for beer cheese dip. This flat version of beer bread is the best thing to serve with it! Cut it into chunks, as she did, or into bigger fingers; that way, you can load one up with dip or dunk it in soup.
Zhoosh Up Your Sheet Pan Beer Bread With Two Extra Ingredients
To make this beer bread, combine 3 cups of all-purpose flour with 4 1/2 teaspoons of baking powder, one-fourth cup of brown sugar, one-half teaspoon of sugar, and a twelve-ounce bottle or can of beer of your choice. It works best if the beer is at room temperature.
I added roasted garlic and a bit of rosemary to the basic recipe. For one recipe, I mashed four medium cloves of roasted garlic and stirred them into the batter with about one-half teaspoon of crushed dried rosemary leaves. If you would like, you can add sun-dried tomato or sliced olives. Either one would make tasty dippers!
It is simple to roast garlic in your oven. Cut about one-half inch off the top (skinny) end of a head of garlic to expose the cloves. Drizzle with olive oil and a sprinkle of kosher or sea salt, wrap in foil, and roast at 400 degrees for about thirty-five to 40 minutes. When the garlic is cool enough to handle, it's easy to squeeze the roasted cloves out of the skin.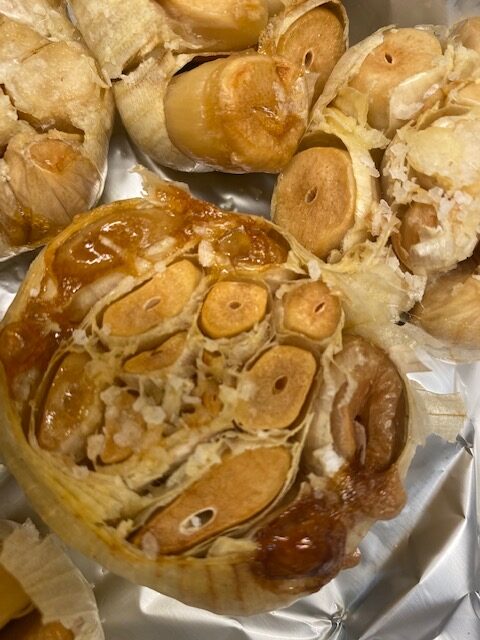 Roasted garlic has a milder flavor than raw garlic. Roasted garlic still tastes like garlic, but it is sweeter because it caramelizes as it roasts. Mash any extra cloves, add them to dips or pasta dishes, spread them on toast, or stir them into sour cream for baked potatoes.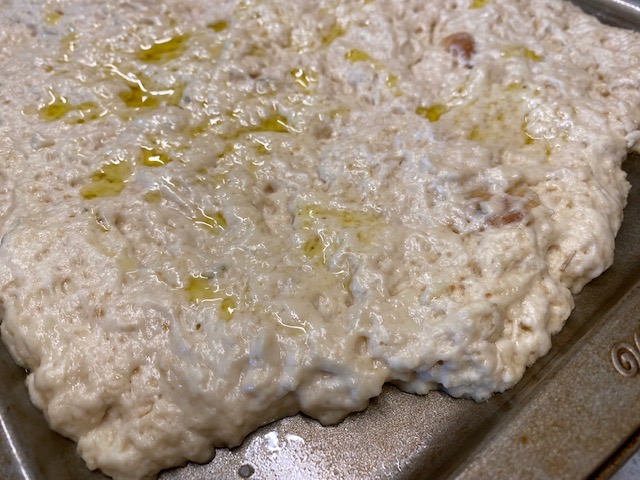 Spray a rimmed sheet pan; I used olive oil spray. Then drizzle the batter with olive oil and a sprinkle of coarse salt. Bake it at 375 degrees for about 25 minutes, or until it is lightly browned and crisp along the edges. Cool and cut into fingers for serving.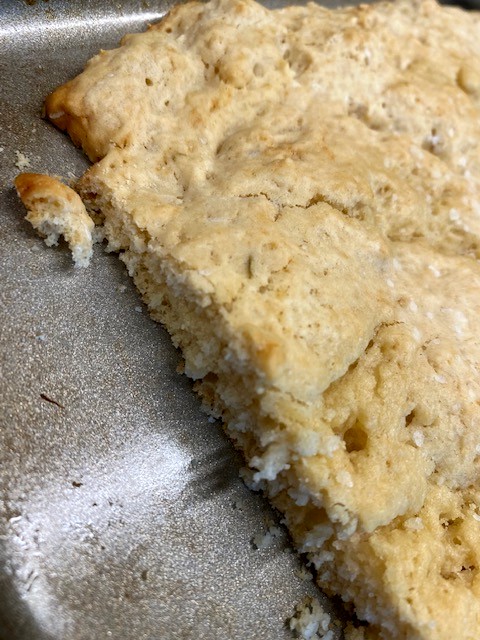 Beer bread you make at home from scratch is extremely inexpensive to make. I hope you'll try this recipe as a loaf and a sheet pan beer bread! Serve with your favorite dip or soup, or just spread with butter and enjoy!
Yield: 12 servings
Easy Sheet Pan Beer Bread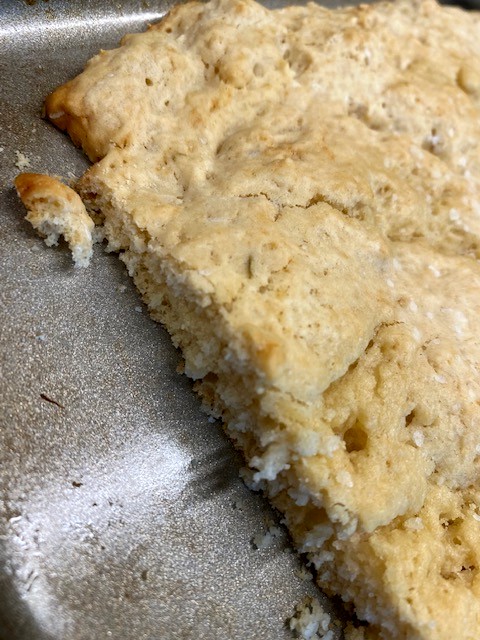 A simple and tasty beer bread you bake in a sheet pan for a flat crispy loaf you can cut into fingers for dipping.
Ingredients
3 cups of all purpose flour
4 1/2 tsp baking powder
1/4 cup brown sugar
1/2 tsp salt
4 cloves of roasted garlic or more to taste, mashed or finely chopped.
1/2 tsp crushed rosemary leaves or more to taste
12 ounces of beer at room temperature
olive oil for drizzling
kosher salt for sprinkling
Instructions
Preheat the oven to 375 degrees.
Spray or grease a sheet pan.
Mix all the dry ingredients in a medium bowl.
Add beer and stir until well combined.
Fold in garlic and rosemary.
Spread batter on the sheet pan. Drizzle with olive oil and sprinkle with kosher salt,
Bake at 375 degrees for about 25 minutes, or until the bread is golden brown and crispy along the edges.
Cut into fingers and serve.
If you are in a hurry or don't want to spend the time making beer bread from scratch, there are many great beer bread mixes you can use to try this sheet pan beer bread idea. Some good ones to try are Southern Living, Tastefully Simple, and Trader Joe's.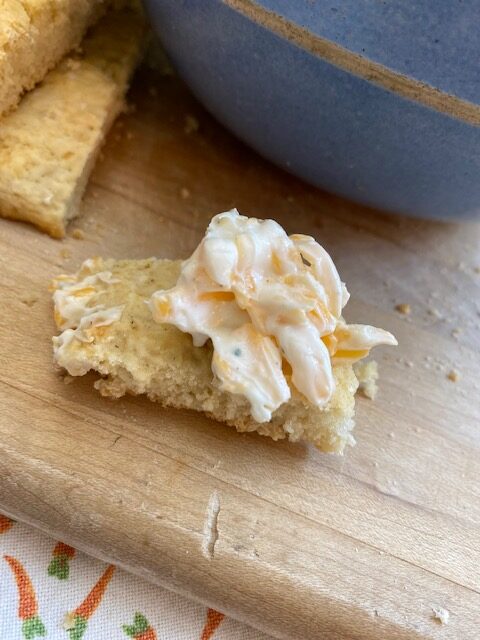 We love to make bread, all kinds of bread! I like baking bread as much as I enjoy eating it. Part of the magic is how amazing the house smells when I have a loaf of bread baking in the oven.
Here are some of our favorite bread recipes! Make Anything Yeast Bread Dough Recipe, The Butteriest Cinnamon Rolls, No Mixing No Kneading No Rustic Loaf, Garlic and Olive Focaccia Bread, Sixty Minute French Loaf.
Do you enjoy making bread, or are you a beginner who would love to try baking bread? Bread making is simple, satisfying, and inexpensive. Why not start with something easy like this sheet pan beer bread recipe? You can even leave out the garlic and rosemary for a simple loaf, and I'll bet everyone at your house would love it!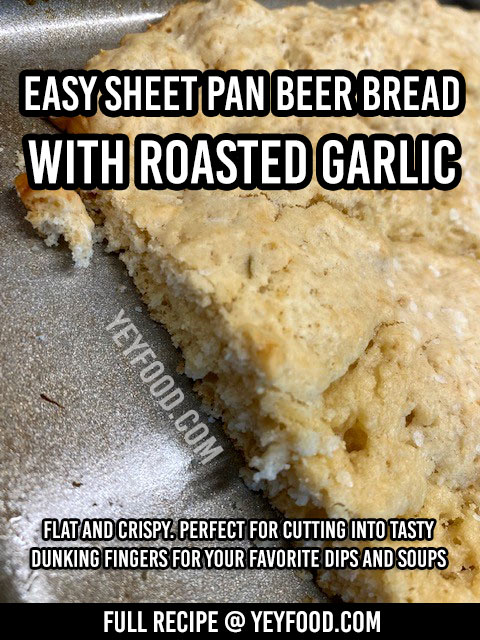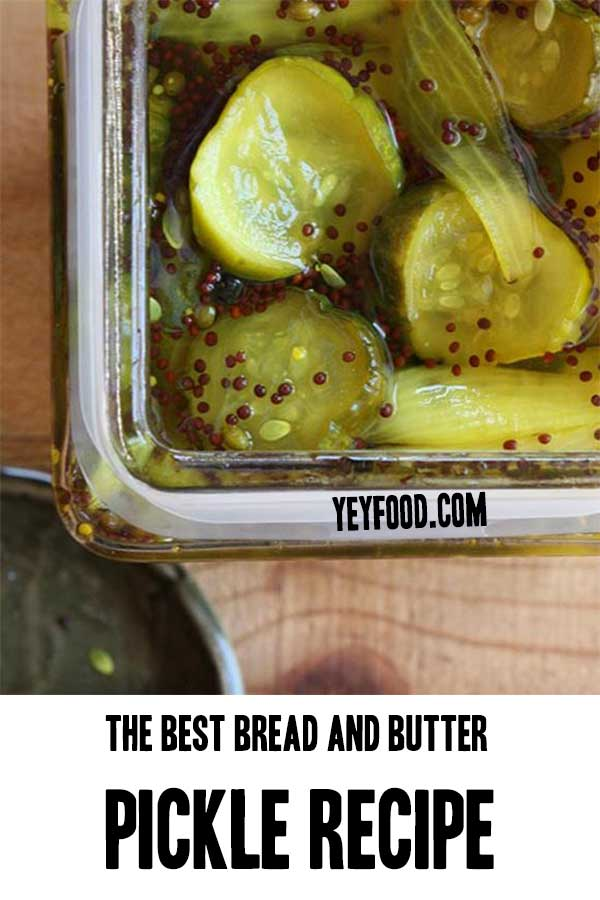 The Number 1 Practically Perfect Poppy Seed Bread
Insanely Crisp and Chewy Peanut Butter Cookies
So, please share this recipe on your social media accounts like Facebook, Instagram, Twitter, and Pinterest. We would be honored and ever so grateful; thank you!