EASY Hasselback Potatoes Recipe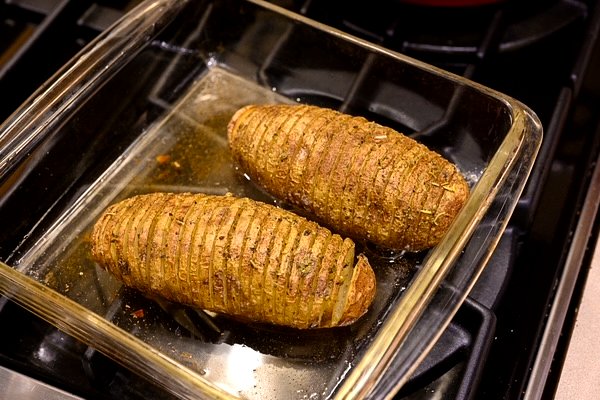 Hasselback potatoes are impressive and look like you spent hours in the kitchen. Surprisingly, you can make them in a snap. It just takes a few simple steps, and then the oven does all the work, turning a humble spud into a culinary masterpiece that's economical too!
Recently my newly-retired brother and sister-in-law decided to experiment with this intriguing dish. Hassleback potatoes are sometimes called "hedgehog potatoes" for their appearance. That evening, they chose to serve them with a small pork loin roast, a delicious combination.
Hasselback potatoes get their name from the restaurant that was first created in Stockholm, Sweden, in the 1940s. These potatoes can be a main dish in itself or a spectacular side dish. The buttery, crunchy outer layers beg to be eaten slowly while savoring every morsel of the soft and creamy center.
Hasselback potatoes are a dish, not a particular variety of potatoes. In fact, any ordinary fist-size oval baking potato will work nicely for a single serving. Russet potatoes between eight and 10 ounces are ideal.
Before we start, check out these beautiful Hasselback pics from the world of Instagram:
Hasselback Potatoes 🥔 w/ Wild Garlic & Cashew nuts Pesto
Absolutely gorgeous
Crispy Potatoes Happen When You Cut A Baking Potato Into Super Thin Slices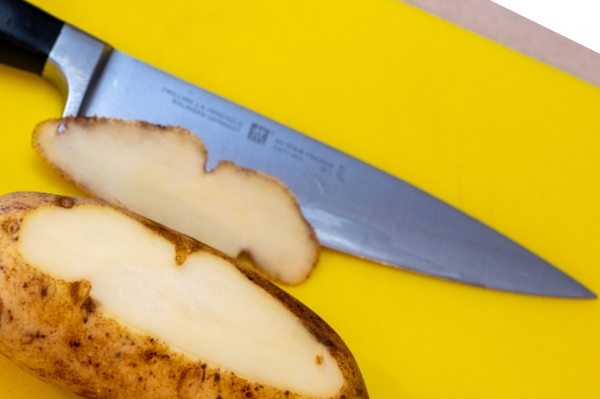 First, slice a thin piece off the long side of a baking potato. This will create a level surface so the potato can lie flat in the baking pan.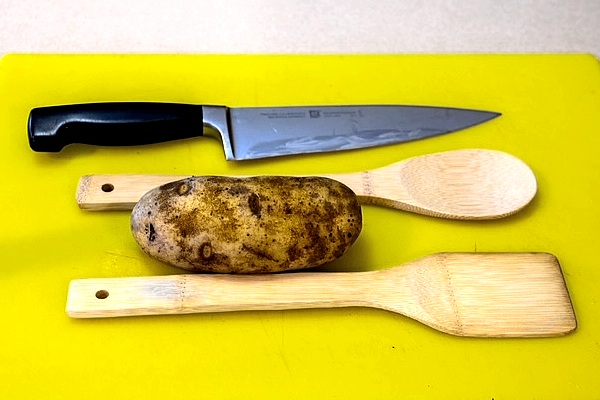 Next, lay the potato with the flat side down between two wooden utensils of the same thickness. These will serve as your guide for getting the depth of your cuts uniform. It will also keep you from cutting through the potato.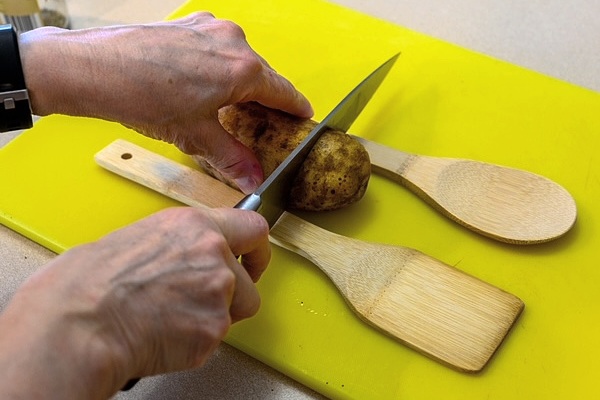 Now, cut the potato into thin, even slices to create that crispy crust! The guides will stop the knife before it goes all the way through the potato! The potato should stay in one piece and will be cut like a fan.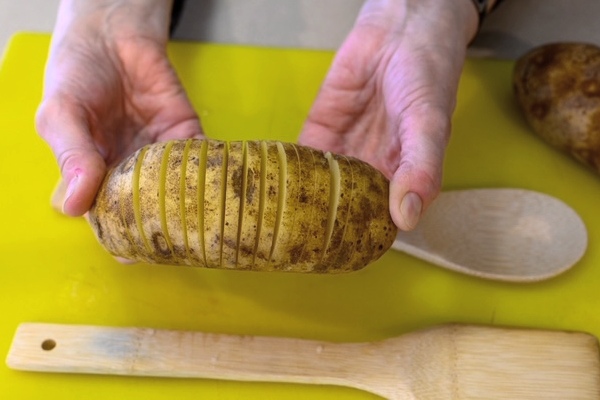 Slather With Butter And Herbs For The Crispiest Hasselbacks Ever
Melt butter with some olive oil and the herbs you choose. You will also want to include some salt and pepper. Salt is essential to bring out the flavor in the potato.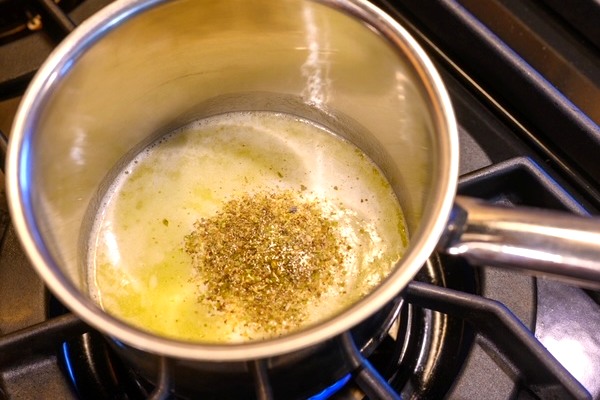 If you choose to leave the skin on the potatoes, make sure you scrub and dry them well. Rub the surface with a bit of olive oil to help crisp the skins while they bake.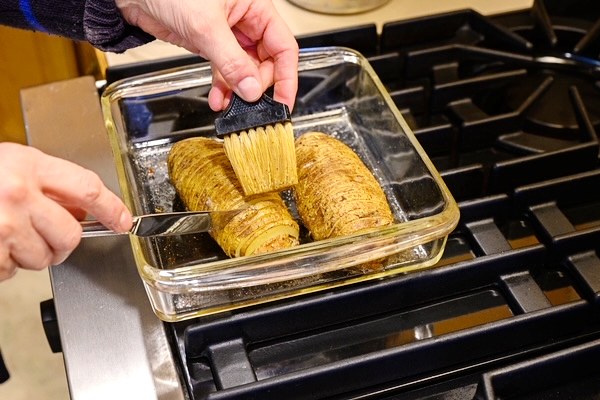 Now, generously lavish on the butter and herb mixture. Make sure you get some butter between each thin slice. Now, all you need to do is to pop them in a hot 425-degree oven. Roast them until the skin is crispy and golden brown. They are done when you can easily pierce the potato with the tip of a knife.
There is no end to the embellishments you can make to these beautiful bakers. Some folks add thin slices of cheese between the layers. Crisp bacon is delicious too. Vary the herbs to suit your main dish.
You could offer a variety of toppings so each person can create the potato of their dreams! Here are some ideas. Shredded or crumbled cheese, diced tomatoes, chopped green or red onion, sliced olives, capers, or crisp bacon bits are all wonderful choices.
Hasselback potatoes are so showy on the plate you can serve them with the simplest roast chicken or pot roast. They will make a spectacular presentation.
Yield: 2 servings
Hasselback Potatoes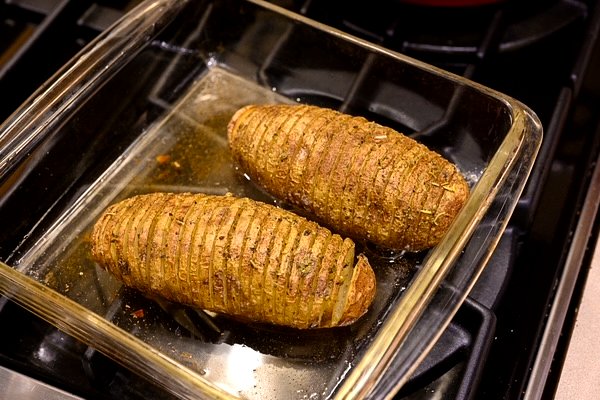 An easy but impressive-looking potato dish. The outer skin is buttery golden brown and crispy, the interior is soft and creamy
Cook Time
1 hour
15 minutes
Total Time
1 hour
25 minutes
Ingredients
2 Russet baking potatoes, scrubbed well and dried. Approximately 8-10 ounces each, about the size of a fist
3-4 Tbsp butter
Coarse salt and fresh ground pepper to taste
2- 3 tsp Garlic and/or herbs of your choice to taste. Rosemary, thyme, basil, marjoram, savory, or fennel are all good with potatoes.
About 2 Tbsp of olive oil
Instructions
Scrub and dry each potato.
Cut a thin slice off the long side of each potato to make a flat surface.
Place one potato between two chopsticks or wooden utensils of the same thickness on a cutting board.
Cut the potato into thin, uniform slices.
Place potatoes in an oven-proof baking dish or cast-iron skillet.
Run a small amount of olive oil over the skin of each potato.
Melt butter and whisk in the remaining olive oil and herbs of your choice
Brush butter mixture generously over each potato. Make sure to get some butter between every slice.
Sprinkle salt and pepper lavishly over each potato.
Bake for about 75 minutes in a hot 425-degree oven.
The potatoes are done when the skin is golden brown and crisp and you can easily pierce the potato with the tip of a knife.
The potatoes will fan out as they bake.
There is virtually no limit to the things you can do with potatoes. They can be a tasty side dish or be the center of the plate. Few foods are as versatile as the humble spud. Here are some other potato recipes you might like to try.
Get fancy… add extras
More recipes from yeyfood.com:
Super Delicious German Dessert Recipes
Amazing Frosted Brownie Cookies