Air-Fried Apple Rings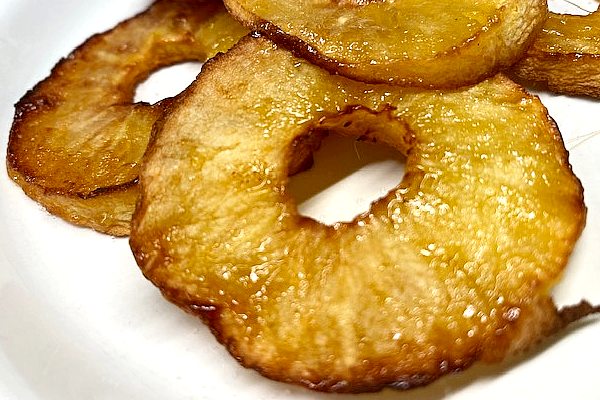 Air-fried apple rings are a nearly effortless way to transform a plain apple into an elegant side that pairs beautifully with pork or ham. These yummy rings would also be awesome on a breakfast menu and would be a perfect accompaniment to bacon, waffles, or French toast!
Truth be told, I was originally intrigued and inspired by a post I saw about air-fried pineapple slices, and I was dying to try them! Alas, I had no sliced pineapple on the shelf, but we ALWAYS have apples in the crisper! Do you remember what they say about an apple a day? Well, that day, I wanted a little bit more than keeping the doctor away, so I gave it a whirl! We've been eating them often ever since that first try!!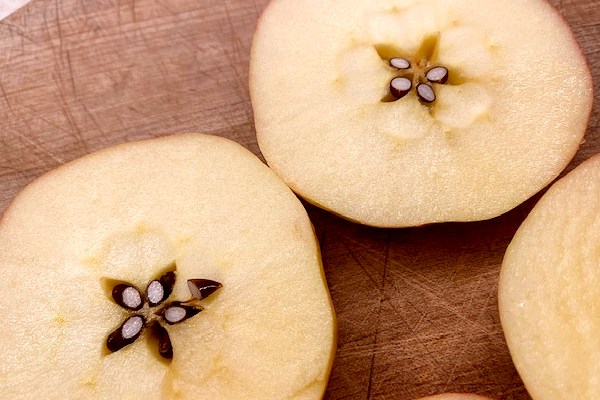 Peel and core an apple, then slice it crosswise into thick rings. An average apple will yield about five slices.
I tried Fuji apples, Envy apples, and Autumn Glory apples, and all of them worked beautifully! Would you like a little spice? Sprinkle on a dash of cinnamon, nutmeg, or ginger to kick them up a notch. I love adding a small amount of flaky sea salt or even flakey smoked sea salt when they come out of the fryer. Either one is delicious!
For one apple, melt about a tablespoon of butter with a tablespoon of syrup and brush a little on each apple slice, then put it in them in the air fryer. I used a temperature of 395 degrees and set the timer for 15 minutes.
About halfway through, I flipped the slices over, brushed some butter mixture on the newly exposed side, and baked them until the timer rang. That is it and they turned out beautifully! How easy is that?
Here's how they looked, untouched, right in the fryer! The white specks are the few grains of flaky sea salt I added for my favorite sweet/salty taste sensation! I am hooked!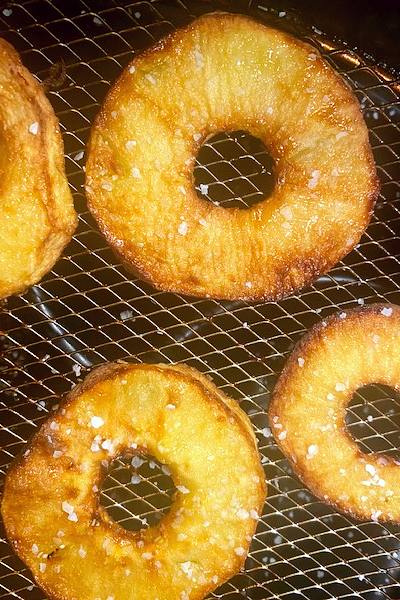 Yield: 1 serving
Air-fried Apple Rings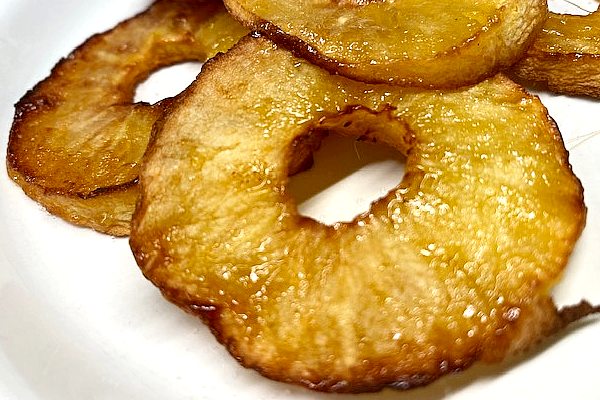 Air-fried apple rings are an easy way to make an ordinary apple into an extraordinary treat!
Ingredients
One apple, peeled, cored, and sliced into thick rings.
1 Tbsp butter
1 Tbsp maple syrup or pancake syrup
Cinnamon, nutmeg, or ginger, optional.
Flakey sea salt for sprinking if desired.
Instructions
Wash, peel, core, and thickly slice one apple into about five rings.
Melt butter and syrup together.
Brush butter mixture on one side of apple slices and add a sprinkle of spice as desired.
Set the air fryer to 395 degrees.
Place apple slices in the air fryer directly on the grate.
Set timer for 15 minutes.
Halfway through the cooking time, open the air fryer, flip the slices, and butter the other side.
Resume cooking until the timer sounds.
Keep warm until serving.
What do you eat with these sweet golden rings? It was all I could do to restrain myself from eating them right out of the fryer, but I served them alongside our yummy dinner of pork chops, and they were spot on as a side!! I can't wait to try air-fried apple rings for Sunday breakfast with bacon and waffles! My mouth is already watering!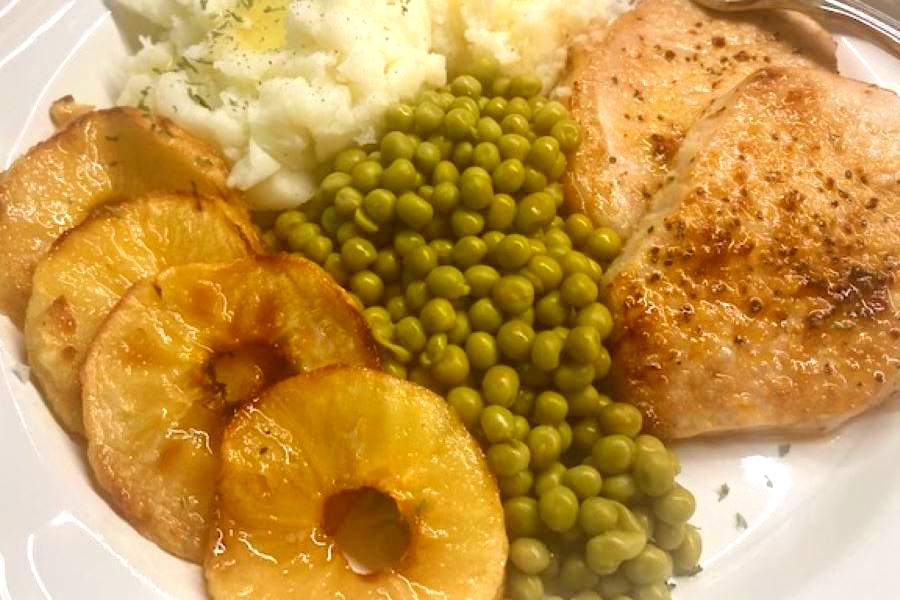 I didn't know I wanted an air fryer, so I was late for the party. I find myself using it several times a week now that I'm discovering more and more ways to use it. Do you have an air fryer yet? What is your favorite thing to make in yours? We'd be giddy to hear from you!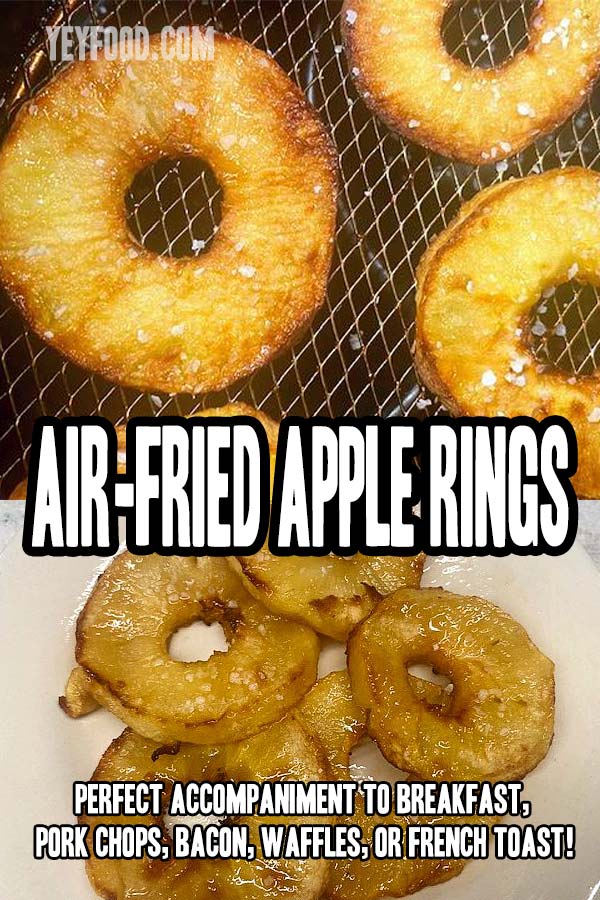 MORE OF OUR QUICK AND EASY FAMILY-STYLE RECIPES: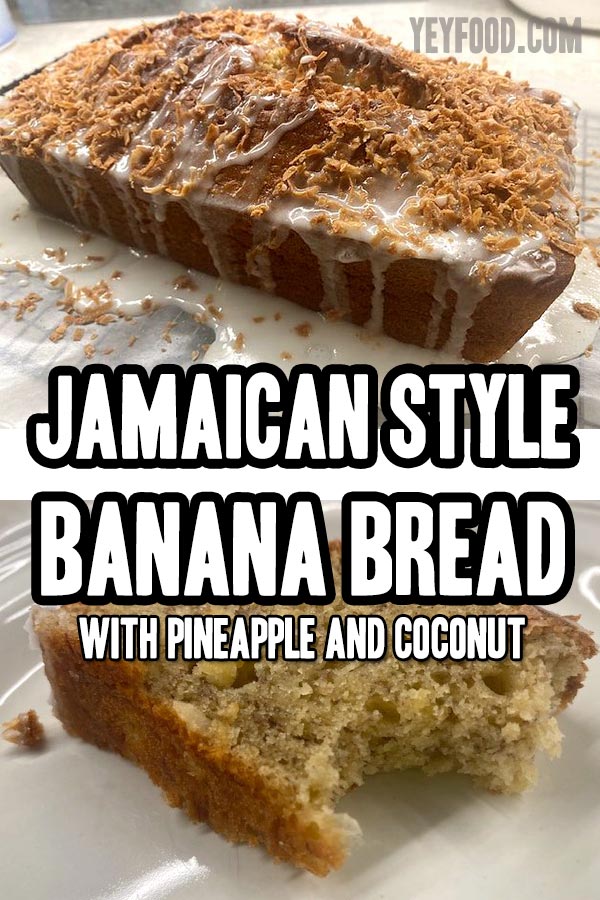 The Ultimate Bread and Butter Pickle Recipe
The Number 1 Practically Perfect Poppy Seed Bread
Oven-Baked Steak With Brown Gravy
If you like these recipes, you are our people! You can check some related articles below or search via categories on the right. But, be warned; you will be on here for hours. Enjoy!