Easy Reuben Casserole Recipe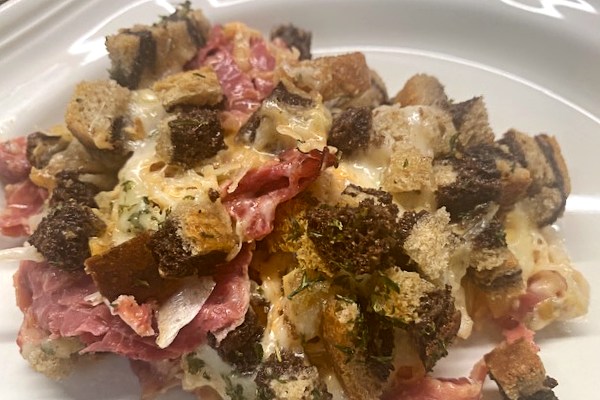 Reuben casserole is a fantastic way to get all the flavors of a Reuben sandwich without the time-consuming process of grilling sandwiches one by one. The savory corned beef, melty Swiss cheese, sauerkraut, tangy Thousand Island dressing, and buttery crisp rye bread cubes sit temptingly atop the whole shebang! It's all there!
The Reuben sandwich, that famous combination of corned beef, sauerkraut, Swiss cheese, rye bread, and Thousand Island dressing, wasn't invented in Ireland, nor by an Irish cook. Rather, according to one of the most prevalent accounts, it was created at the famous Blackstone Hotel in Omaha, Nebraska, by Reuben Kulakofsky, a Jewish-Lithuanian-born grocer.
How did corned beef become synonymous with Irish cuisine anyway? It's a long story! The sandwich seems so Irish because the two main ingredients are corned beef and cabbage, and we've come to think of them as an Emerald Isle thing. If you're really curious, here's a long but fascinating article on the subject from The Smithsonian magazine.
According to Martha Stewart, a typical celebratory meal for the St. Patrick's day holiday in Ireland is more likely to be a leg of lamb served with colcannon, a fish pie made with haddock or cod, shepherd's pie, or beef stew with Guinness. And you can forget the green beer; a good Irishman would never desecrate a fine beer that way.
To sum it up, the Reuben is an American invention, thanks to our country's long history as a melting pot for people from around the world. I love this about our country. As a child of immigrants, it's a trait especially dear to me.
Capture All The Deliciousness Of Six Reuben Sandwiches In Minutes
Honestly, Reuben casserole is so easy to make, you will be delighted! Start by spraying or greasing a 9″ by 13″ baking dish. Put the beef on the bottom of the dish. Cut the corned beef into bite-size pieces for easier serving.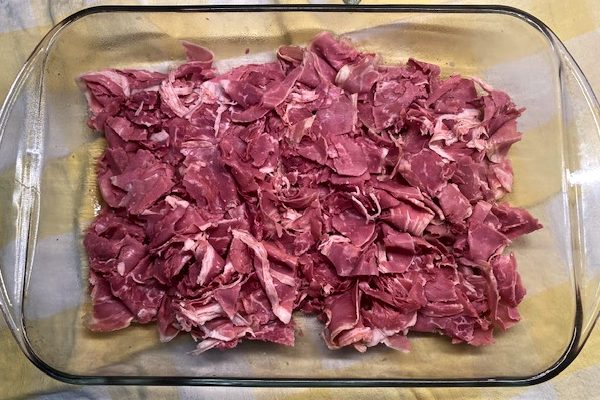 Next, squeeze every bit of liquid out of two cups of sauerkraut. I did this by putting it in a clean dishtowel and wringing the heck out of it. You do not want any juice because it will make a soggy casserole. Spread the sauerkraut evenly over the beef.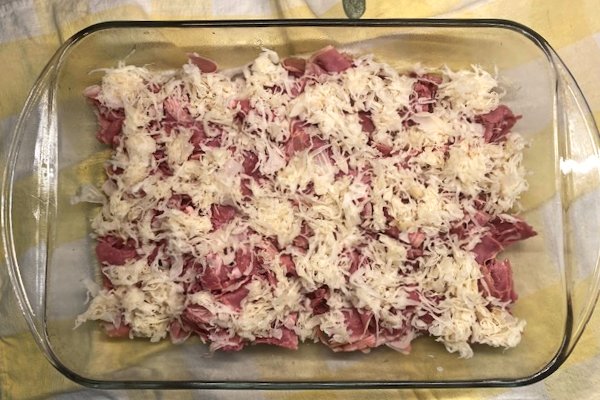 Spread one cup of your favorite Thousand Island Dressing evenly over those two layers.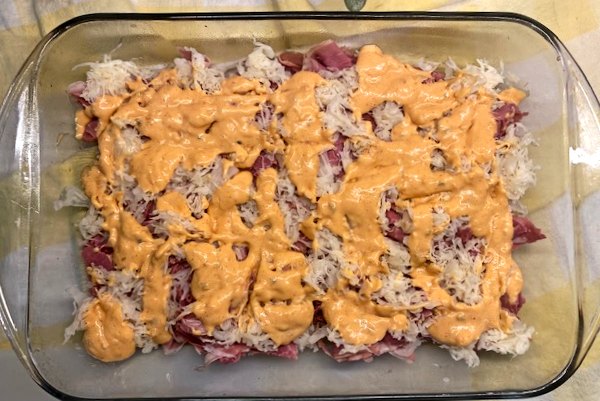 Now grate an eight-ounce block of Swiss cheese. It should make about two cups. Please grate your own cheese! I know it's easier to buy shredded cheese, but when you shred your own, it does not have any of that weird stuff on it that keeps the shreds from sticking together. I want to make America "grate" again. (Sorry, I can never resist a pun!)
Ack!! I forgot to take a picture of this step, but you get the picture! Spread the cheese layer next.
Finally, cube six slices of your favorite rye bread. I love everything about this marbled loaf! The way it looks, the way it tastes, and how beautifully it toasts!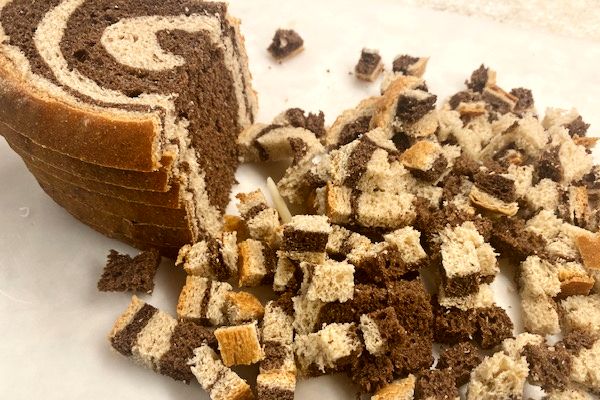 Melt a stick of butter in a measuring cup, so you have a pouring spout. Put the bread cubes into a bowl, sprinkle on some garlic powder, and drizzle the butter over them. Toss so the butter is evenly distributed.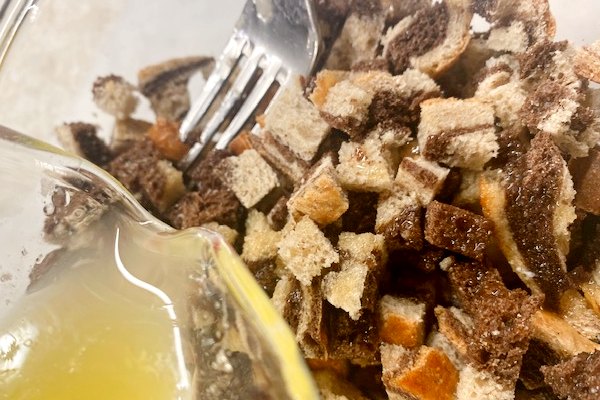 Now pour those buttery bites on top of everything, and garnish it with parsley if you're like me and cannot leave well enough alone.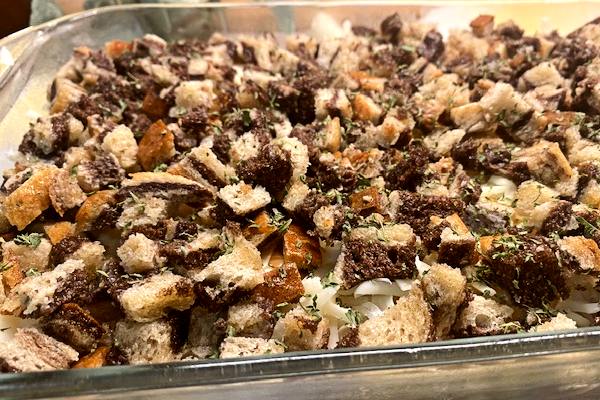 Pop it in a 350-degree oven for about 30 minutes or until the cheese is melty and the rye cubes are toasty. This easy Reuben casserole is absolutely delicious!!
Yield: 6 servings
Easy Reuben Casserole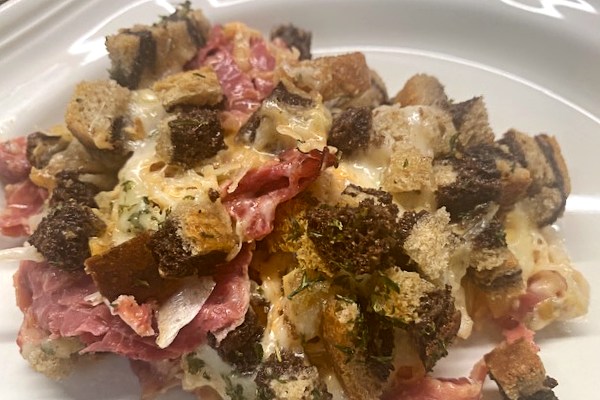 Here's a casserole that tastes exactly like a Reuben sandwich but faster and easier than grilling sandwiches one by one.
Ingredients
1 pound deli corned beef, cut into bite-size pieces
2 cups fresh sauerkraut with every bit of moisture squeezed out. I wrung it out in a clean dishtowel.
1 cup bottled Thosand island Dressing
8-ounce block of Swiss cheese, grated. Makes about 2 cups
Six slices of your favorite rye bread, cubed
1/2 cup butter, melted
1/2 tsp garlic powder
Parsley for ganish (optional)
Instructions
Grease or spray a 13" by 9" baking dish
Place corned beef on the bottom of the pan.
Place sauerkraut evenly over the corned beef.
Spread Thousand Island dressing over beef and kraut.
Spread grated cheese evenly over the top.
Melt butter in a measuring cup with a spout for pouring.
Cube rye bread and place it into a bowl.
Sprinkle bread cubes with garlic powder.
Pour butter evenly over the bread cubes and toss to distribute.
Distribute bread cubes over the top of the whole casserole.
Bake at 350 degrees for about 30 minutes or until cheese is melty and bread is toasty.
What are you doing for St. Patrick's day? Do you go out or make a special meal at home? In case you need some ideas for a wee bit of something sweet after dinner, here are a few ideas for some fun Irish desserts!!
Do you love sauerkraut? Here are two more recipes using sauerkraut! Check them out! Sauerkraut Salad, German Sauerkraut Casserole.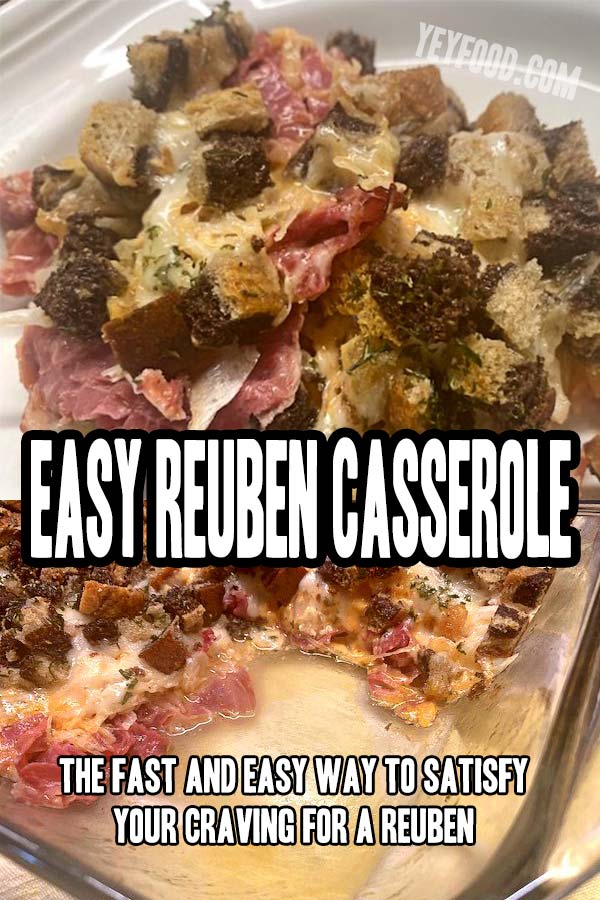 MORE OF OUR QUICK AND EASY FAMILY-STYLE RECIPES:
The Ultimate Bread and Butter Pickle Recipe
The Number 1 Practically Perfect Poppy Seed Bread
Oven-Baked Steak With Brown Gravy
If you like these recipes, you are our people! You can check some related articles below or search via categories on the right. But, be warned; you will be on here for hours. Enjoy!