Scrumptious Sour Cream Raisin Pie Recipe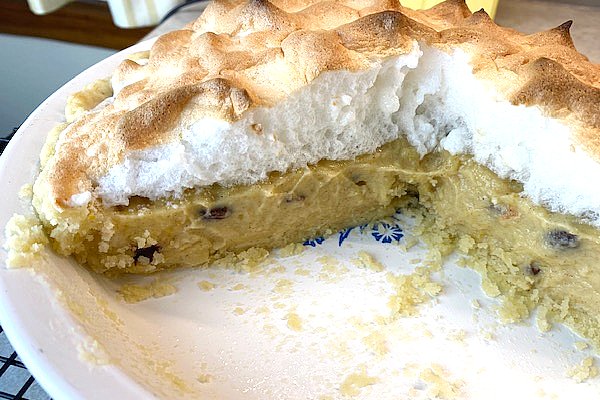 Bake a scrumptious sour cream raisin pie this afternoon. Today, I'm letting you in on the wonderful old-fashioned recipe. Just how old is anyone's guess, but if you mention it to anyone who has had the joy of tasting it, they will probably tell you it's a favorite.
Some folks top it meringue; others prefer whipped cream. Either way, the creamy, yummy, cinnamon-y filling is unforgettable! I'll explain exactly how to make both versions. Read the directions carefully.
My friend Beth loves sour cream raisin pie, so I started baking her one every birthday. Beth doesn't love meringue, so for her, I bake it the way my husband's sweet Aunt Dora made it. She took a shortcut.
Aunt Dora used the whole eggs in the filling and topped the pie with plenty of whipped cream. That is pretty darn tasty for someone like me who has an even bigger fat tooth than a sweet tooth! Bring on the butter, and bring on the cream!
When Fresh Fruit Was Not Available Clever Bakers Created Sour Cream Raisin Funeral Pie
Curiosity got the better of me. Where did this idea for pie come from? This recipe came as part of the package deal when I married my husband. I had very few close relatives in this country because my parents immigrated here before I was born.
On the other hand, my husband came from a huge tribe that included three of the most adorable unmarried aunts and many other great cooks on both sides of the family. Aunt Dora, the one wearing the stripes in the photo, seemed to be the family "Queen of Pies," and she is the one who first shared the recipe with me.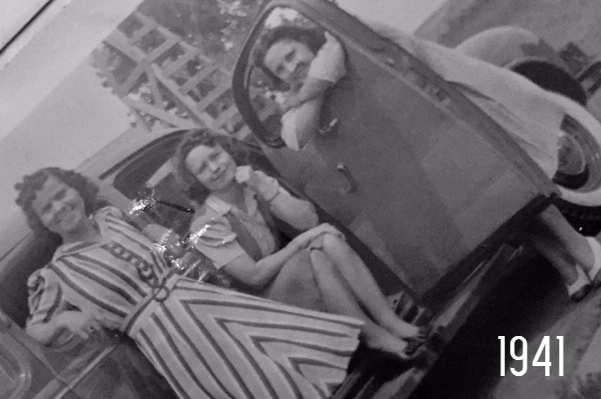 But, I wanted to dig a little deeper. The waters get pretty murky when you try to discover where this recipe originated. It appears to come from Northern European or Scandinavian roots. That makes sense because fresh fruit was not available for much of the year, but raisins were pretty easy to come by.
There are many versions of raisin pie. Some have double crusts, some have an equal amount of nuts and raisins, and some were made similar to mincemeat pies.
One nickname for raisin pie is "funeral pie." This name for the pie was news to me! Apparently, it was a good keeper and could be made ahead of time. It was commonly given as a gift to a bereaved family or served at the funeral dinner.
In this post, I have included a recipe for the crust, the filling, and the meringue, so everything is handy for you, whichever way you choose to serve this fantastic pie!
Easy As Pie Patty Cake Pie Crust Means No Rolling Pin Ever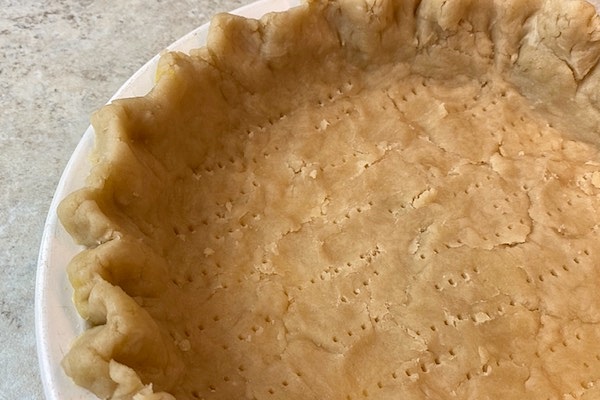 Whichever you choose to make the scrumptious sour cream raisin pie, you'll start with the crust. A "store-bought" crust is certainly acceptable! It needs to be a 9″ pie shell. Here's a fantastic recipe for a crust that does not require cold butter, waxed paper, or stress of any kind. It's so simple I call it Patty Cake Pie Crust.
If you want to top your pie with meringue, then "blind bake" the empty crust. There are loads of tips online about doing this without the crust shrinking. However, my Patty Cake Pie Crust stands up nice and tall in the oven if you prick it all over with a fork before baking.
If you'd rather top your pie with whipped cream, you'll cook the filling and put it into the unbaked crust. Here is the recipe for easy Patty Cake Pie Crust.
Yield: 10 servings
Patty Cake Pie Crust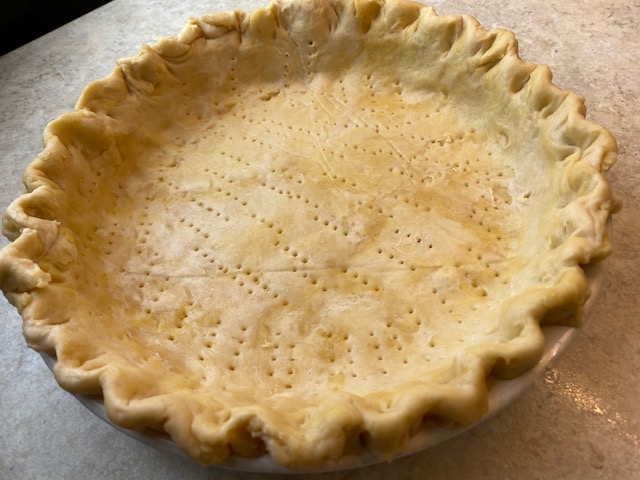 A quick and easy fool-proof pie crust recipe
Ingredients
1 3/4 cup all-purpose flour
1/2 tsp salt
1/2 cup vegetable oil
2 Tbsp water
1 Tbsp powdered sugar
2 drops yellow food coloring optional
Instructions
Combine all ingredients in a bowl and stir with a fork until all the flour is incorporated and the dough forms a ball.
Put the dough in the center of a 9" pie plate and using your hands, pat the dough gently into place.
You can flute the edges with your fingers.
If baking the crust without a filling, prick holes all over the bottom of the crust with a fork before baking.
Bake at 375 degrees until golden brown, about 12-15 minutes. Cool before filling.
How To Make Perfectly Marvelous Mile High Meringue
If you decide to opt for meringue, I have found it's easier to make it before you cook the filling, so it's ready to put on top of the hot filling right away. The meringue will wait patiently for you while you cook the filling.
Separate the eggs carefully and set the yolks aside for now. One more side note: Before you begin cooking the filling, pour enough boiling water over the raisins so they have time to plump up a little. I like to do this right in a glass measuring cup and let them sit while making the meringue.
Here are some things that will make your meringue taller and prettier.
Use large or extra-large eggs. More egg white, more volume.
Separate carefully. Any egg yolk left in the white will affect the height.
Egg whites at room temperature will allow more air to be incorporated.
Stabilize the egg whites with cream of tartar.
Use a scrupulously clean glass or metal bowl. Never use a plastic bowl.
Add the cream of tartar and vanilla to the egg whites. With a whip attachment, beat until soft peaks form.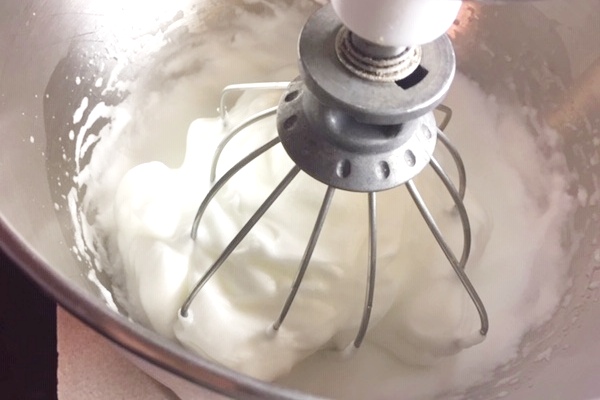 Then, add the sugar a tablespoon at a time. Don't rush this. The sugar needs to dissolve completely.
Feel the meringue between your fingers or on your tongue as you go. The meringue should feel smooth, not gritty. The sugar should become nearly unnoticeable.
Stop every couple of tablespoons and scrape down the sides of the bowl to make sure the sugar is all dissolved. I allowed about a minute for each tablespoon of sugar and used the time between spoonsful to tidy up the kitchen a little.
Stop when the sugar is all dissolved, and the meringue holds a peak when you lift the whip. Set the meringue aside while you make the filling.
Yield: Enough meringue for a 9" pie.
Mile High Meringue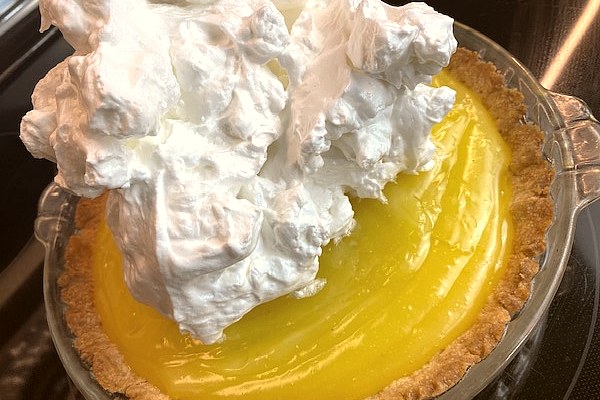 Beautiful meringue topping that doesn't weep or shrink when the instructions are followed!
Ingredients
3 egg whites at room temperature
1/4 tsp cream of tartar
1/2 tsp vanilla
6 Tbsp sugar
Instructions
Use a scrupulously clean steel or glass bowl. Do not use a plastic bowl.
Begin beating the egg whites with a whip attachment, then add the cream of tartar and the vanilla.
Continue beating until soft peaks begin to form.
Add the sugar one tablespoon at a time, beating about a minute with each spoonful.
Stop and scrape down the sides of the bowl a few times to make sure there is no sugar clinging to the sides of the bowl.
Taste the meringue or rub it between your fingers. Do not under beat. It should feel smooth, not gritty.
Put meringue on top of the filling and smooth it evenly over the surface using the back of a spoon.
Leave the meringue in the center of the pie taller and leave lots of peaks.
Make sure the meringue touches and sticks to the crust's edges, so it does not shrink.
Bake 8-12 minutes in a 425-degree oven until the meringue is a delicate brown and the peaks are slightly darker.
Remove the pie from the oven and set it in a draft-free spot to cool.
Let the pie cool completely before cutting. This could take up to 2 hours.
Cover and refrigerate leftover pie.

How To Cook Up A Delicious Raisin-Studded Filling For Your Scrumptious Sour Cream Raisin Pie
First, combine the sugar, cornstarch, salt, and cinnamon or nutmeg in a heavy saucepan. Add the egg yolks and sour cream. Cook over medium heat, constantly stirring, until the mixture thickens to a pudding-like consistency.
Drain the raisins well and add them to the filling. Stir until they are distributed evenly.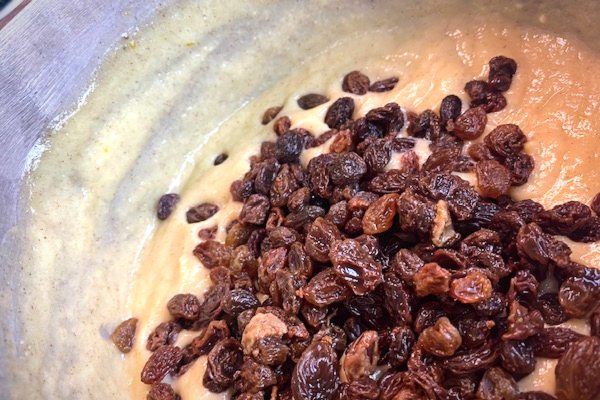 Pour the filling into the baked pie shell.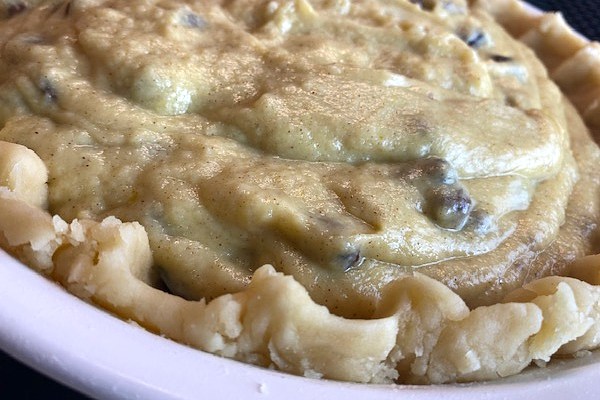 Pile the meringue onto the pie filling. I like to use the back of a spoon to spread it around. Leave it higher in the middle and make lots of peaks.
Carefully bring the meringue to the crust's edges all around the pie. Make sure it sticks to the crust. This critical step keeps the meringue from shrinking as it bakes.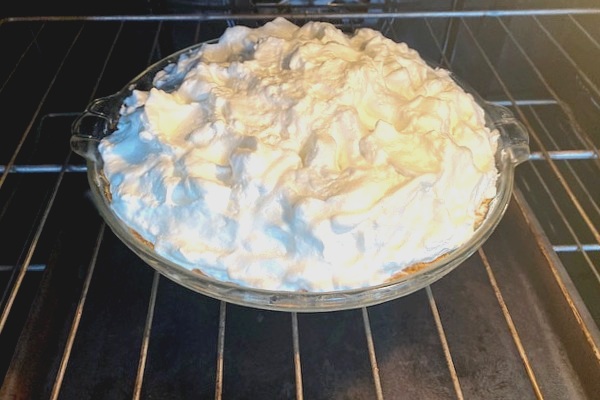 Bake it in a 425-degree oven for 10 to 12 minutes or until the meringue turns a beautiful golden tan and the tips are a slightly darker shade of brown.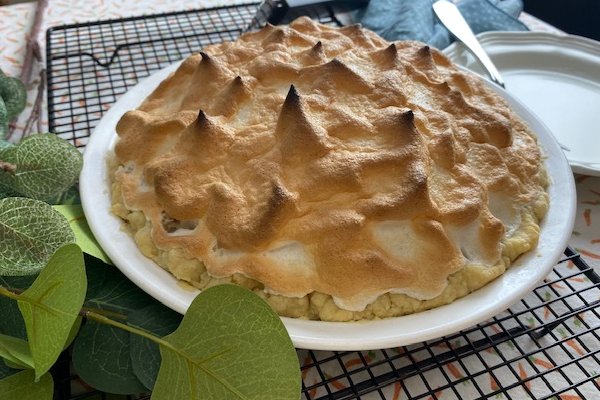 Yield: One 9" pie, 8 servings
Sour Cream Raisin Pie And Two Ways To Serve It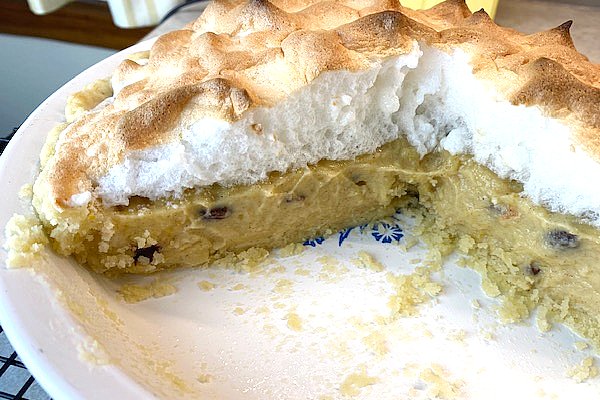 Here is a recipe for an old-fashioned pie with indescribable flavor. It appears to have Russian-German roots. This pie was popular in the Dakotas and Minnesota when fresh fruit wasn't always available. You will discover why it is such a favorite of those who've been lucky enough to taste it!
READ THE INSTRUCTIONS CAREFULLY. YOU CAN MAKE THIS PIE WITH OR WITHOUT MERINGUE.
Additional Time
40 minutes
Total Time
1 hour
5 minutes
Ingredients
9" pie shell
1 Tbsp plus 1 1/2 tsp cornstarch
1 cup plus 2 Tbsp sugar
1 tsp cinnamon (or 3/4 tsp nutmeg, you decide)
1/4 tsp salt
1 1/2 cups dairy sour cream
1 1/2 cup raisins
1 Tbsp lemon juice
3 eggs
Instructions
WHEN TOPPING WITH MERINGUE:
Pour boiling water over the raisins and let them plump up while you make the filling. You can do this right in a heat-proof glass measuring cup. Drain them well before adding them to the sour cream mixture.
Combine the dry ingredients in a heavy saucepan and mix them well. Add the sour cream, lemon juice, and egg yolks. Cook over medium heat, constantly stirring until the mixture thickens.
Fold in the well-drained raisins, and pour into a baked 9" pie shell.
Top with meringue and bake in a 425-degree oven for about 10 minutes or until golden brown with brown-tipped peaks.
Meringue recipe follows.
IF YOU DON'T WANT MERINGUE:
Do everything the same as above except:
Use an unbaked 9" pie shell.
Use the whole egg in the filling. Don't separate the eggs.
Bake for 10 minutes at 425 degrees, lower the oven temperature to 350 degrees and bake for about 30 minutes or until the surface is golden brown.
Chill and serve with lots of whipped cream!
Not A Meringue Fan How About A Mountain Of Whipped Cream Instead
Not a fan of meringue? Think it's too much work? Aunt Dora was a cutie pie, but she was a smart cookie, too. She saved time and energy by making the same filling, but she used the whole eggs and didn't bake the pie crust first. By eliminating two steps, she made this pie just as tasty but a lot faster.
Cook the filling and put it in the unbaked crust. I sprinkled a little cinnamon sugar on mine just for good measure! Bake it at 425 degrees for about 10 minutes, turn the oven down to 350-degree and bake it for about 30 minutes. The surface of the pie will be a lovely golden brown.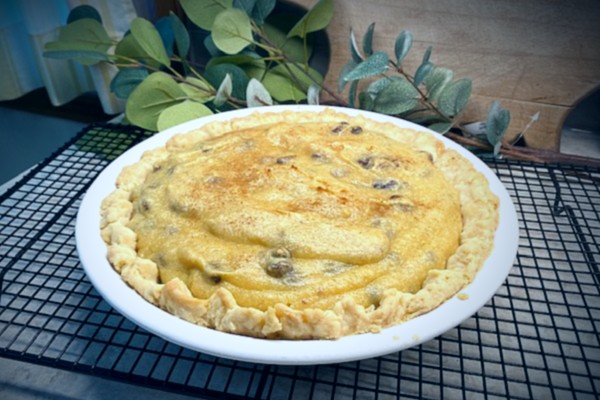 Let it cool and slather on the whipped cream or your favorite whipped topping.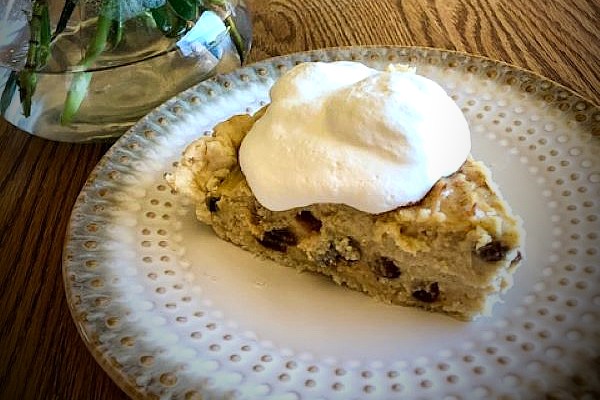 Now you have the recipe for scrumptious sour cream raisin pie! I hope you try it, and I bet if you do, it just might turn out to be your favorite, too! Do you have a favorite pie? Is it a secret, or would you share your special recipe?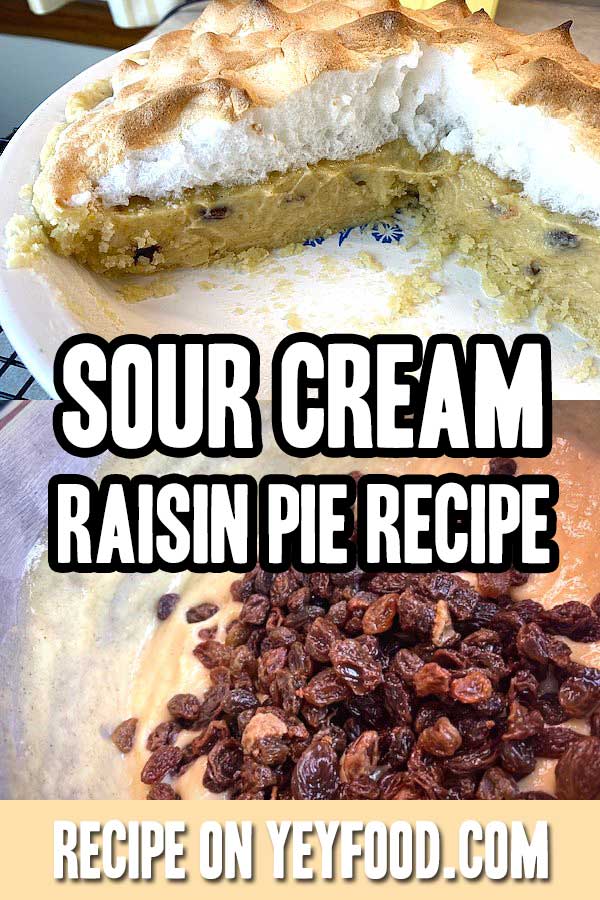 MORE OF OUR QUICK AND EASY FAMILY-STYLE RECIPES: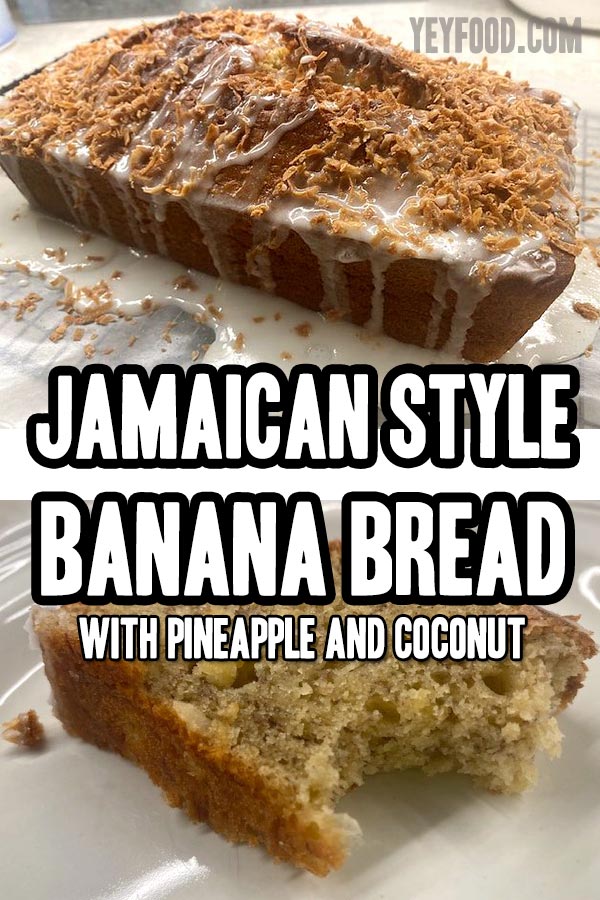 The Ultimate Bread and Butter Pickle Recipe
The Number 1 Practically Perfect Poppy Seed Bread
Oven-Baked Steak With Brown Gravy
If you like these recipes, you are our people! You can check some related articles below or search via categories on the right. But, be warned; you will be on here for hours. Enjoy!