Is Snickers Apple Salad Actually A Dessert Recipe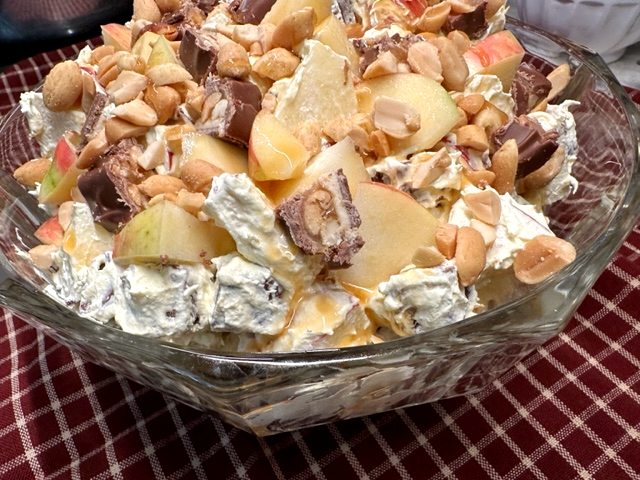 If you're lucky enough to be invited to Thanksgiving dinner or a community potluck anywhere in the Midwest, you will probably find Snickers salad on the table. It's definitely a crowd-pleaser. But is it a salad, or is it a dessert?
That, my friend, depends on two things. One, the eye of the beholder, and two, where the hostess placed it on the groaning food tables. Is it with the hot dishes, or is it with the desserts? It's entirely up to you!
We love our sweet salads in the Midwest, like Frog Eye Salad, Watergate Salad, Glorified Rice, or orange fluff salad. Kids love them! But if a "salad" that has Whipped topping as a key ingredient offends you, move it down to the dessert table if that makes you happy.
Wherever you decide this dish should reside on the buffet is completely up to you, but if you take Snickers salad to a potluck, you'll come home with an empty bowl!
How Do You Want To Make Your Very Own Snickers Salad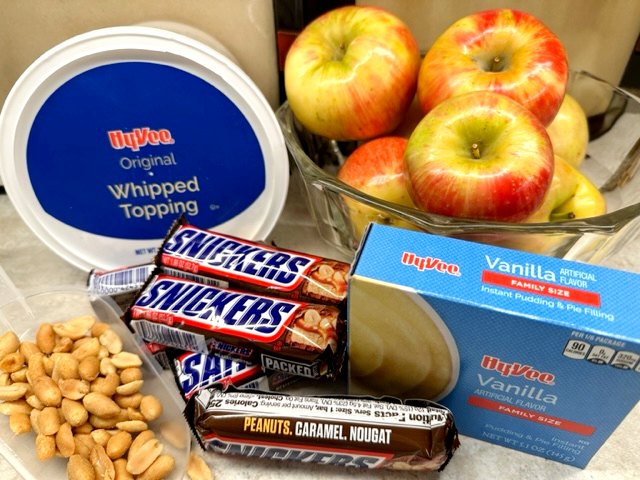 It's hard to track down the origin of the original Snickers salad recipe, but it's highly likely it was born in the kitchen of a Midwestern woman, quite possibly for a potluck at the Lutheran church. (I can say that because I was raised Lutheran in Iowa.) 😉
I got a kick out of this article on the subject of Snickers salad; hopefully, it will make you chuckle, too. This ubiquitous salad actually made Wikipedia, and here's what it has to say about it:
"The recipe for Snickers salad was included in a 2009 article "Salads worthy of a church picnic" in The Indianapolis Star. The author noted that "Despite what all my community and church cookbooks would say, I don't think anything with marshmallows can really be called a salad."
Traditionally, Snickers salad starts with instant vanilla pudding mixed with a very small amount of milk. Then, that mixture is folded into a tub of whipped topping or real whipped cream. Unpeeled Granny Smith apples are chopped and folded into the creamy mixture, along with five or six full-size Snicker bars cut into small pieces.
I'll give you what I think is the original recipe here, but you can decide how you want to make it yourself. Over time, we deleted the milk and folded the dry pudding mix into the whipped topping. Then, the chopped apples and Snickers bars are folded into the creamy mixture.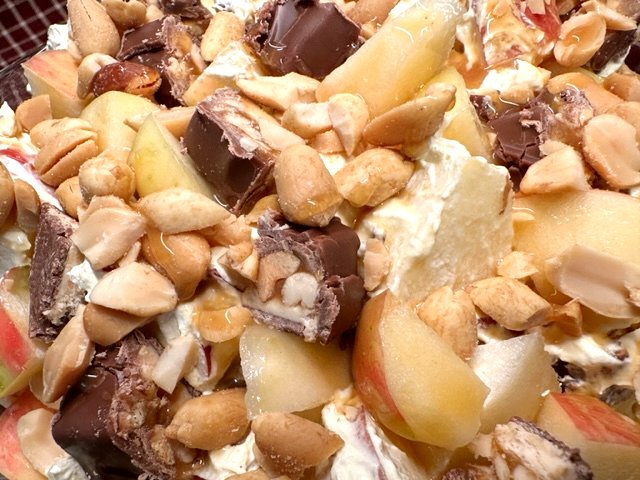 One of our daughters skips the pudding entirely and uses a can of crushed pineapple in hers. The other daughter adds red grapes, and that's how her kids like it! Some people use cheesecake jello; some people add mini marshmallows. Feel free to "do your own thing" when you make Snickers salad!
You do not HAVE to use Granny Smith apples, but it really is a beautiful combination of colors. You can use any firm, crisp apples you have on hand. This time I used Honeycrisp, but Ambrosia, Jazz, Braeburn, or Cosmic Crisp all make excellent Snickers salad.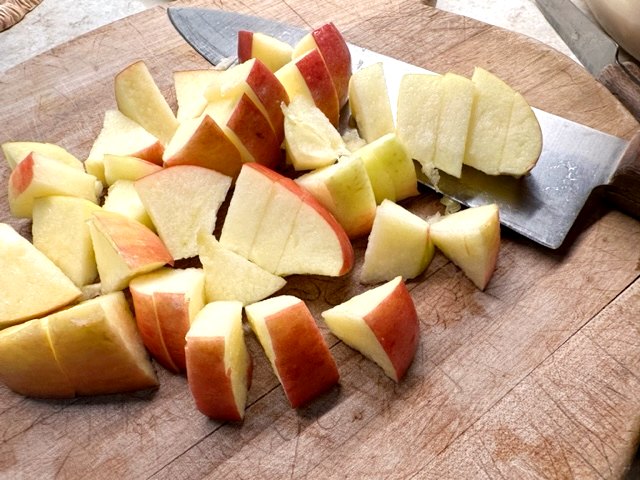 When I made it this time, I saved back one Snicker bar for garnish and added a drizzle of caramel topping and a handful of chopped peanuts. I know what you're thinking, "now it's REALLY more of a dessert!"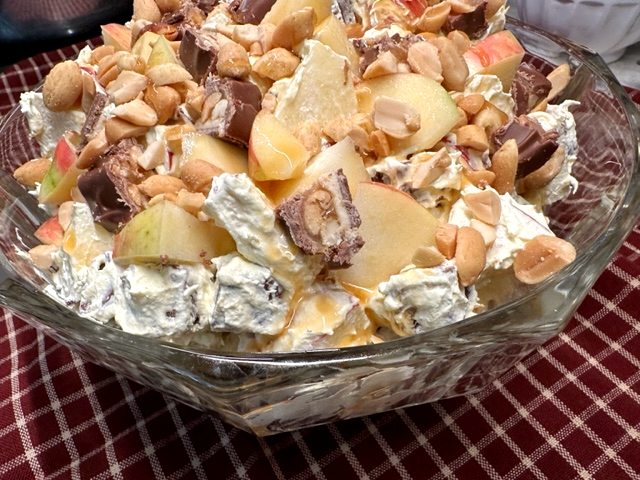 Yield: 12 servings
Snickers Salad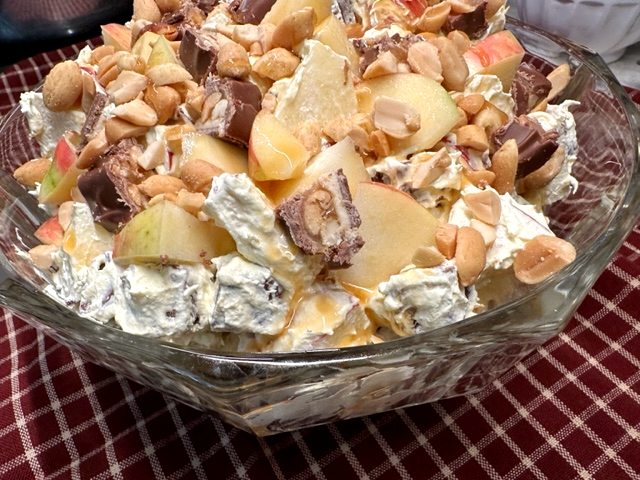 This is quite possibly the original recipe for a favorite Midwestern salad made with whipped topping, pudding, diced apples, and chopped Snicker bars. This "salad" could easily be a dessert.
Ingredients
6 small unpeeled Granny Smith apples, cored and diced
6 full-size Snickers bars, chopped
One 3-ounce instant vanilla pudding mix
½ cup whole milk
1 8-ounce tub of Cool Whip, or 1 1/2 cups of whipping cream chilled for one 1 hour in the freezer
About one cup of miniature marshmallows
½ cup ready-to-use liquid caramel topping
Instructions
Prepare the pudding according to package instructions, using only ½ cup of whole milk.

Remove the whipping cream from the freezer and whip it or use ready-to-use Cool Whip.

Gently mix the cream and pudding.

Stir in the apples, chopped Snickers, and marshmallows.

Drizzle liquid caramel on top.

Refrigerate an hour before serving.
This can be a salad or a dessert, but it would be a perfect addition to a potluck or Thanksgiving dinner, and we think it's especially fitting for a fall event when apples are at their best! Here are more of our recipes that work well for potlucks! Easy Italian Pasta Salad, Broccoli and Cauliflower Salad, Cheesy Potato Casserole, No Bake Frito Bars.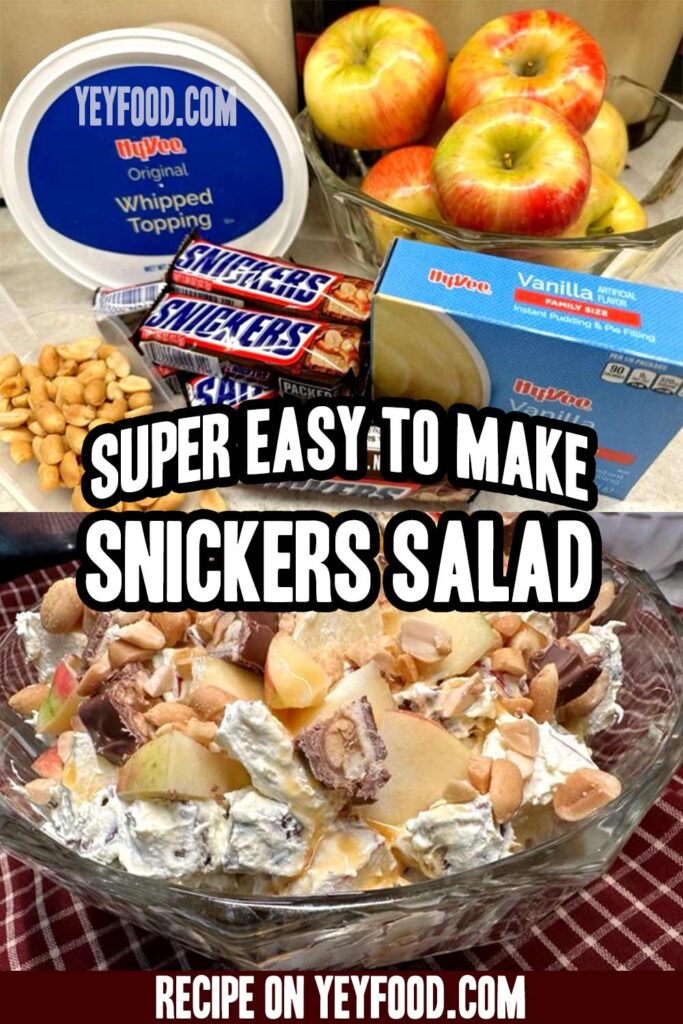 MORE TASTY RECIPES FROM US!!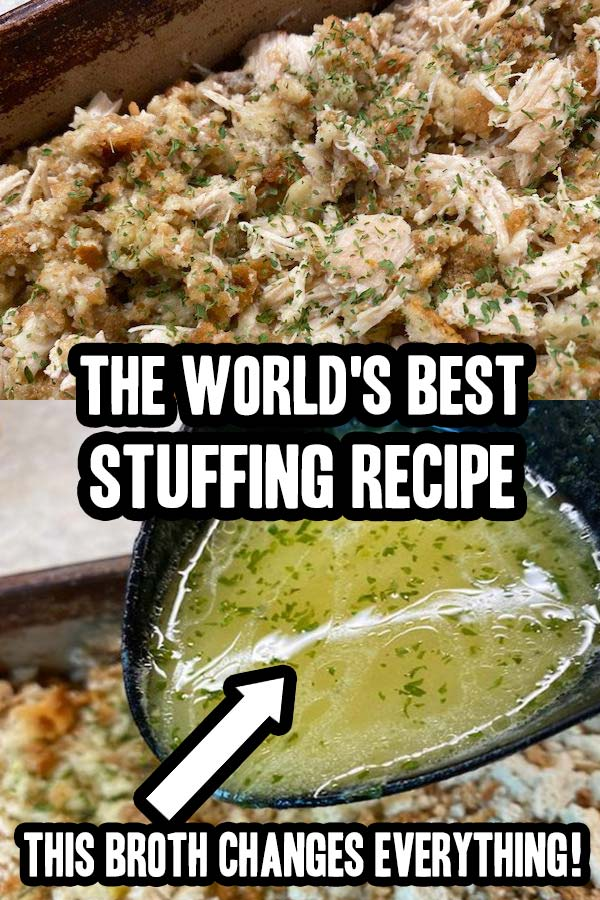 Easy 1 Pan Classic American Goulash
German Sauerkraut Casserole With Bacon And Brown Sugar
If you like these recipes, you are our people! You can check some related articles below or search via categories on the right. But, be warned; you will be on here for hours. Enjoy!
So, please share this recipe on your social media accounts like Facebook, Instagram, Twitter, and Pinterest. We would be honored and ever so grateful; thank you!