An Impressive Vanilla Custard Cake From Simple Ingredients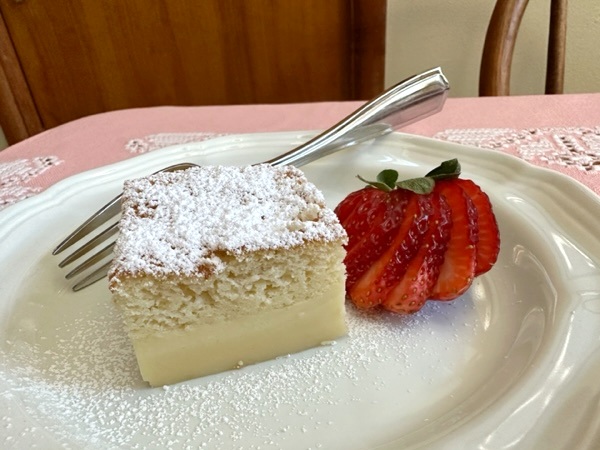 This vanilla custard cake recipe intrigued me because it's so unusual. The ingredients are the most basic pantry staples, eggs, flour, milk, vanilla, and powdered sugar.
But in the gentle heat of the low oven, something magic happens. The thin, odd-looking batter separates into three layers: a crust, a custardy middle layer, and a light sponge.
When cut into squares and dusted with powdered sugar, it becomes an elegant dessert worthy of the fanciest tea.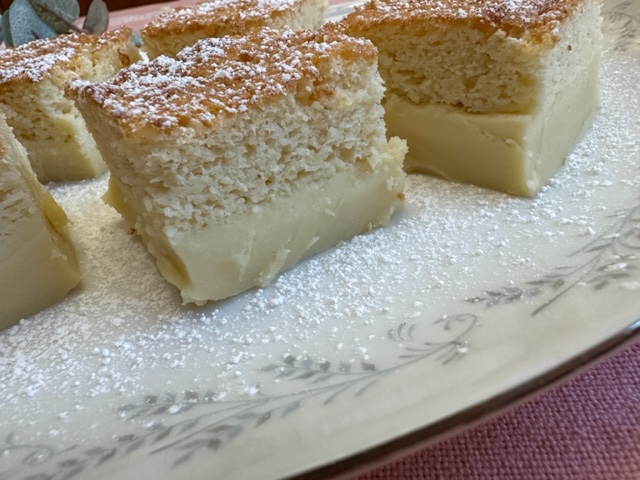 I was curious and skeptical! How does this happen? It's magic chemistry at work. The slow bake allows the soft crust to form on the bottom and creamy custard in the center.
The egg whites don't blend with the rest of the ingredients; maybe they are aloof? They rise to the top and form an airy Genoise-type sponge on top. As you might guess, it is not overly sweet so you can be generous with the powdered sugar.
I might serve them with strawberry preserves I have thinned with a little orange juice and a dollop of whipped cream on top! But if you love the flavor of vanilla as much as I do, I think you will enjoy it plain!
Here's How You Make These Simple Ingredients Form 3 Luscious Layers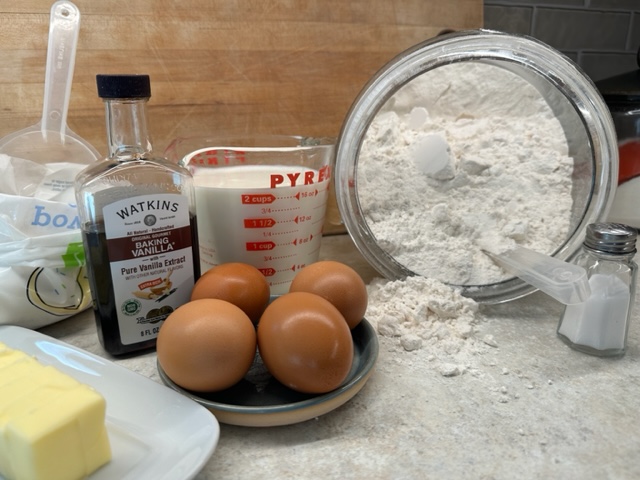 This vanilla custard cake requires a two-step process. Begin by separating the eggs. Hint: Eggs separate most easily when they are right out of the refrigerator cold, but egg whites whip up with much more volume when you let them get to room temperature.
Begin by spraying or greasing an eight-inch square baking pan, then add a "sling" made of parchment paper and grease it as well. Set the pan aside for now. A photo toward the bottom of this post shows you how it looks.
Melt one stick of butter and allow it to cool. I like to put the wrapped stick of butter in a measuring cup with a lip and melt it in the microwave. Melt the butter and set it aside for a bit to cool. Pop a two-cup measure of whole milk in the microwave for half a minute to take the chill off and set it aside.
First, we'll make the thin batter by beating the egg yolks with the powdered sugar until it's fluffy and lighter colored. Next, slowly drizzle in the melted butter and beat at low to medium speed until it's all incorporated.
Next, slowly pour the milk into the sugar-butter-egg yolk mixture until it's blended, then add the vanilla, and a tablespoon of water and gradually beat in the flour. Do not be alarmed! The batter will look funny and be very thin. Set that aside.
Now beat the egg whites with a pinch of salt until stiff peaks form. A Kitchen Aid stand mixer is the best tool for this step; it makes the job a snap!! GENTLY fold the egg whites into the thin batter, and do not try to blend them until the batter is smooth. If you do, you will deflate the air in the egg whites, and the sponge won't form on top.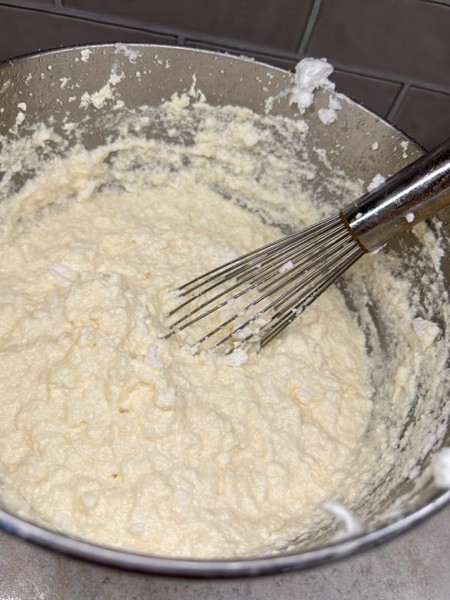 Pout that odd-looking batter into the prepared pan and bake it in a 325-degree oven for about forty to forty-five minutes. It should have a golden brown crust and still be just a little jiggly when you take it out of the oven. That's the custard layer.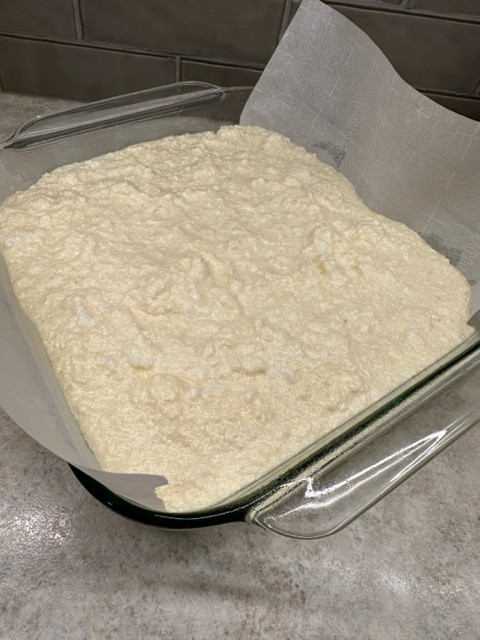 Let it cool completely at room temperature, then cover it with plastic film and refrigerate it for a few hours or overnight. Remove the vanilla custard cake from the pan, cut it into sixteen dainty squares, and dust them generously with powdered sugar.
Yield: 16
Magic Vanilla Cake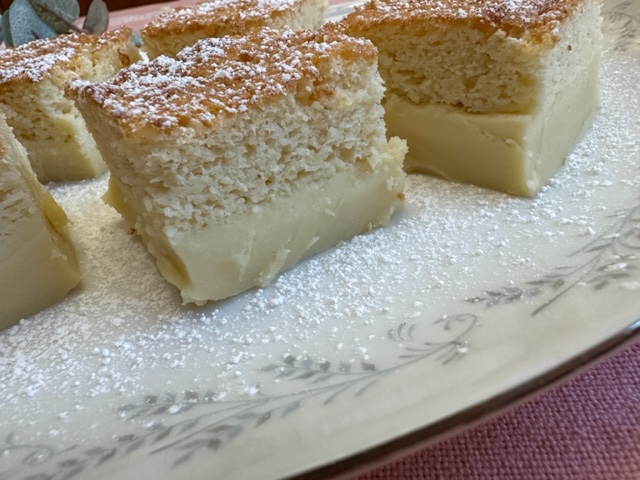 This recipe is for an impressive, tender three-layer cake with a soft crust and a creamy custard center topped by a light sponge. Amazingly, it's made with the most basic of pantry ingredienst.
Total Time
1 hour
5 minutes
Ingredients
1/2 cup butter, melted and cooled
2 cups whole milk, lukwarm
1 1/4 cups powdered sugar
4 eggs at room temperature, separated
pinch of salt
1 cup all-purpose flour
2 tsp vanilla extract
powdered sugar for dusting
Instructions
Preheat the oven to 325 degrees.
Grease an eight-inch square baking dish, add a parchment sling, and grease the parchment paper.
Beat powdered sugar with egg yolks until fluffy and lighter in color.
Slowly trickle the cooled butter into the yolk and sugar mixture and continue to beat until the butter is incorporated.
Slowly pour the lukewarm milk into the egg-sugar-butter mixture and beat well.
Add the vanilla, add the flour gradually until it's well blended, then set aside this batter. It will be very thin.
In a separate bowl, add a pinch of salt to the egg whites and beat them until stiff peaks form.
Carefully fold the egg whites into the batter. It will look odd, with egg whites floating in the batter. DO NOT try to blend it thoroughly because that will deflate the air in the egg whites.
Pour this funny-looking batter into the prepared baking pan and place it in the preheated oven.
Bake for about 40--45 minutes, until the top is golden brown but the cake is still a bit jiggly.
Allow the cake to cool completely at room temperature, then cover it with plastic film and refrigerate it.
Remove the cake from the pan, cut it into 16 squares, dust it generously with powdered sugar and serve.
Nutrition Information:
Yield:
16
Serving Size:
1
Amount Per Serving:
Calories:

180
Total Fat:

8g
Saturated Fat:

5g
Trans Fat:

0g
Unsaturated Fat:

3g
Cholesterol:

65mg
Sodium:

85mg
Carbohydrates:

24g
Fiber:

0g
Sugar:

17g
Protein:

3g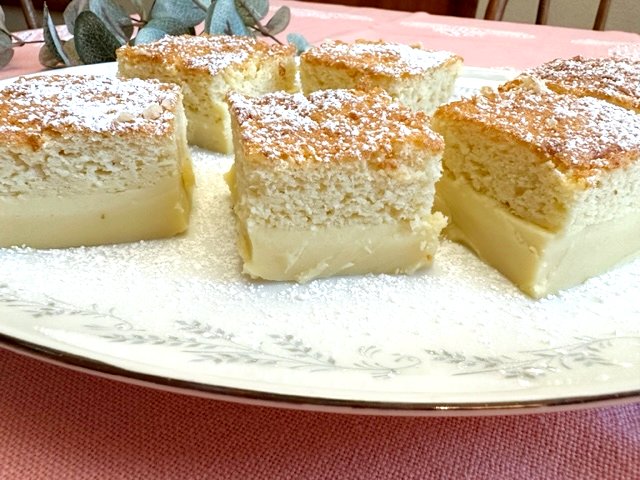 We love cake, all kinds of cake! Easy cakes, fiddly cakes, they're all great! Here are some of our most popular cake recipes. Moist Chocolate Cake, Banana Cake, Pig Pickin' Cake, Quick Candy Bar Poke Cake, Wonderful Apple Cake. Hungry for more? Just type "cake" in the search bar for loads more ideas!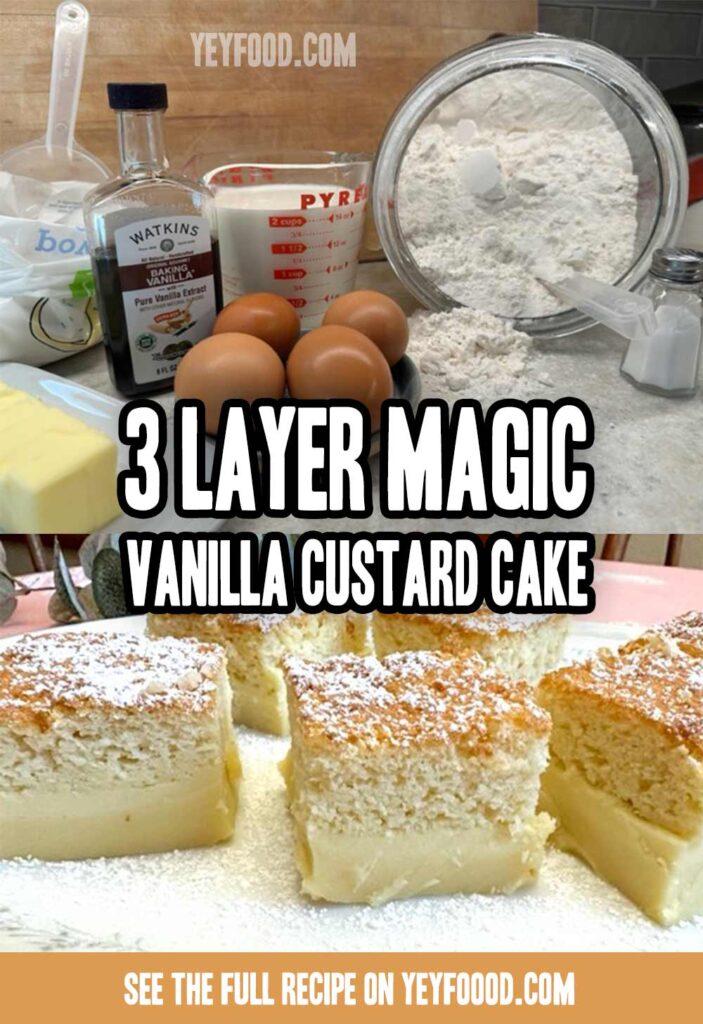 MORE OF OUR QUICK AND EASY FAMILY-STYLE RECIPES: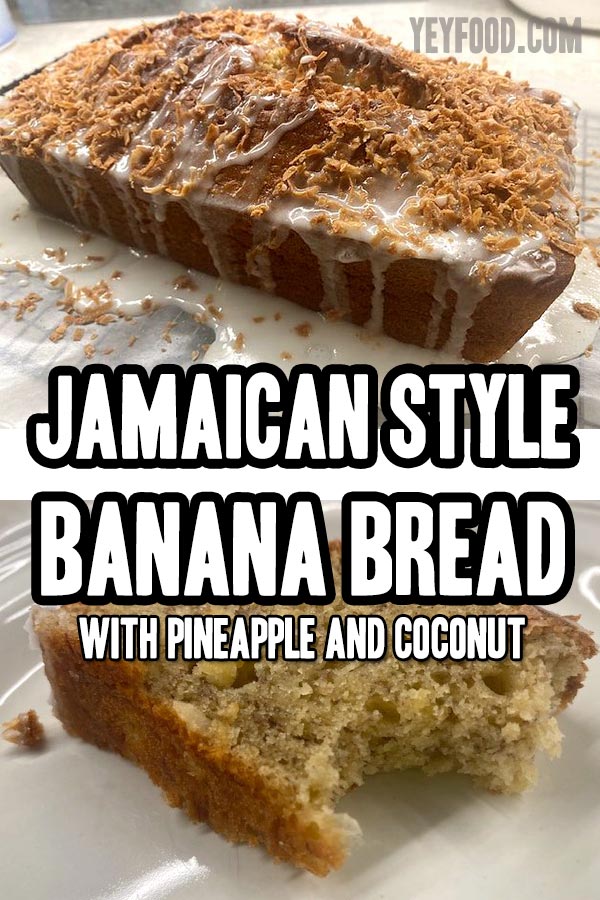 Easy Seven-Minute Air-Fried Hot Dogs
The Number 1 Practically Perfect Poppy Seed Bread
Oven-Baked Steak With Brown Gravy
If you like these recipes, you are our people! You can check some related articles below or search via categories on the right. But, be warned; you will be on here for hours. Enjoy!