Whip Up This Easy Italian Pasta Salad Recipe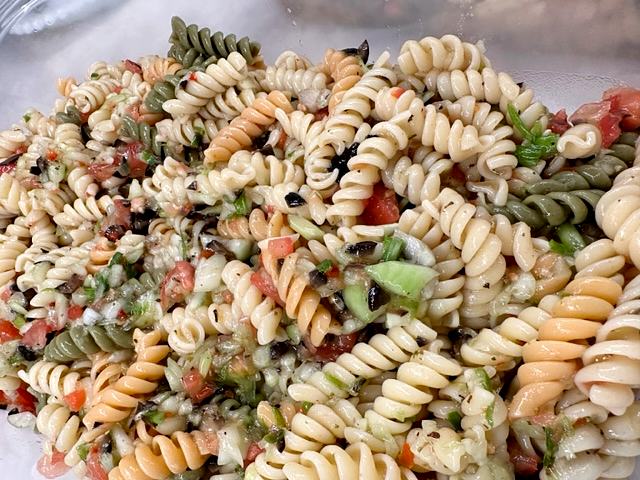 Every fall, our church has an enormous turkey dinner and invites the entire community. The recipe for this Italian pasta salad was one option for us to make. We needed seventy-five of them and seventy-five of another recipe to feed the crowd we expected!
I thought, this looks easy enough, and it certainly was, but what surprised me was just how delicious it is! It tastes amazing! It's pretty; it's colorful and really tasty! This dish might be my new go-to salad when a potluck pops up!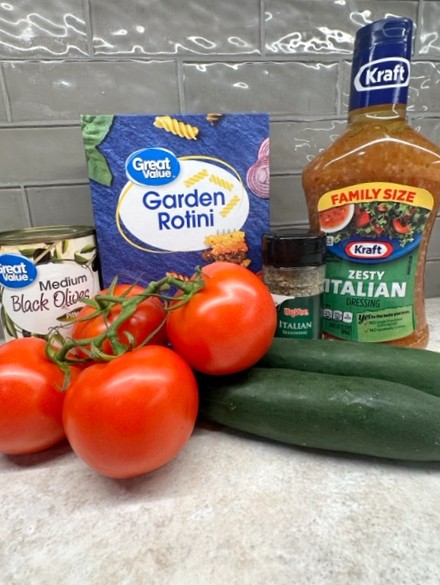 It only takes a few ingredients to make, and in the time it takes the pasta to cook, you can have the veggies all chopped and ready, especially if you have one of these nifty little Chefn Choppers. I chose tri-color rotini because it looks so pretty, but you can use regular rotini or another shape of your choice!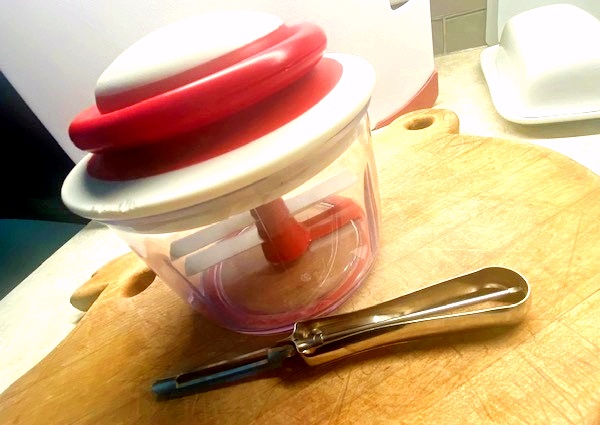 I love this quiet and efficient little chopper! It operates with a smooth pull string, goes in the dishwasher, and takes up only a small footprint when I store it! This little marvel quickly chopped the tomatoes, cucumbers, green onions, and black olives. In case you're wondering about quantities, the cucumbers and tomatoes I bought were really puny! I added a third tomato when I made it!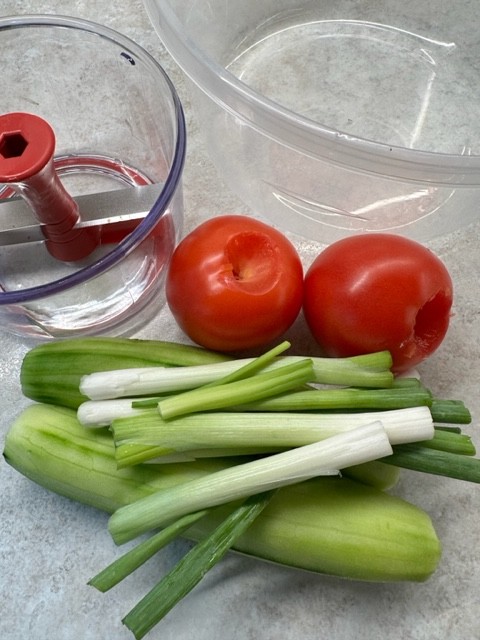 Next, I poured a cup of Zesty Italian salad dressing and a tablespoon of Italian seasoning into the bowl of vegetables. When the pasta was done, I drained it and rinsed it under a cold spray until it was cool and easy to handle.
All that was left to do was to put the cooked pasta in with the other ingredients and give it a good stir to blend all the ingredients. Let the salad chill for a few hours or overnight to let the flavors mingle.
For The Curious Minds What's In Italian Seasoning And Italian Dressing
Italian seasoning contains marjoram, thyme, rosemary, savory, sage, oregano, and basil. If you don't have a bottle of Italian seasoning in your pantry, you can use a combination of oregano, basil, and a little thyme if you have it. These three herbs have the strongest flavor profile in Italian seasoning.
Italian Dressing contains vinegar and oil, water, chopped bell peppers, sugar or corn syrup, herbs and spices, and sometimes onion and garlic. So what makes Italian Dressing become "zesty" Italian Dressing?
Zesty Italian Dressing has red pepper flakes added and a "zingier" vinegar; that's the only difference. If you find you only have Italian Dressing, you can add some red pepper flakes and a splash more vinegar. If all you have in the fridge is creamy Italian, I'll bet it will be good, too; it will only change the appearance of the salad a little bit.
Yield: 10 servings
Italian Pasta Salad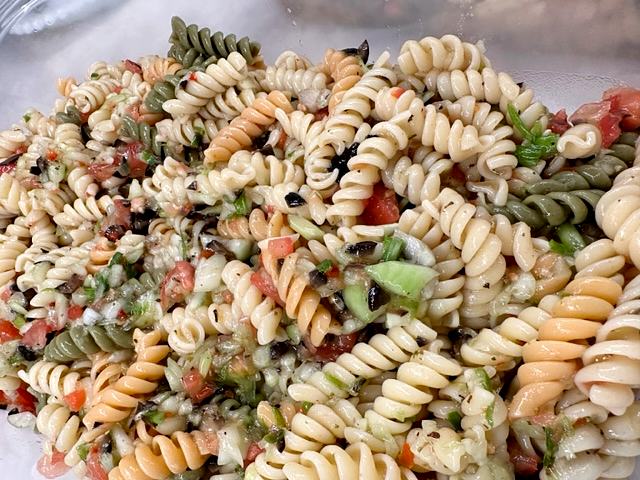 This is a recipe for a colorful and crunchy pasta salad with an Italian flavor profile. It goes together fast and tastes amazing!
Ingredients
One 16-ounce box of rotini pasta
1 cup of Zesty Italian dressing
1 Tbsp Italian seasoning
1 bunch of green onions, chopped
1 average size cucumber, peeled and chopped
2 tomatoes, chopped
1/2 cup of black olives, drained and chopped
Instructions
Cook the pasta until done in a large pot boiling for about 11 minutes
While the pasta is cooking, chop all the vegetables and put them in a large bowl.
Add Italian seasoning and Italian dressing and stir well.
Drain and rinse the pasta under cold water until it is cool enough to handle.
Add the pasta to the vegetables and dressing mixture and stir well.
Chill for a few hours or overnight before serving.
I made this salad for the first time in October, so I no longer had fresh herbs on hand, but I bet they'd be amazing! You may want to play with herb combinations until you find your favorite blend.
I think it might be fun to use a Greek spice mixture another time and change the flavor profile completely! Cavenders is a popular Greek Spice blend, or you can make your own! Hidden Valley Ranch now has a Greek Ranch Dressing that sounds delicious! You could use the same pasta and veggies and give it a new vibe that Zorba would adore!
We love salads! They add so much to a meal! Here are some of our most popular salad recipes. Colorful Pasta Salad, Broccoli and Cauliflower Salad With Bacon and Grapes, Sweet Corn Salad With Red Wine Vinaigrette, and Sauerkraut Salad. If you want more, type "salad" in the search bar! Do you have any favorite salad recipes you'd like to share?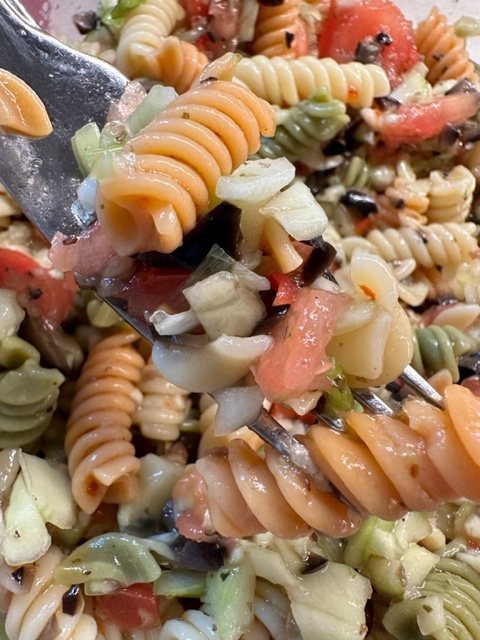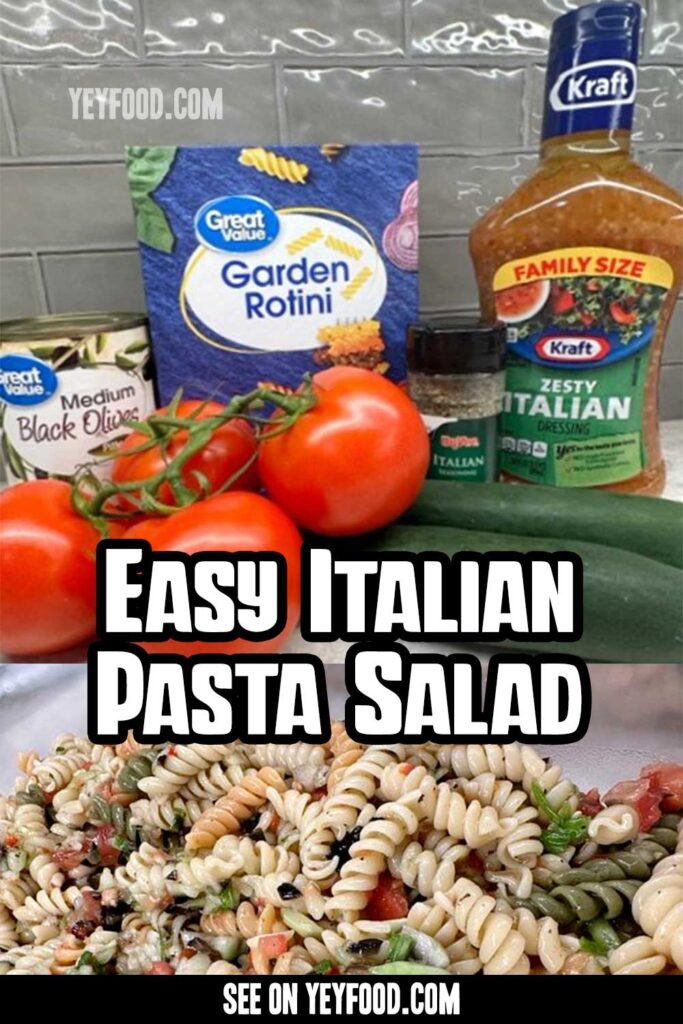 MORE OF OUR QUICK AND EASY FAMILY-STYLE RECIPES:
The Ultimate Bread and Butter Pickle Recipe
The Number 1 Practically Perfect Poppy Seed Bread
Oven-Baked Steak With Brown Gravy
If you like these recipes, you are our people! You can check some related articles below or search via categories on the right. But, be warned; you will be on here for hours. Enjoy!