Summer's Best Colorful Pasta Salad Recipe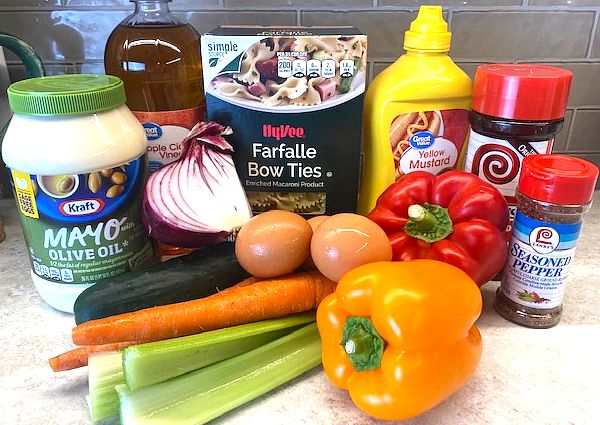 Pasta salads can be boring, but this one is not! It's loaded with summer's best, most colorful fresh ingredients! Our oldest daughter and her husband have a cabin on a lake not far from where we live.
Kids, friends and relatives, and friends of relatives are always welcome. 😎 Quite often, there are lots of hungry people to feed, and many times there are three generations happily willing to sample a new recipe.
This pasta salad is one of those recipes that just came together and turned out well enough to write it all down. The first time I made it, I cooked the pasta while still at home and tossed it with olive oil to keep it separated in a one-gallon plastic ice cream bucket. Yes, we don't get too fancy there.
The bucket of cooked pasta, along with pretty much the entire contents of my crisper drawer, went into a cooler. I grabbed a jar of mayonnaise, a squirt bottle of yellow mustard, apple cider vinegar, a little sugar, and my favorite Lawry's seasoned salt and pepper.
At the last minute, I grabbed the clamshell of grape tomatoes sitting on the counter and headed off to the lake! As you can see, when I hastily assembled all the ingredients for a photo so I could remember everything, I did forget to photograph a couple of items. Can you spot them?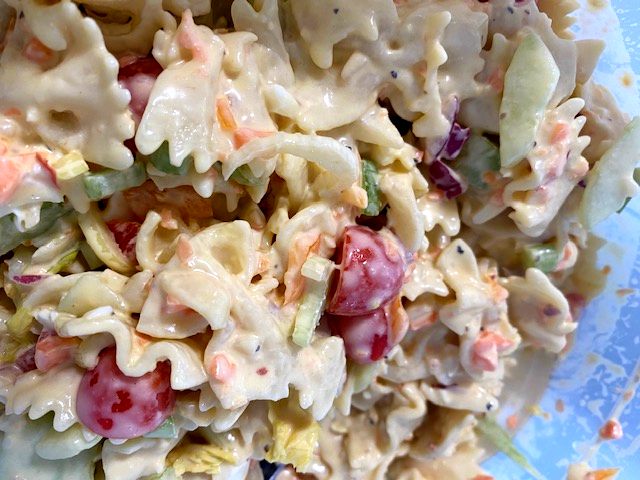 Families are so busy in the summer that it's good to have a few tricks up your sleeve when schedules get crazy. Pasta salad is very flexible, and I will share a few tricks I've learned in my 50-some years of cooking!
Pasta salad is one of the best things about summer. It's a great make-ahead side dish that tastes better the next day. You can enjoy a pasta salad like this for several days!
In a perfect world, pasta salad is best when it's assembled while the pasta is still warm when the warm pasta opens its arms to the marinades or dressings and absorbs all the goodies. But when you make pasta salad this way, it can taste drier and less flavorful the next day.
The pasta absorbs moisture. That can leave the salad looking and tasting dull. It still tastes good; it just doesn't have the pizzaz as the first time around. The solution is simple. Mix up a little more dressing and add it to the salad. You may need to add a little more salt, too, to make it first-day delicious.
Do What You Can When You Can
Sometimes there simply isn't a chunk of time big enough to make pasta salad all at once. Pasta is so easy to do ahead! When I worked in food service, I learned to cook pasta, drain it, toss it with a little olive oil to keep it separate, and refrigerate it. No need to rinse it!
This process works great when you make pasta salad. You can certainly put the salad together with cold pasta. It will initially absorb a little less of the flavors, but after chilling in the fridge for a couple of hours, it will taste great. You still may need to add a little dressing the next day because the pasta will keep absorbing moisture.
You can also use this trick when you want to eat hot pasta! Just pull some pasta from the fridge, put it in a strainer and plunge it in boiling water for a few minutes. Try it when your family eats in shifts or if you want to cook once and eat twice as we do!
Two Tips Get Yourself A Good Chopper And A Good Peeler
You deserve good kitchen tools! They don't need to be expensive, but the investment will pay off handsomely in the time you save! Everything is easier when you have the right tools.
I've used the same stainless steel potato peeler for over fifteen years, and which still works like a charm. Mine looks like this and came from Pampered Chef.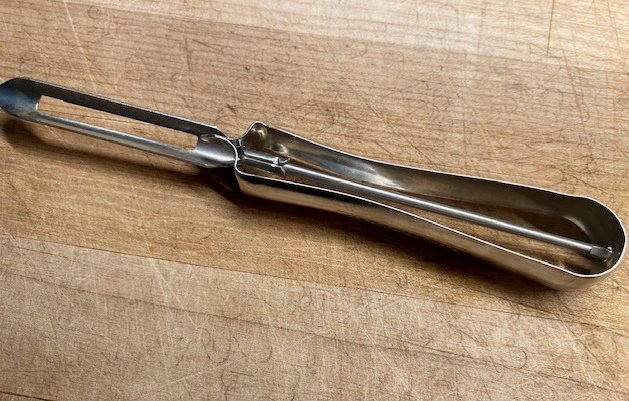 Food processors and mini food processors work great, but I love my quiet little pull-string chopper by Chefn, and for years, I used a Pampered Chef chopper for smaller batches of chopped vegetables. Ether one goes in the dishwasher and doesn't take up much room to store.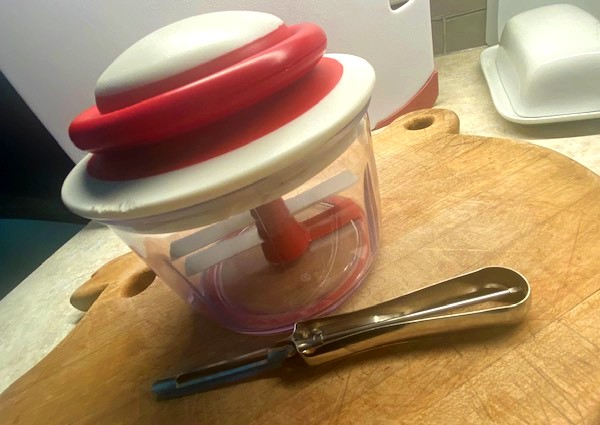 Yield: 16 servings
Summer's Best Colorful Pasta Salad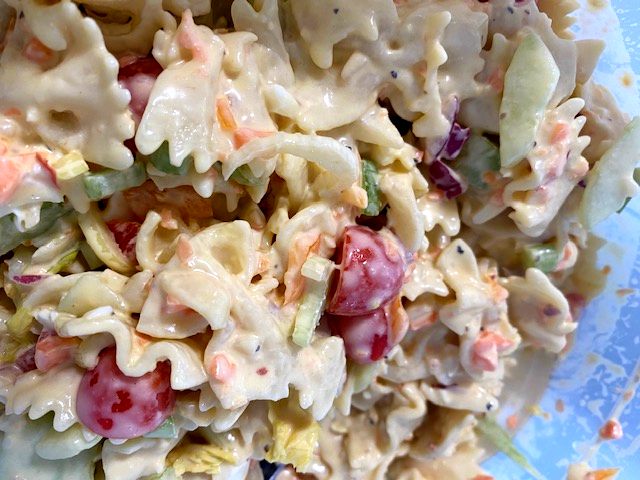 You will love this pasta salad loaded with fresh veggies in a slightly sweet mayonnaise and mustard dressing.
Total Time
2 hours
31 minutes
Ingredients
One 12-ounce package of bow tie pasta, cooked al dente
1 cup chopped peppers, any color or combo you like
1 cup peeled and chopped cucumbers
1 cup grated or finely chopped carrots
1 cup chopped celery
1 cup grape or cherry tomatoes, cut in half
1/2 cup chopped red onion
3 hard cooked eggs, peeled and mashed
1 1/2 cup mayonnaise
1/4 cup prepared mustard
1/4 cup apple cider vinegar
Seasoned salt and pepper to taste (I always use Lawry's)
2 Tbsp olive oil if desired
Instructions
Cook pasta in salted boiling water for about 11 minutes, and drain. I like to toss the hot pasta with two tablespoons of olive oil to keep it separated. This step is especially helpful when I cook the pasta ahead of time.
Chop all the vegetables and toss with the pasta.
Thoroughly mash the hard-cooked eggs and mix with the mayonnaise, mustard, vinegar, salt, and pepper to make the dressing.
Pour the dressing over the pasta and vegetables and toss to combine.
Vary the amount and combination of the vegetables if you like.
Cool for 2 hours or more before serving for the best flavor.
Make this pasta salad the next time you are feeding a bunch! I know you'll enjoy it! Here is another recipe that everyone at the lake gave a thumbs-up! Best pasta salad with coleslaw. What's your favorite?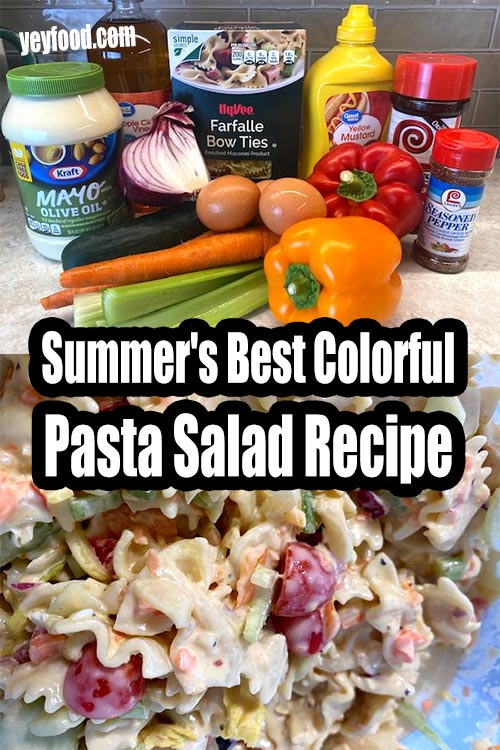 MORE OF OUR TASTY FAMILY FRIENDLY RECIPES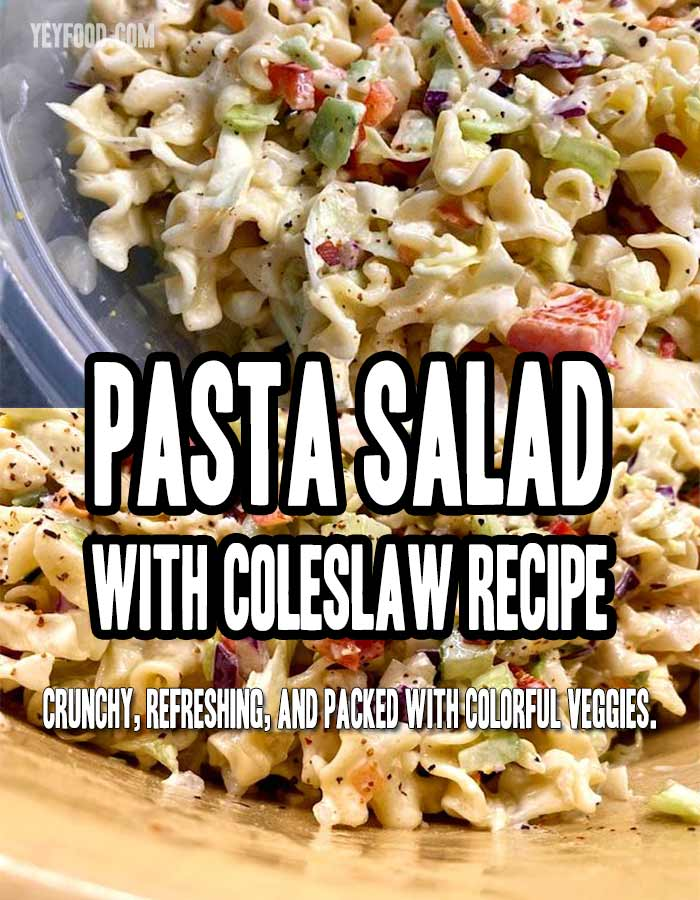 4 Reasons You Should Freeze Some Sweet Corn This Summer
How To Make The White BBQ Sauce That's Fascinated Us Since 1925
German Sauerkraut Casserole With Bacon And Brown Sugar
If you like these recipes, you are our people! You can check some related articles below or search via categories on the right. B t, be warned; you will be on here for hours. E joy!
So, please share this recipe on your social media accounts like Facebook, Instagram, Twitter, and Pinterest. We would be honored and ever so grateful; thank you!