Libby's New-Fashioned Pumpkin Pie Recipe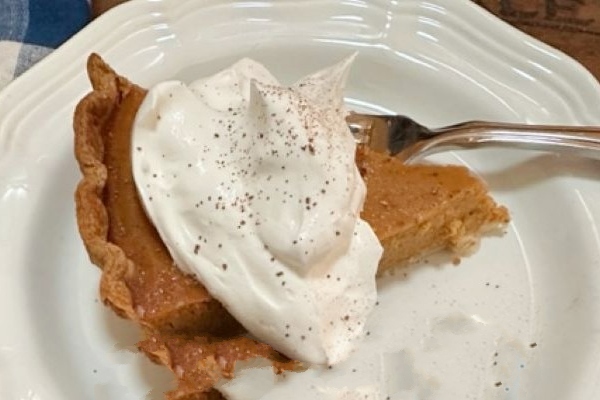 Why do we wait until it's almost Thanksgiving before we make a perfect pumpkin pie? Libby's thoughtfully provides pumpkin puree in a can 365 days a year, so any time is a good time for pumpkin pie, especially with whipped cream and a sprinkle of nutmeg.
It is one of the most comforting pies you will ever poke with a fork. Don't wait! Make one right now and a few more times in the months ahead.
The recipe on the back of Libby's pumpkin puree can was "The" perfect pumpkin pie recipe for decades. The recipe dates back to the 1950s, but about three years ago, Libby changed the ingredients. The original recipe used sugar to sweeten the pie, but the new version relies on sweetened condensed milk instead, reduces the amount of evaporated milk, and slightly adjusts the spices.
As I served this pie to my brother and his wife last week, he quoted Garrison Keillor. "The best pumpkin pie you ever ate wasn't all that much different than the worst pumpkin pie you ever ate." Keillor went on to say, "The pumpkin is merely a vehicle for nutmeg and cinnamon."
After his first bite, my brother conceded this pie was an extra good one, despite Keillor's opinion.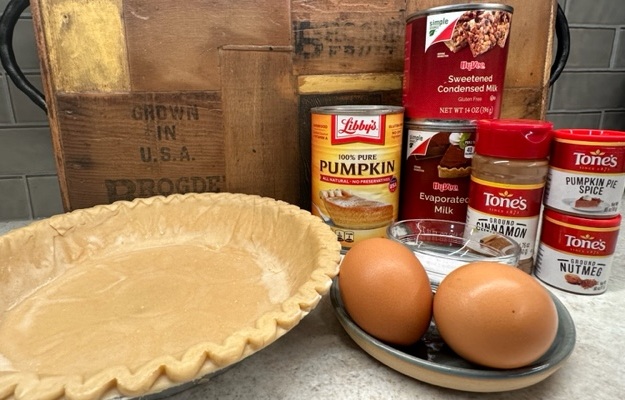 This iconic recipe has been recopied onto recipe cards, passed off as an original, followed religiously, or completely changed, added to, or spiced up in kitchens all over America for generations.
(Libby's is owned by Nestlé) makes up nearly 90 percent of the market for canned pumpkin in the United States. Almost all product sales happen within a four-month window between October and March.
We collectively believe pumpkin is a holiday and cold-weather-only flavor, but I think it tastes great any time of the year! And thanks to Libby's, we can make one any time we want!
Did Libby's Change The Recipe To Make A More Perfect Pumpkin Pie
Folks speculate on why the recipe was changed. Some skeptics think it was a move to sell more sweetened condensed milk. We all know what magic sweetened condensed milk adds to baking! I think it makes a creamier, lighter custard.
Yield: 8 pieces of pie
Libby's New Fashioned Pumpkin Pie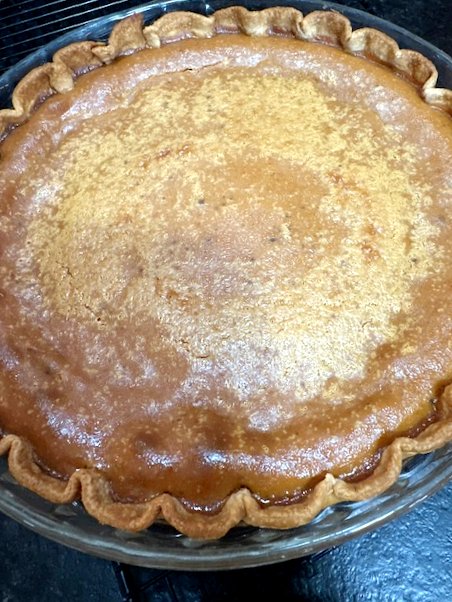 Total Time
1 hour
5 minutes
Ingredients
2 large eggs
15 ounces of Libby's canned pumpkin (1 can) (NOT pumpkin pie filling)
1 cup of evaporated milk
14 ounces of sweetened condensed milk
1/2 tsp salt
1 tsp cinnamon
1/2 tsp ground ginger
1/2 tsp ground cloves
1 single unbaked deep dish pie crust If you use a frozen premade deep dish pie crust, fill and bake it from frozen, don't thaw
Instructions
Preheat the oven to 425 degrees.
Beat eggs, add the remaining ingredients, and beat until everything is well blended.
Pour the pumpkin mixture into the unbaked shell you have placed on a heavy-duty rimmed baking sheet to make it easier to transfer into the oven.
Bake at 425 degrees for 15 minutes, then turn the oven down to 350 degrees and bake for about 30-40 more minutes.
Test for doneness by checking if the edges are set and the center of the pie is a little wiggly.
If you stick a sharp knife in the filling near the center of the pie, it should come out clean.
If you need to make the pie a little longer, lay a piece of foil lightly on top of the pie.
The custard will continue to cook as the pie cools.
Refrigerate the pie after it is cooled, so condensation doesn't form on the custard.
Cover and refrigerate any leftover pie. It should never sit out at room temperature for over two hours.
The new recipe yields a little more volume than the original recipe, which is always good. Who wants a skinny pie? There's also double the amount of ground cloves in the new perfect pumpkin pie recipe, which many people love. A little clove and ginger go a long way for me.
Let's talk about the spices for a minute. You may be horrified that I taste unbaked custard (raw eggs and all, but I'm a rebel) and adjust the spices until I love the taste and it is my perfect pumpkin pie.
You may notice I show cinnamon, nutmeg, and pumpkin pie spice in the picture with ingredients. I like the blend in pumpkin pie spice because it contains both cloves and ginger, a little less bold than cloves and ginger alone.
The custard is so good no one will notice if you buy a frozen crust. Make sure you get a deep dish pie crust because you'll need it. And if you do use a frozen crust, fill and bake it while it's frozen for the best results.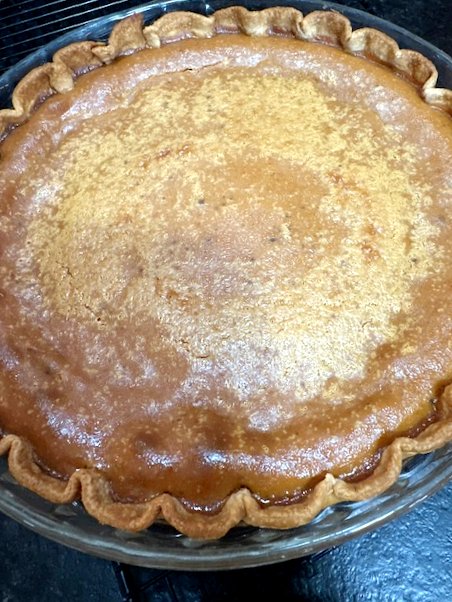 We are well into "Everything Pumpkin Season," but why do we wait to have pumpkin pie until Thanksgiving? My advice? Don't! Here are some of our most popular pumpkin recipes! Pumpkin Peanut Butter Cookies, Pumpkin Cheesecake Bites, Easy Pumpkin Bread, and Pumpkin Caramel Poke Cake.
What's your favorite way to use pumpkin?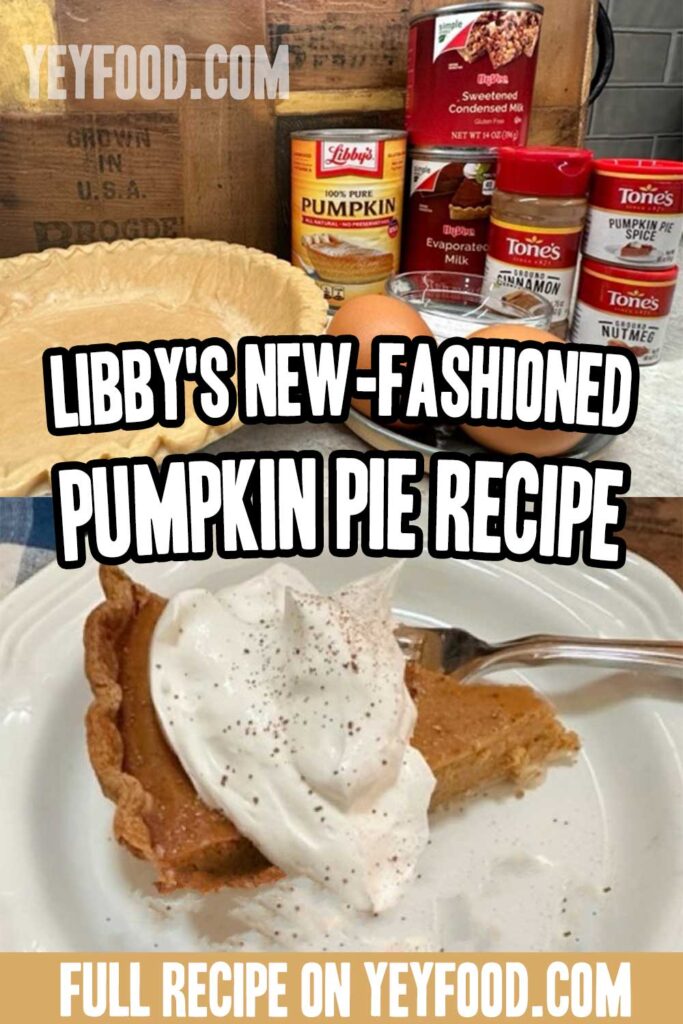 MORE OF OUR QUICK AND EASY FAMILY-STYLE RECIPES: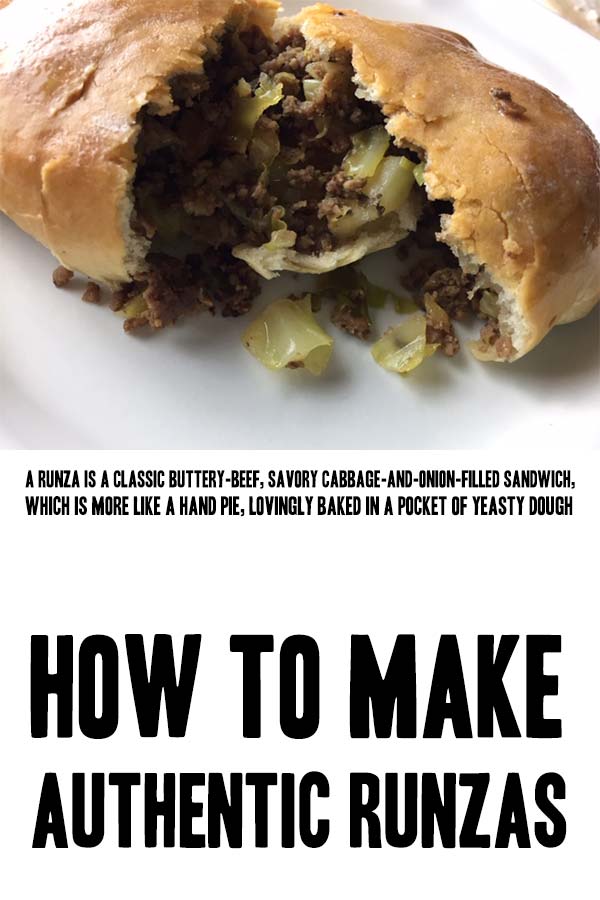 The Ultimate Bread and Butter Pickle Recipe
Oven-Baked Steak With Brown Gravy
If you like these recipes, you are our people! You can check some related articles below or search via categories on the right. But, be warned; you will be on here for hours. Enjoy!