Pumpkin Peanut Butter Cookies Recipe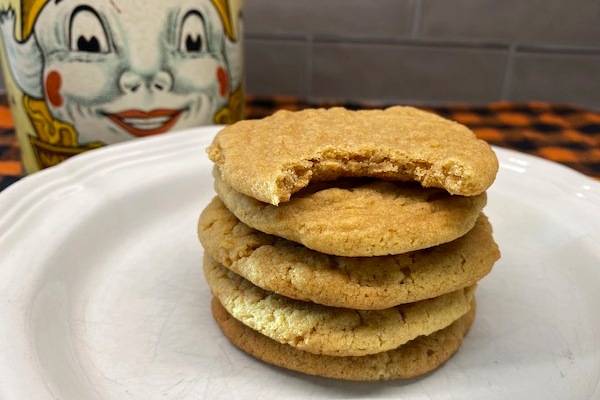 When my brother shared a recipe for pumpkin peanut butter cookies, I wasn't sure I could improve on my signature peanut butter cookie recipe! My recipe is hard to beat because it makes insanely good cookies! But I have to admit, these cookies are amazing!
The small amount of pumpkin and a touch of cinnamon makes a delightful cookie that's crisp on the outside but has a chewy, buttery middle that will make you swoon. Not only that, but the pumpkin made the cookies stay soft and chewy right up until today, when I ate the last THREE cookies, yes three, I confess. I baked them 11 days ago! I think that's impressive!
Pumpkin Puree Is A Magic Ingredient for Tender Moist Baked Goods
Pumpkin adds moisture, fiber, sweetness, and lovely golden color to baked goods. In my opinion, a can or two of pumpkin puree should be a staple in your pantry, especially this season! Make sure you pick up pumpkin puree and not pumpkin pie filling.
Pumpkin is delicious in so many foods, and the puree is much more versatile! Use it in everything from pies to muffins, to quick bread, and it's surprisingly great in soup and chili!
If you ever end up with a small amount of pumpkin puree from a recipe that doesn't use the whole can, never fear! For example, you only need 1/2 cup of puree for this recipe, and that's enough to make an entire batch of 4 dozen of these peanut butter cookies!
I often end up with odd amounts of leftover puree, so I was delighted when I found this useful link from Readers Digest that lists creative things to do with leftover pumpkin!
The Label Will Squash Your Beliefs About What's Inside A Can Of Pumpkin Puree
Here are some interesting facts about canned pumpkin puree. It's not always just pumpkin in that can! The FDA plays pretty fast and loose when it defines pumpkin. There's often a lot of squash in there, too. Pumpkins ARE a variety of winter squash, so the name is legit. Butternut, Hubbard, Boston Marrow, and Golden Delicious winter squashes are some of the most commonly used varieties in canned pumpkin puree. It's all good!
Many varieties of winter squash are sweeter and less stringy than pie pumpkin, which makes them perfect for all your fall food cravings! If you want pumpkin puree that's made entirely of the familiar orange pie pumpkin, make it yourself! Here's a link for you from none other than The Pioneer Woman herself. It's inspiring! How To Make Homemade Pumpkin Puree!
I worked in a hotel many years ago. Every evening before check-in, we baked a few dozen cookies to welcome the guests. The smell alone was comforting and made people feel at home. That is when I discovered the magic of parchment paper on baking pans. It truly helps make cookies bake better, and they come off the parchment easily without sticking!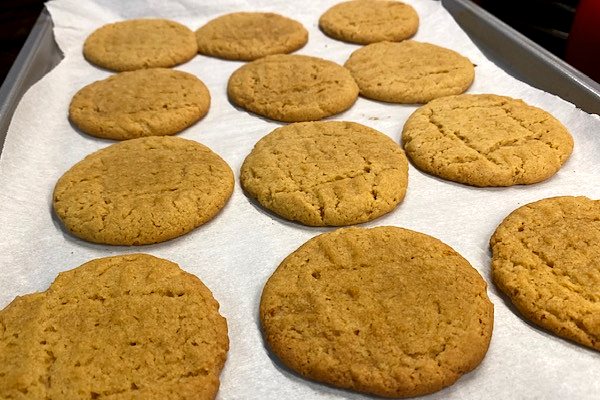 We got our cookies at the hotel in the form of frozen "cookie pucks", so they were always uniform in size. A cookie scoop will give you that same portion control. Cookies that are uniform in size not only look better but also bake much more evenly.
Next time I bake this cookie, I will try adding a few finely chopped salted peanuts on top of some. I may also try a wee sprinkle of flaky sea salt on a few others as an experiment! You just can't beat sweet and salty!
Yield: 48 cookies
Pumpkin Peanut Butter Cookies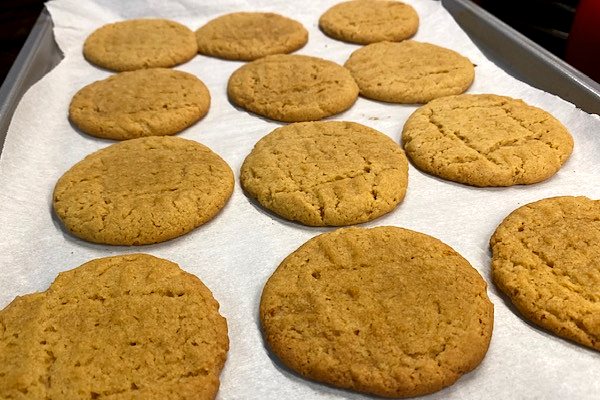 Uniquely delicious pumpkin peanut butter cookies have a hint of cinnamon that's perfect for fall. Crisp on the outside, chewy and buttery inside, simply delicious and addictive!
Ingredients
3 cups flour
1 tsp baking soda
1/2 tsp cinnamon
1/2 tsp salt
3/4 cup peanut butter, creamy or chunky
12 Tbsp (1 and 1/2 sticks) of real butter, softened to room temperature
1 cup white sugar
1 cup brown sugar, packed
1 egg
1/2 cup pumpkin puree
1 tsp vanilla
Instructions
Preheat oven to 350 degrees, cover baking sheets with parchment paper.
Whisk dry ingredients together in a medium bowl.
Bet the butter and peanut butter in a large bowl until smooth.
Add sugar and brown sugar and beat until light and fluffy.
Add egg, pumpkin, and vanilla. Beat until just combined.
Add flour gradually and beat the mixture at low speed until all the flour is incorporated.
Use a cookie scoop to make the dough into 1" balls.
Put cookies on a parchment-covered sheet, 2" apart.
Use a fork to make the distinctive crosshatch pattern on each cookie.
Bake for about 12 minutes or until the edges are getting lightly brown. Don't overbake!
I can't eat a peanut butter cookie without a glass of milk, but if I have that, I can eat way more of them than I should, especially when they are chewy like these!! Did you grow up with peanut butter cookies? Were they your favorite? Did your mom make good ones? (Be honest!)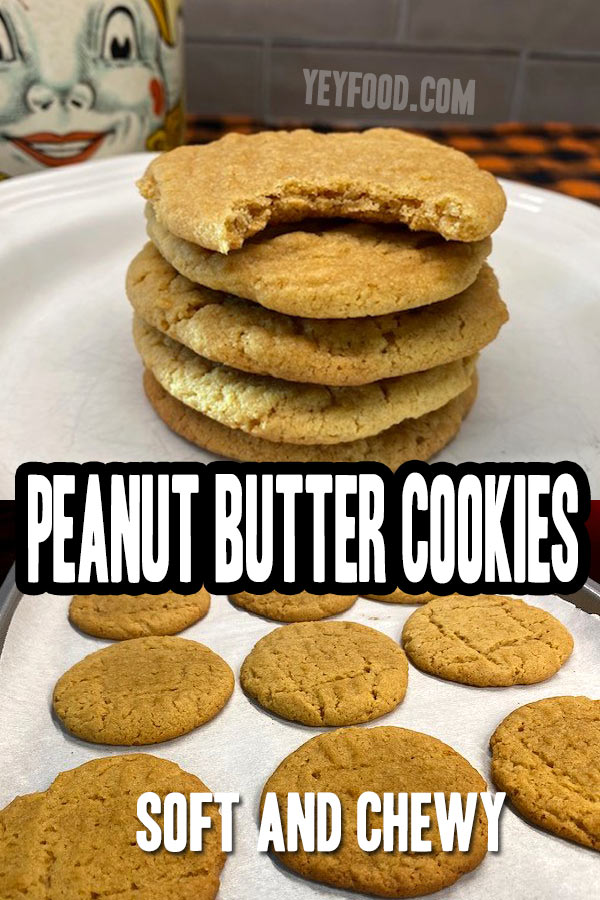 More recipes from us: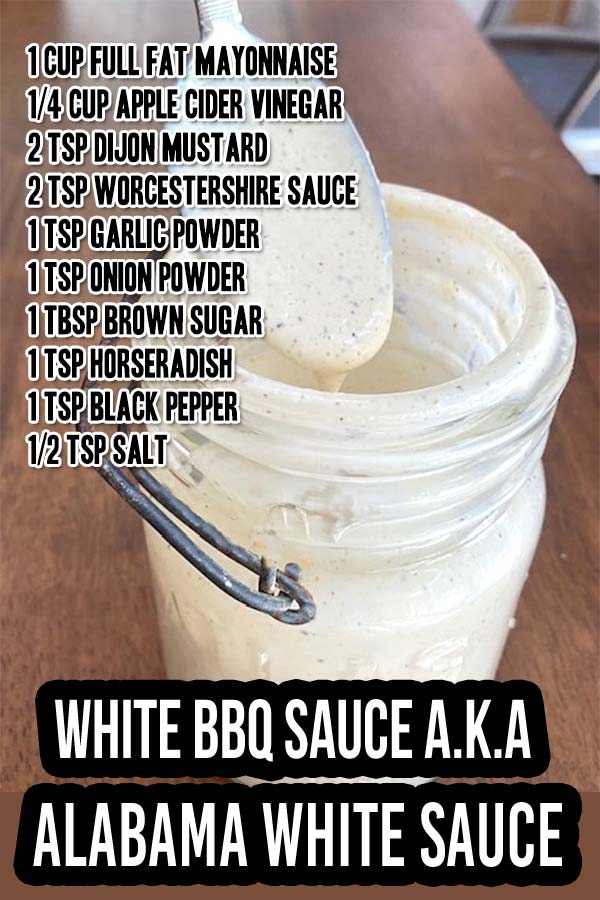 S'mores Bars How To Make Them Super Fast and Super Good
Easy 1 Pan Classic American Goulash
German Sauerkraut Casserole With Bacon And Brown Sugar
If you like these recipes, you are our people! You can check some related articles below or search via categories on the right. But, be warned; you will be on here for hours. Enjoy!
So, please share this recipe on your social media accounts like Facebook, Instagram, Twitter, and Pinterest. We would be honored and ever so grateful; thank you!