Beautiful Rhubarb Poke Cake Recipe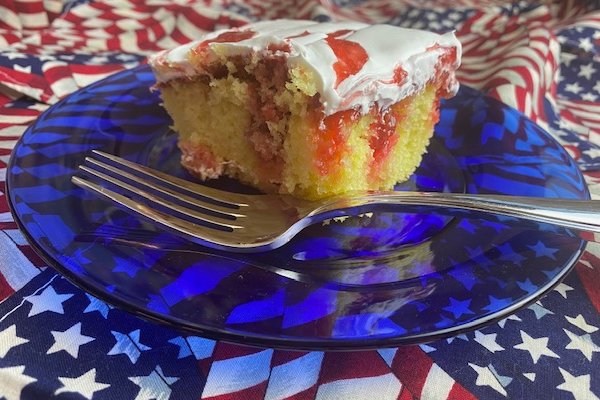 Today, let's make a rhubarb poke cake! Rhubarb is shooting up and becoming plentiful! With the tangy stalks, you can create seemingly endless goodies, from jam to sauces, bread, pies, and desserts.
Here's a strikingly gorgeous cake that looks great from every angle and tastes as amazing as it appears! This beautiful dessert begins with a cake mix and some rhubarb.
Great Cooks Use What's In Season For Delicious Results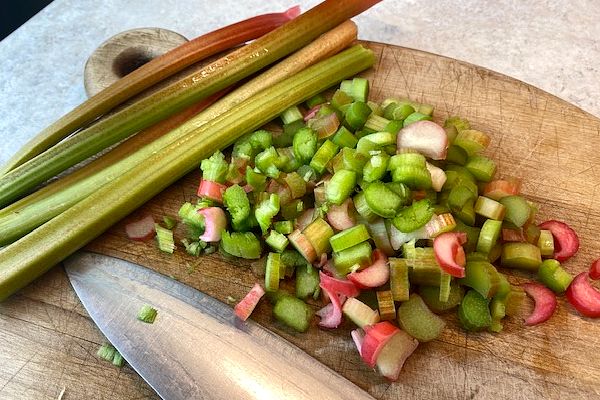 Everyone knows food tastes best when it's fresh. Ideally, that means whisking the food you grow from your garden to your kitchen as soon as possible. Today we hear a lot of buzz about farm-to-table or farm-to-fork. It simply means preparing and eating food as close to its source, quickly after harvest; the way great-grandma picked beans from her garden for supper.
That would be amazing, but for most of us, it's not realistic. But if you are lucky enough to have a rhubarb bed, you have a chance to pull a few stalks, cut off the enormous leaves and take the stalks straight to the kitchen sink for a quick wash, and then chop them for the glorious cake.
Rhubarb is super puckery and tart. I've heard of kids who pulled and ate it raw, right from the plant! Holy cow! I must have been a wimpy child because the very thought makes me shudder. That's why almost all rhubarb recipes call for added sugar.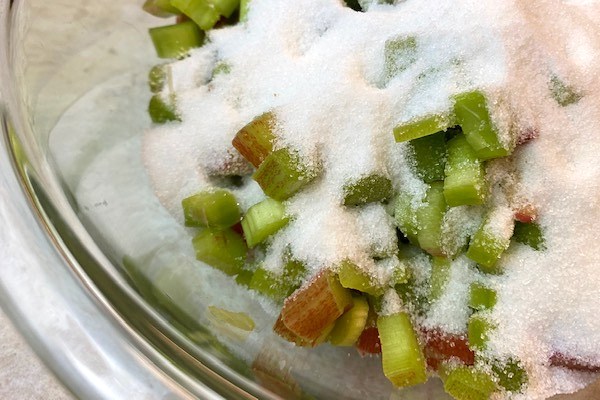 Start by making the yummy sauce/poke/topping. Put two cups of finely diced rhubarb in a saucepan with a cup of sugar. Let it sit for at least an hour to allow the sugar to draw out the juices.
Add the water and simmer until the rhubarb is tender and breaks up. Next, turn up the heat and add the jello, stirring until the sugar and jello dissolve completely.
Set the mixture aside to cool while the cake bakes, but save one-half cup of the sauce for the garnish. I poured it into a glass measuring cup because the lip is handy when you dribble the sauce on the finished cake.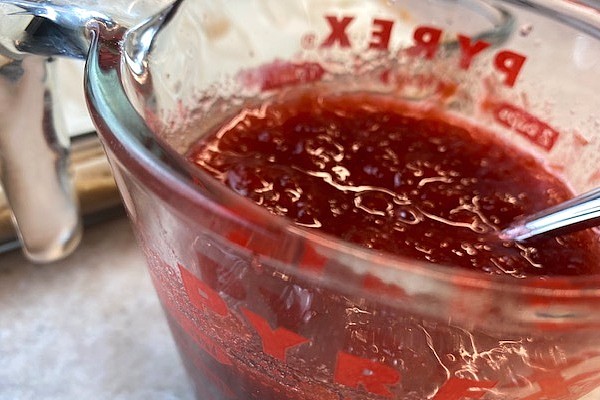 A Perfect Cake Every Time When You Use The Directions On The Box
Mix the cake with the ingredients and the directions on the cake mix box. Don't underbake the cake because you're going to poke it full of holes! Please make sure the top springs back when you touch it lightly; a cake tester comes out clean. The edges should pull back a bit from the pan, like this.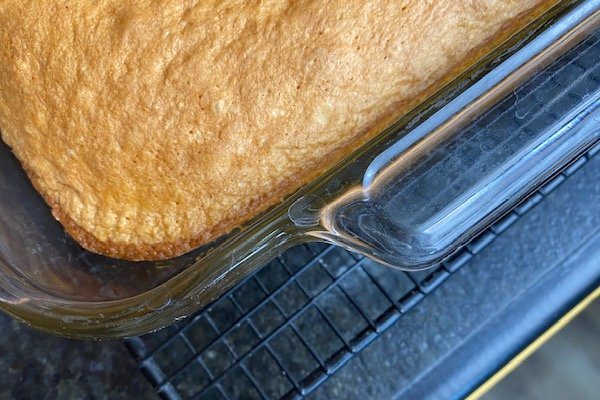 Use the wooden spoon handle to poke holes all over the cake while it's still hot to make little craters for the rhubarb sauce to soak down, down, down into the cake, infusing it with flavor!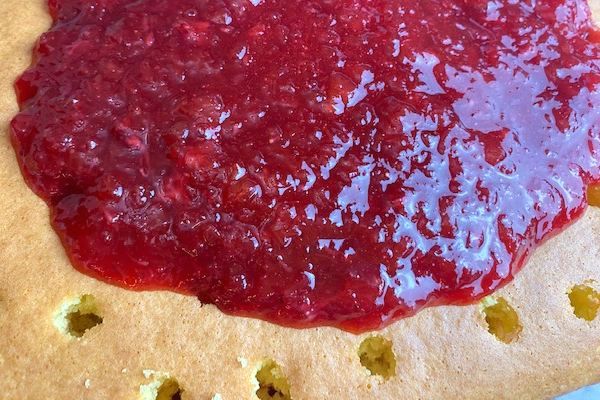 Chill The Cake Until Everything Is Beautifully Firm And Set
Pour the rhubarb sauce over the cake and use a rubber spatula to encourage all that yummy sauce to seep down into the craters you made for it. Now refrigerate the cake for two or three hours, until the jello is completely set.
Take the whipped topping out of the freezer and put it in the fridge if you didn't do it earlier. Then relax for a while- but make sure your tub of whipped topping isn't frozen. It's best to let it defrost in the refrigerator so it doesn't go flat when you try to rush it: experience speaking here, friends. Do what I say, not what I do. Are you with me?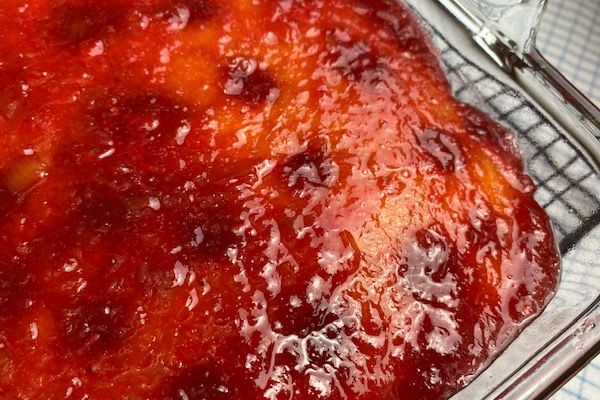 When the cake is cool and the jello is set, gently swirl the whole carton of whipped topping over the rhubarb poke cake to the edges. Lick the spatula. (It's required.)
The squiggly design on top is one part Simple Simon, one part Fancy Nancy. I've had the best results dribbling the topping from a small measuring cup with a pour spout. Make four or five lines of dribble lengthwise on the cake, and it does not need to be perfect! Skips won't matter.
Now, use a table knife and pull it lightly through the topping and the dribbled lines in the opposite direction, across the cake. First one way, then in the opposite direction until you run out of cake. Isn't that simple and festive? This cute cake is a party when it's not even a party! The cake should be kept refrigerated.
Yield: 16 pieces
Beautiful Rhubarb Poke Cake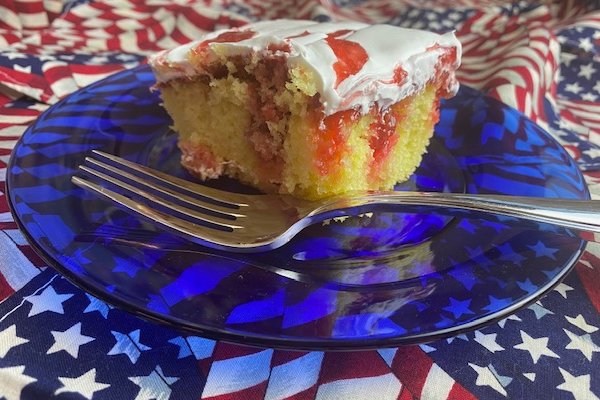 Moist, delicious poke cake infused with a sweet-tangy rhubarb sauce. Smothered in whipped topping with an artful swirl of rhubarb sauce on top.
Total Time
3 hours
40 minutes
Ingredients
Cake
One box of lemon cake mix (or white or yellow cake mix)
3 eggs
1 cup water
1/2 cup vegetable oil
Topping
One 8-ounce container of whipped topping, thawed
1/2 cup reserved rhubarb sauce
Rhubarb Sauce
2 cups finely diced rhubarb
One 3-ounce box of strawberry Jello (or raspberry Jello)
1 1/2 cups water
1 cup sugar
Instructions
Prepare Rhubarb Sauce
Pour 1 cup sugar over finely diced rhubarb and let it sit for an hour or more to draw out the juice. You can do this in the saucepan you will use to prepare the topping.
Add water and simmer on low/medium heat until rhubarb is tender and begins to break apart.
Stir in jello and keep stirring until jello dissolves completely in the liquid.
Set aside the while the cake bakes.
Reserve 1/2 cup of topping to decorate the top of the cake.
Prepare Cake
Prepare cake according to package directions and bake at 350 degrees in a sprayed 9" x 13" cake pan for about 25 minutes or until the cake tester comes out clean, the top springs back when lightly touched, and the cake pulls back slightly from edges of the pan. Don't underbake.
While the cake is still hot, use the handle of a wooden spoon to poke large holes all over the cake. Pour topping over hot cake and use a rubber spatula to coax the topping into the holes.
Refrigerate until jello sets, at least two hours. The cake needs to be cool before adding the whipped topping.
Smooth the tub of defrosted whipped topping over the entire surface of the cake.
Drizzle four or five skinny lines of topping lengthwise on top of the cake. You may need to add a LITLLE bit of warm water and stir until it drizzles from a measuring cup with a lip.
Draw table knife through topping and rhubarb drizzle first one direction and then the other to form the awesome design! It's one part Simple Simon, one part Fancy Nancy.
FEEL FREE TO SKIP THE DRIZZLE if you want!! It will be just as delicious as "Plain Jane," I promise!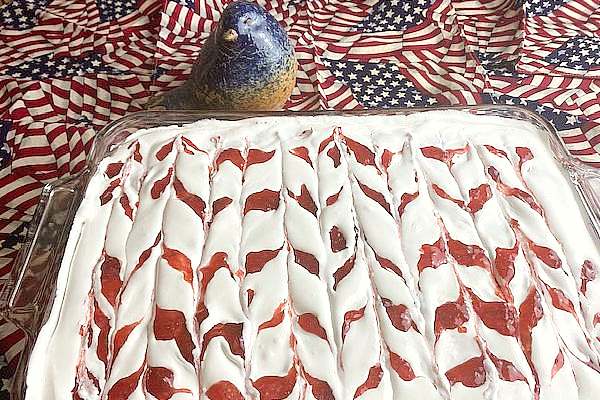 In our world, summer means All-American pastimes! Here is a perfect summer cake! This beautiful rhubarb poke cake dessert is ideal for picnics and potlucks from now until the end of summer! Picnics, baseball, lazy lake days, and firelit nights on the patio with fireflies winking cry out for this festive rhubarb poke cake.
Here are some other wonderful rhubarb recipes when your rhubarb starts producing heavily or the neighbor gives you some of hers! One Bowl Rustic Rhubarb Bread, Rhubarb Muffins With Streusel Top, How To Freeze Rhubarb, Strawberry-Rhubarb Jam, Magic Rhubarb Pudding Cake.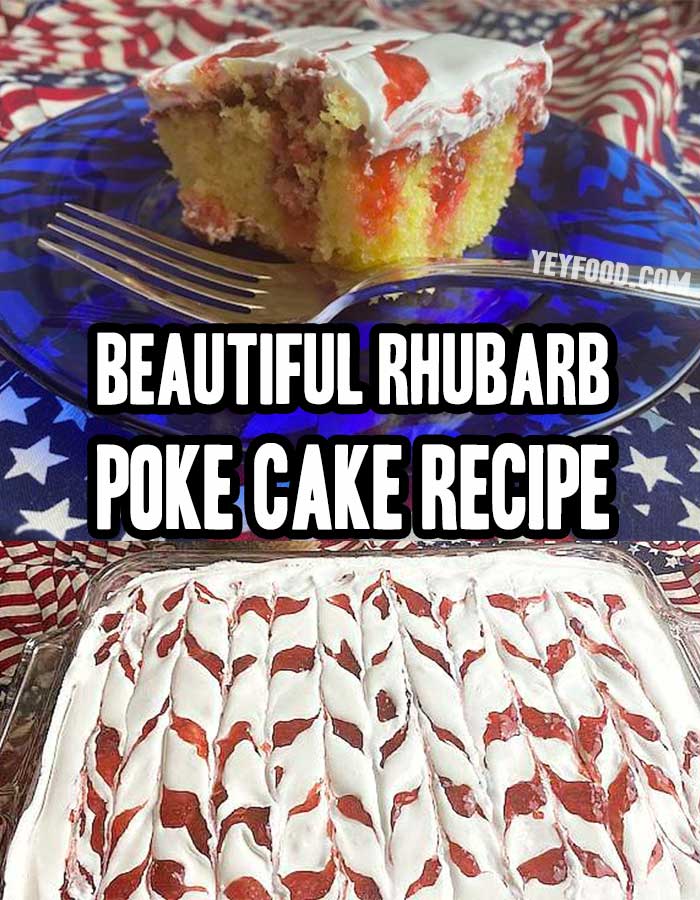 Do you have any favorite rhubarb recipes? We'd sure love to hear from you!
More tasty recipes from us: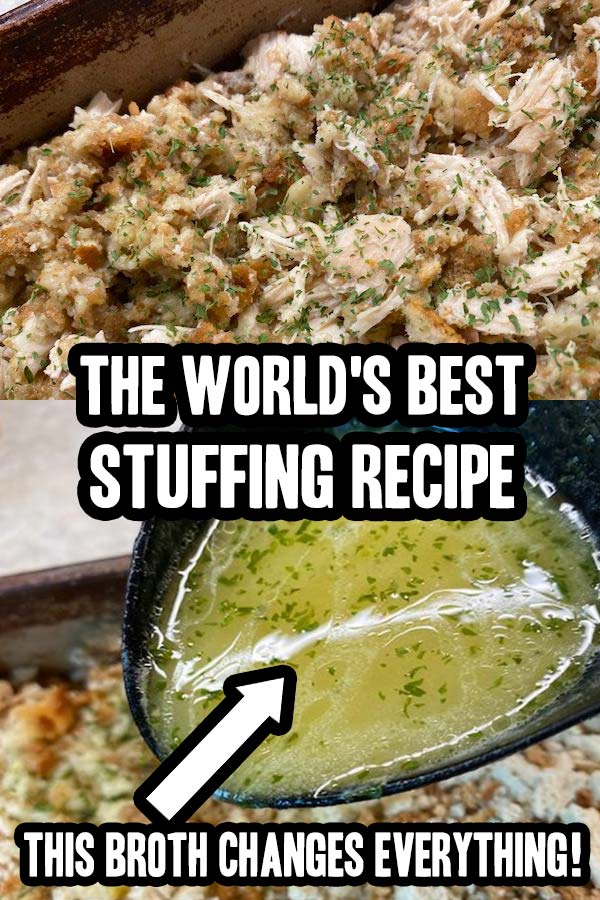 Easy 1 Pan Classic American Goulash
German Sauerkraut Casserole With Bacon And Brown Sugar
If you like these recipes, you are our people! You can check some related articles below or search via categories on the right. But, be warned; you will be on here for hours. Enjoy!
So, please share this recipe on your social media accounts like Facebook, Instagram, Twitter, and Pinterest. We would be honored and ever so grateful; thank you!