Mexican Chocolate Cake Recipe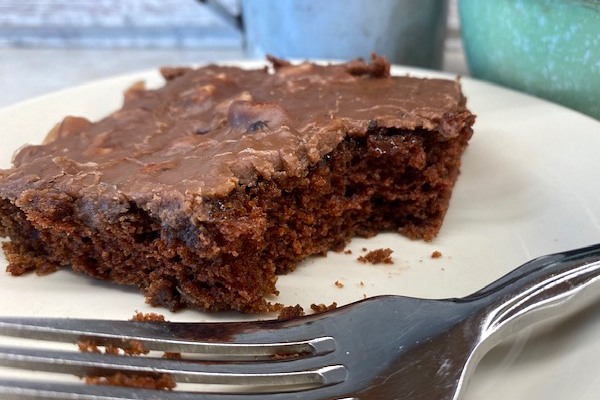 Make this Mexican Chocolate Cake and celebrate Cinco de Mayo or any get-together with the gang. It makes a HUGE twelve-inch by eighteen-inch half-sheet pan that feeds twenty-four or more people, depending on the size you cut each piece!
This simple but decadent cinnamon-infused chocolate cake is loaded with butter and sugar, making it extra rich and moist. Ignore the indulgent recipe this time and go for it; it's worth every calorie!
Pour the still-warm pecan-studded icing on the cake shortly after it comes out of the oven so it soaks into the cake a little. Ay, Yi Yi Yi, es tan Bueno!!
This cake is so delicious that your eyes will roll heavenward with your first bite! Chocolate and cinnamon combine beautifully. The blend of the two produces a classic Mexican dessert flavor combination that makes it perfect to cap off your Cinco de Mayo celebration. It's an ideal cake to cap off ANY celebration, in my opinion.
Begin by whisking the dry ingredients in a bowl so everything is ready to receive the amazing chocolate and butter mixture.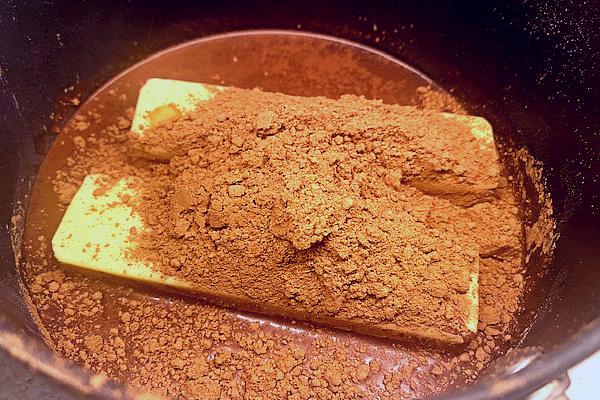 The real magic of this cake begins in a saucepan. Instead of creaming butter and sugar, cocoa and butter are combined in a saucepan with water over medium heat and stirred until it forms a creamy, melty sauce. This step ensures a beautifully moist cake.
Now pour the chocolatey mixture into the dry ingredients and stir until you get a smooth batter.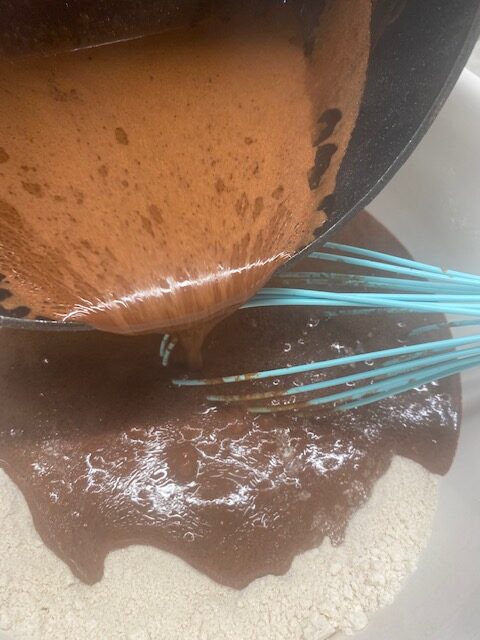 Now add the eggs, vanilla, and buttermilk, and continue to stir or use a mixer to ensure there are no lumps. You'll end up with a rather thin, smooth batter. Pour this mixture and spread it evenly into a greased twelve-inch by eighteen-inch half-sheet pan. It's a big one!
Bake at 350 degrees for eighteen to twenty minutes until a cake tester comes up clean and the top of the cake springs back when you touch it.
Get busy and make the icing while the cake is baking because you want both the cake and the icing to be nice and warm when they meet!
Rinse out and use the same saucepan to melt the butter, milk, cocoa, and salt. Cook it over medium heat, just to the point of simmering. Remove the pan from the stove and stir in the powdered sugar and pecans. Keep the icing warm and stir it occasionally to keep a crust from forming on top.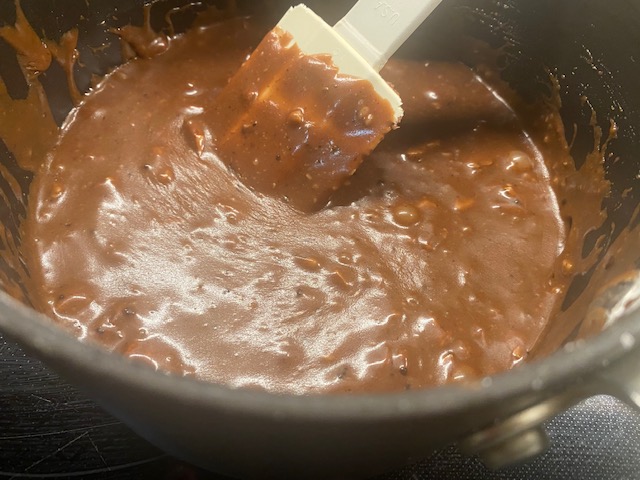 When the Mexican chocolate cake is done baking, it should pull back slightly from the edges of the pan. Let the cake cool for about ten minutes, then pour the warm icing over the cake and gently spread it to the edges of the cake with a spatula.
Let the iced cake cool for about twenty minutes before serving. I highly recommend ice cream on top. Vanilla is awesome, but it's even more fantastic if you can find cinnamon ice cream!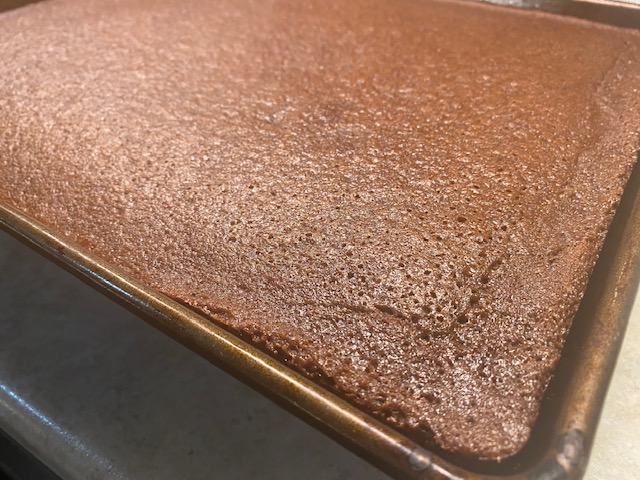 Yield: 24 servings
Mexican Chocolate Cake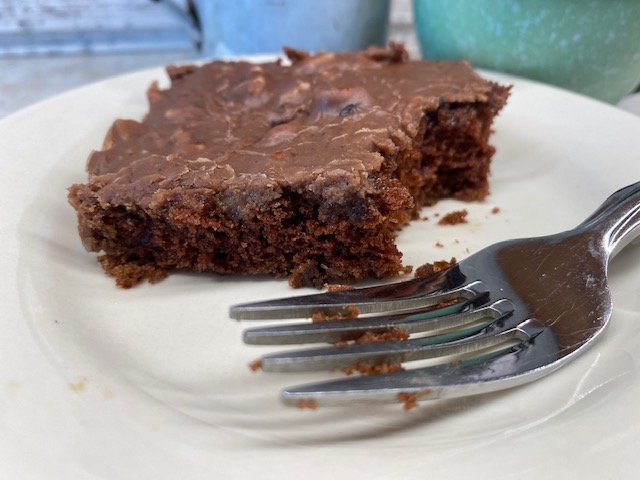 A recipe for a super moist half sheet Mexican sheet cake that's spiced with cinnamon and topped with pecan-studded pour-on chocolate icing.
Additional Time
20 minutes
Ingredients
CAKE
2 cups all purpose flour
2 cups sugar
1 tsp baking soda
1 tsp cinnamon or more to taste
1/2 tsp salt
1 cup water
1 cup butter
6 Tbsp unsweetened cocoa powder
1/2 cup buttermilk
2 large eggs
1 tsp Mexican vanilla (can substitute regular vanilla)
ICING
6 Tbsp milk
4 Tbsp unsweeteed cocoa powder
1/2 cup butter
3 1/2 cups powdered sugar
1/2 tsp Mexican vanilla (can substitute regular vanilla)
pinch of salt
3/4 cup finely chopped pecans
Instructions
CAKE
Grease a 12" by 18" half sheet pan
Whisk the dry ingredients in a large bowl and set aside.
Combine the cocoa powder, water, and butter in a saucepan and cook and whisk over medium heat until butter melts and the ingredients form a sauce
Pour chocolate mixture over the dry ingredients and stir until smooth
Add buttermilk, eggs, and vanilla. Beat until smooth. You can use a mixer to be sure there are no lumps.
Pour the batter into the greased baking pan and spread out to the edges of the pan if necessary.
Bake at 350 degrees for 18 to 20 minutes, or until a cake tester comes out clean and the top of the cake springs back when touched.
Allow cake to cool 10 minutes before pouring icing on top.
ICING
Combine butter, milk, vanilla, cocoa powder, and salt in a saucepan and cook over medium heat to a simmer, stirring constantly.
Beat in powdered sugar, then stir in the pecans.
Keep warm, occasionally stirring until you pour it over the cake.
Pour icing over the warm cake, gently coaxing icing to the edges of the cake as needed.
Allow the iced cake to cool for 20 minutes before serving.
The warm icing meets the warm cake and forms a wonderful fudgy layer right below the surface! Amazing! Here are a few other chocolate desserts you might enjoy. No-Bake Four-Layer Chocolate Dessert, Triple Dark Chocolate Bundt Cake, Chocolate Cupcakes With Raspberry Buttercream.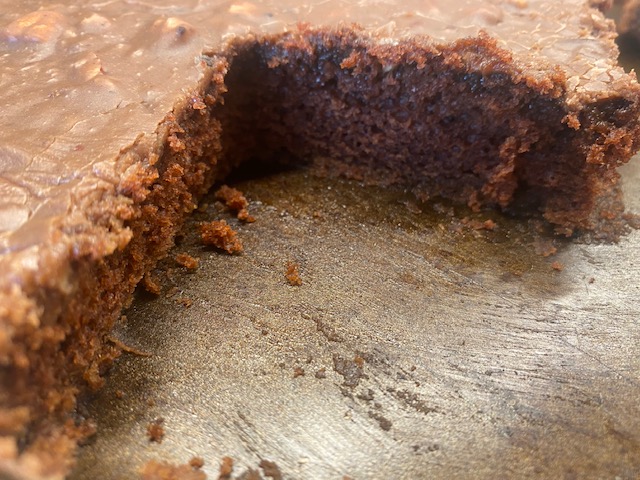 Do you celebrate Cinco de Mayo, and if you do, do you go out or fix something at home? What do you like to eat? Do you celebrate with family or a big circle of friends?
Do you have a favorite recipe you make for this festive holiday? If you do, we would love to hear from you, por favor. ❤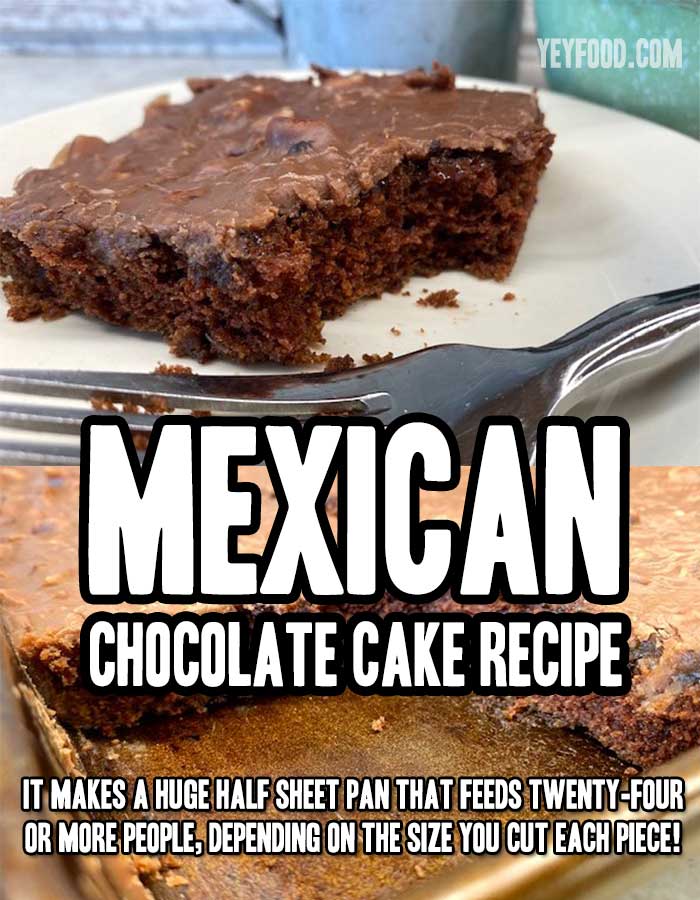 MORE OF OUR RECIPES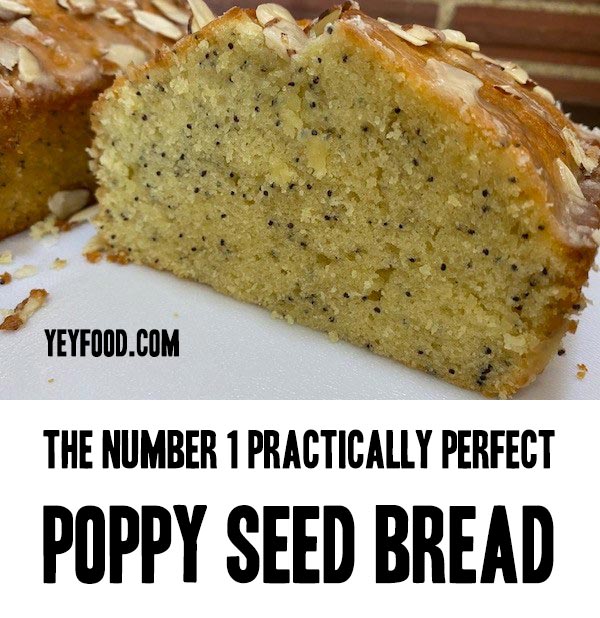 The Ultimate Bread and Butter Pickle Recipe
The Number 1 Practically Perfect Poppy Seed Bread
How To Make A Chocolate Chip Cookie Pie
If you like these recipes, you are our people! You can check some related articles below or search via categories on the right. But, be warned; you will be on here for hours. Enjoy!
So, please share this recipe on your social media accounts like Facebook, Instagram, Twitter, and Pinterest. We would be honored and ever so grateful; thank you!