Easy High-Rise Yorkshire Pudding Recipe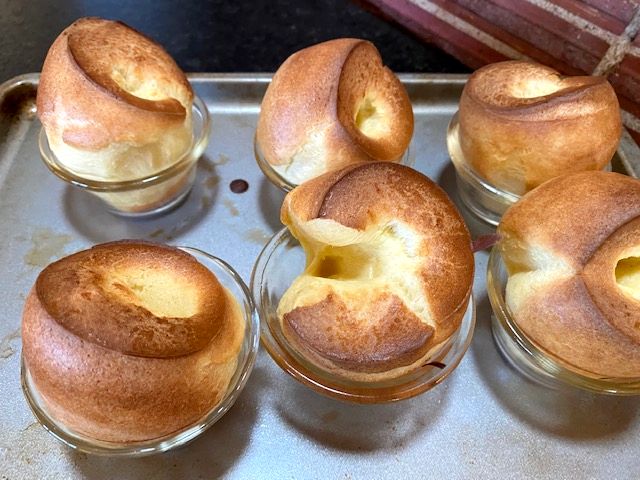 You may not have heard of Yorkshire Puddings, and if you have, you may think it is something you eat with a spoon, but it's not. As they are called in the UK, the beloved "Puds" (short for puddings) are a delightful cousin to the American popover. Stay with me, and I will explain. It's pretty much the same batter with slight differences in how you bake them.
In her iconic book, The Compleat I Hate To Cook Book, author Peg Bracken has this to say about Yorkshire Pudding. "No one knows who started the unfounded rumor that Yorkshire Pudding is risky or in any way a test of cooksmanship. These individual puds can be easily made by anyone bright enough to blow her nose."
Naturally, I started with Peg's simple recipe that she promised "would produce splendid Yorkshire Puddings so golden brown and exuberantly puffed-up, it's almost embarrassing."
A Bit Of Yorkshire Pudding History
The exact origins of Yorkshire Pudding are not certain, but it's a dish believed to come from the north of England. The prefix "Yorkshire" was first recorded in a publication by Hannah Glasse in 1747, in "The Art of Cookery Made Plain and Simple." She coined the term to set apart the light and crispy nature of the batter puddings made in northern England from those in other parts of the country.
In early times, Yorkshire pudding was tavern food made by setting a pan of thin batter under a hunk of beef roasting on a spit in the hearth. The drippings did not go to waste and gave a savory flavor to the batter. It was then cut into serving-size pieces and fed to the customers to help take the edge off their hunger.
The meat was very expensive in England then, which helped stretch it into more servings. Yorkshire pudding is still a revered accompaniment to a dinner of roast beef.
A Dozen Secret Ways To Make Great Yorkshire Puds
There may be fifty ways to leave your lover, and there are probably almost that many ways to make the perfect pud. In The US, you see dozens of ways to make the "best" chili, for example, and everyone thinks theirs is perfect.
I suggest you start with this simple recipe for puds and tweak it as you go along. For example, I have seen recipes with one or three eggs and advice that your batter should always be cold, while others say it should be room temperature.
It seems to be a Goldilocks scenario, in my opinion. Some people like their puds very light-colored and soft, while others like them crisp and browner. Play around until you find your own "just right." All you need are flour, milk, eggs, and salt. The ingredients are cheap, and the whole process doesn't take much time.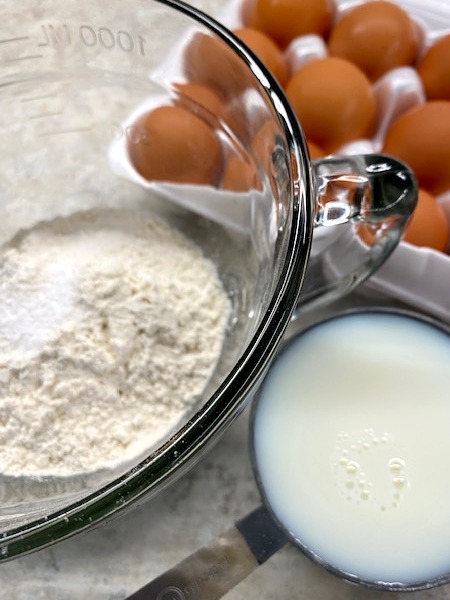 Combine the ingredients in a bowl and whisk until everything is blended. Don't worry about a few lumps in the batter. I love using my batter bowl with a pouring lip to fill the baking cups neatly.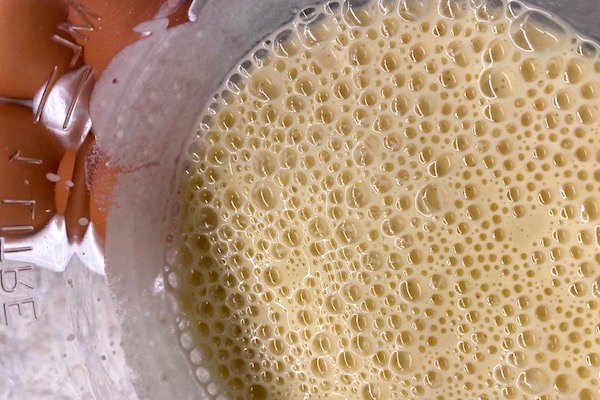 You can use muffin tins or custard cups, as I did. There are also pans made specifically for popovers or puds. If you use custard cups, make sure they are oven-proof. I searched a thrift store to find my Fire King and Pyrex cups. If you use custard cups, it's good to line them up on a baking sheet to catch drips.
Put about a teaspoon of oil in each cup. It can be beef drippings, olive oil, butter, or shortening like Crisco. Next time, I will try bacon drippings and serve them for breakfast. Put the baking cups in a 425-degree oven and let the fat get good and hot.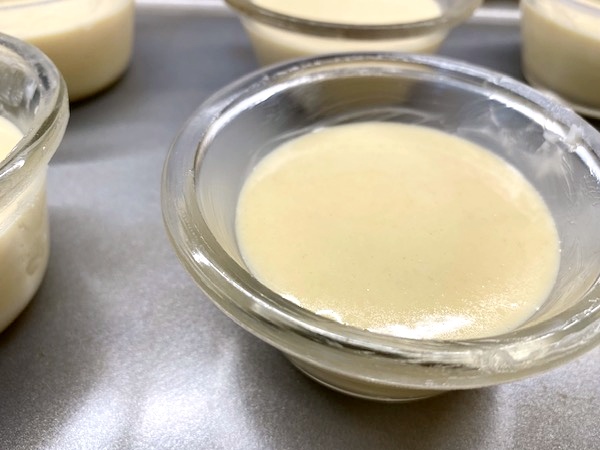 Pull the baking vessels you have chosen out of the oven and close the oven door immediately so the oven stays hot. Fill the vessels half full of batter and return them quickly to the oven.
When the cool batter meets the hot baking vessel, the batter rises quickly, forming the unique hollow center! It is fun to watch through the window of the oven door. Bake for about 25 minutes or until you achieve your ideal shade of golden brown.
I read a suggestion to pierce the puds with a skewer as soon as they come out of the oven to let the steam escape, but I found it unnecessary because each happy pud made its own little steam vent as they baked.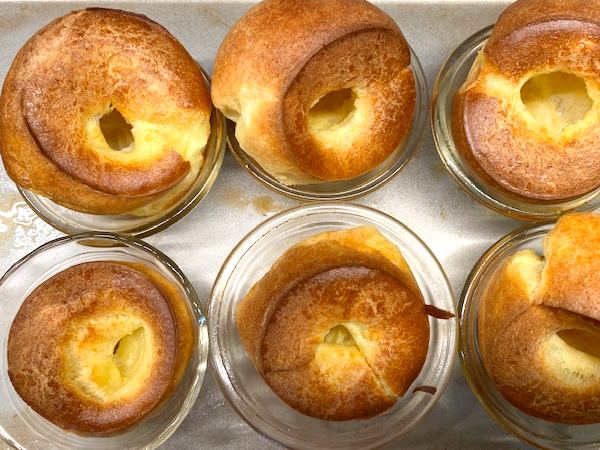 What Is The Difference Between Popovers And Yorkshire Puddings
The answer is not much. Both use the same batter. The key difference is that Yorkshire puddings are a savory accompaniment, so the oil you use should be meat drippings or neutral fat such as shortening.
Puds are usually baked for less time, so they are softer and paler in color and a little "eggier" inside. Puds are traditionally served with beef and potatoes swimming in onion gravy, and they are used to scoop up every delicious bite!
Popovers are crisper and a touch darker in color. They are delightful with butter and jam. Oddly enough, popovers were one of my earliest baking adventures. I have vivid memories of baking them for my younger brothers while I was still in elementary school!
You can easily reheat these. The best way is to put them in a 350-degree oven for about 10 minutes.
Yield: 6 custard-cup size puds
High-Rise Yorkshire Puddings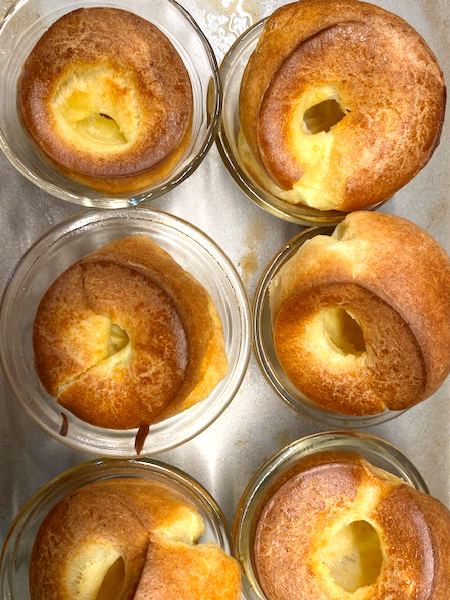 Here is an easy recipe for a popover or Yorkshire Pudding made from a simple batter of eggs, milk, flour, and salt.
Ingredients
1 cup of all-purpose flour
1/2 tsp salt
2 eggs
1 cup of milk
Fat of some kind for baking. Beef drippings, olive oil, shortening, or butter
Instructions
Preheat the oven to 425 degrees.
Mix flour, milk, salt, and eggs in a bowl and whisk until most lumps are gone.
Set batter aside
Put a teaspoon of fat in each cup or muffin tin and put them in the oven for about 10 minutes so they are hot.
Remove the baking vessels from the oven and shut the oven door to keep it hot.
Fill baking cups halfway and return cups or tins to the oven as quickly as possible.
Bake for about 25 minutes until desired shade of brown.
Serve hot with roast beef or with butter and jam.
The best way is to reheat them on a cookie sheet in a 350-degree oven for five or ten minutes.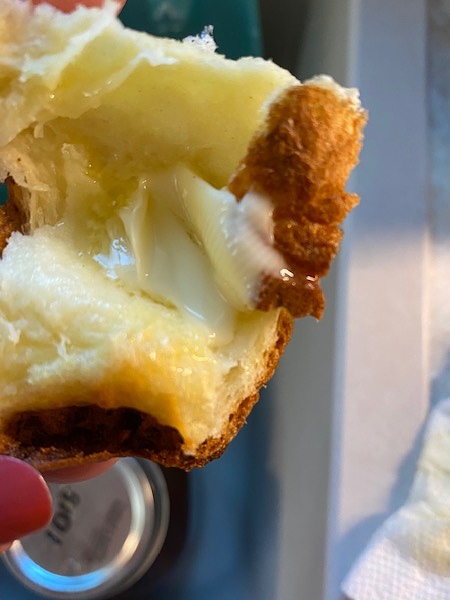 Have you ever had a popover or a Yorkshire pudding? If not, I suggest you give these a try. They are delicious no matter how you serve them!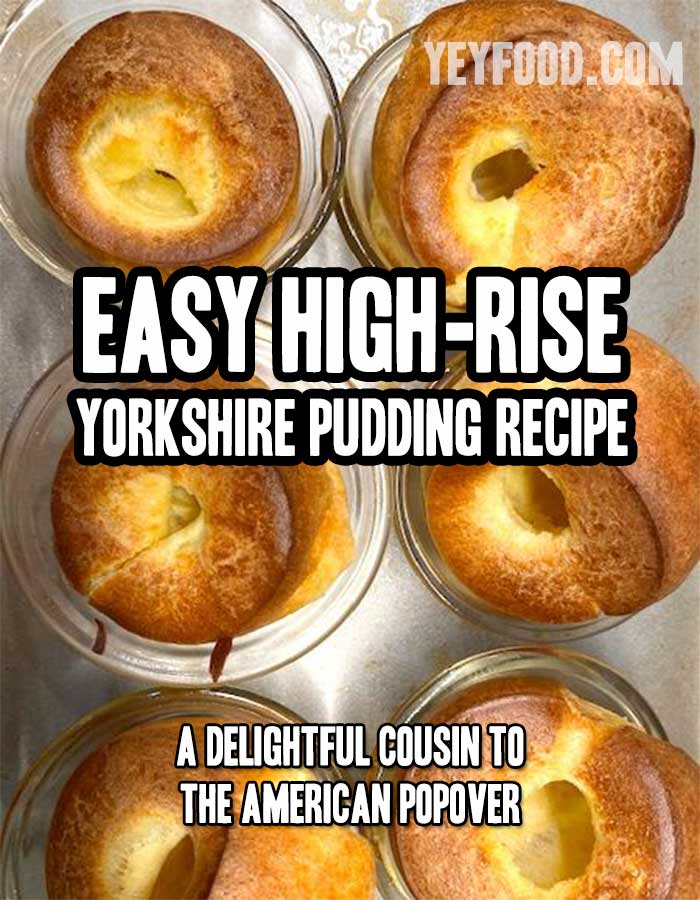 MORE OF OUR AMAZING RECIPES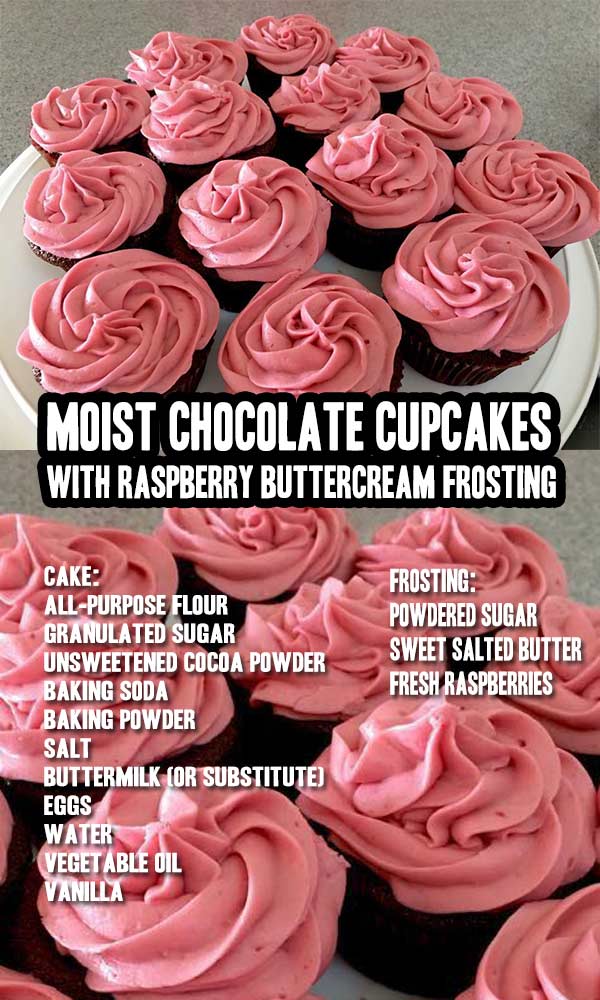 The Ultimate Bread and Butter Pickle Recipe
The Number 1 Practically Perfect Poppy Seed Bread
World's Best Stuffing No Turkey Required
If you like these recipes, you are our people! You can check some related articles below or search via categories on the right. But, be warned; you will be on here for hours. Enjoy!
So, please share this recipe on your social media accounts like Facebook, Instagram, Twitter, and Pinterest. We would be honored and ever so grateful; thank you!