Grandpa's Favorite Cottage Cheese Salad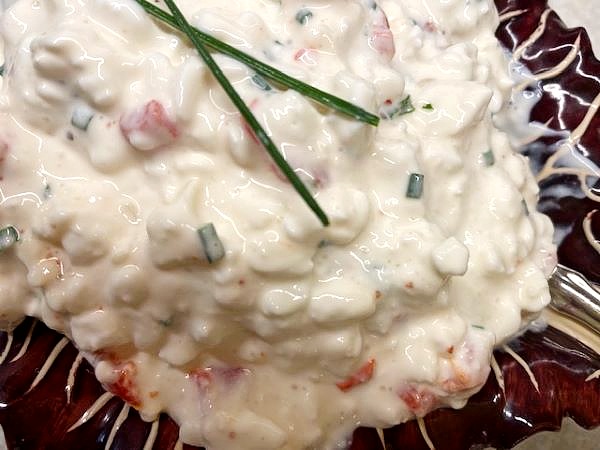 Cottage cheese salad is tasty, easy to make, and substantial enough to make a light lunch on its own, well, maybe with some grainy crackers for extra crunch! This recipe is something you can make all year round. But in the summer, feel free to add some fresh veggies to it with reckless abandon!
In my Nebraska hometown, this was the number one favorite on the bountiful salad bar of a swanky old-school steakhouse. It was "the place" to go! They closed after about 60 years in business, but luckily, someone smuggled out the recipe somewhere along the way. Now you have it, too!
I admit it does not have the Instaworthy appearance of some salads, but you can be sure it will become a favorite once you dip a spoon in it for a taste. For those of us who grew up with this treat, it's a happy, delicious trip down memory lane.
It's Super Easy To Whip Up A Batch Of Cottage Cheese Salad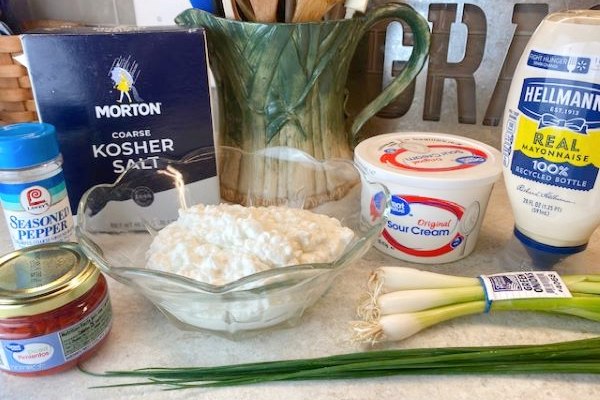 First of all, there are no cottage cheese salad rules. This is supposed to be the original recipe from the legendary steakhouse, but do feel free to improvise. Some folks use a whole 16-ounce carton of cottage cheese and drain it before adding the other ingredients. I do not. I happen to love the cream in creamed cottage cheese!
It's so simple! Chop the veggies, stir them into the cottage cheese, add mayo and sour cream, and season to taste! Then, let all the ingredients mingle and marry for a while in the fridge and boom! You have a delicious side dish or main dish to enjoy!
I suggest if you decide to add chopped cucumbers or tomatoes, add them just before serving because they will water down the salad as it sits. You can also add them on top of each serving as you plate it.
Experiment with Greek and Italian seasonings, or add some dry Ranch dressing. Substitute chopped peppers in any color for the pimentos. Since it's your kitchen, you make the rules! Add to or leave out what you like, but you must try this salad!
Cottage Cheese Salad Is Good And It's Good For You
According to Medical News Today, cottage cheese is an excellent source of calcium. Calcium plays a major role in the health of your bones, teeth, muscles, skin, and nerves. It can help prevent osteoporosis. It also helps regulate your blood pressure and might even play a role in preventing certain cancers.
Talk about a win/win! Cottage cheese salad is a fabulously tasty way to add a plate load of nutrition to your diet!
Do you have any old recipes from eating at Grandma's house? Did she ever give you cottage cheese to eat? My mom always served cottage cheese with a peach or pear half when I was growing up. I always loved cottage cheese! We'd love to hear your cottage cheese story! How about you?
Yield: 12 servings
Cottage Cheese Salad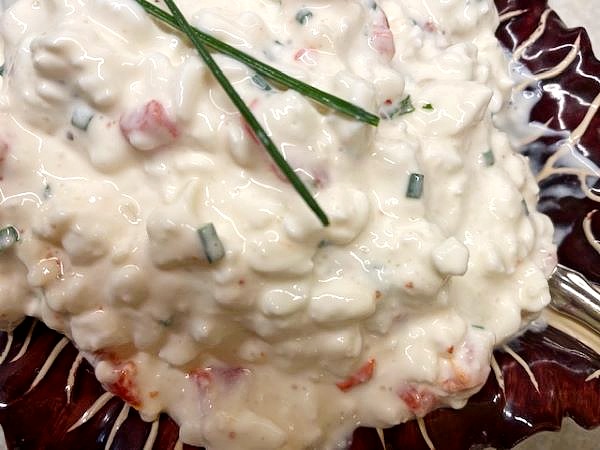 An old-fashioned creamy and refreshing salad that's full of flavor and totally customizable to suit your palate!
Ingredients
12 ounces of creamed cottage cheese 
1 Tbsp mayonnaise 
1 Tbsp sour cream 
1 Tbsp chopped pimento 
2 tsp finely chopped chives 
2 tsp finely chopped green onion 
Salt and fresh ground pepper to taste
Instructions
Mix all ingredients in a bowl. Refrigerate for a couple of hours or overnight before serving.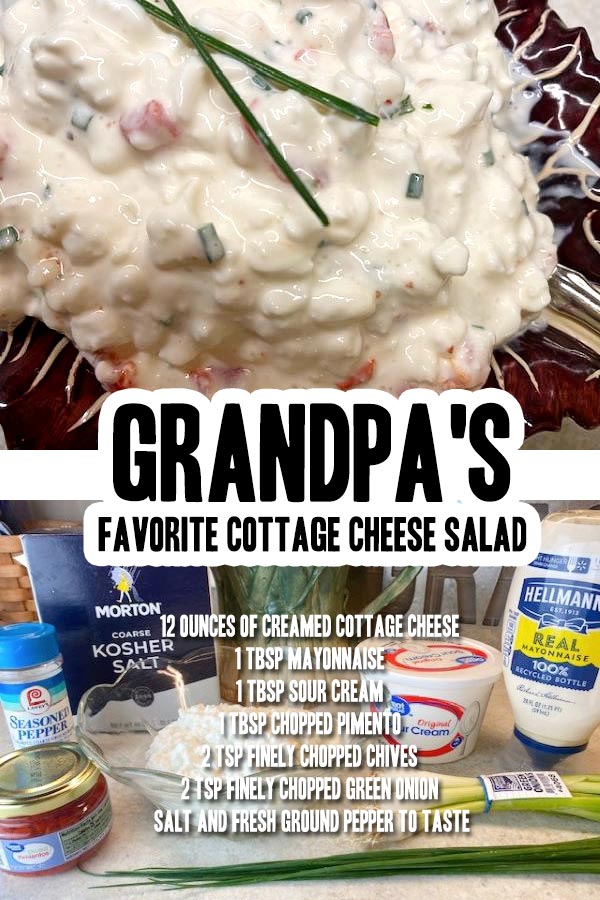 More recipes from us
4 Reasons You Should Freeze Some Sweet Corn This Summer
How To Make The White BBQ Sauce That's Fascinated Us Since 1925
German Sauerkraut Casserole With Bacon And Brown Sugar
If you like these recipes, you are our people! You can check some related articles below or search via categories on the right. But, be warned; you will be on here for hours. Enjoy!
So, please share this recipe on your social media accounts like Facebook, Instagram, Twitter, and Pinterest. We would be honored and ever so grateful; thank you!