Ham Balls Are A Classic Down Home Dish And You Will Need Napkins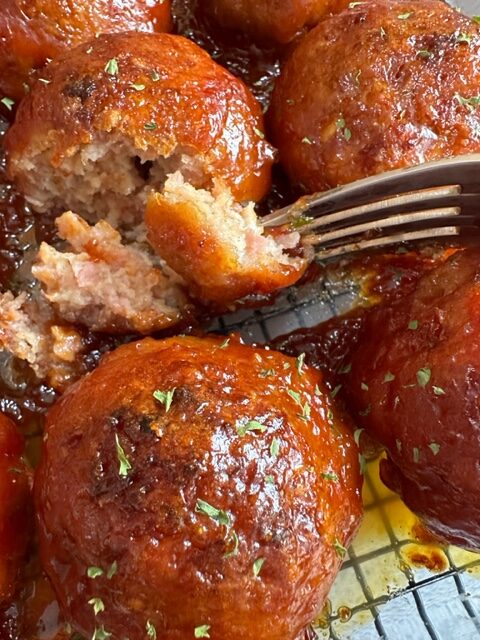 My husband's mom could whip out a pan of delicious ham balls the whole family loved. Grammy made no secret that she did not like to cook, but the woman had perfected a few dishes she could serve when company came over, and this was one of her best. She could knock this recipe out of the park.
I don't think Grammy ever called them Iowa ham balls, but my husband's family on his dad's side all came to Nebraska from Luxembourg by way of Iowa. About a third of the pork we eat in the US comes from Iowa, so it is with great pride Iowans have come to claim this tasty dish as theirs.
Recently, I threw out a question to my Facebook friends asking what cozy food they'd like me to talk about. We just had the first real snowstorm in years (about a foot of snow,) and everyone was feeling all "nesty" and hungry for some comfort food.
Some answers were shepherd's pie, meatloaf, potato soup, chicken chili, and HAM BALLS! I knew right away I had to make ham balls! I had some leftover ham in the freezer from Thanksgiving and some ground pork from the last time I made Frikadeller, which is also amazing comfort food by way of Denmark!
Here's How To Make A Yummy Batch of Ham Balls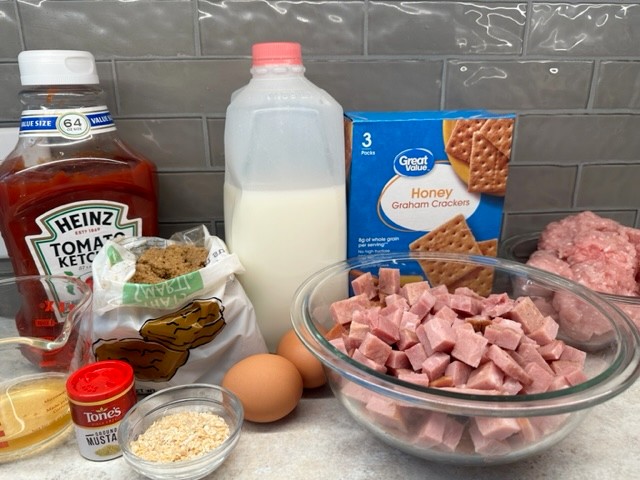 Crush graham crackers to make one and three-fourths cups of crumbs. As a rule of thumb, you will need seven or eight full sheets of graham crackers for each cup of crumbs. So figure on about twelve or thirteen full rectangles. It's a speedy task in a food processor.
This recipe is an excellent way to make use of leftover ham. Grind or chop the ham using a food processor or a meat grinder if you have one. Begin by cutting the ham into cubes, then grinding it. If you use a food processor, stop while there is some nice texture, don't over-process it into a pasty consistency.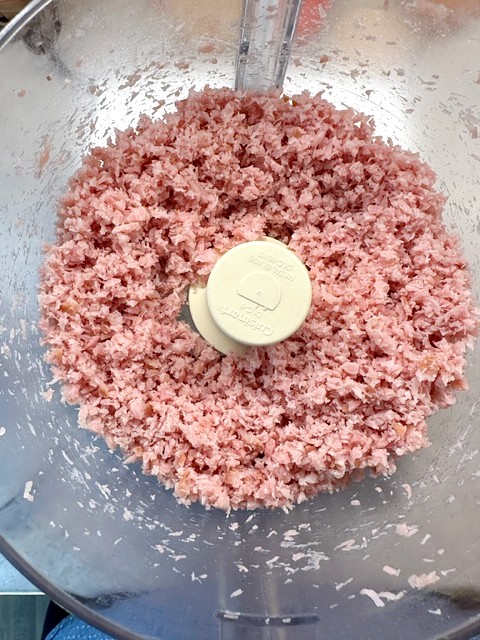 Put the ground pork, the ham, the eggs, the instant minced onions, and the milk in a large bowl and mix well. I found my Danish whisk is the perfect tool for this job!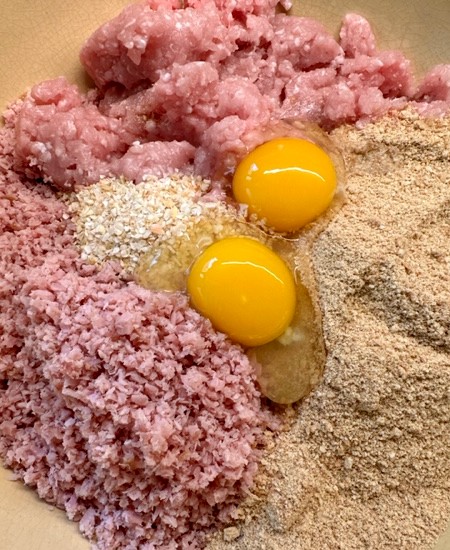 The meat mixture should be moist enough to scoop and firm enough to hold its shape when you form it into a ball. I used an ice cream scoop to measure about one-third of a cup of meat into ham balls and lined them up in a baking pan like little soldiers.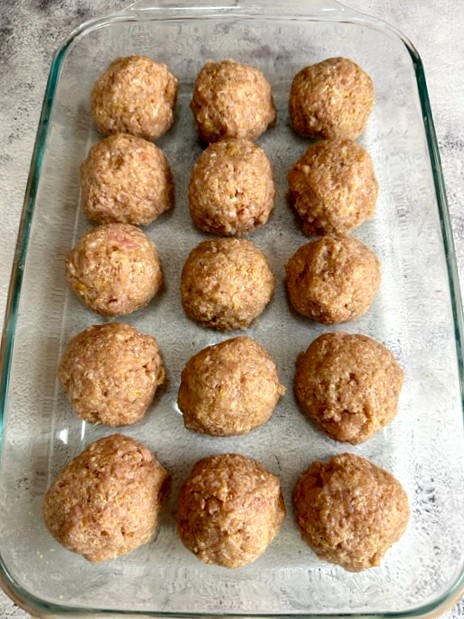 This recipe makes twenty-four ham balls about the size of a mandarin orange, so I put nine in a square baking pan and fifteen in a nine by thirteen pan for sharing! If we weren't lucky enough to have kids in town, these yummy ham balls would freeze well, too!
Bake the meatballs in a 350-degree oven for about 45 minutes, then remove them from the oven and brush them with the glaze you made of ketchup, brown sugar, and apple cider vinegar. Return them to the oven for another fifteen minutes or until the glaze gets slightly brown. It just might be the best part of the recipe!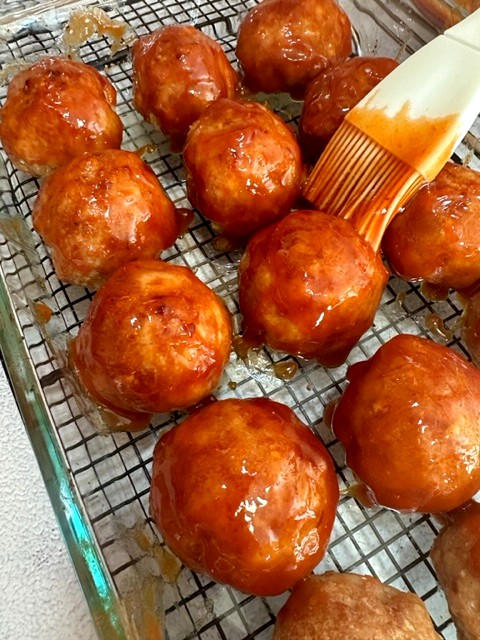 Serve these meatballs with mashed potatoes and a green vegetable for a perfect "farm food" meal! You can also make them much smaller and serve them as appetizers but make sure you bake them in a single layer!
You may be surprised to see graham crackers as an ingredient, but their slightly sweet flavor pairs well with the ham. If you want, you can substitute saltine crackers for all or part of the crumbs but do try the graham crackers at least once! They are perfect in this dish. You might also try using Ritz crackers for all or part of the crumbs for a more savory flavor profile.
This recipe makes a lot of ham balls, but you can easily cut the recipe in half or freeze some for another day!
Yield: 24 meatballs
Glazed Iowa Ham Balls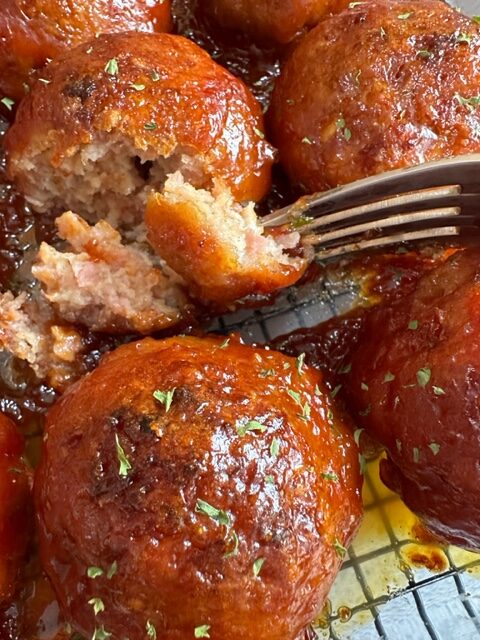 Tasty meatballs made of ground ham and ground pork in a sweet and tangy glaze of ketchup, brown sugar, apple cider vinegar, and dry mustard.
Total Time
1 hour
15 minutes
Ingredients
Ham Balls
2 pounds of ham, Grind in a meat grinder or food processor
1 pound ground pork
2 large eggs
1 ¾ cups graham cracker crumbs
1 cup milk, whole preferred
¼ cup instant minced onion
Glaze
1 1/2 cups ketchup
1 cup brown sugar
1/4 cup cider vinegar
1 teaspoon dried mustard
Instructions
Preheat oven to 350 degrees F.
In a large bowl, combine the ground ham, pork, eggs, graham cracker crumbs, milk, and minced onion.
Mix the ham ball ingredients gently, do not overwork the mixture.
Shape into balls using a large cookie or ice cream scoop or ⅓ cup measuring cup for an entree-size portion.
You can shape the mixture into smaller meatballs to serve as an appetizer.
Arrange in a single layer in a large 9x13-inch baking dish. I need to use a second smaller pan to hold all the meatballs.
Bake for 45 minutes at 350 degrees.
Whisk the glaze ingredients in a small bowl.
Remove the meatballs from the oven after baking for 45 minutes and brush with the glaze.
Return to the oven and bake for another 15 minutes or until the glaze begins to brown slightly.
We love meatballs and meatloaf and all kinds of cozy comfort food! Here are some of our favorites. Honey Garlic Meatballs, Frikadeller Danish Meatballs. Too Good To Be Microwave Meatloaf and Colcannon. What comfort foods does your family enjoy?!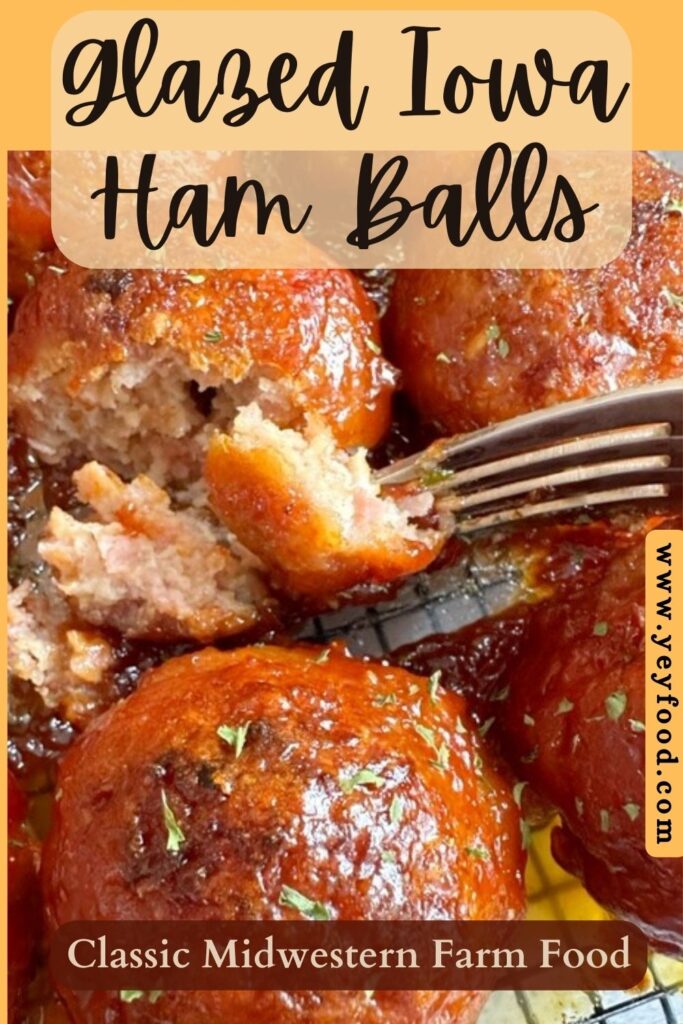 MORE OF OUR QUICK AND EASY FAMILY-STYLE RECIPES: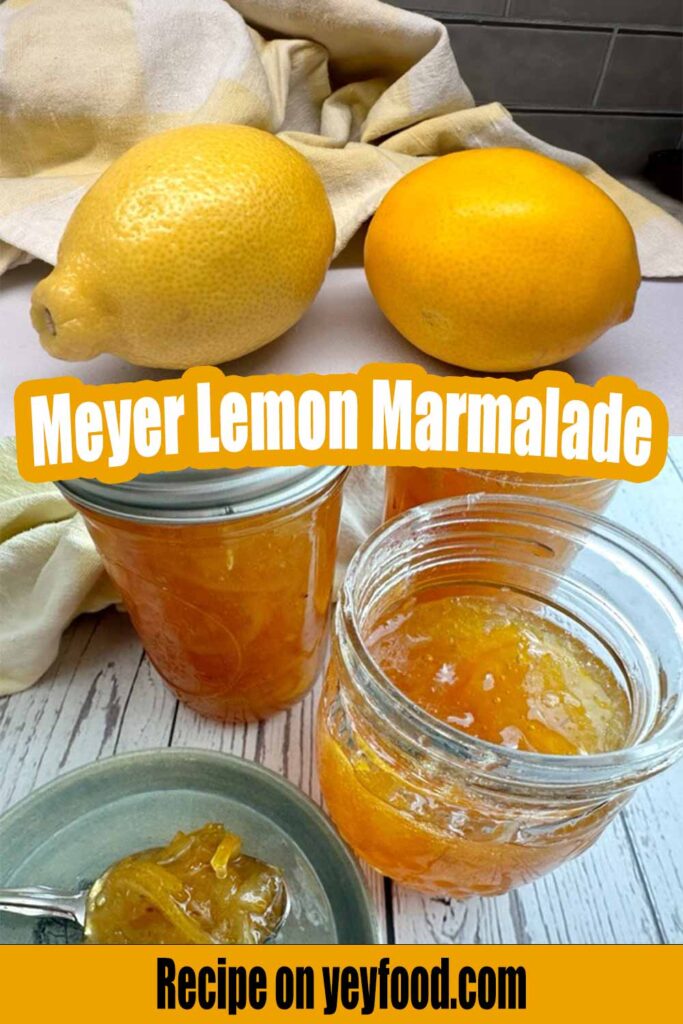 Oven-Baked Steak With Brown Gravy
If you like these recipes, you are our people! You can check some related articles below or search via categories on the right. But be warned; you will be on here for hours. Enjoy!