Sour Cream In The Cake Makes It Moist And Delicious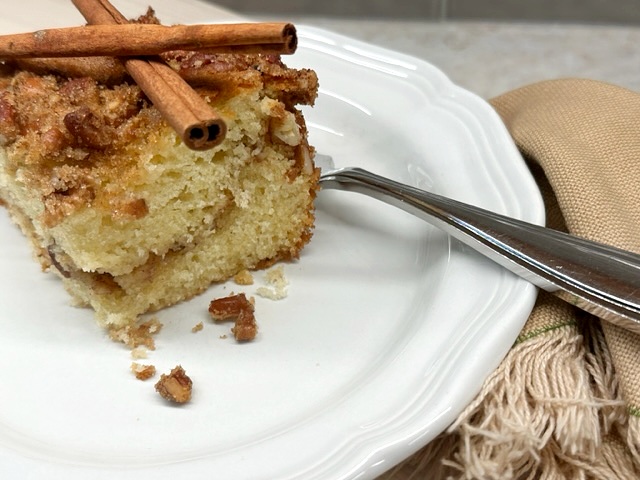 A few days ago, I found myself strangely hungry for cinnamon pecan coffee cake. Why? A wave of nostalgia has swept over me recently as I remember a time when women gathered for coffee and couples got together at card parties. Snacks were a big part of those get-togethers, and coffee cakes were especially popular.
Even though coffee klatches and Pinochle parties are a thing of the past, people still LOVE coffee cake! A quick online search immediately produced 429 million hits when I typed "coffee cake."
This amazing cinnamon pecan coffee cake made with sour cream and an exceptionally generous amount of pecan streusel is a classic and a standout! This is how I baked homemade coffee cake in the 1970s.
I scoured a lot of places to find one like the coffee cake recipe I used back then. It's probably handwritten on a smudged card in my untamed recipe box from years ago. I also studied this wonderful article from The Kitchn about their top four favorite coffee cakes, and I didn't choose any of them.
If You're Nuts About Nuts This Is The One For You
The streusel topping contains one and one-half cups of chopped pecans, butter, both brown sugar and white sugar, and cinnamon! Everyone knows when it to comes to coffee cake, it's all about the streusel because that's where it's at!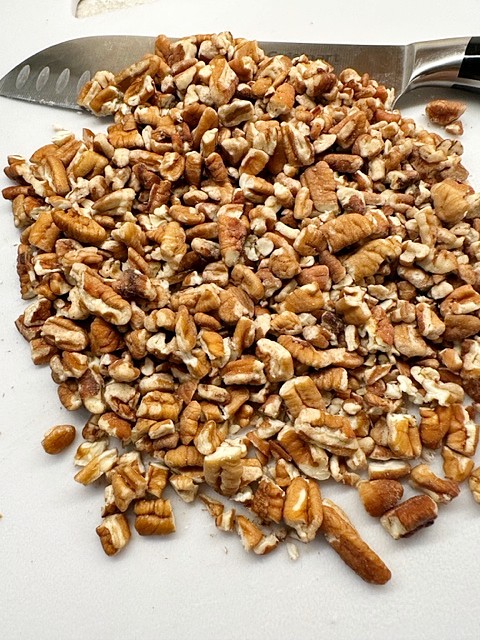 Melt three tablespoons of butter, the sugars, the cinnamon, and a smidge of salt together well, then stir in the pecans. Mix it all together really well, don't skimp on the time it takes to make it crumb-like. You want to be able to pick it up with your fingers and sprinkle it in the center of the cake and over the top.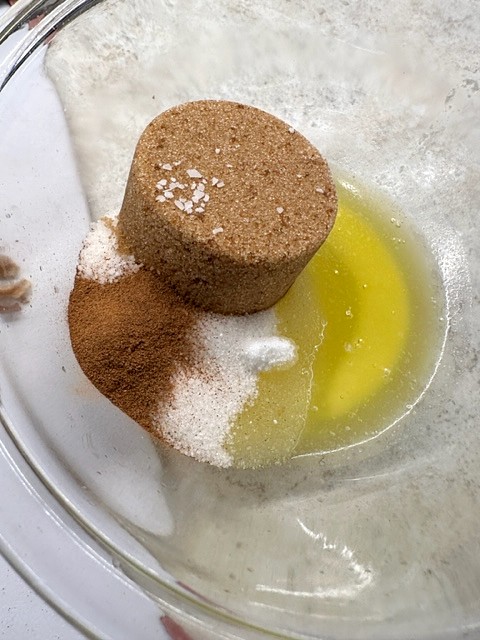 Here's how the streusel should look, all crumbly and well blended.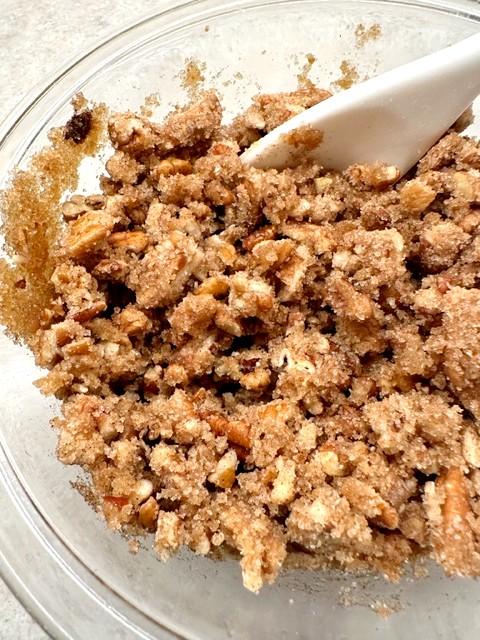 Let's Make The Amazing Cinnamon Pecan Coffee Cake
Set the streusel topping aside while you make the cake. Snitch a little! There's plenty! Spray or butter a baking dish. You can use an 8-inch by 10-inch pan, an 11-inch by 7-inch pan, or a 9-inch square pan. Turn on your oven to 350 degrees. In a medium bowl, whisk the flour, salt, baking powder, and baking soda.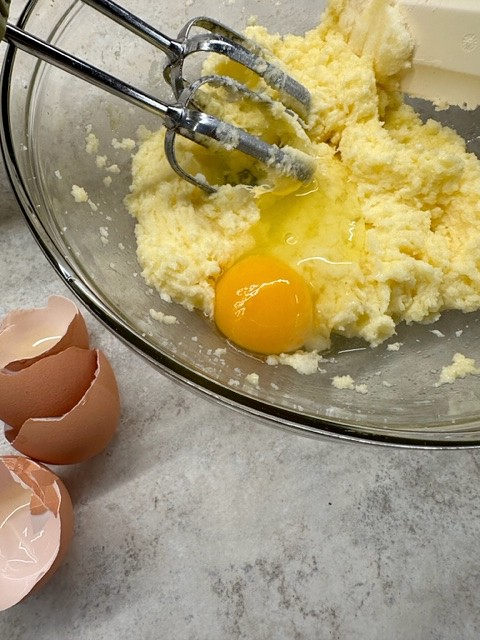 Cream the butter and sugar in another bowl, then beat in the eggs one at a time. Beat in the sour cream and vanilla. Then gradually add the dry ingredient and mix just enough that the flour is incorporated. Don't over-mix. Put half of the batter in the prepared pan.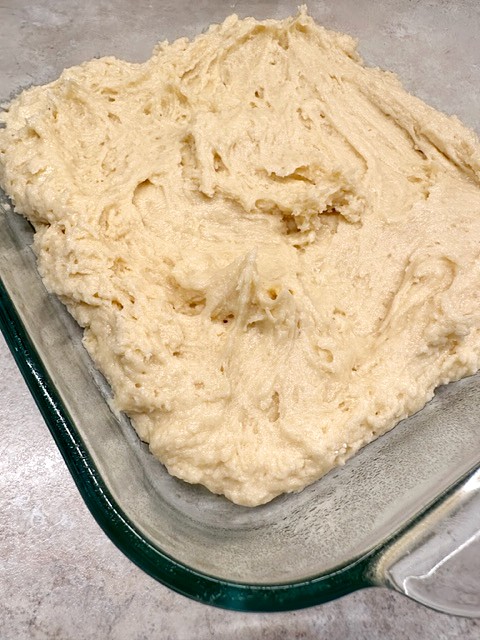 Sprinkle half of the streusel topping on the bottom layer, and get clear to the edges of the pan.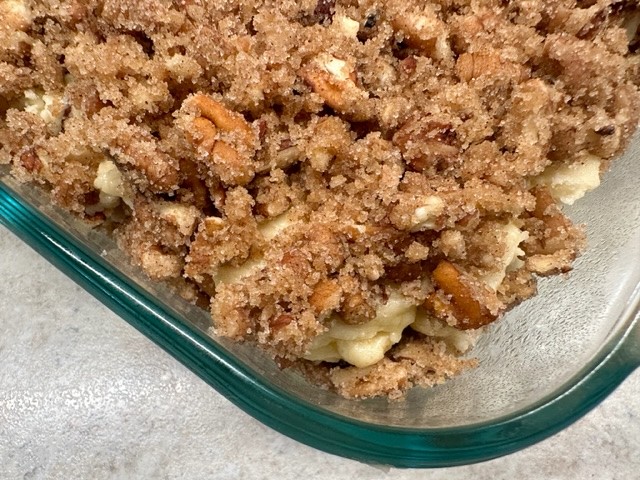 Now, carefully spoon the rest of the batter on top of the streusel. Use a spatula to spread the batter as evenly as possible. I found it helpful to spray the spatula with non-stick spray to keep the batter from sticking.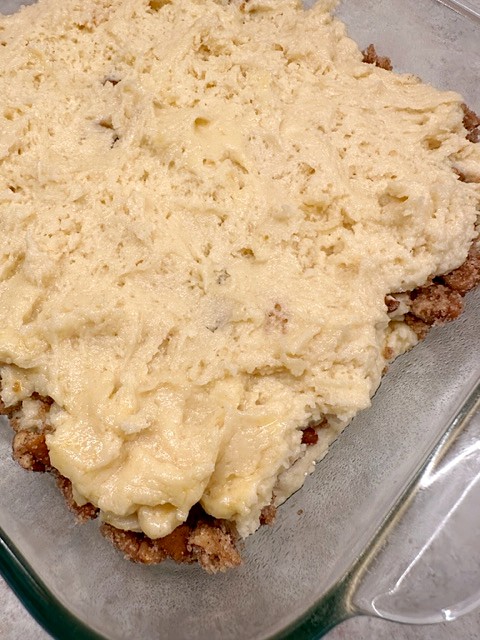 And finally, sprinkle the remaining streusel mixture on top of the cake, press it down into the batter gently, and it is ready to go into the oven.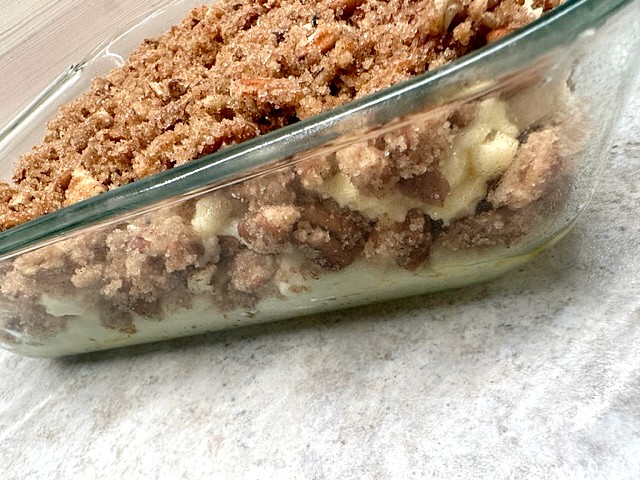 Bake the coffee cake at 350 degrees for thirty or 35 minutes. Enjoy the amazing fragrance of the cake as it bakes!
Make sure a toothpick, bamboo skewer, or cake tester inserted in the center comes out clean. This is a dense, moist cake and you don't want to underbake it because if you do, it can sink in the middle. It will still taste great if it happens, though!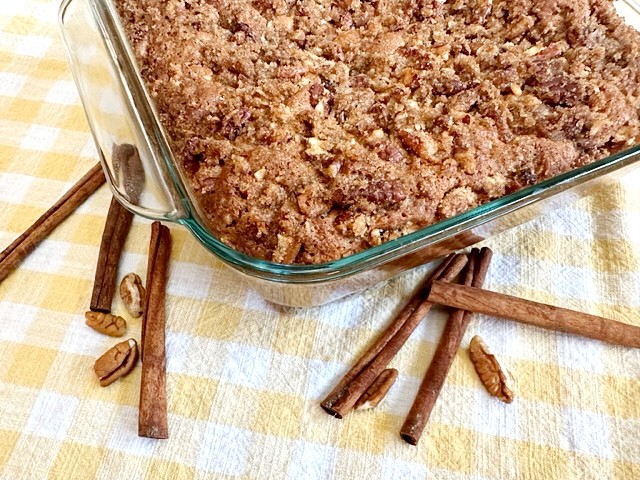 Cool the gorgeous cinnamon pecan coffee cake on a rack until you can handle the pan before cutting it into beautiful serving pieces! This cake is dense, rich, and moist, so you should get at least nine servings from this recipe.
Just look at all the luscious streusel! The crunchy, buttery, cinnamon sugar and pecan streusel filling is the most perfect contrast to the tender moist cake! It's absolutely mouth-watering!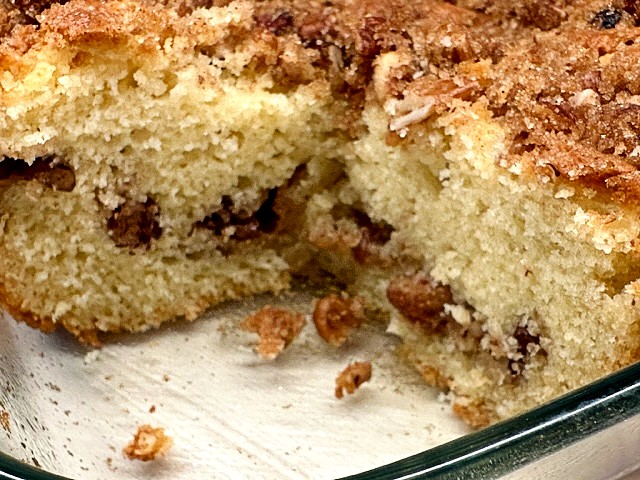 Oh boy, do we love cake! Here are some of our reader's favorite cake recipes on Yeyfood. Perfect Cranberry Christmas Cake, Pig Pickin' Cake, Quick Candy Bar Poke Cake. Does your family have a favorite cake recipe?
Yield: 9 servings
Cinnamon Pecan Coffee Cake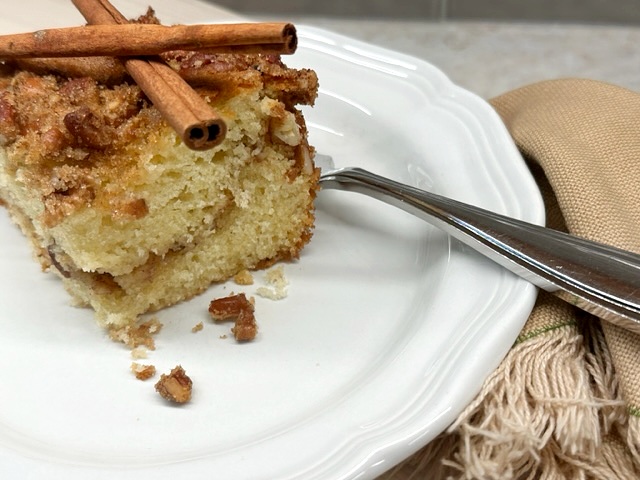 A perfectly moist cake made with sour cream. This recipe has twice the usual amount of cinnamon pecan streusel because everyone knows that's the best part of a coffee cake!
Ingredients
CAKE
2 cups flour, lightly spooned into a measuring up and leveled
1 tsp baking powder
¾ tsp baking soda
½ tsp salt
1 cup granulated sugar
½ cup butter softened to room temperature
2 large eggs
I cup sour cream
1 1/2 tsp vanilla
STREUSEL
1 ½ cups finely chopped pecans
⅓ cup granulated sugar
⅓ cup light brown sugar, firmly packed
3 tablespoons melted butter
1 tsp cinnamon
⅛ tsp salt
Instructions
Preheat the oven to 350 degrees.
Butter or spray a baking dish.
Begin by making the streusel topping. In a mixing bowl, combine the sugars with the melted butter, then stir in the cinnamon, the salt, and the pecans. Stir very well, don't skimp on the time it takes to make the mixture crumbly and well combined. This could take a few minutes to complete.
Whisk together the flour, baking powder, baking soda, and salt in a medium bowl and set it aside.
Cream the butter and sugar and butter in a large bowl.
Beat in the eggs one at a time, until thoroughly blended.
Beat in the sour cream and vanilla.
Gradually add in the dry ingredients on low speed only to the point the flour is just incorporated; do not overmix.
Spread 1/2 of the batter over the bottom of the prepared baking dish, then sprinkle with 1/2 of the topping.
Carefully spoon the remaining batter over the streusel, spreading to cover.
Sprinkle on the remaining streusel topping and very gently press the topping into the batter.
Bake in the preheated oven until a bamboo skewer inserted into the center comes out clean, 30 to 35 minutes.
Let the coffee cake cool slightly before cutting it into squares and serving.
Notes
You can use an 8" x 10" pan, a 9" square pan, or an 11" by 7" pan.
Nutrition Information:
Yield:
9
Serving Size:
1
Amount Per Serving:
Calories:

560
Total Fat:

33g
Saturated Fat:

13g
Trans Fat:

1g
Unsaturated Fat:

18g
Cholesterol:

94mg
Sodium:

457mg
Carbohydrates:

62g
Fiber:

3g
Sugar:

38g
Protein:

7g
If you enjoyed this recipe, please share it on your social media! I would love for more people to try this delicious and easy-to-make dessert. If you have any questions or feedback, please feel free to leave a comment below. I would love to hear from you! Shhh… Join our secret foodie group on Facebook.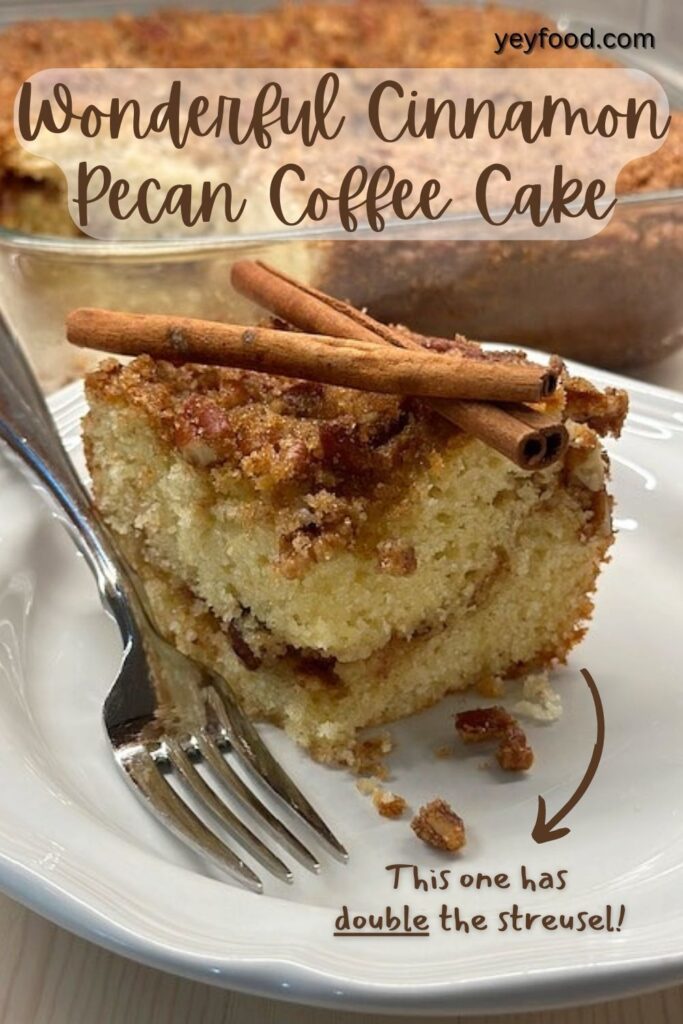 MORE OF OUR QUICK AND EASY FAMILY-STYLE RECIPES: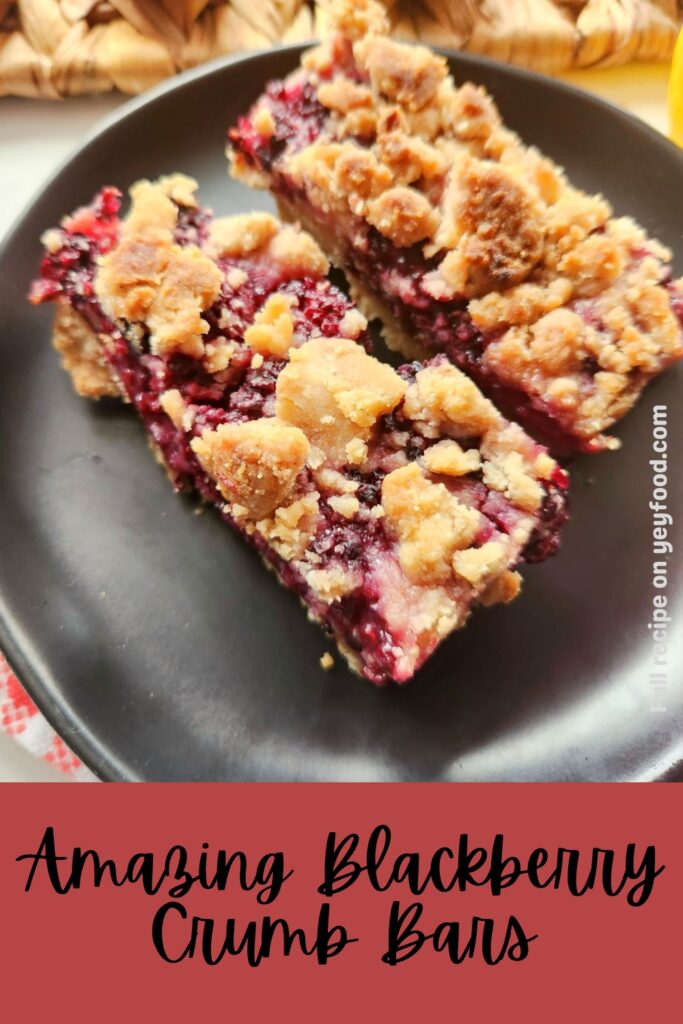 If you like these recipes, you are our people! You can check some related articles below or search via categories on the right. But be warned; you will be on here for hours. Enjoy!