Beer Cheese Soup with Kielbasa Recipe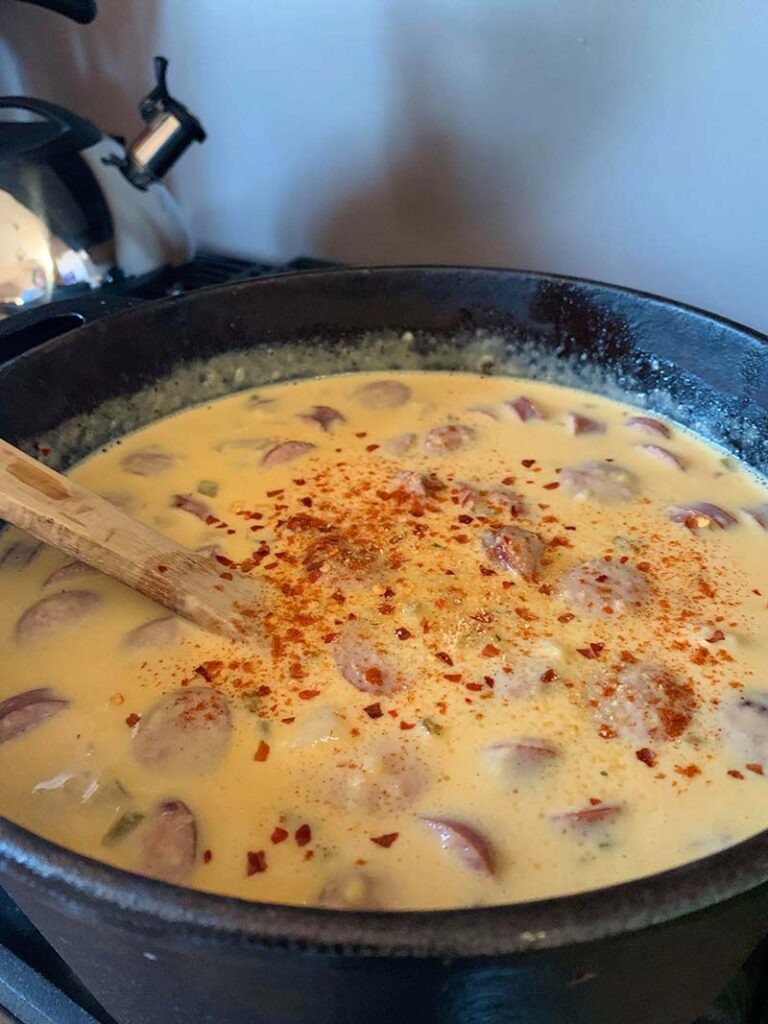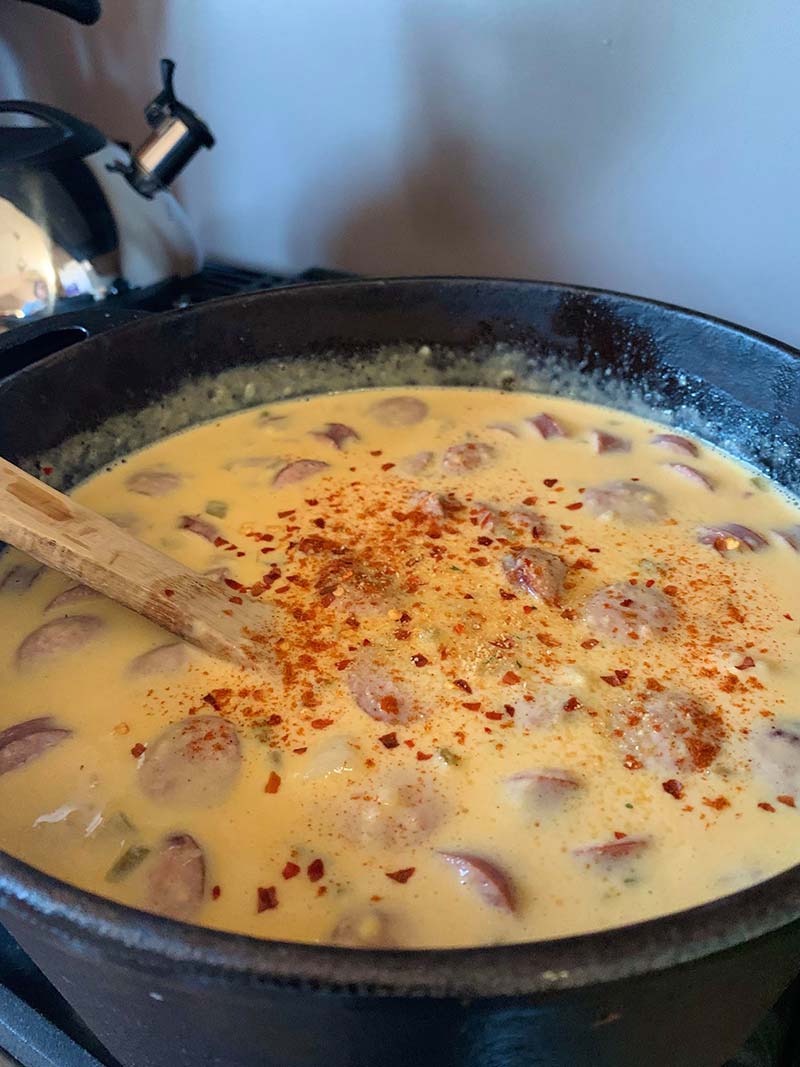 Beer Cheese Soup is silky, hearty, flavorful comfort food at its best. When you add smoky kielbasa, the soup soars to a new level of Wunderbar! This amazing soup could not have originated anywhere but in Germany. The Germans are renowned throughout the world for their flavorful and hearty cuisine.
Germans were the largest group of foreign immigrants to the United States during the 1800s. Wisconsin was one of the most popular landing spots for German settlers because the land closely resembled the countryside of their native home.
It is no coincidence that brewing beer and cheesemaking are such a huge part of Wisconsin's culture. German immigrants brought their skills from the old country. And that's why some of the best beer cheese soup you'll ever eat comes from Wisconsin.
There are as many ways to make beer cheese soup as there are German hausfraus, but we'll start with a simple and delicious recipe. It's up to you to experiment until you get it "just right" for your crew.
Get Your Roux Right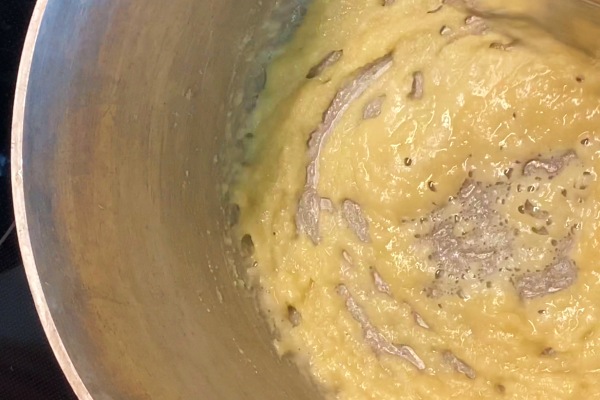 This soup is easy to make! You can have your face buried in a cheesy bowlful of goodness in less than 30 minutes! The place to begin is making a good roux. What's a roux, you ask? A roux (say it "roo") is a mixture of fat and flour made to thicken gravy, a sauce, or soup. It is usually equal parts of each.
In this recipe, the fat is butter. The butter and flour cook together until the consistency is smooth and free of lumps, and the raw taste of flour is completely gone. Patience is the key here because a nice smooth roux is a foundation and the thickening agent of the soup.
Once you have a lovely roux, add the vegetable or chicken stock or bouillon, the beer, Worcestershire sauce, mustard, pepper, and cayenne. Cook over medium heat until the mixture begins to thicken, then add shredded cheese in small batches. Add a handful at a time, stirring thoroughly with each addition to make sure the cheese melts evenly.
Kielbasa means smoked sausage. Polska Kielbasa means it's made in the Polish style or made in Poland. Kielbasa is usually lightly smoked, tender, and flavorful. Many brands and varieties of kielbasa are packaged and sold shrink-wrapped in U-shaped ropes.
Kielbasa can be made from a mixture of meats or all beef, or you can substitute smoked sausage. Slice and saute the kielbasa lightly in a skillet and drain off any fat before adding it to the soup. Add the sausage to the soup, garnish as you like, and serve immediately.
Helpful Hints For The Best Beer Cheese Soup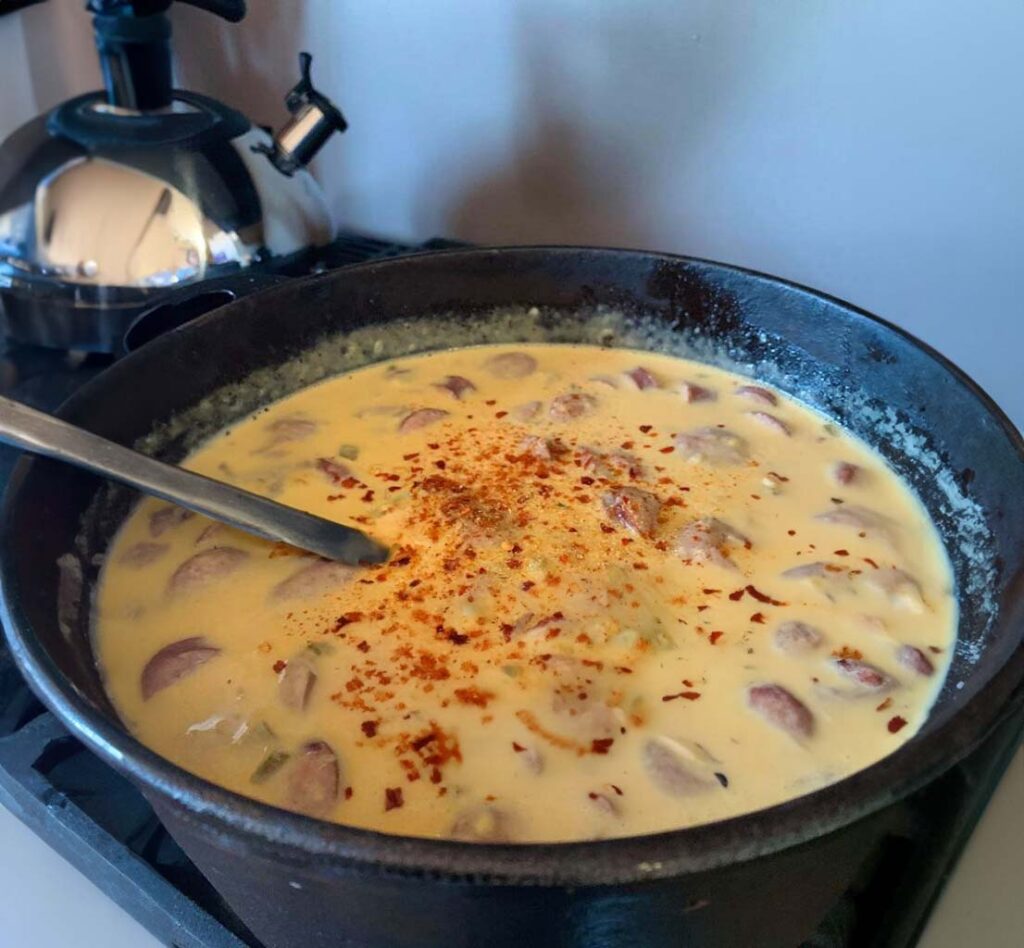 Please use real butter.
Please shred your own cheese from a block. Pre-shredded cheese has a coating that helps keep it from sticking together, preventing smooth melting.
Shred the cheese while it's cold right out of the refrigerator. It is a much easier task. You are not limited to cheddar cheese; although sharp cheddar is the cheese of choice, experiment with other cheeses you like, such as Monterrey Jack.
Let the cheese come to room temperature before adding it to the soup.
Light beer will let the cheese flavor come through. Darker beers will, well, make the soup taste more "beery." Use what you like. Play around with it. Several batches of beer cheese soup are a tasty and noble culinary experiment!
Garnish any way you like. Big fat buttery croutons are awesome. In Wisconsin, fluffy kernels of popcorn are the topping of choice.
Soft pretzels go great with beer cheese soup, and we think this soup would taste great with a homemade runza, a wonderful German sandwich made of cabbage, beef, and onion baked inside a pocket of yeast dough! Do you love beer cheese soup? What do you serve with it?
Printable Recipe: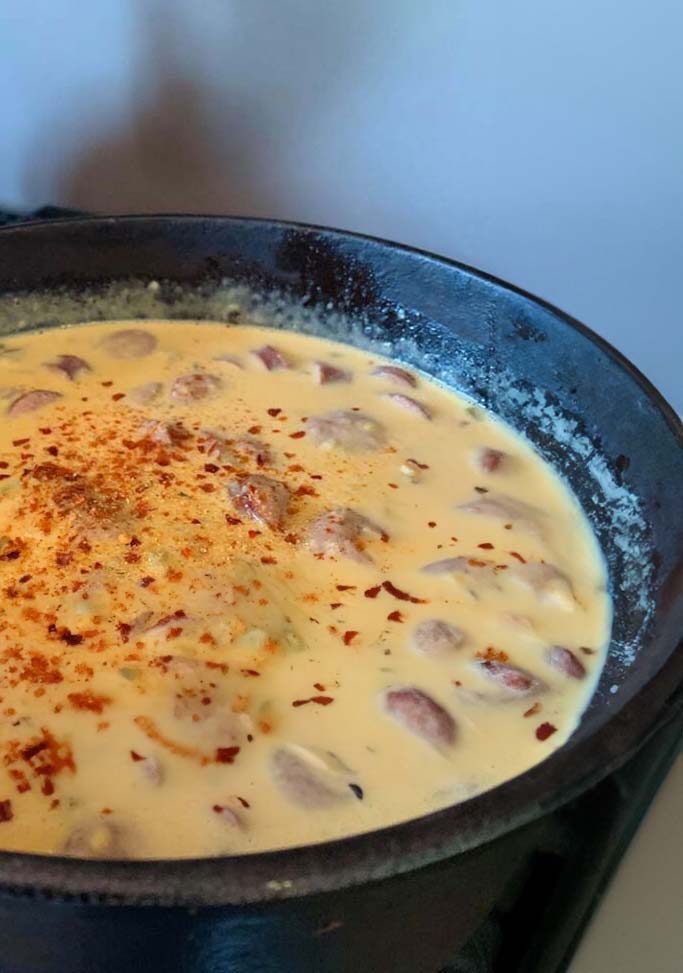 Yield: 8 servings
Beer Cheese Soup With Kielbasa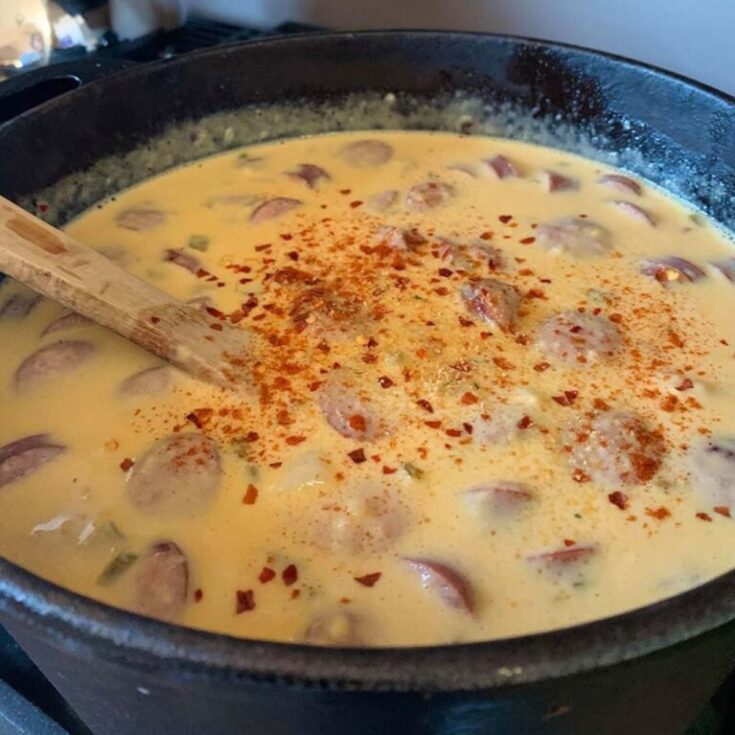 Beer Cheese Soup – rich, creamy, and totally yummy. Very simple and quick to make, you can ladle it into bowls in 30 minutes or less. Comfort food at its best! Freezes well.
Ingredients
¾ cup butter cut into pats
¾ cup all-purpose flour
1 (12-oz) bottle light beer
4 cups chicken or vegetable stock. (I recommend Better Than Bouillon paste-type base to make the stock, following the directions on the package.)
2 tsp Worcestershire sauce
1 tsp dry mustard
¼ tsp pepper
¼ tsp cayenne pepper
4 cups shredded cheddar cheese
1 (12-ounce) package of Polska kielbasa, sliced thin
Instructions
In a large saucepan, melt butter over medium heat. Stir in flour until blended, and all raw flour taste is cooked out; gradually whisk in beer until smooth. Whisk in stock, Worcestershire sauce, mustard, pepper, and cayenne.

Continue cooking until it's bubbling, stirring constantly; cook and stir until thickened, 1-2 minutes. Reduce heat. Gradually stir in cheese until it is completely melted and smooth.

While the soup is simmering, slice and sauté the sausage until it starts to brown. Drain any fat and stir the sausage into the soup.
If you enjoyed this recipe, please share it on your social media! I would love for more people to try this delicious and easy-to-make recipe. If you have any questions or feedback, please feel free to leave a comment below. I would love to hear from you! Shhh… Join our secret foodie group on Facebook
More tasty recipes from us:
If you like these recipes, you are our people! You can check some related articles below or search via categories on the right. But, be warned; you will be on here for hours. Enjoy!
So, please share this recipe on your social media accounts like Facebook, Instagram, Twitter, and Pinterest. We would be honored and ever so grateful; thank you!