Tomato Bruschetta Recipe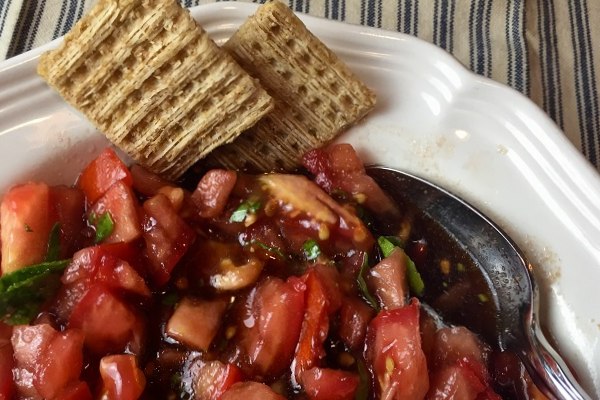 Tomato bruschetta (say it Broo-sketta') is an antipasto (appetizer) class that should come with a warning label. It's addictive. And every Italian kitchen has a unique way of making it.
We fell in love with this simple version of bruschetta we discovered in a tucked-away, authentically Italian restaurant in Philadelphia, where we first tasted it. This dish has been a crowd-pleaser ever since we brought the idea home.
This bruschetta recipe is as close as I can get to the bruschetta we first enjoyed in Philadelphia. It's a method as much as it is a recipe.
When I make it in the winter, I buy the tomatoes that come on the vine. I can almost always find fresh basil in the store, but I have used dried in a pinch! I always serve it at my Christmas parties because everyone loves it.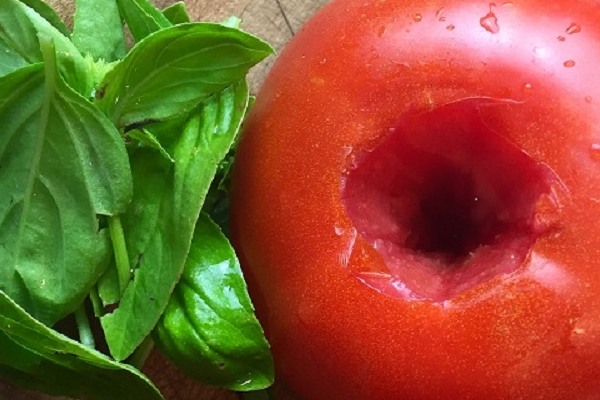 Wash, core, chop the tomato coarsely, and toss it in a bowl, reserving as much juice as possible. I prefer a glass bowl because the mixture is somewhat acidic. Bruschetta is fun to say and even more, fun to eat! I could make a meal of it! Best of all, it's quick and easy to throw together.
Some prefer to use only the meat of the tomato, and you can decide. We chop up the whole tomato, seeds, and all. We love the "jus" that forms when everything mingles and the delicious way it soaks into the bread or cracker you choose. You will develop your spin on tomato bruschetta, and I say go for it!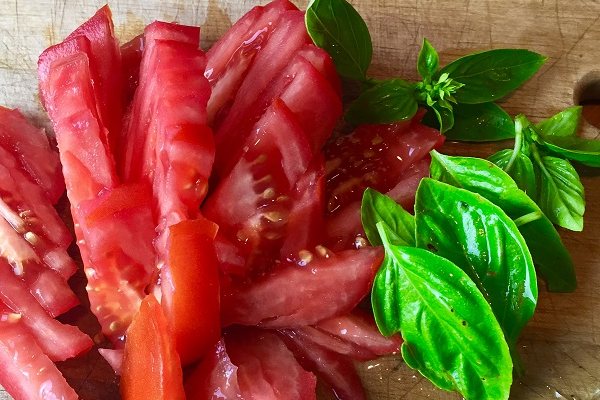 Once you have chopped the tomatoes, stack and roll the basil leaves and cut them into thin ribbons, this process is a chiffonade. For my fellow word nerds, it's pronounced "chif·fo·nod." It comes from a French word meaning "little ribbons."
I'm not especially proud of how my basil "chiffonade" looks in this picture. I admit I was in a hurry, but I was born that way. Stack the basil leaves on top of each other, roll them up, and cut them into thin ribbons. (Ideally). Then, add it to the chopped tomatoes.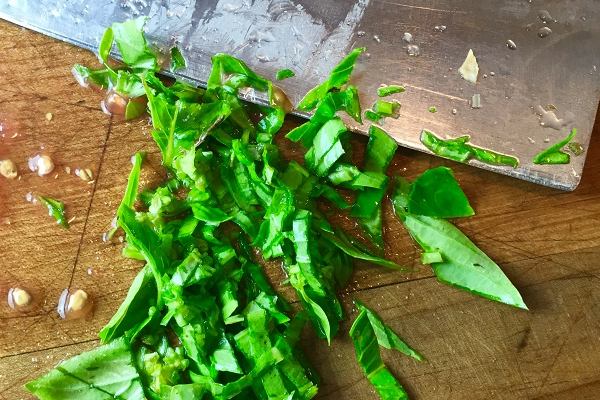 If you're a purist, you can find dozens of videos about making a chiffonade, thanks to Mr. Google. If you're not, do what I do. Close your eyes, open your mouth, and slurp up the yummy bruschetta!
In my opinion, bruschetta tastes best at room temperature. If you don't eat it all, store it in the refrigerator but let it sit out a bit before serving it. Tomatoes vary a lot in their sweetness, so feel free to adjust your sugar, salt, and balsamic until your mouth is happy!! Now add the rest of the ingredients, stir gently, and allow it to sit while the elements all meet, fall in love, and make magic.
Ree Drummond, The Pioneer Woman, serves her classic tomato bruschetta on crostini or thin buttered garlic toast. She makes her crostini in a skillet, and it looks amazing! By all means, make some crostini if you have the time and energy!
Here's the deal, though. For a lot less hassle and time spent, we have found a woven wheat cracker such as Triscuit works splendidly and soaks up all the marvelous juices like a sponge. It sure works for my hungry bunch.
Bruschetta Is Even Betta With Sun-Ripened Tomatoes
We have bruschetta almost every day in the summer when fresh tomatoes are abundant at the farmer's market. I often make up just one or two tomatoes for Papa and me.
When we meet up for a summer family feast, I make a huge batch using 8 or 10 big tomatoes and a giant bunch of basil. Try spooning bruschetta on a burger or add it to a salad. Bellisimo!
You can use a combination of yellow and red tomatoes or any heirloom variety. Cherry or grape tomatoes work fine too. Especially homegrown. And my Lord, especially if they are still warm from the sun! It makes it even more beautiful.
Yield: 2 servings
Tomato Bruschetta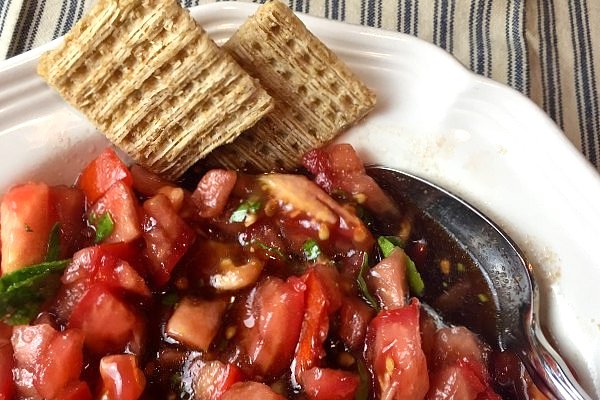 Bruschetta is an appetizer that begins with firm ripe tomatoes and fresh basil. Salt, sugar, garlic, balsamic vinegar, and olive oil make it sing in Italian!
Additional Time
30 minutes
Ingredients
1 medium to large firm, ripe tomato
2 Tbsp chopped fresh basil
2 tsp sugar, or to taste
1 to 2 tsp of Kosher salt. Start with less and work up.
2 Tbsp good balsamic vinegar
2 tsp extra virgin olive oil
1/2 tsp garlic powder, use fresh if you really like garlic
2 Tbsp fresh grated Parmesan cheese, optional but amazing!
Instructions
Core and coarsely chop tomato. Chop basil in fine shreds (chiffonade). Put in a glass bowl, add salt, sugar, garlic powder, olive oil, and balsamic vinegar.
Stir gently to combine ingredients and allow to sit for 30 minutes or so to let the favors fall in love and marry.
I prefer to make this close to mealtime so it can be served at room temperature.
Traditionally served on thin, crisp buttered garlic toast or crostini. However, we've found that a woven wheat cracker such as Triscuit makes a dandy quick palette for this divine creation in our crazy life.
Ta-Da!! You are now a kitchen maven who can whip up a batch of fresh bruschetta like a champ!! Enjoy!! Have you ever heard of bruschetta? Have you ever eaten bruschetta? If you haven't, we sure hope you give this recipe a try!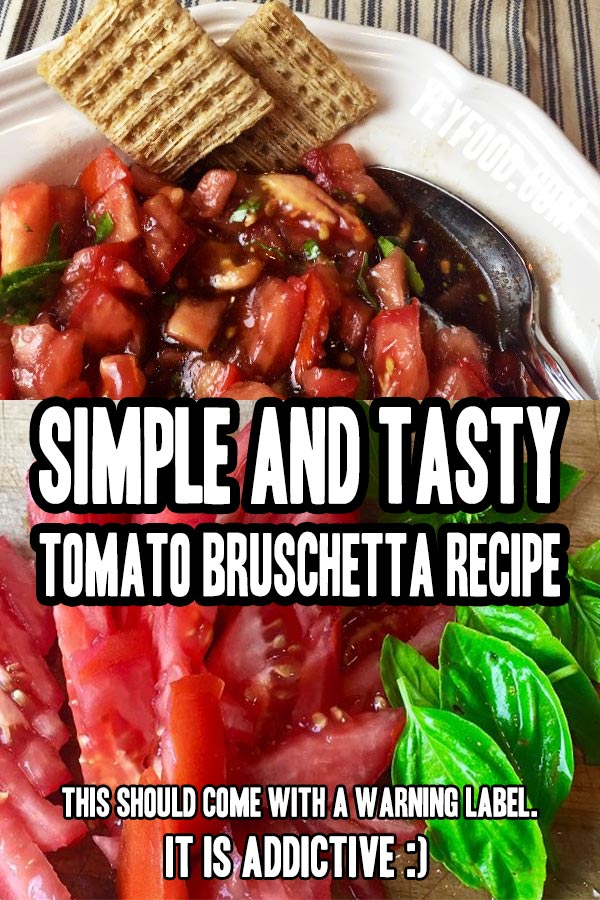 More recipes from us: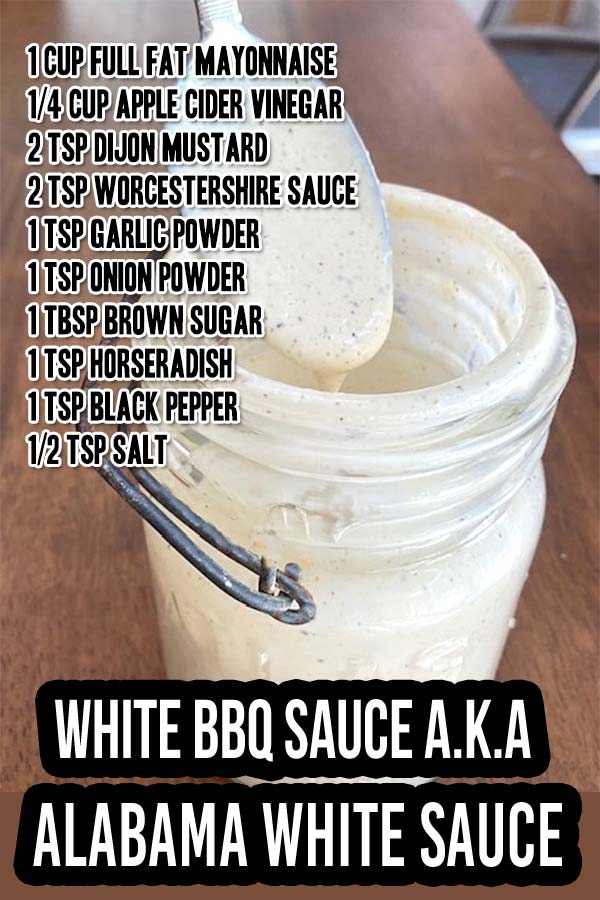 S'mores Bars How To Make Them Super Fast and Super Good
Easy 1 Pan Classic American Goulash
German Sauerkraut Casserole With Bacon And Brown Sugar
If you like these recipes, you are our people! You can check some related articles below or search via categories on the right. But, be warned; you will be on here for hours. Enjoy!
So, please share this recipe on your social media accounts like Facebook, Instagram, Twitter, and Pinterest. We would be honored and ever so grateful; thank you!