One Bowl Zucchini Bread Recipe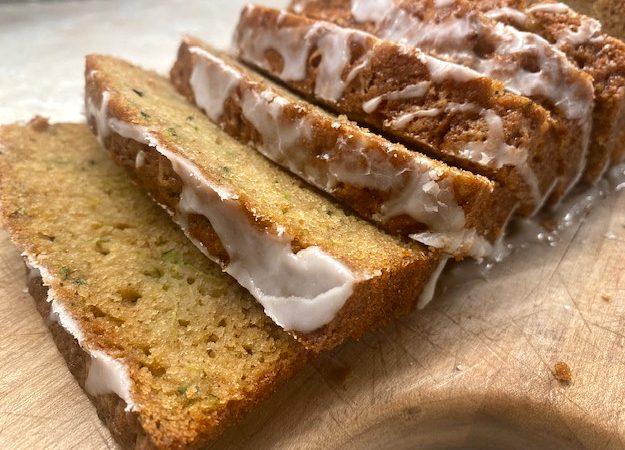 Here is a zucchini bread recipe that is so good you'll never need to look further because you won't find a better one anywhere. This recipe uses vegetable oil, which means it will stay moist long after a loaf made with butter has dried out. The amount of cinnamon, nutmeg, and vanilla is perfectly balanced, and the texture is divine. Yes, I am in love.
But right or wrong, I can never leave well enough alone because it's my nature to be excessive. I added a light buttery vanilla glaze which I love, but the bread is good enough; it's not necessary, so leave it off if you prefer. It's your loaf, your call.
How To Pick The Best Zucchini For Baking
Here is a picture of a tub of fresh zucchini in my favorite produce guy's store, Andrew's Garden. Gorgeous zucchini, plentiful and perfect in size for baking. When zucchini are at their peak of production, it's a race to pick them before they get big enough to use for baseball bats or small boats! 🤣
Choose zucchini that look like these for baking. The skin should be shiny, smooth, and as unblemished as possible. When you tap a zuke, it should not sound hollow. Smallish zukes don't have a large seed cavity yet; you can shred and use the entire thing in your zucchini bread.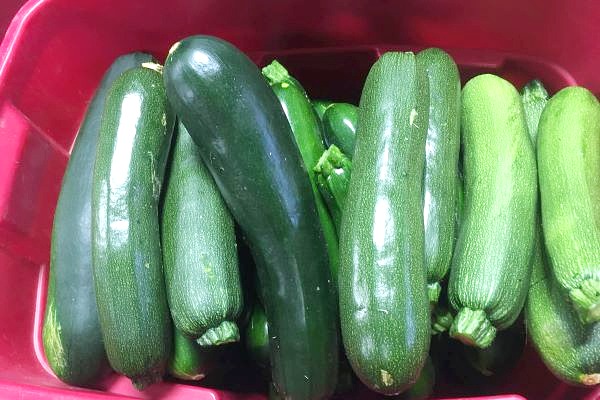 Three Good Reasons Why Bakers Love Zucchini
By late summer, zucchini is so abundant that gardeners run out of ideas on how to use it, share it, freeze it, or store it! There's an old summertime joke in Nebraska about zucchini, "Keep your cars locked and your windows rolled up, or you will find zucchini in your back seat!"
There is so much to love about zukes when it comes to baking. Here are just three!
Zucchini works in bread, cake, and muffins like bananas or applesauce. It contributes to the wonderful texture and yummy moistness!
Shredded zucchini bulks up baked goods for more volume. Think taller bread, loftier muffins!
Zucchini boosts nutrition, especially if you don't peel them. The beautiful green peel holds much nutritional value and looks gorgeous in light-colored bread. The green flecks in chocolate zucchini cakes and bread do not show at all.
There's More Than One Way To Shred A Zucchini
A food processor with a grater blade makes this process a snap. I used a good old box grater for many years and have the scarred knuckles to prove it. If you have a spiralizer, you can use that and then chop the long strands into smaller bits. You can also use a chopper or a knife to get the right texture.
Shred the zucchini shortly before baking for best results. Heap the shredded zucchini into the measuring cup and press it lightly; don't pack it. You do not need to squeeze any moisture out; it's already perfect. And, it won't matter much if you have a little more or a bit less.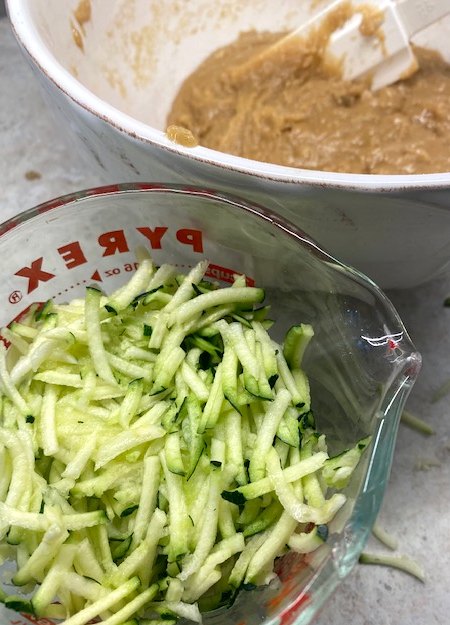 How To Make This Zucchini Bread Batter In Just One Bowl
I've always looked for ways to do things faster because I'm always in a hurry. I consider this somewhat of a character flaw, but, by golly, it has helped me find some pretty nifty shortcuts over the years. This is one of them!
Start with a big mixing bowl. You do not need to sift your dry ingredients together! Eureka! When you whisk your eggs, oil, sugars, (and any other "wet" ingredients in other recipes), add the baking soda, baking powder, salt, vanilla, and spices now! This way, they will always get well distributed like magic.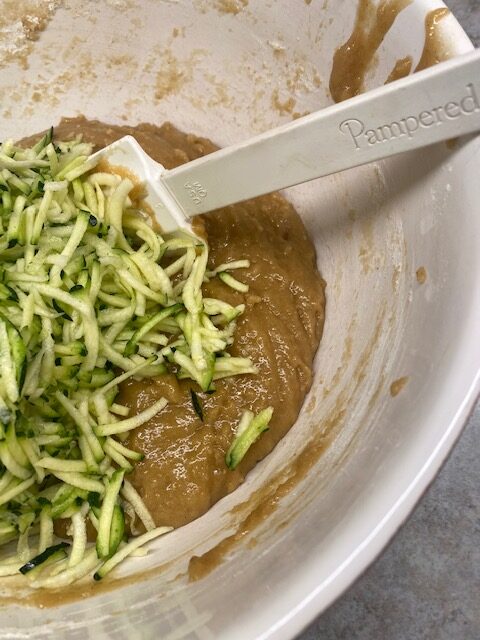 Next, add the flour and stir just enough that no flour streaks show. Don't overmix quickbreads. A light touch ensures the bread will stay tender. Long mixing is the cause of developing gluten which makes the bread chewier. Gently fold the shredded zucchini into the batter, and the walnuts, if you use them, and pour the batter into a greased standard 9″ by 5″ loaf pan.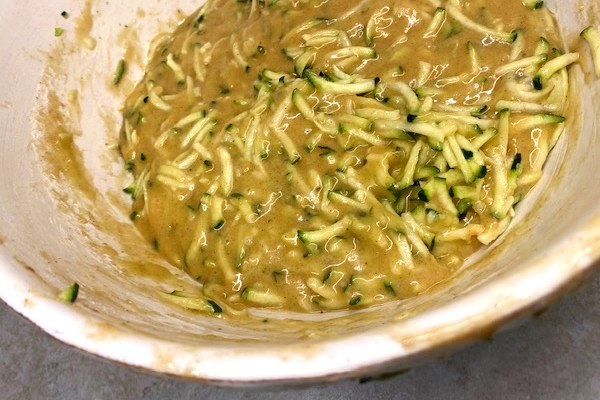 I love to share baked goods so much that I immediately doubled the recipe and made two loaves!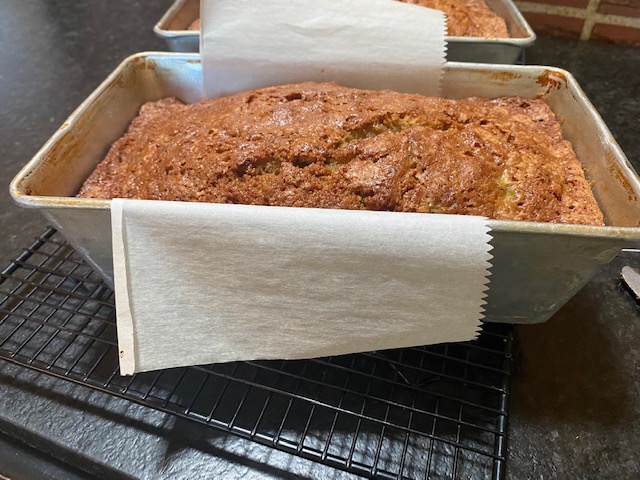 I tried baking with a parchment sling this time. I had parchment sheets on hand, not a roll. Since I'm cheap thrifty, I used half a sheet, which worked. You still grease or spray the pan and the parchment, but it did make getting the bread out of the pan easier. I'm sure it would work even better if the parchment were the same length as the pan!
As I mentioned, I get excited every time I bake something new and look for ways to make it even better. I stirred up a little vanilla butter glaze and dribbled it over the loaves when they were cool, and I love how it looks. However, it's completely up to you because the "naked" bread is outstanding. 😉
I shared it immediately, and I'm sharing more today, but the first bite is always mine. Yep, I am in love with this one.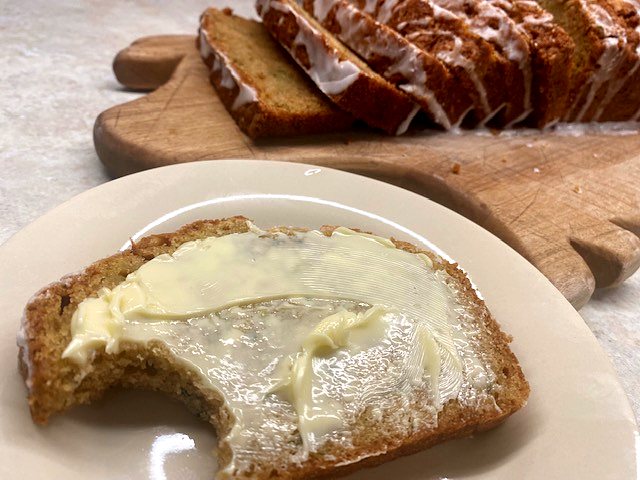 Yield: 1 standard loaf, 16 slices
Simply Delicious One Bowl Zucchini Bread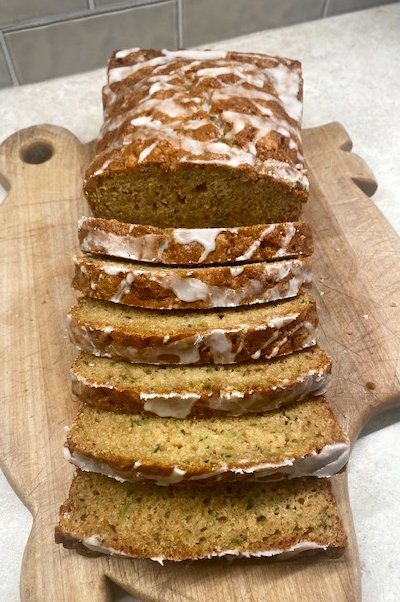 You will love this zucchini bread like no other. The cinnamon, nutmeg, and vanilla are balanced perfectly, and the texture is divine.
Total Time
1 hour
10 minutes
Ingredients
3 large eggs
1/2 cup vegetable oil
1/2 cup lightly packed brown sugar
3/4 cup granulated sugar
1/4 tsp nutmeg, freshly grated would be wonderful
1/2 tsp cinnamon
2 tsp vanilla
1 tsp baking powder
1/2 tsp baking soda
1/2 tsp salt
2 cups all-purpose flour
2 lightly packed cups of shredded zucchini
2/3 cup chopped walnuts (optional)
GLAZE (optional)
3/4 cup powdered sugar
1/2 tsp vanilla
1/2 tsp butter flavoring (I used Watkins)
1 Tbsp water
Instructions
Preheat the oven to 350 degrees
Spray or grease a standard 9" by 5" loaf pan. Add a parchment sling if desired. Spray or grease it, too.
Combine the eggs, oil, sugars, vanilla, nutmeg, cinnamon, baking powder, baking soda, and salt in a large mixing bowl.
Whisk or stir until the ingredients are well mixed.
Next, add the flour and stir. Next, add the flour and stir. Next, add the flour and stir enough, so no flour streaks appear. Don't overmix.
Gently fold shredded zucchini into the batter.
Pour batter into the prepared loaf pan.
Bake for about one hour until a cake tester or toothpick comes out clean when inserted into the center of the loaf from the side.
Cool on a rack for 10- 15 minutes before removing the loaf from the pan.
Allow the loaf to cool completely before glazing.
Combine powdered sugar, extracts, and water in a small container with a pouring lip.
Drizzle glaze over the loaf and allow it to dry before slicing the bread.
"Quickbreads" is a term used to describe bread made with baking soda, baking powder, or other means of leavening that are not yeast! Banana bread is an example of a quickbread. Do you have a favorite quickbread recipe? Here are a few more that we love. Jamaican banana bread, strawberry banana bread, poppyseed bread, and pumpkin bread.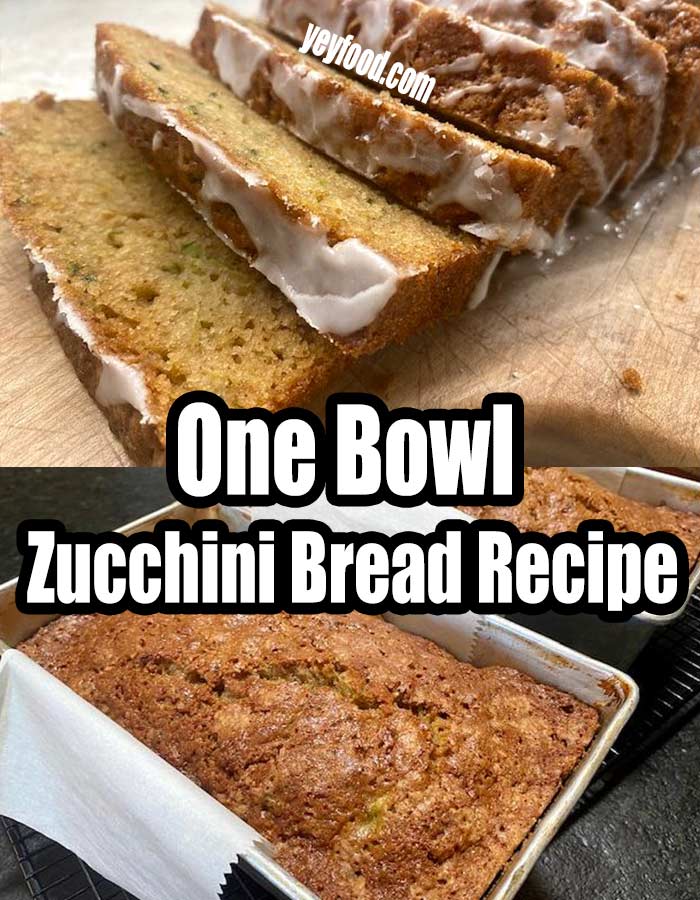 MORE YUMMY RECIPES FROM US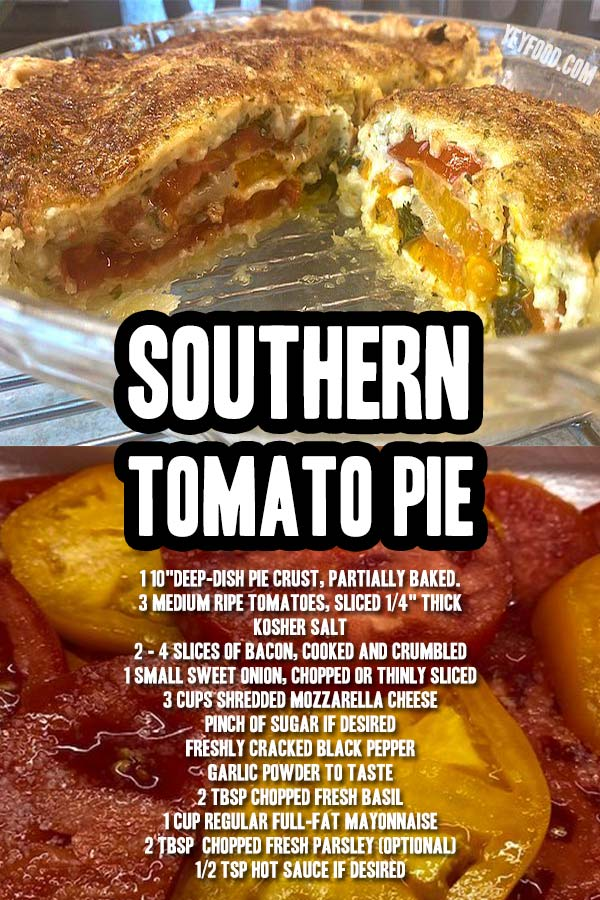 4 Reasons You Should Freeze Some Sweet Corn This Summer
How To Make The White BBQ Sauce That's Fascinated Us Since 1925
German Sauerkraut Casserole With Bacon And Brown Sugar
If you like these recipes, you are our people! You can check some related articles below or search via categories on the right. But, be warned; you will be on here for hours. Enjoy!
So, please share this recipe on your social media accounts like Facebook, Instagram, Twitter, and Pinterest. We would be honored and ever so grateful; thank you!