Quick Chocolate Peppermint Bars Recipe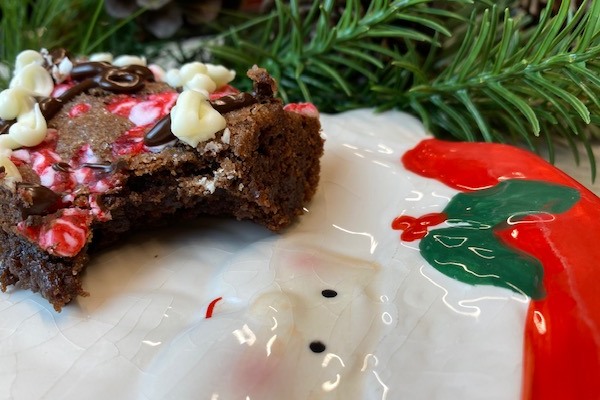 Your family is going to love these chocolate peppermint bars! Chocolate and peppermint are an unbeatable combination. The taste always says Christmas!
Speedy Results Start With A Chocolate Fudge Brownie Mix
Surprise! These chocolate peppermint bars start with a brownie mix! Yes! What does that mean? All you need is a bowl, a spoon, and a measuring cup, for starters. Mix the batter in no time flat.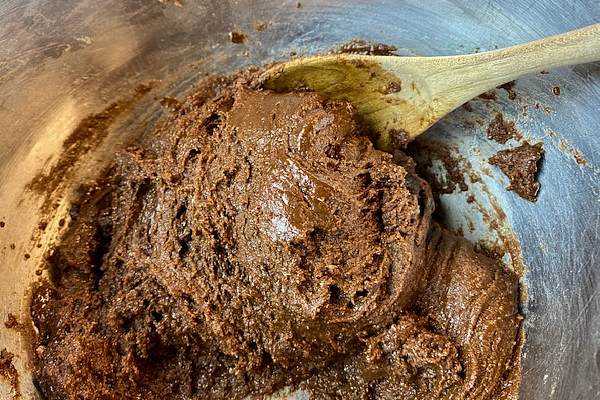 I had some precious cooking-baking time with our granddaughter last Christmas while she was home from college. We made some wonderful fancy cookies. The recipes were from some of my favorite food bloggers and turned out fantastic.
Here's the deal, though. I'm just plain old always-in-a-hurry, Betty. My mom says I was born that way, but my need for speed accelerated over years of working full-time, owning businesses, and commuting.
Everything had to be fast, or it didn't get done. So, I learned to streamline a lot of things. I'll bet many people out there are nodding and thinking, "Yeah, me too." (I hope so!) I relate to you!
Cookies and bars like this chocolate peppermint bar cookie are delicious and pretty, but they're easy to make and not fussy. Time is precious in our busy lives, and I'm determined to use time wisely.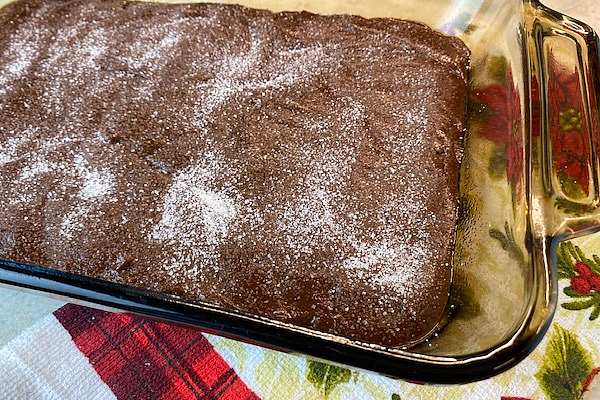 I'm in love with my 11″ x 7″ Pyrex baking dish for bars made from a mix. If you don't have one, a 9″ square pan works, too. So does a 10″ round pan which you could cut into cute wedges! All of those have nearly the same square inches. You may need to adjust the baking time a little bit.
Pat the batter in a greased pan of your choice, sprinkle with sugar, and pop it in a 350-degree oven for about 12 minutes.
It was a great day when I discovered bagged, crushed peppermint in the candy aisle! I almost broke out in a happy dance right there on the spot!
Candy canes are tough buggers to crush. I always ended up with broken zip-lock bags and a mess. But if you have some pent-up frustrations, you can still do it the old way. Bam! Smack! Take that!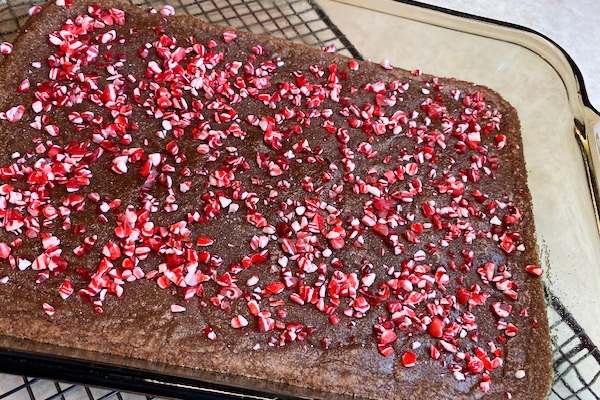 After about 12 minutes in the oven, pull the pan out, shut the oven door, and sprinkle about 1/2 cup of crushed candy cane over the still-soft bars.
Now pop it back in the oven for 4 or 5 minutes or until a cake tester or toothpick comes out clean. The chips will melt a bit and stick right where we want them. See the little peppermint puddles?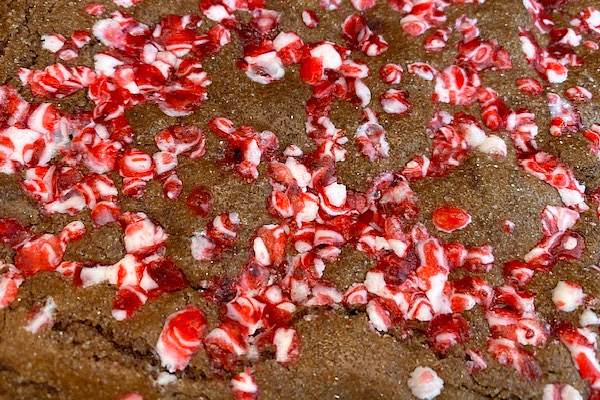 Once the bars are out of the oven, patience is the key. The bars need to be completely cool before you embellish them. But here's a thought. These taste pretty amazing if you stop right here! They'd make an insanely good base for a brownie sundae. With peppermint ice cream, maybe? Yes, please.
But, if you want to fancy them up a little, that's easy, too. I use a little old dime-store glass creamer to melt chips or make a small amount of glaze. It has a little spout, is easy to handle, and goes in the microwave. A small glass measuring cup with a pouring lip would work well, also.
Melt about 1/2 cup of dark or semi-sweet chocolate chips with a teaspoon or so of shortening. Microwave in 30-second bursts, stirring occasionally. Please don't overdo it. When it's melted just enough to pour, squiggle some lines of chocolate diagonally across the bars.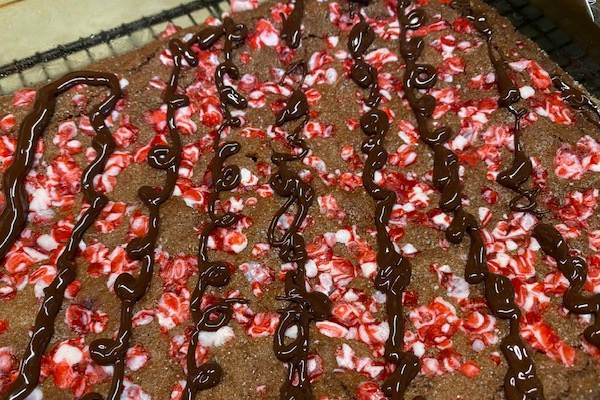 It will cool and firm up quickly. Then, if you want, you can do the same thing with white chocolate chips or white baking chips, squiggling in the opposite direction. See how pretty?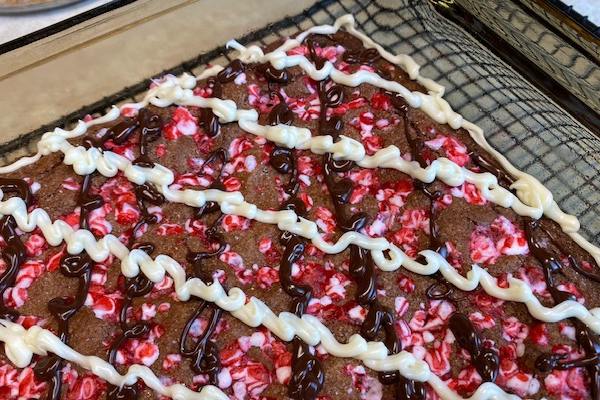 Once the squiggles are set up, cut them into small bars. These chocolate peppermint bars are sweet and rich! So yummy!! Santa tested and approved!
Yield: 24 bars
Chocolate Peppermint Bars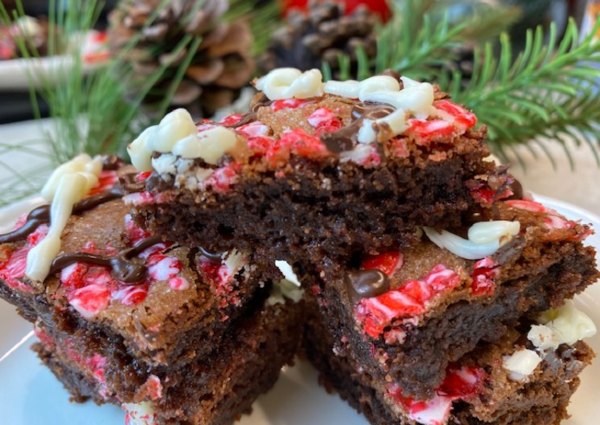 How to make a quick and easy but most importantly, a chewy, delicious bar that's bursting with chocolate and peppermint goodness.
Ingredients
1 box fudge brownie mix
2 eggs
1/2 cup oil
1 tsp peppermint extract
1 Tbsp sugar
1/2 cup crushed peppermint candy
1/2 cup dark or semi-sweet chocolate chips
1/2 cup white chocolate chips or white baking chips
2 tsp shortening
Instructions
Combine brownie mix, eggs, oil, and peppermint extract in a bowl. Stir until combined.
Pat batter into a greased baking pan. Can use an 11" by 7" or 9" by 9", or a 10" round pan.
Sprinkle 1 Tbsp sugar evenly over the batter.
Bake for 12 minutes at 350 degrees.
Remove from the oven, shut the oven door and sprinkle ½ cup crushed peppermint candy over the top of the batter and return to the oven.
Continue baking for about five more minutes or until a toothpick or cake tester comes out clean.
Set the pan on a rack to cool and allow bars to cool completely.
Melt ½ cup chocolate chips with one teaspoon of shortening in a microwave oven. Do 30-second increments, stirring each time you check on them.
When the chips melt, squiggle diagonal lines across the surface of the bars.
Repeat with white chips, squiggling in the opposite direction.
When the squiggles are set completely, cut into small bars.
Christmas. It's essential to remember why we celebrate it. Recently, I found myself getting anxious about everything left to do. Then, I realized how non-essential all the frantic rushing and overspending is, and I did a mental and spiritual reset.
Let's take a deep breath and find ways to simplify or leave some things undone. Let the real reason for the season fill your heart. This year has been hard enough without beating ourselves up.
P.S. If you like the idea of easy and good bars in a hurry, here are two more delicious and easy recipes, Busy Day Lemon Bars, S'mores Bars.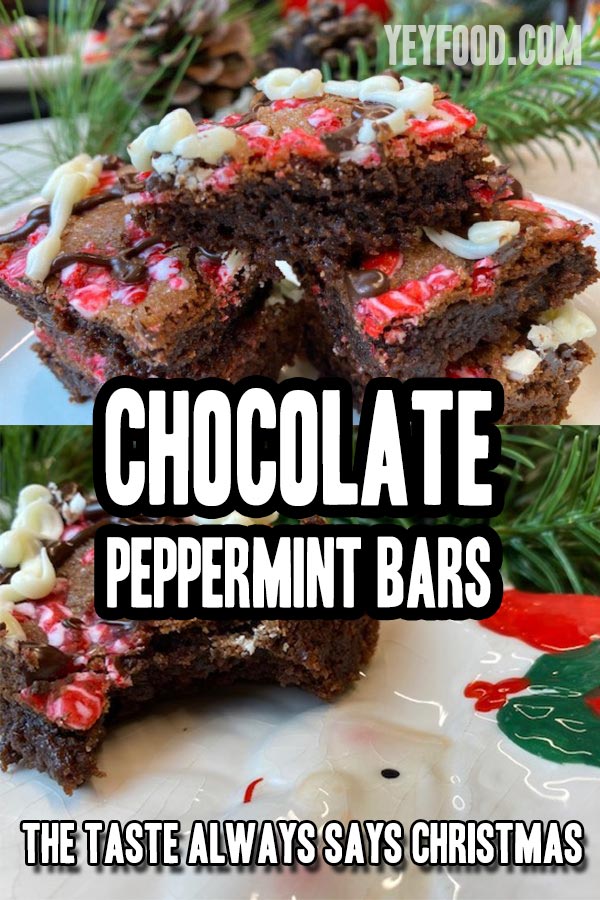 More recipes from us:
Insanely Crisp and Chewy Peanut Butter Cookies
Easy 1 Pan Classic American Goulash
German Sauerkraut Casserole With Bacon And Brown Sugar
If you like these recipes, you are our people! You can check some related articles below or search via categories on the right. But be warned; you will be on here for hours. Enjoy! 
So, please share this recipe on your social media accounts like Facebook, Instagram, Twitter, and Pinterest. We would be honored and ever so grateful; thank you!