Quick And Easy Cake Mix Cookies That Taste Amazing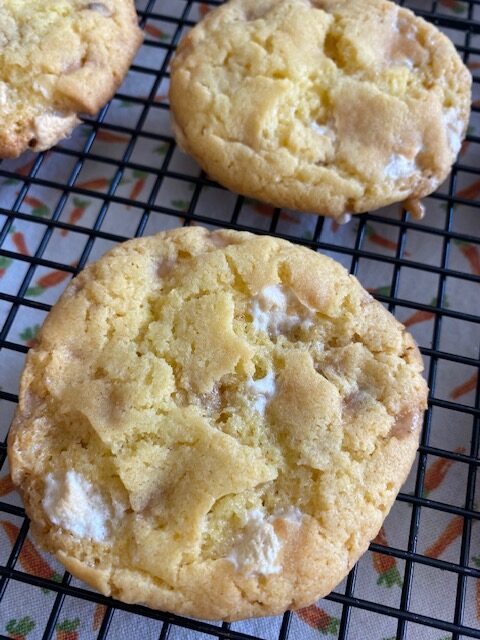 I'm on my soapbox shouting to end any shaming about using a cake mix as a shortcut! These cake mix cookies taste fantastic! I did a quick search and found 305,000,000 results for "cake mix cookies." That's a good indicator that we're all looking for faster and easier ways to do things!
Life is crazy and busy. There are times when we must take advantage of shortcuts and semi-homemade! Like when your kid tells you, they need cookies at school in an hour!
These cookies are so delicious no one will ever guess how easy they are to make. You can make each combination into cookies or bars. Grab a bowl and a spoon; that's all you'll need to get going! I want to share some things I've learned that will make it even simpler and better!
You Only Need Three Ingredients To Make Cookies From A Cake Mix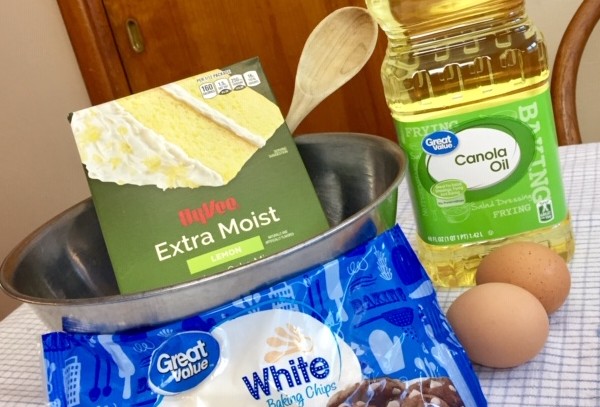 You can have perfectly acceptable cookies with just a cake mix, two eggs, and one-half cup of oil. Any add-ins or toppings are optional, but they are the thing that takes these cake mix cookies from good to great!
You do not need to buy a premium cake mix for these cookies; the store brand works perfectly. I watch for cake mixes on sale and keep some on hand at all times.
We live in an old house with less-than-ideal cupboards, so I have learned a little trick that helps me check my supply of cake mixes at a glance. When I buy cake mixes, I use a marker to indicate what flavor they are on the side of the box before they go on the shelf. I can easily spot and grab what I need quickly!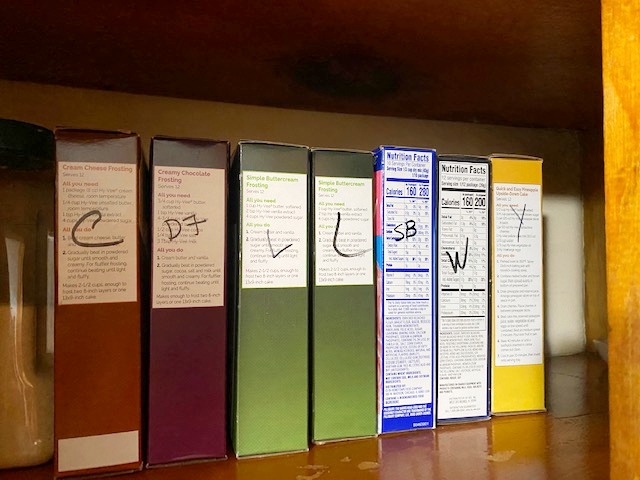 Here Are My 3 Favorite Tips For Making The Best Cake Mix Cookies
You can use any cake mix and any light vegetable oil like canola, corn, or safflower oil, but I have found something that greatly boosts the flavor and texture of these simple cookies. The product is not sold in grocery stores, but I think it should be!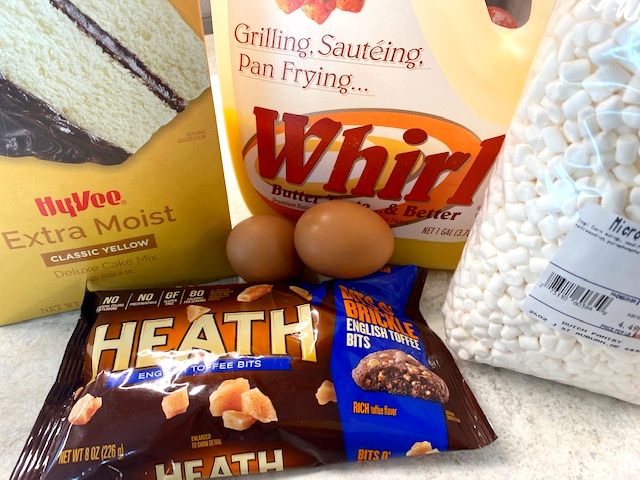 The product is called Whirl Butter. It is similar to a product used in restaurants. I sniffed it out when I ate in a breakfast place that served the best hashbrowns I'd ever tasted. (Oh, wow, they were amazing!!) I don't live near Sam's Club or Costco, so I can order it online, but I buy it from a local restaurant and grocery supplier.
Whirl Butter is a liquid oil that you can use in any application where you might use butter at about half the price of butter. Use it for frying, baking, grilling, and brushing on pizza crust; you name it. It adds an incredible buttery flavor to anything you make. It does not require refrigeration and has a twelve-month shelf life.
This is not a paid endorsement. I am in love with this product, and I often use it in place of butter or vegetable oil. Use one-half cup of Whirl Butter in place of the vegetable oil in this recipe and taste the difference.
Second, use a cookie scoop to make cookies uniform in size. Not only do the cookies look better, but it also ensures they bake evenly. This recipe will make 36 cookies if you make each ball of dough about the size of a walnut. That walnut-size dough ball should bake into a cookie about three inches across.
A cookie scoop will make that job much easier. Usually, a size 30 or 40 cookie scoop will give you that result. Seriously, ask Santa to bring you one or a set of them, and ask him to bring it early for your Christmas baking.
Third, use parchment paper on your cookie sheets when you bake cake mix cookies. I became a believer when I managed a hotel for two years. (Yes, I have had a lot of jobs.) We made fresh-baked cookies every night for our guests, and I learned how much better it is for baking cookies on parchment paper!
I love Reynold's parchment paper sheets with the grid lines! You can reuse them up to three times, and the cookies pop right off! The bonus is no cookie sheet to wash! I also use their parchment paper on the roll for cookies and sheet pan dinners as I did in this photo!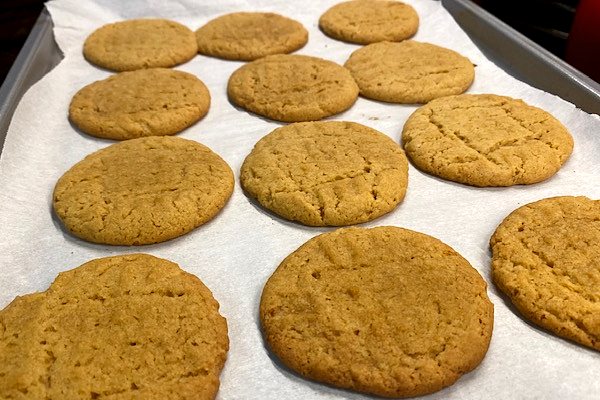 If you are just too tired to face rolling thirty-six balls of dough, believe I have been there! Any of these combinations of cake mixes and add-ins can be made into bar cookies like my lemon bars or chocolate-peppermint hurry-up bars. You can use a nine-inch baking pan or my favorite, an eleven-inch by 7-inch pan.
Let's Explore Some Great Combinations For Cake Mix Cookies
One of our family's favorite cake mix cookies is a yellow cake mix with Heath Brickle Bits, plain or with milk chocolate. I've made these over and over, both as bars and cookies, and they are great.
This time, I added micro marshmallows I found in a Mennonite store, and wow, were they a great addition! They made the cookies extra chewy and yummy. Check out this post's top photo to see how they looked.
A quick bit of research was all it took to find these micro marshmallows online, and I can't wait to add them to hot cocoa for our grandkids!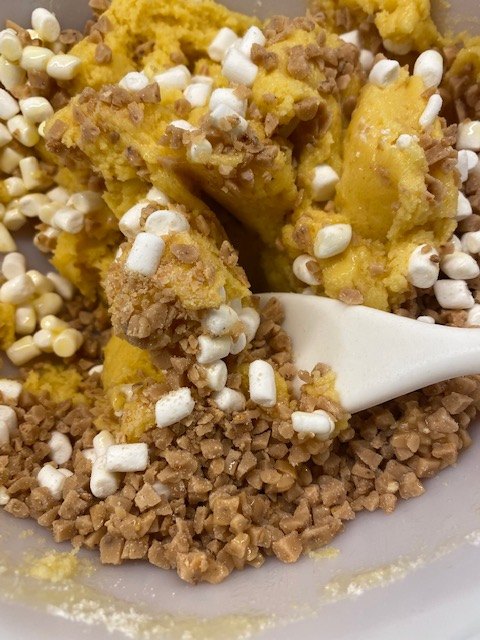 Chocolate cake mix with peanut butter chips makes another family favorite.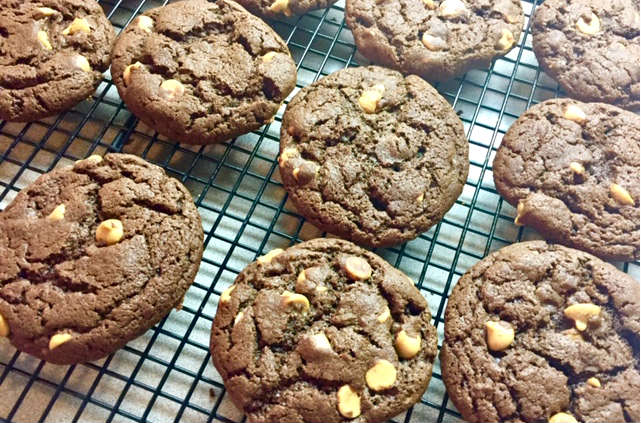 Don't hesitate to play around with add-ins! Crisp rice cereal, coconut, chopped nuts, or any of the amazing variety of baking chips available!
We like these combos: Spice cake with butterscotch or cinnamon chips. Chocolate cake with crushed peppermint, cherry, or caramel chips and a lemon cake mix with cherry chips make the cutest polka-dot cookies!
Classic Chocolate Chip: This is a timeless combination that's always a crowd-pleaser. Simply add chocolate chips to your favorite chocolate cake mix.
Red Velvet White Chocolate: This combination is both festive and delicious. Use a red velvet cake mix and add white chocolate chips.
Funfetti Sandwich Cookies: These cookies are perfect for a party or celebration. Use a funfetti cake mix and sandwich them with vanilla frosting.
Chocolate Cookies: This is a rich and decadent treat. Use a chocolate cake mix and add chocolate chips or chunks.
Strawberry Funfetti: This combination is sweet and refreshing. Use a strawberry cake mix and add sprinkles.
Birthday Cake: This is a fun and nostalgic flavor. Use a birthday cake mix and add sprinkles.
Pumpkin Chocolate Chip: This is a seasonal favorite that's perfect for fall. Use a pumpkin cake mix and add chocolate chips.
Cookies 'n' Cream: This combination is a classic for a reason. Use a chocolate cake mix and add Oreo cookies.
Chocolate PB Chip: This combination is a peanut butter lover's dream. Use a devil's food cake mix and add peanut butter chips.
White Chocolate Coconut: This combination is tropical and refreshing. Use a white cake mix and add coconut flakes.
Lemon Raspberry: This combination is tart and refreshing. Use a lemon cake mix and add raspberries.
Spiced Apple: This combination is warm and cozy. Use a spice cake mix and add apples.
No matter what flavor combination you choose, you're sure to enjoy a delicious batch of cake mix cookies.
Printable Recipe:
Yield: 36 cookies
Cake Mix Cookies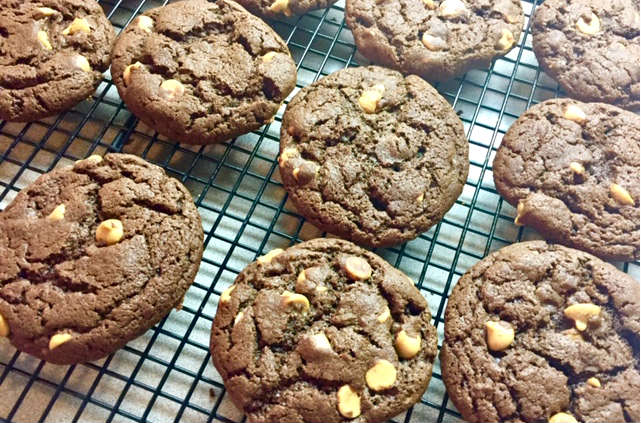 There are virtually endless options when you make these easy cake mix cookies with add-ins and your imagination!
Ingredients
One 15.25-ounce cake mix, any flavor
1/2 cup of vegetable oil or Whirl Butter, see post for details
2 eggs
one to one and a half cups of add ins of your choice
Instructions
Preheat oven to 350 degrees
Put parchment paper on cookie sheets
Mix dry cake mix with oil and eggs and stir until no dry mix is visible
Stir in add-ins of your choice until well blended.
Roll dough into 36 walnut-size balls or use a cookie scoop
Bake for 10 minutes
Allow the cookies to cool slightly before removing them from the sheet.
Store in an air-tight container at room temperature.
Notes
If the cookies get a little dry, or you overbaked them slightly, put a piece of fresh bread in the container with the cookies to add back moisture.
Add- ins can be baking chips, nuts, coconut, crisp cereal, micro marshmallows, crushed peppermint, or whatever you can dream up!
If you enjoyed this recipe, please share it on your social media! I would love for more people to try this delicious and easy-to-make dessert. If you have any questions or feedback, please feel free to leave a comment below. I would love to hear from you! Shhh… Join our secret foodie group on Facebook.
More recipes from us: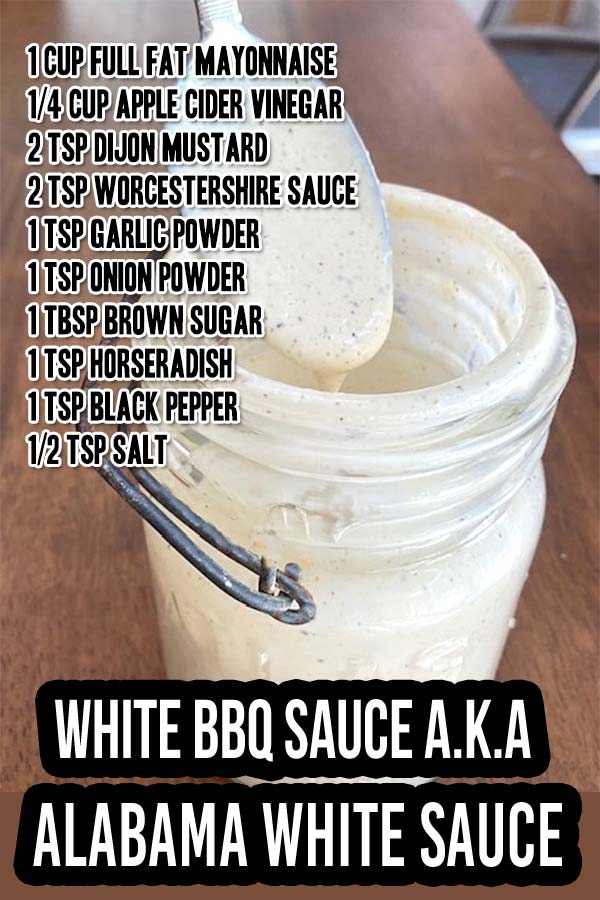 Insanely Crisp and Chewy Peanut Butter Cookies
Easy 1 Pan Classic American Goulash
German Sauerkraut Casserole With Bacon And Brown Sugar
If you like these recipes, you are our people! You can check some related articles below or search via categories on the right. But, be warned; you will be on here for hours. Enjoy!
So, please share this recipe on your social media accounts like Facebook, Instagram, Twitter, and Pinterest. We would be honored and ever so grateful; thank you!