Grandma's Old-School Potato Salad Recipe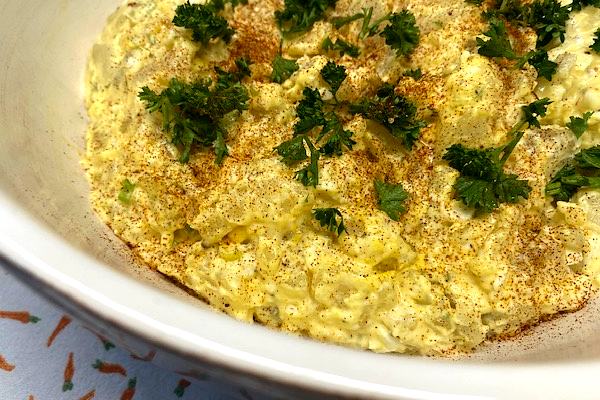 I'm a little bit famous for my potato salad in local circles. I've made it the same way for as long as I can remember. People often ask me for the recipe, but I have never written it down. This version is grandma-style, farm-wife, from-scratch potato salad. It's not fancy, and it's cheap to make.
Like cornbread or chili, potato salad is an extremely subjective preference. But if you like one that is creamy, a little sweet, a little mustardy, and flavored with a bit of spring onion, you have come to the right place.
I get intimidated by fancier, well-known food bloggers with amazing showroom-worthy kitchens and strong opinions about the right and wrong way to make it, so I was slow to put my recipe out there.
If you want a good old-fashioned Sunday school picnic-worthy recipe, it is from my simple home sweet home. I finally measured things and wrote them down!
Use Your Instant Pot To Make This Salad Quick And Easy
But first, let's talk about the potatoes. Years ago, I read a post by a well-known food blogger who said you should never use Russet potatoes for potato salad because you'll "end up with a sad, soggy mess." That was enough to keep my mouth shut about how I make mine for years (except to eat my potato salad!)
Of course, there are a zillion ways to make potato salad, and some recipes use waxy red ones with peels still on them. They are good recipes, too!
Well, I DO use Russet potatoes, and here's why. They are a low-moisture, starchy potato and one of the secrets to why this recipe works so well. The Russets happily soak up and hold all the yummy flavors in the dressing.
My Instant Pot makes this whole process quick and easy. I have the best results when making this salad with still-warm potatoes and eggs. Here's how.
Start by putting unpeeled Russet potatoes in the Instant Pot. (There's a lot of flavor in those skins!) I used eight average-sized potatoes, but since potatoes come in many sizes, put in enough to make a single layer in the bottom of the pot. Add a cup of water.
Medium-sized whole potatoes take about ten minutes to cook. Don't overcook the potatoes; you want them cooked through but not mushy. When they are done, put them aside to cool a bit. I put them in my kitchen sink. Yay! You don't need to wash the pot before moving on to the eggs!
The 5-5-5 Method For Perfect Hard-Boiled Eggs In Your Instant Pot
Next, cook the eggs. Put the trivet into the pot, add one cup of water, and seal. Now get ready to make perfect "hard-boiled" eggs using the now-famous 5-5-5 method of Instant Pot magic. It works every time, but you need a timer!
You can make as many eggs in a batch as fit in a single layer. Here I made a few extra to hand on hand for low-carb snacks or to make pickled eggs!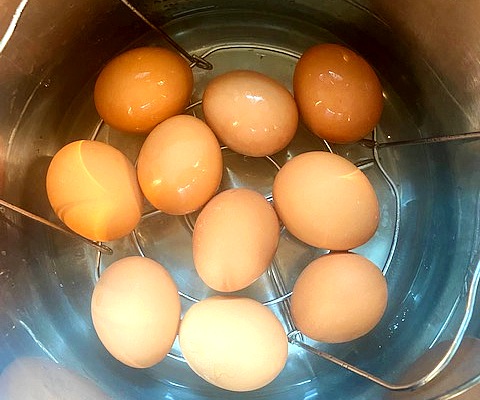 Set the pot to high-pressure cooking and five minutes of cooking time.
Immediately set a timer for five minutes when the timer sounds. Do not quick-release the pressure yet.
NOW quick-release the remaining pressure when the timer sounds and remove the eggs.
Finally, for five minutes, please put them in an ice-water bath (or at least the very coldest tap water you can run).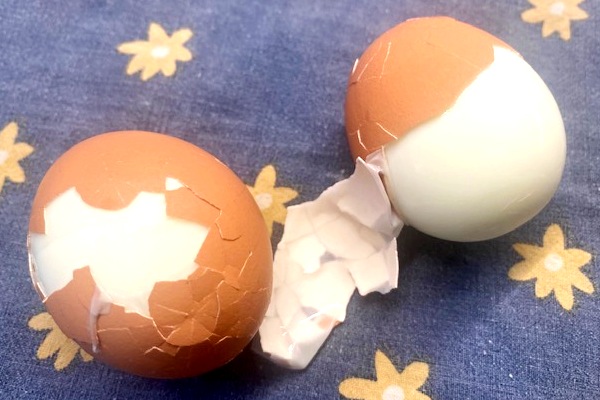 Boom! Perfect easy-to-peel eggs. The shells nearly fall off.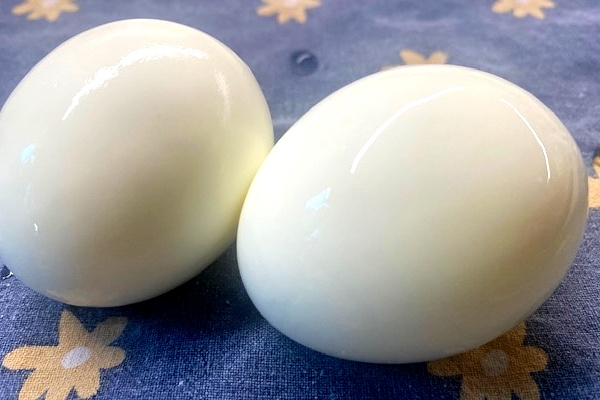 Look at that eggs with a perfectly smooth surfaces! Tuck this hint away the next time you make deviled eggs!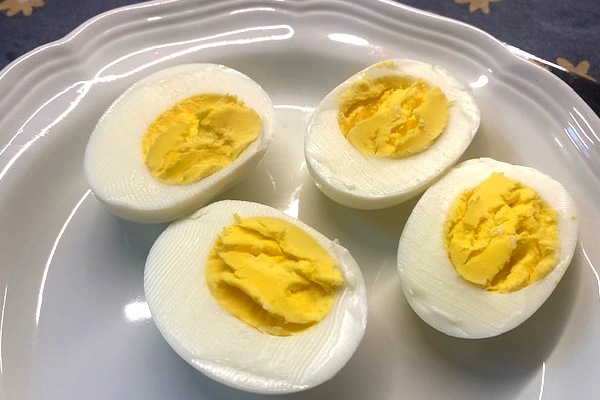 The eggs are so perfect it almost seems a pity to move on to the next step, mash them!!
Put the warm eggs in a large mixing bowl. Put the sugar and kosher salt on them. The gritty ingredients help you mash the eggs quickly and easily into fine particles.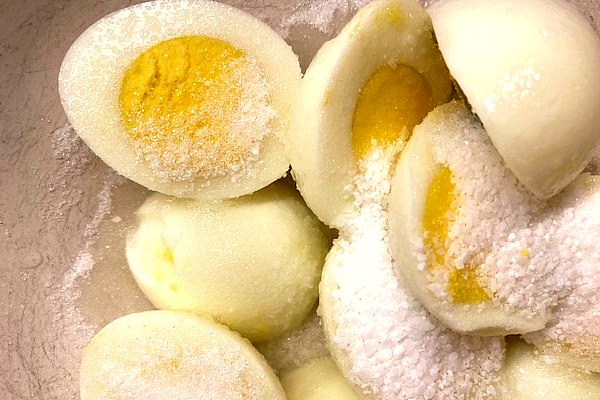 Now you are ready to add the potatoes and all the other ingredients. The inside of the egg turns out perfect, too! No yucky tell-tale greenish-gray ring around the yolk.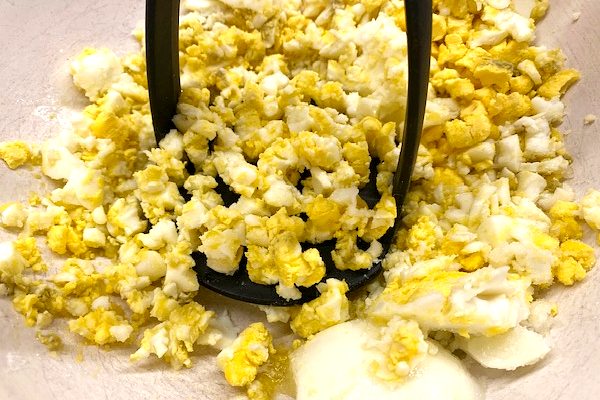 The potatoes should still be a bit warm and easy to handle. Peel and dice them into the bowl with the eggs, and add everything else.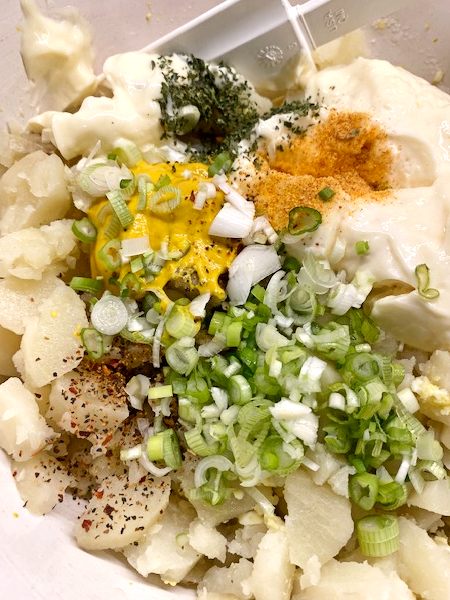 You may want to add more of something. More sugar? More vinegar? More mustard? Fold everything together and taste. Adjust. Eat a little bit to make sure. Try to stop.
Yield: 15 servings
Old-School Potato Salad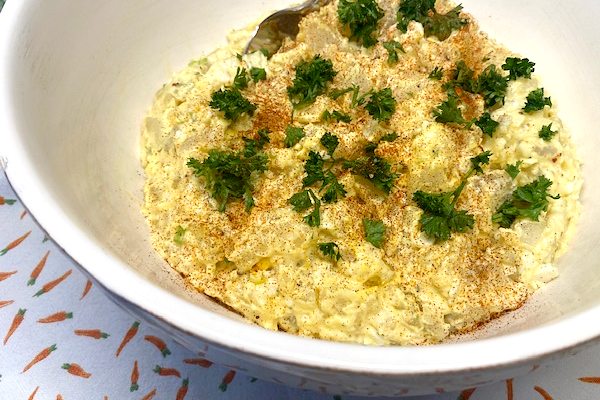 This is a recipe for a very old-fashioned potato salad that you can make quickly with the help of an Instant Pot.
Ingredients
Eight average-sized Russet potatoes, or enough for a single layer in your Instant Pot.
Six or seven eggs
Water for cooking
1/4 cup sugar
2 tsp kosher salt
1/4 cup plain yellow mustard
3 Tbsp apple cider vinegar
1 cup real mayonnaise (Hellman's is my go-to)
Your favorite seasoned salt to taste (make ours Lawry's, please)
Your favorite seasoned pepper to taste (make ours Lawry's, please)
1/2 cup green onion, sliced very thin. Include some of the green parts.
1 Tbsp parsley, fresh if you have it, dried if you don't.
Paprika for garnish, optional.
Instructions
Put potatoes and one cup of water in an Instant Pot. Cook on high pressure for about 10 minutes. You can instant-release the pressure.
Set the potatoes aside and allow them to cool while you cook the eggs.
Put a trivet and one cup of water in the Instant Pot, and add the eggs. You can cook as many as you want in a single layer, but you only need 6 or 7 for this potato salad.
Set on high pressure and 5 minutes of cook time.
When the timer sounds, set a new timer for 5 minutes. DO NOT RELEASE THE PRESSURE YET!
When the timer sounds, immediately quick-release the pressure. The timing is critical.
Immediately put the eggs in an ice bath or submerge in the coldest tap water you can run for at least 5 minutes.
Peel the warm eggs and put them in a large mixing bowl with the sugar and the kosher salt. Mash the eggs.
Peel the still-warm potatoes and dice them into the egg mixture.
Add mayo, vinegar, mustard, and green onion. Fold all the ingredients together.
Season to taste with seasoned salt and pepper.
Taste and adjust.
Garnish with parsley and paprika, if desired.
Refrigerate immediately and keep refrigerated!
Confession: I have also stirred a little cream into the mixture. No one said this is diet food! As the potato salad cools, the potatoes can absorb a lot of the dressing, and you may want to add a bit more mayo, mustard, or vinegar to moisten it the next day.
Garnish with paprika and fresh parsley if you have some, or dried parsley if you don't! But in my kitchen, parsley is a must! 😉 When my brother visits, I make a batch of deviled eggs and arrange them in a circle all around the edges of the bowl! Happy picnic-ing! It's summertime!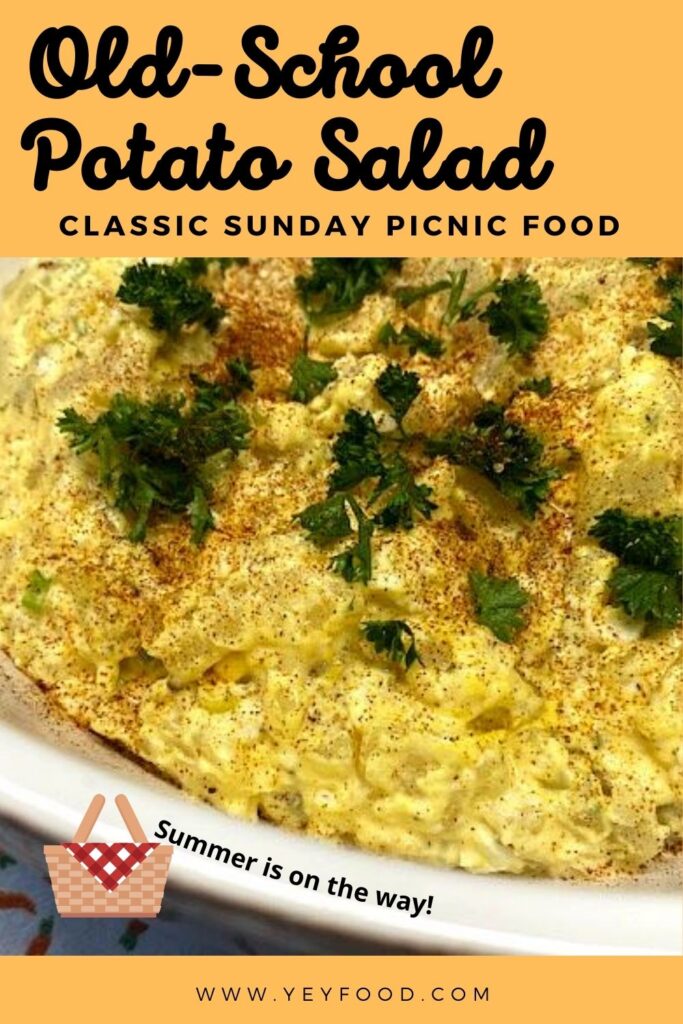 Do you have a favorite potato salad? Would you be willing to share it with us? It would sure tickle us to hear from you! This potato salad would taste amazing with onion burgers, sloppy joes, or air-fried hotdogs! There's no need to wait for summer; enjoy some now!
More recipes from us
4 Reasons You Should Freeze Some Sweet Corn This Summer
How To Make The White BBQ Sauce That's Fascinated Us Since 1925
German Sauerkraut Casserole With Bacon And Brown Sugar
If you like these recipes, you are our people! You can check some related articles below or search via categories on the right. But be warned; you will be on here for hours. Enjoy!
So, please share this recipe on your social media accounts like Facebook, Instagram, Twitter, and Pinterest. We would be honored and ever so grateful; thank you!