Sweet And Salty Fall Snack Mix Recipe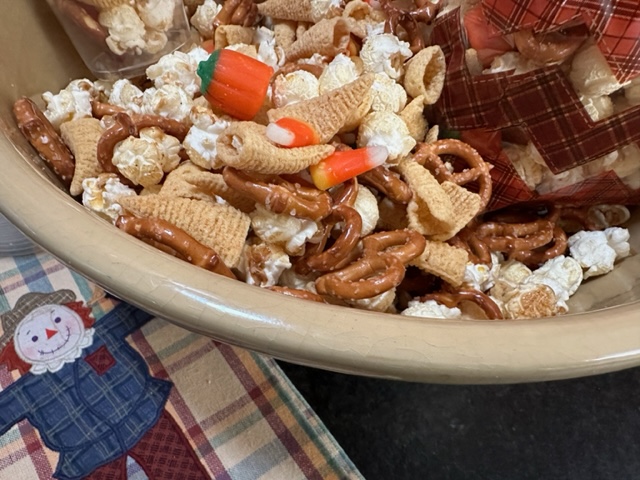 You can toss up this bright, yummy snack mix in about five minutes by combining kettle corn, pretzels, Bugles, peanuts, and classic fall candies. The bugles look like little scarecrow hats, and Brach's classic candy corn and Mellocreme pumpkins add wonderfully chewy, sweet, and colorful bites!
Don't you love something you can whip up in a hurry? I chose kettle corn because it isn't as sweet as caramel corn, but if you'd rather use caramel corn, go for it! Another option would be a caramel and cheese combination of popcorn, often available in the fall.
You could use lots of other autumn candies: Sugar babies, Brach's autumn mix, Jelly Belly fall flavors, or fun gumdrops! Go wild; it's your snack mix!
Set out a big bowl for your guests and provide a scoop, cello bags, or clear cups so they can enjoy munching while mingling at your next fall get-together. It's perfect for tailgates, teacher treats, or birthday parties!
There are so many cute little treat bags available for Halloween! Put this snack mix in them and pass them out to your trick-or-treaters! Your house might be the most popular stop on the block!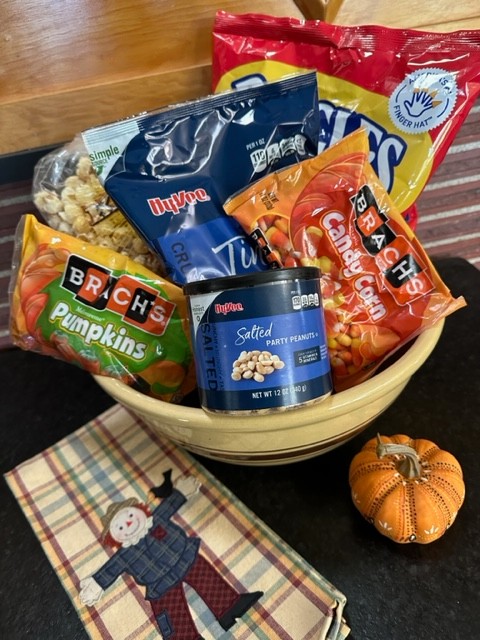 Grab a great big bowl and pour in all the ingredients, then use a spoon or a scoop to mix everything. The peanuts will always sink to the bottom. Remember Cracker Jacks? We always had to turn the box upside down and shake it to bring the peanuts back to the surface. That way, we could have our sweet and salty in the same bite!
Have you ever thought about the magic marriage of sweet and salty? Have you ever wondered why certain things taste so good together? For example, why does a little salt make caramels taste so incredible? Why is bacon so delicious with maple syrup-drenched pancakes? Why is kettle corn so addictive?
I never stopped to think why I love dipping crisp salty french fries into my chocolate shake, but there it is again, that heavenly duo of salty and sweet!
Culinary experts know how critical it is to strike the perfect balance between sweet and salty. In the world of chef speak, it's called flavor layering. This snack mix has amazing flavor layering!
Make sure you have a scoop handy, so your guests can dig down to the peanuts and candy!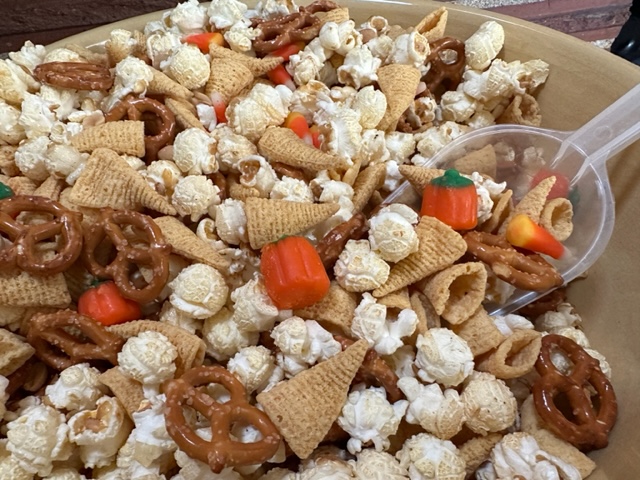 Your guests would probably love to fill up a cello bag of snack mix for mobile munching!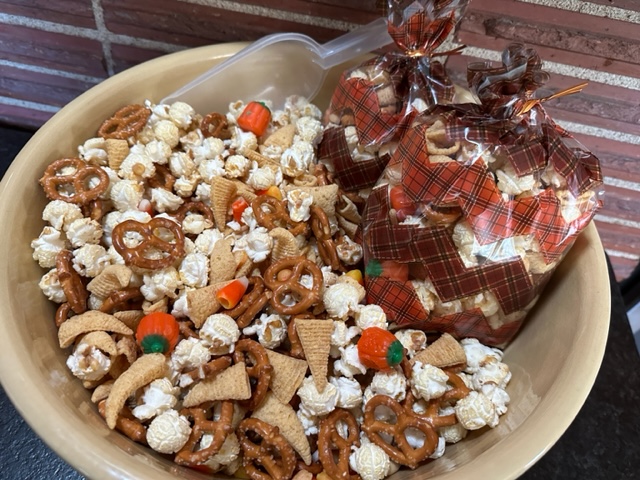 Another option would be to provide clear plastic cups for more portion control! You might want it with a hungry bunch of teens around!
Today I took a giant bowlful and some small-size Solo drink cups to the school where our daughter teaches fifth grade, and by the end of the day, it had nearly all disappeared from the teachers' lounge! Educators need some treats; no one works harder than they do!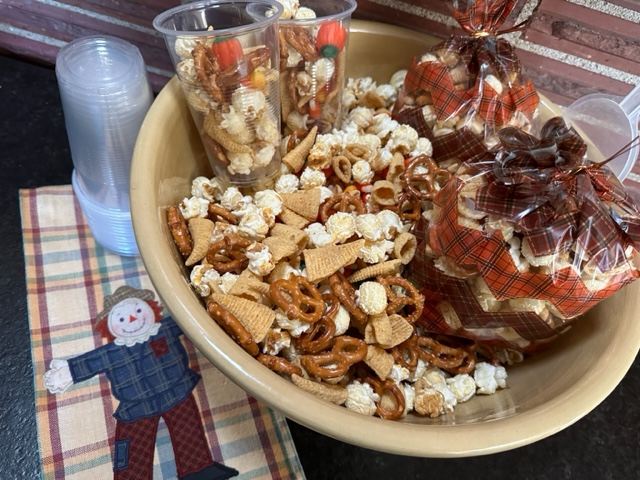 Fall is my favorite time of year. The sky is brighter and bluer, the humidity drops, and the trees start showing off, trying to be more colorful than the ones growing beside them.
Our calendars begin to fill with activities, hay rack rides, pumpkin patch excursions, tailgates, football games, and "fifth quarter" gatherings afterward.
Snacks are an important part of all these autumn get-togethers! A big bowl of this combo ticks all the boxes! Sweet, salty, chewy, crunchy; it's all there. It's colorful and fun, and it's almost impossible to stop eating it!
Yield: 24 servings
Sweet And Salty Fall Snack Mix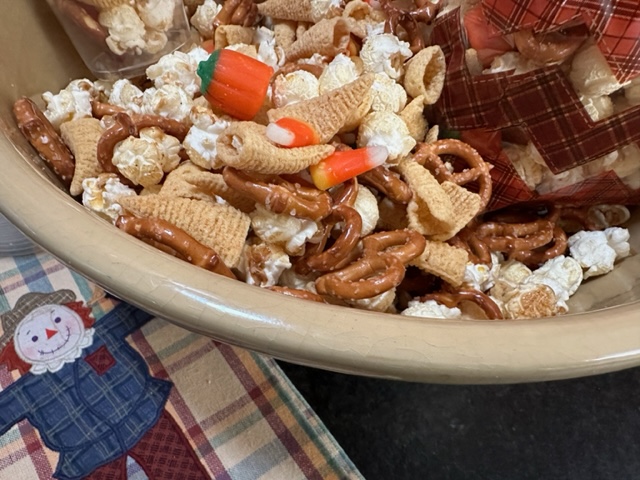 This is a fast and easy snack mix with all the best flavor elements; sweet, salty, chewy, and crunchy.
Ingredients
10 cups or more popped kettle corn
7.5-ounce bag of bugles corn snacks
Half a 16-ounce bag of mini twist pretzels
One 11-ounce bag of Brachs candy corn
One 11-0unce bag of Brachs mellocreme pumpkins
One 16-ounce cannister of cocktail peanuts
Instructions
Combine all ingredients in a large bowl
Halloween is fast approaching. If you're looking for a quick, easy, colorful, and tasty snack mix, give this one a try. Here are some other popular ideas for Halloween parties! Rice Krispie Pumpkins, Hocus Pocus Buns, Boozy Pumpkin Scooter Pies. What snacks do you serve at your fall get-togethers?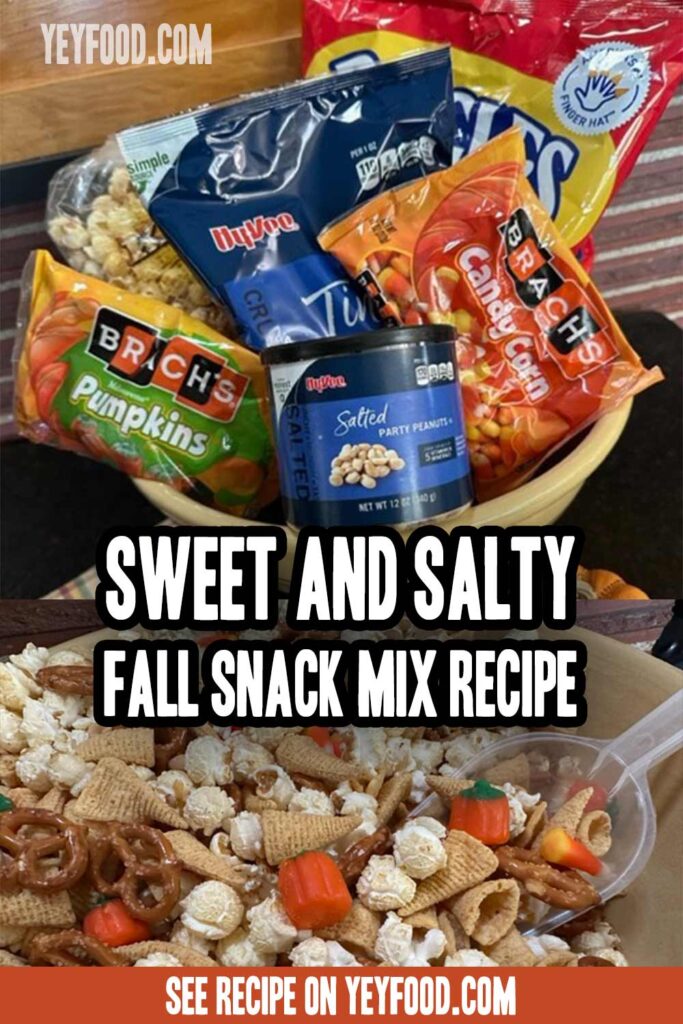 MORE OF OUR EASY AND FAMILY-FRIENDLY RECIPES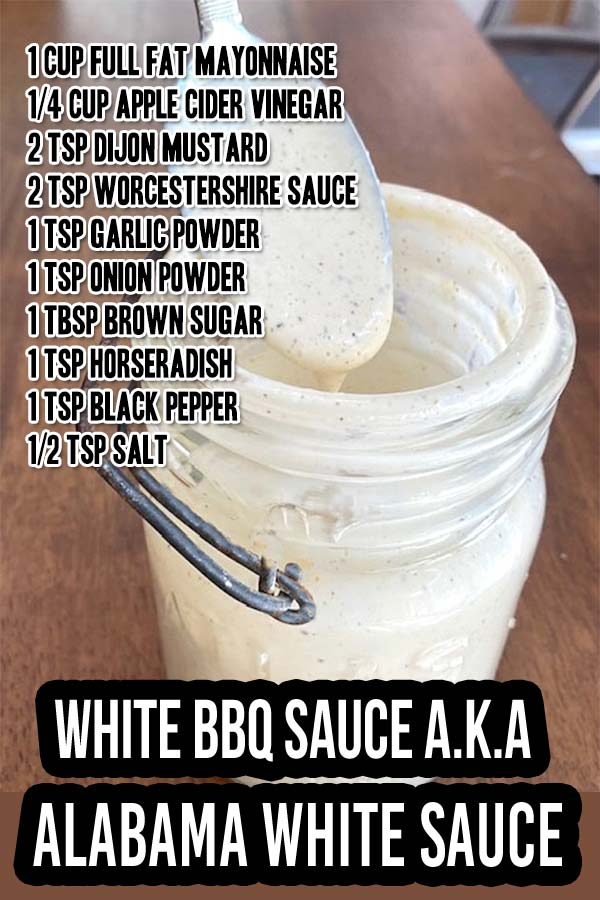 S'mores Bars How To Make Them Super Fast and Super Good
Easy 1 Pan Classic American Goulash
German Sauerkraut Casserole With Bacon And Brown Sugar
If you like these recipes, you are our people! You can check some related articles below or search via categories on the right. But, be warned; you will be on here for hours. Enjoy!
So, please share this recipe on your social media accounts like Facebook, Instagram, Twitter, and Pinterest. We would be honored and ever so grateful; thank you!