Yummy Cheesy Chicken Tater Tot Casserole Recipe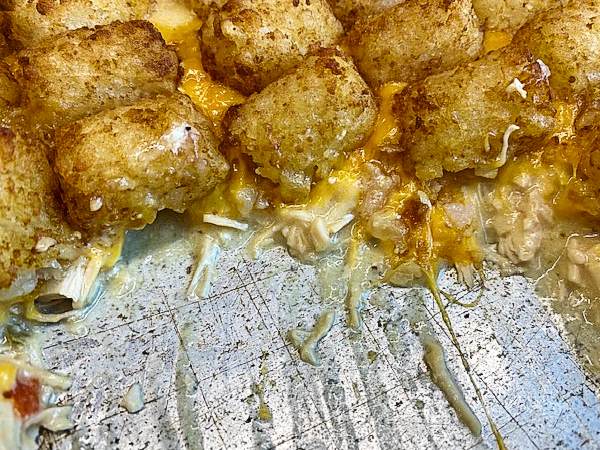 Chicken tater tot casserole. Cheese, chicken, and tater tots. I mean, who wouldn't love that combination? Do you want some comfort food? Here is comfort food! It's creamy, crispy, cheesy, and a little bit salty.
And what can you say about tater tots, those crispy little nuggets of perfectly seasoned potatoes? Tater tots bring out the kid in everyone. They make everything nestled under them or served on top of them taste better.
The Fascinating History Of Tater Tots For Curious Culinary Minds
I'm a sucker for good old American entrepreneurship, ingenuity, and creativity! This is a great story! Before telling you how to make this yummy casserole, let me tell you about tater tots!
Scraps of potatoes led to the invention of Tater Tots to use up all those odd bits! (I love this stuff!) In 1953, two brothers from Idaho (of course) dreamed up an ingenious way of using the little slivers of potato leftover from manufacturing frozen french fries.
The boys gathered the remains of french fry making, added flour and seasonings, then pushed the mixture through an extruder, cut them into little pellets, fried them in oil, and froze them.
The brothers deep-fried the frozen nuggets the first time they served them but soon discovered they were equally tasty when baked in a hot oven! Tater tots were a huge hit from the start, and the delicious little potato nuggets are still incredibly popular today!
I am wildly curious about this stuff, but if you are even mildly interested, here's a little more detail about the origin of these incredibly popular spud nuggets; here you go. It's a fun read.
Chicken Tater Tot Casserole Is So Cheesy And Good
If you never had the classic tater tot casserole with ground beef and mushroom soup, I'm guessing you grew up on a desert island. Lunchroom ladies everywhere dished up tons of it in schools across America, and they still do.
But how about chicken? It's an excellent source of protein and often less expensive than ground beef. So why not make a chicken version of this popular hot dish?
Use your Instant Pot to infuse great flavor into boneless, skinless chicken breasts by cooking them in chicken broth with garlic powder and pepper until they are nice and tender.
Set the Pot on high pressure for 15 minutes; the chicken will be perfectly tender and shreddable. You can cook chicken breast straight from the freezer the same way but allow about 25 minutes of cooking time. I used about 2 pounds of defrosted chicken.
Spray or butter a 9″ by 13″ pan. Remove the chicken from the Instant Pot and shred it right into the pan, but hang on to that tasty broth! Set the pan of shredded chicken aside.
Set the Instant Pot to saute and cook on high saute until you reduce the broth to about 1 cup. While that's cooking, dice about a cup of peppers; you can use any color. Then, add the peppers, soup, and sour cream to the Pot. Stir and simmer until everything is well blended and becomes a rich, savory sauce.
You can add some frozen mixed vegetables, green beans, or corn to the mixture if you like. Pour the creamy mixture over the shredded chicken and stir it up a bit.
Please grate your own cheese if possible. Then, make it cheesy with a blanket of grated cheddar. Freshly grated cheese melts better than bagged shredded cheese. Shredded cheese in bags has weird stuff added that keeps the cheese shreds from sticking together.
Finally, arrange the tater tots on top in a single layer for maximum crispiness on your chicken tater tot casserole! Ready. Set. Bake!
Yield: 12 servings
Cheesy Chicken Tater Tot Casserole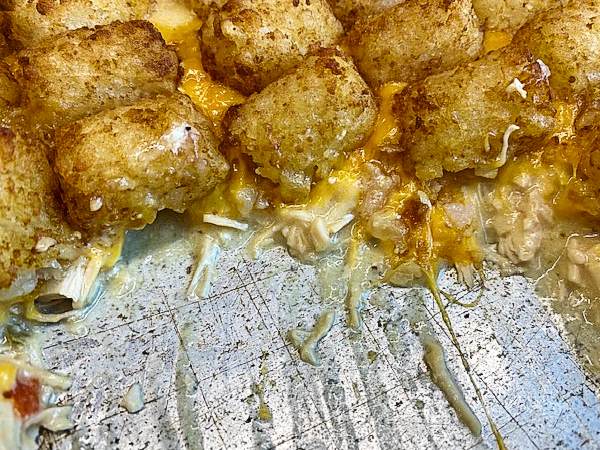 A delicious dish for kids of all ages. Tender white meat chicken in a savory sauce, blanketed with cheddar cheese and topped with crispy tater tots.
Ingredients
2 pounds skinless, boneless chicken breast
1 tsp garlic powder
1 tsp or more seasoned pepper
3 Tbsp Better Than Bouillon Roasted Chicken base
1 cup water
1 cup red or green pepper (or some of both) chopped fine
1 10.5-ounce can cream of chicken soup
1 cup sour cream
8 ounces medium cheddar cheese, grated
32 ounce package tater tots
1 1/2 cups frozen vegetables of your choice, optional
Instructions
Put the chicken, garlic powder, seasoned pepper, bouillon, and water in Instant Pot.
Pressure cook on medium for 15 minutes or 25 minutes if cooking from frozen.
Remove chicken from Instant Pot. Shred or chop and place directly into a greased 9" x 13" pan and set aside.
Set Instant Pot to saute and reduce broth to about 1 cup.
Add soup, peppers, sour cream, and frozen vegetables (if desired) to the Instant Pot. Stir until well blended.
Pour the sauce over the shredded chicken and stir to mix.
Spread grated cheese evenly over the chicken mixture.
Arrange tater tots in a single layer over the chicken and cheese.
Bake at 425 degrees for about 30 minutes until the tater tots are browned and crispy.

Notes
You can use a rotisserie chicken if you are short on time—season sauce with garlic powder and bouillon to taste.
Nutrition Information:
Yield:
12
Serving Size:
1
Amount Per Serving:
Calories:

444
Total Fat:

22g
Saturated Fat:

8g
Trans Fat:

0g
Unsaturated Fat:

11g
Cholesterol:

102mg
Sodium:

1098mg
Carbohydrates:

27g
Fiber:

3g
Sugar:

2g
Protein:

33g
The Perfect Casserole For Your Busy Life
You can pop this cheesy chicken tater tot casserole in a 425-degree oven and bake it uncovered for about 30 or 35 minutes, long enough for the tater tots to get crispy and brown. Or, you can cover it with foil, refrigerate it for a day or two, and then bake it later. Allow an extra 10 or 15 minutes if you bake it right from the refrigerator.
I made this cheesy chicken casserole tater tot for our grandkids the first time I tried it, and they like their veggies on the side. But if you want, add green beans, corn, peas, or mixed vegetables underneath the cheese and taters!
If you're in a real pinch for time, by all means, grab a hot and ready rotisserie chicken and use that to make this amazing cheesy chicken tater tot casserole! Rotisserie chicken has amazing flavor! They're nearly always conveniently located in the grocery store right by the checkout counter.😉
It must be about the 52nd of January right now, and the cold weather and brown everything makes us crave some warm, cozy food. This is it, folks. Give it a try!
Chicken is such a versatile food with great nutrition! Some of our popular chicken recipes are Chicken Fajitas, Chicken Quesadillas, and Chicken Noodle Soup. What is your favorite way to serve chicken?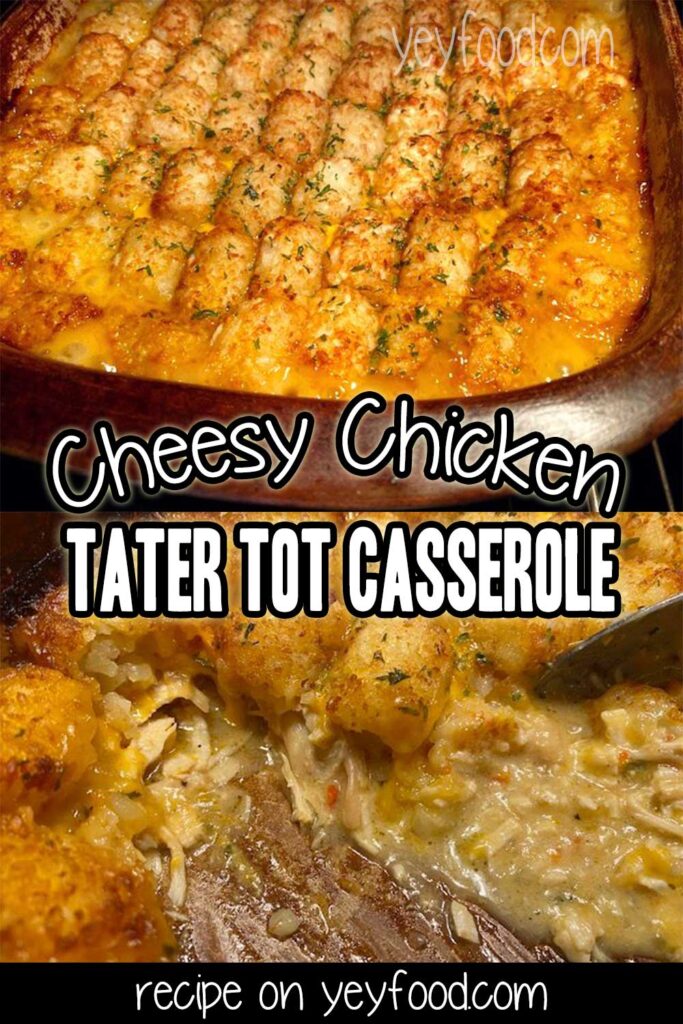 MORE OF OUR QUICK AND EASY FAMILY-STYLE RECIPES: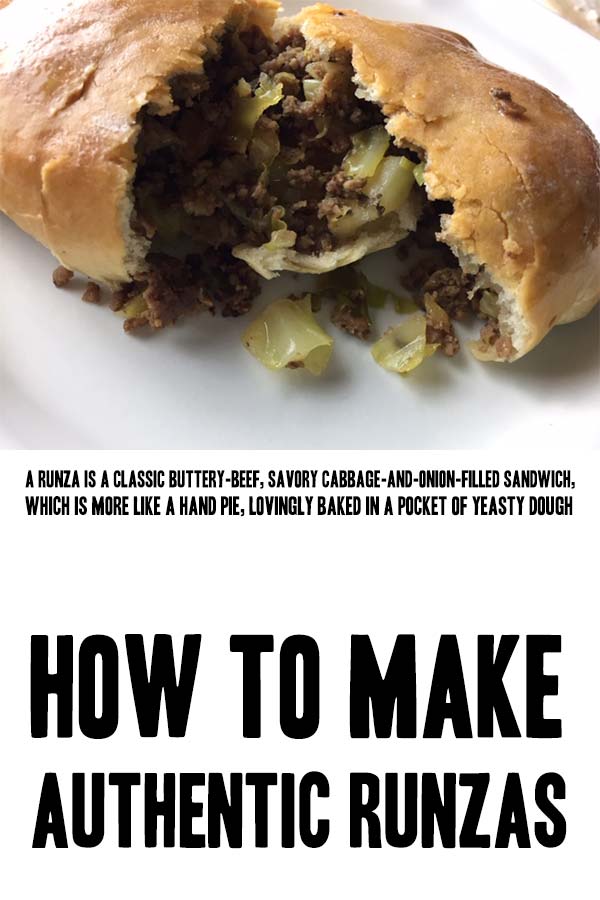 The Ultimate Bread and Butter Pickle Recipe
The Number 1 Practically Perfect Poppy Seed Bread
How To Make Authentic Runzas Right In Your Very Own Kitchen
If you like these recipes, you are our people! You can check some related articles below or search via categories on the right. But be warned; you will be on here for hours. Enjoy!