No-Knead Dilly Bread Recipe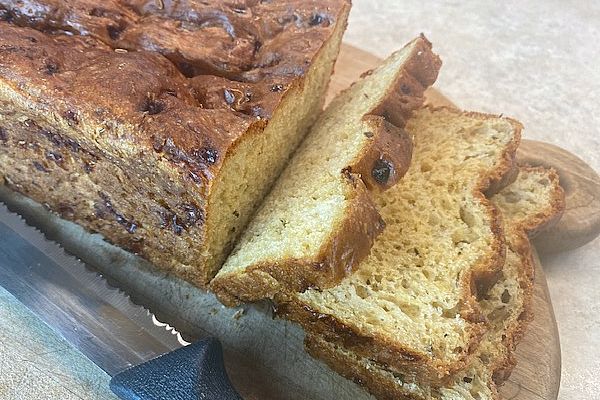 Dilly bread is a very big deal in so many ways. The light, tasty bread is packed with flavor. You only need one bowl, no mixer, no kneading, and it's so versatile! Bake it in an 8″ or 9″ round for a cottage style loaf or in a standard 9″ x 5″ bread pan. It is fabulous toasted and makes awesome sandwich bread because it's' not too heavy! Ready to get started?
I retired recently so that I can write about food all day long! Yay! I actually say I'm "rewired" because it's what I love to do! I think about food even more than I think about eating, so this new life is amazing!
My husband and I are sticking close to home these days, and mealtimes come around quickly! I see it as multiple opportunities to try new dishes! I have always enjoyed messing around in my kitchen, but I firmly believe cooking should never be a chore!
I always strive to make delicious food that looks as good as it tastes in the shortest, most efficient way possible! My goal is thirty minutes of hands-on with the fewest possible number of dishes to wash! Who is with me?
Recently, I remembered an old favorite. Suddenly, I was hungry for dilly bread! It's so good and requires no bread baking skills whatsoever! All you need is a bowl and a spoon!!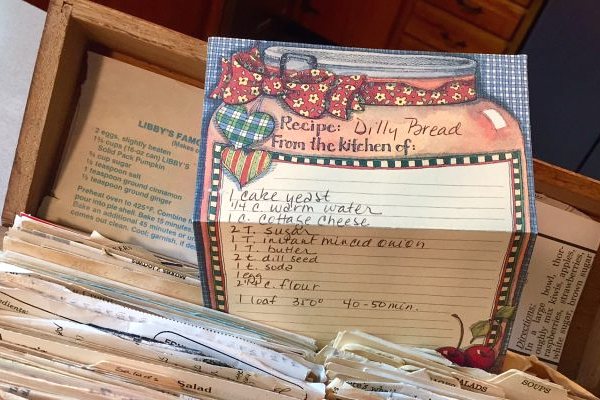 Bake Off Winning Dilly Bread Was Born Right Here In Nebraska
I dug through my over-stuffed old recipe box and finally located it. Somewhere along the line, in one of my many stabs at taming the mess, I'd recopied the yellowed old hand-written card onto a cute new one from my favorite country store, and here it is! As you can see, that project has been on the back-burner for a long time!!
I couldn't resist doing a quick peek at other dilly bread recipes online before starting a new batch. What I found tickled me so much I have to share. This recipe is over 60 years old! It was a Pillsbury Bake-Off winner way back in 1960! Here's the part I love most. Leona Schnuelle submitted the recipe from Crab Orchard NEBRASKA, my home state!! Go, Leona!
The Pillsbury Company sponsored an annual Bake-Off beginning in 1949. They were hugely popular with women everywhere. The bake-offs were held in big cities, and the big winners earned huge prizes, including cash, major appliances, and stand mixers. And yes, there will be a bake-off in 2022!
I got the original recipe from Millie Rogers, my best friend Nancy's mom. Nancy was my maid of honor, and Millie was a legendary cook! I have to wonder if Millie and Leona ever met or how the recipe found its way into Millie's recipe box.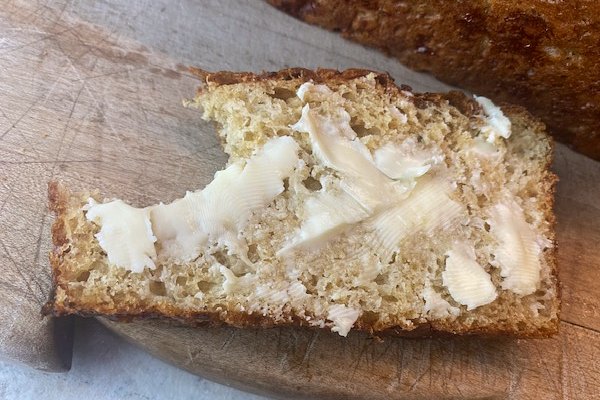 Dilly bread is an interesting batter bread recipe containing baking soda and yeast. That's unique, but I think the soda plays nice with the cottage cheese and makes the loaf nice and light! It takes no kneading at all! The cottage cheese can retard rising, so it might take longer to double in size than regular bread.
Now all that's left to do is give it some time to rise, shape it, let it rise again, then bake it and let the yeasty, oniony, dilly-icious fragrance fill your home! And there you have it! Millie's Dilly Bread is a great addition to a simple soup or salad meal!
YOU WILL NEED:
Microwave safe mixing bowl
Mixing spoon
Measuring spoon
Loaf pan or round cake pan
Non-stick cooking spray
Flour
Water
Yeast
Sugar
Dill seed
Instant minced onion
Baking Soda
Egg
Cottage cheese small curd, creamed, 4% fat
Yield: 16 slices
Dilly Bread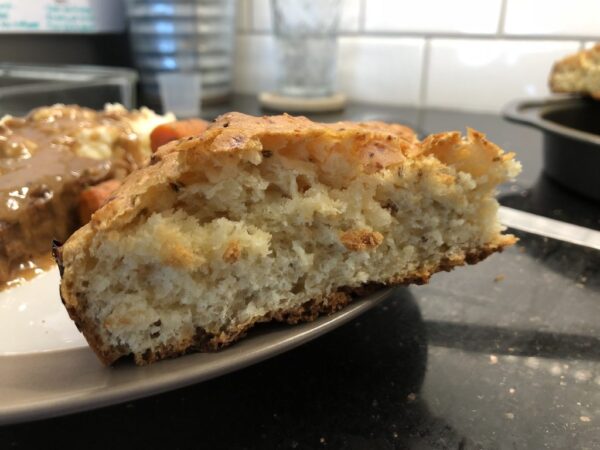 Dilly bread is a batter bread you make with just a bowl and a spoon. No mixer or kneading is required. It is light, tasty, and full of flavor.
Total Time
2 hours
55 minutes
Ingredients
1 package yeast
1/4 cup warm water
1 cup small curd creamed cottage cheese 4% fat
2 Tbsp butter, softened
1 Tbsp instant minced onion
2 tsp dill seed
1 tsp baking soda
2 Tbsp sugar
1 egg lightly beaten
2 1/4 cups flour
Instructions
Dissolve the yeast in water set aside.
In a microwave-safe bowl that you have sprayed with non-stick coating, heat cottage cheese in the microwave for 30-60 seconds until it's about as warm as bathwater but not hot. The warm cottage cheese helps make the yeast work its magic.
In the same bowl, add the yeast and all other ingredients, except the flour, and stir until well combined.
Next, add flour gradually and stir until it makes a medium-firm dough.
Cover the bowl lightly with a clean dishtowel. Let the dough rise in the same bowl until doubled in size, about one hour,
Punch down dough and form into the desired loaf shape. Put the loaf in a sprayed loaf pan or round cake pan and cover it with the dishtowel. Let the dough rise again until double. It will take less time than the first proofing.
Bake at 350 degrees for 40-45 minutes until the crust is a beautiful golden brown. When it's done, it will sound hollow when you tap it.
Brush top with melted butter if you like.
Cool before slicing.
Nutrition Information:
Yield:
16
Serving Size:
1
Amount Per Serving:
Calories:

102
Total Fat:

3g
Saturated Fat:

1g
Trans Fat:

0g
Unsaturated Fat:

1g
Cholesterol:

18mg
Sodium:

125mg
Carbohydrates:

16g
Fiber:

1g
Sugar:

2g
Protein:

3g
Look At The Beautiful Finished Bread What's Not To Loaf About It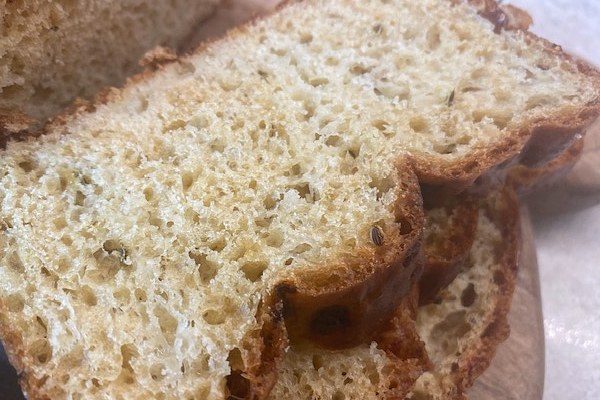 Look at that gorgeous bread! See the little dill seeds peeking out and the lovely brown flecks from the cottage cheese? It was born to toast; I am not kidding!! Dilly bliss. So welcome at any table!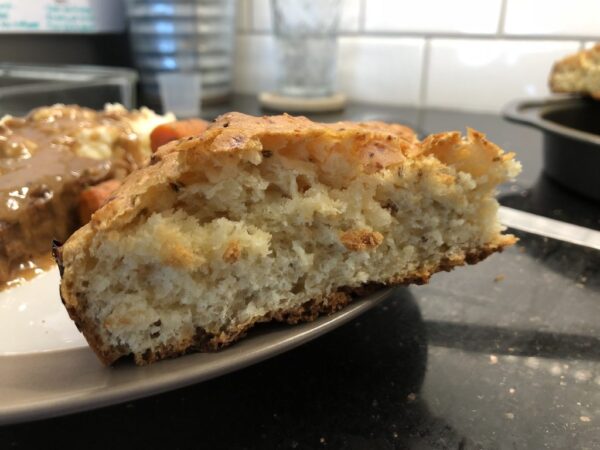 If you bake it in a layer cake pan or casserole, it makes a round loaf. How about a beautiful wedge of light, tasty bread for supper tonight? Enjoy this tender, light, delicious, fragrant bread! And don't be surprised if your family eats the whole loaf in one sitting! Have you ever had dilly bread? What are you waiting for?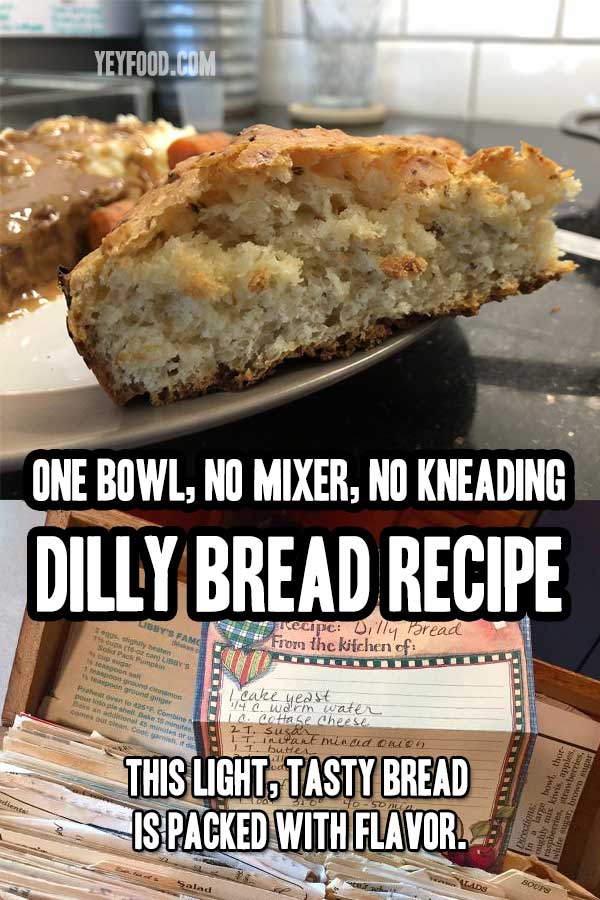 MORE OF OUR QUICK AND EASY FAMILY-STYLE RECIPES: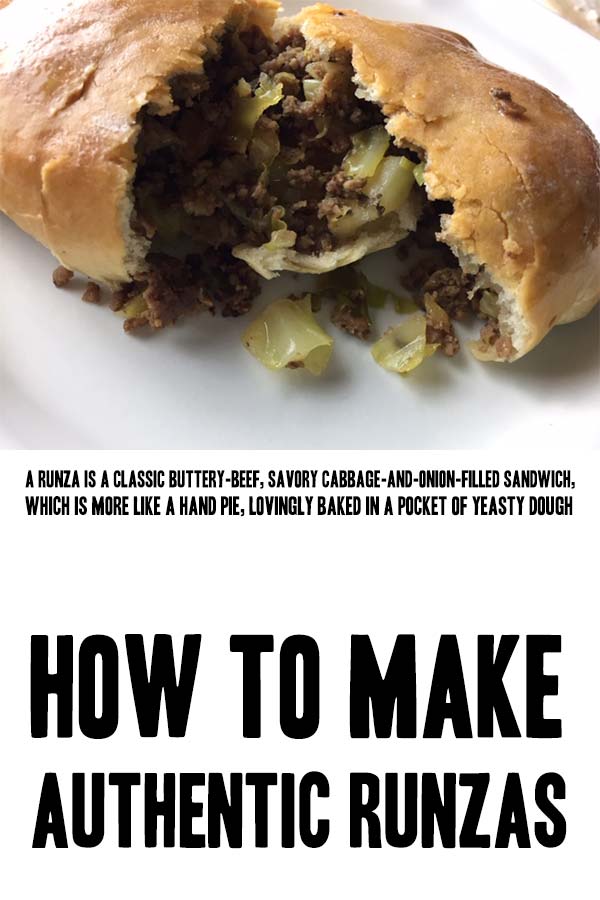 The Ultimate Bread and Butter Pickle Recipe
The Number 1 Practically Perfect Poppy Seed Bread
Oven-Baked Steak With Brown Gravy
If you like these recipes, you are our people! You can check some related articles below or search via categories on the right. But, be warned; you will be on here for hours. Enjoy!