Intriguing Addictive Gooey Butter Bars Recipe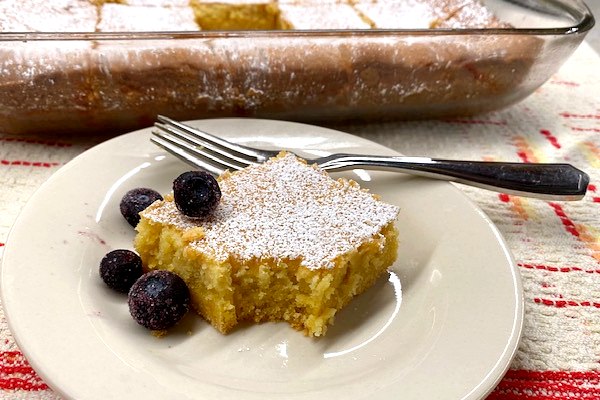 Gooey butter bars quickly shot to the top of the charts as a favorite among family and friends. They are addictive! Everyone clamored for more, but it was an interesting process getting there.
The first bake was a delicious disaster. The filling was soup, but it tasted so fantastic we happily slurped it up with a spoon. It tasted like heaven but looked like h*ll.
I had tried to make it in a round cake pan like Paula Deen, and looking back, I probably underbaked it, and the filling did not set up. Her recipe called for a 9″ by 3″ round baking pan. I don't own one, so I baked it in my 9″ springform pan that wasn't quite deep enough.
After that experience, I decided to try the 9″ x 13″ oblong pan version. My rationale was every kitchen in America probably has one. Using a more commonly used size pan levels the playing field for more bakers to give it a go, and I'm glad I did.
However, gooey butter bars take two were very good but not decadent. They were quite delicious, but the first batch was more like, "damn, that is amazing!" They cut nicely and looked good, but the flavor was nowhere near as impressive as the first soupy rendition. Somehow, something was lacking.
Sometimes It's Better To Be Lucky Than Smart When You're Baking
I was on a mission. I had to figure out the critical missing ingredient. I replayed every step of baking the first batch in my mind. Suddenly, it dawned on me! I had added something by mistake, something I would never have tried in a million years. I remember thinking the "vanilla" was a little thick.
Look at the picture. See if you can figure out why I might have grabbed this bottle by mistake in my typical mad rush.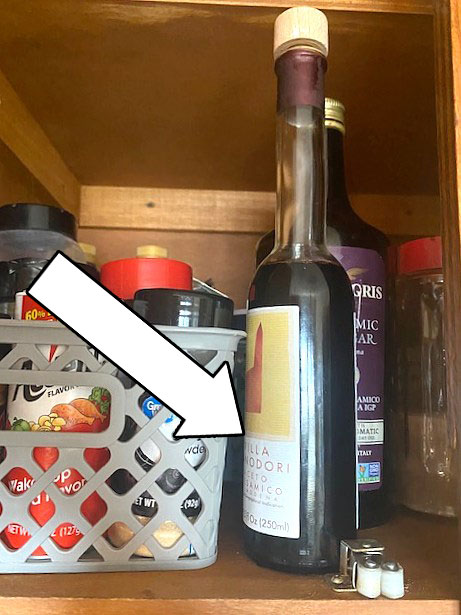 My niece spoiled me last fall with a big bag of amazing goodies! She knows how much I love to cook and bake. Somehow, this bottle ended up in the cupboard where I keep cooking supplies instead of storing them with my baking supplies! Why? Simply because it's too tall to fit where it belongs!
One little teaspoon in the crust and the filling gave the whole pan a taste that was both intriguing and addictive! The brown substance I poured, thinking it was vanilla, was, in truth, excellent balsamic vinegar! And balsamic vinegar is the mysterious ingredient that added the "it factor" to the gooey butter bars!
Interestingly enough, when I began researching, I found several recipes for baked goods and frostings with balsamic vinegar added. You can even take it a step further and make a balsamic vinegar reduction as a topping for grilled peaches or strawberries and ice cream!
"Take three" gooey butter bars turned out great! The crust is a simple mixture of a yellow cake mix with melted butter, balsamic, and eggs. Spray the bottom of a 13″ x 9″ pan and firmly pat the dough in place with your fingers.
Next, beat an eight-ounce block of softened cream cheese with one-half cup of melted butter, two eggs, and a teaspoon of good balsamic vinegar. When that is all nice and creamy, beat in four cups of powdered sugar, one cup at a time.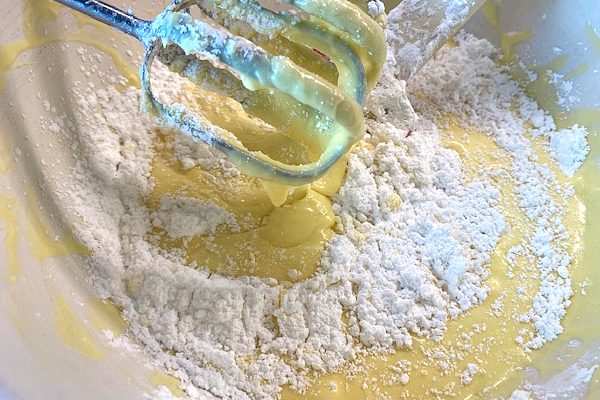 When all the powdered sugar is thoroughly mixed in, spread the mixture over the unbaked crust and put the pan in a 350-degree oven for about 30 minutes. The edges should be golden brown, and the center can have a wee bit of jiggle when you shake the pan. Every oven is different, so start with 30 minutes and check.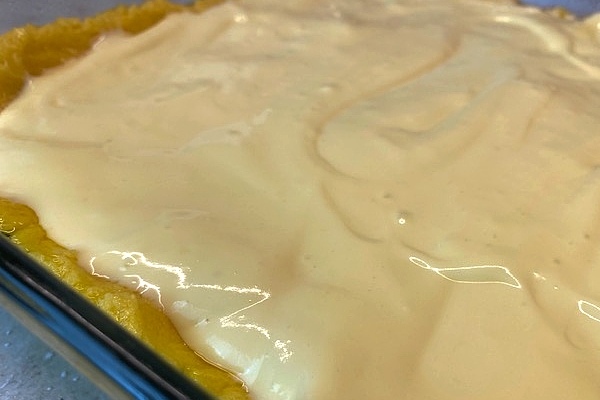 Use a sifter or a strainer to dust the top with more powdered sugar for a pretty effect. Now comes the hard part; let the bars cool completely before cutting. I have found it can take several hours for the filling to be set up enough to slice cleanly. Patience, patience.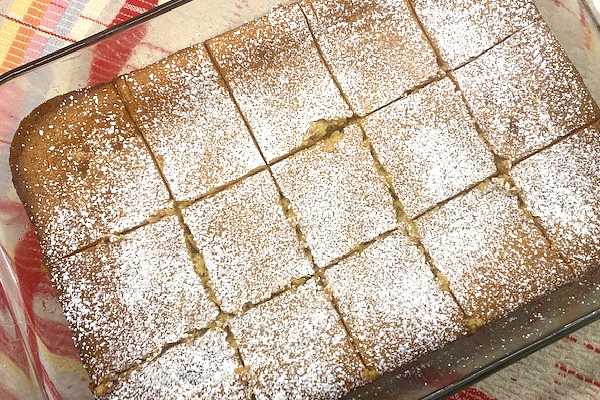 The crust will sink, can crack a bit, and be crisp. Use a sharp knife to cut into bars. Wipe the blade with a damp cloth in between cuts. The center will be fairly soft and creamy.
This dessert is rich, rich, rich!! I have found it's easier to eat it with a fork. Maybe it should be called gooey butter cake, even when baked in a rectangular pan instead of a round one. You can easily cut the bars even smaller.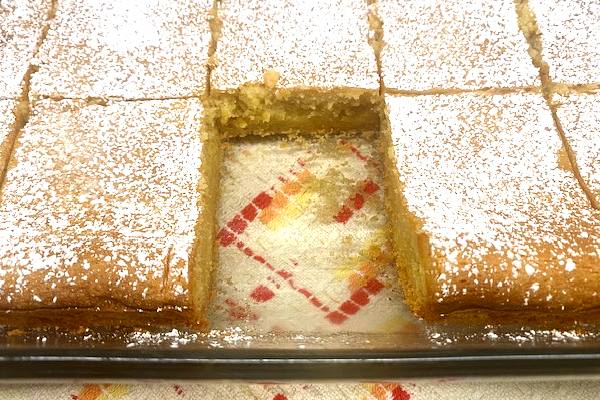 I have read some people add ice cream and whipped cream to the plate when they splurge on this cake! We think it's perfect all by itself, but some fresh berries never hurt!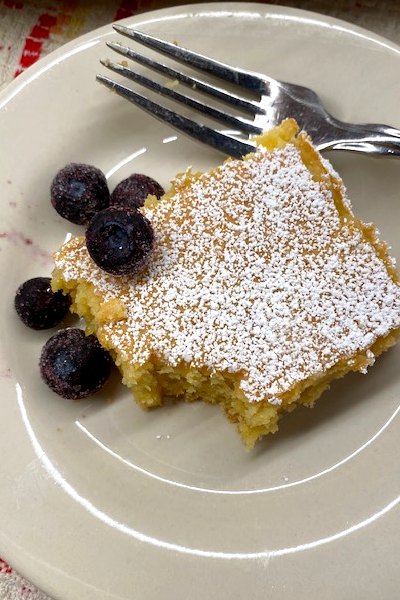 Yield: 20
Gooey Butter Bars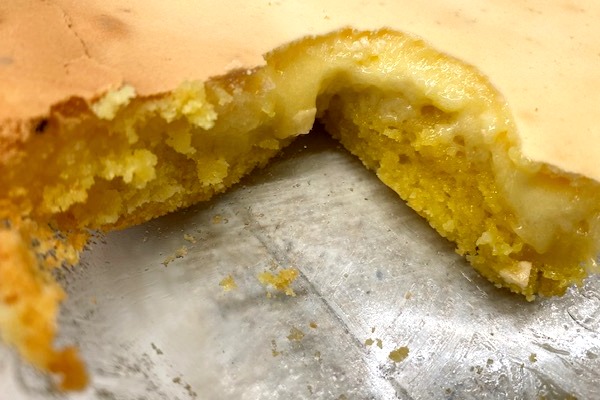 Here is a recipe for intriguing and addictive sweet, buttery bars with one surprise ingredient.
Total Time
2 hours
45 minutes
Ingredients
CRUST
1 15.25-ounce box of yellow cake mix
2 large eggs
1/2 cup (one stick) butter, melted
1 tsp good quality balsamic vinegar
FILLING
1 8-ounce block of cream cheese, softened to room temperature
2 large eggs
1 tsp good quality balsamic vinegar
1/2 tsp salt
1/2 cup butter, melted
4 cups powdered sugar, plus more for dusting.
Instructions
Combine cake mix, eggs, butter, and balsamic vinegar. Beat until thoroughly combined.
Pat mixture into the bottom of a greased 9" by 13" pan. Set aside.
Make the filling by beating together softened cream cheese, eggs, butter, and balsamic vinegar until nice and creamy smooth.
Spread the filling on top of the unbaked crust.
Bake at 350 degrees for about 30 minutes. Edges should be golden brown, and the center can be slightly jiggly when you remove the pan from the oven.
Dust with powdered sugar.
Allow the bars to cool COMPLETELY.
Cut into squares for serving.

Gooey butter bars have been around since the 1930s. They are sometimes called St. Louis Butter Bars or Ooey Gooey Butter Bars, but by any name, they are one of the best treats ever invented! Have you ever baked them? Have you ever eaten them? Here's the big question: Are you brave enough to try making them with balsamic vinegar instead of vanilla? Let us know!!!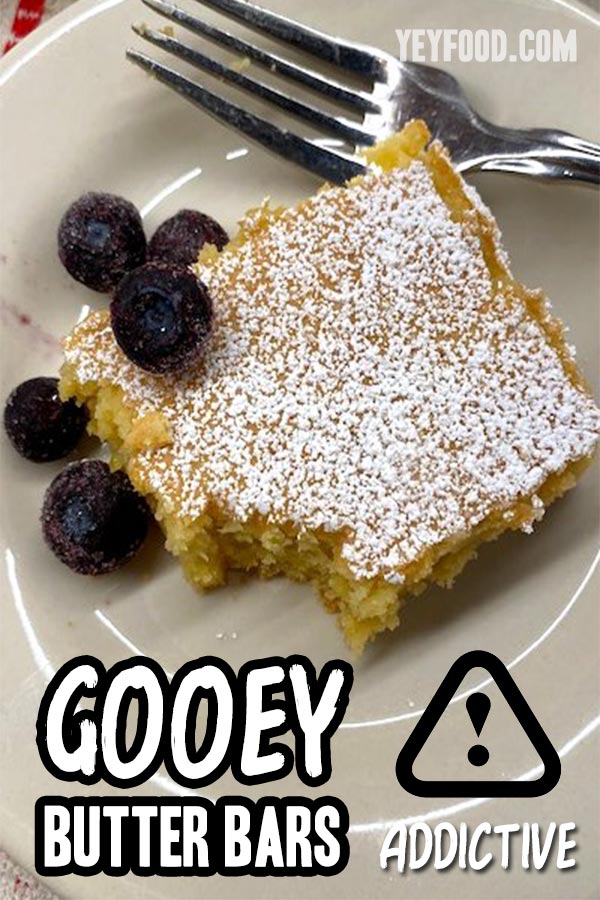 MORE OF OUR QUICK AND EASY FAMILY-STYLE RECIPES: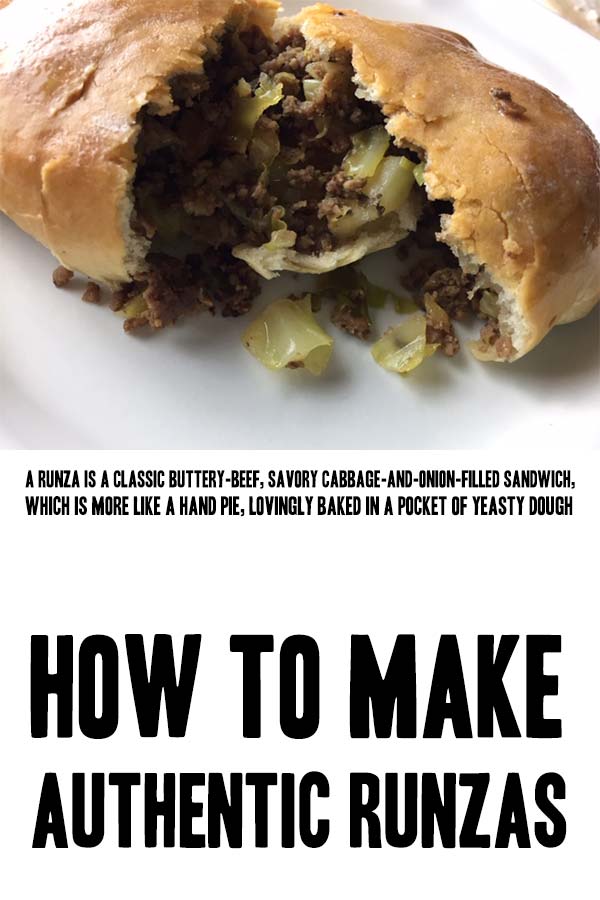 The Ultimate Bread and Butter Pickle Recipe
The Number 1 Practically Perfect Poppy Seed Bread
How To Make Authentic Runzas Right In Your Very Own Kitchen
If you like these recipes, you are our people! You can check some related articles below or search via categories on the right. But, be warned; you will be on here for hours. Enjoy!