This Yummy Soup Tastes Like Love In A Bowl
I enjoy winter. There, I said it. Maybe it's my Nordic roots, but I feel peaceful on a cold night when I have a pot of creamy cabbage soup simmering on the stove and some crusty bread to sop it up. My Scandinavian cousins in Denmark and Iceland have figured it out. They don't fight winter; they embrace it.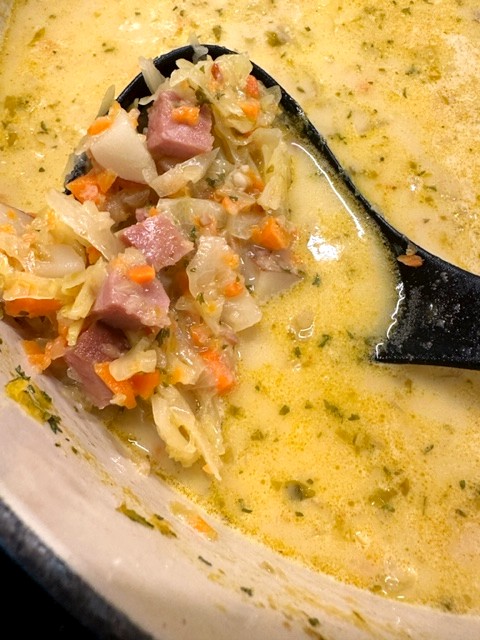 Maybe you have heard the term hygge. The word itself is a little awkward rolling off our American tongues, but it is pronounced "hue-gah" or "hoo-guh," according to the Danish visitors' website. The word has become sort of hip in the last few years, especially since Covid.
The Merriam-Webster dictionary defines it as a quality of coziness that makes a person feel content and comfortable. It's also often used as an adjective meaning "cozy or comfortable." The closest words in our English language are "chill" and "cozy," and most of us aren't very good at either one.
You might enjoy this little book about Hygge. It is an international bestseller that speaks volumes about our collective desire to slow things down.
Here's another title recommended by my sunny cousin Melissa. We grew up in Iowa with hygge and relatives who spoke Danish as their first language! The Book of Hygge: The Danish Art of Contentment, Comfort, and Connection.
Enough About Hygge Let's Make Some Mirepoix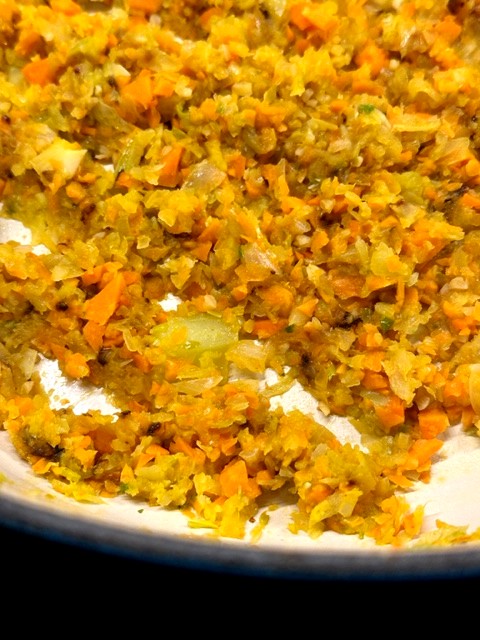 The first step in making this creamy cabbage soup so incredibly delicious is a slow one, but the amazing depth of flavor is created by making a mirepoix. Don't be put off by the word or the process. The term is pronounced meer/pwah, and the word simply means a mixture.
Mirepoix is a mixture of carrots, onions, and celery, usually finely diced and used as the seasoning base for a meat dish, sauce, or soup. It's sometimes referred to as the holy trinity of cooking because those three ingredients, cooked slowly in a small amount of oil, create a wonderful flavor base with lots of depth.
A big LeCrueset Dutch oven is perfect for the job. (I was extraordinarily lucky to receive one as a gift!) Chop an onion, about four carrots, and six stalks of celery, including the leaves. Pour a small amount of olive oil into a heavy pot. If you have a food processor, this is a snap.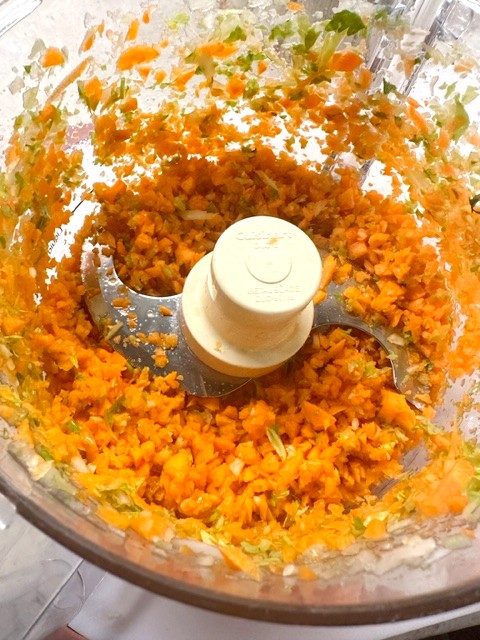 Put all the vegetables in the olive oil over low heat and come back to stir them a few times while they cook for an hour or so. You can add about a teaspoon of sugar to enhance the caramelization, but the vegetables should not brown.
When cooked, this fragrant mixture is the base of your creamy cabbage soup and can also be used as the base of many kinds of vegetable or meat soups.
Some of you might be rolling your eyes at this step. I get it. We want to do things fast and easy, and so do I, but once in a while, slow is good. I have decided to make it my mission to create a mirepoix recipe you can do in a slow cooker, so there is very little hands-on time. Stay tuned.
Now Let's Make That Mirepoix Into Creamy Cabbage Soup
In the same pot, pour two quarts of water and some vegetable bouillon cubes or soup base. I use Knorr vegetable soup base in a restaurant pack, and I measured about three tablespoons. I use it in lots of my soups and casseroles.
The bouillon is also available in large cubes, but you may not be able to buy it in stores since the pandemic. The Knorr brand is my favorite by far, but Better Than Bouillon also makes a good vegetable soup base.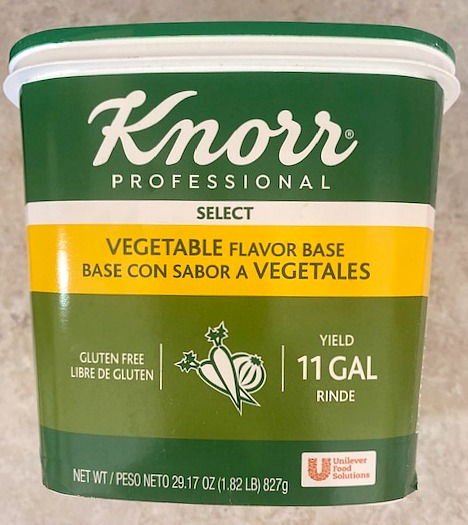 All that's left to do is dice some ham, cube some potatoes, and chop some cabbage. I used small red potatoes and left the skin on. Their firm texture will hold up better in the creamy cabbage soup than a starchy potato like a Russet.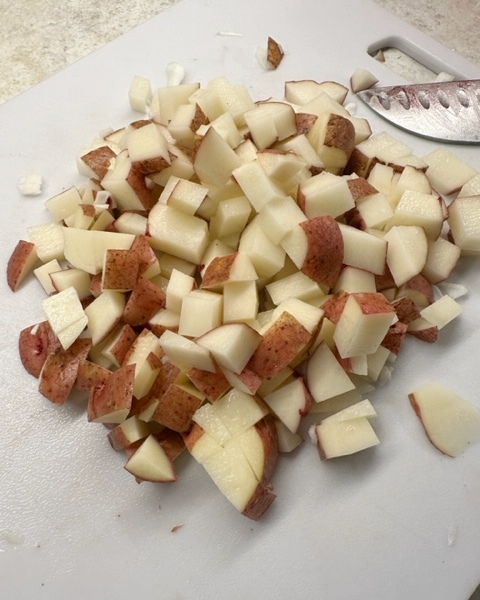 I had one package of ham left over from Thanksgiving, and it was the perfect amount, about two cups.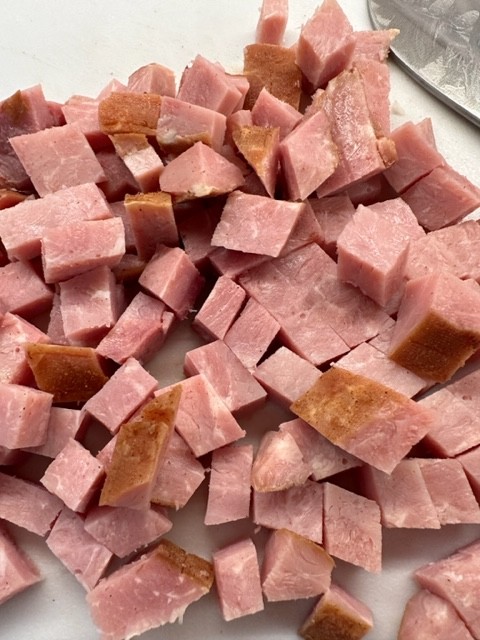 I cut the cabbage as I would for coleslaw but then cut it into shorter shreds, making it easier to eat our yummy creamy cabbage soup.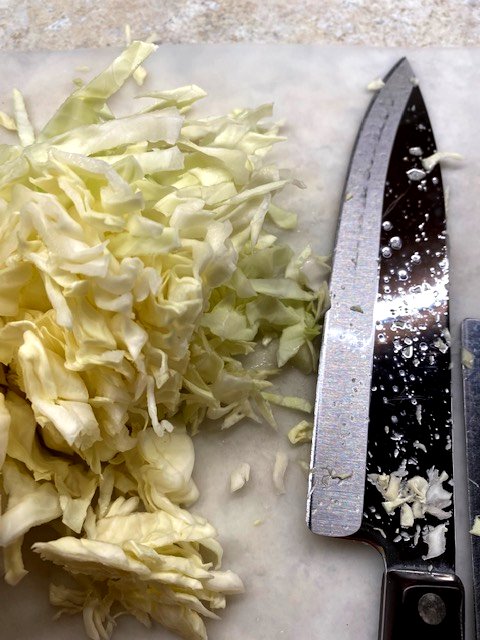 Once those ingredients were in the soup, it only took a little while for the potatoes and cabbage to be done and the ham to be nicely heated. Before serving, I added one-half cup of whipping cream and stirred to blend it.
Yield: 8 servings
Creamy Cabbage Soup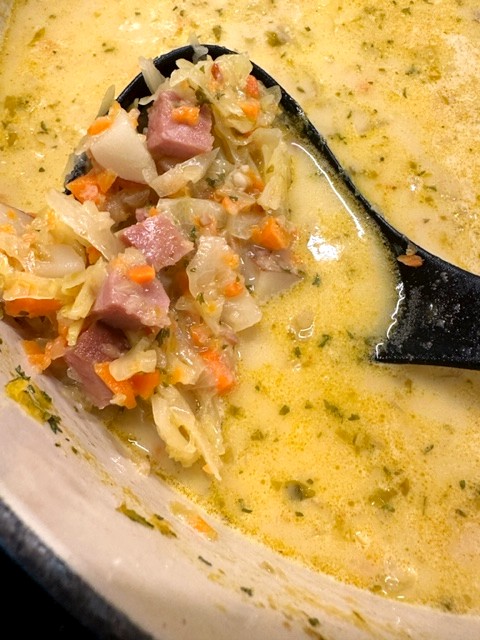 This is a recipe for a delicious cream cabbage soup with potatoes and ham.
Total Time
1 hour
30 minutes
Ingredients
One medium sweet onion, finely chopped
4-6 carrots, scraped and finely chopped
6 stalks of celery with leaves, finely chopped
1 tsp sugar to enhace caramelization in mirepoix, optional
1/4 cup olive oil
2 quarts water
3 Tbsp Knorr Vegetabe soup base or three large bouillon cubes
2 cups red potatoes with skin on, cubed
2 cups ham, diced
2 cups cabbage, shredded and cut into shorter shreds
1/2 cup heavy whipping cream
Instructions
Put 1/4 cup olive oil in a large stockpot, and add the finely chopped onion, celery, carrots, and a teaspoon of sugar if desired.
Cook over low heat, stirring occasionally for about an hour until the vegetables are tender and fragrant but not browned.
Add water, potatoes, cabbage, ham, and bouillon or soup base to the stockpot.
Bring to a boil, lower the heat, and simmer for about thirty minutes or until the vegetables are tender.
Stir whipping cream into the soup and serve hot.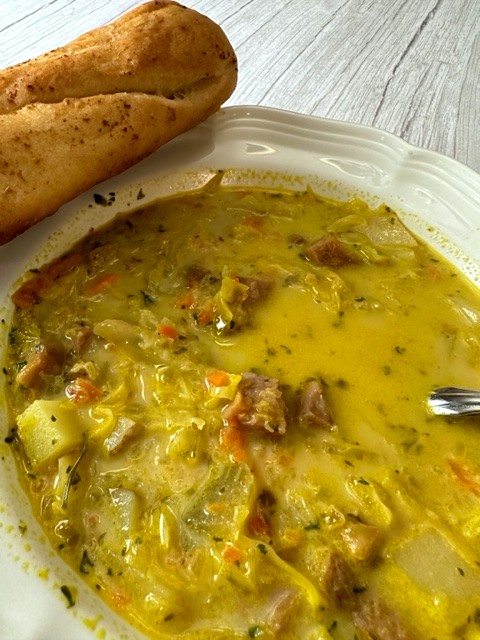 Creamy Cabbage soup is a meal in itself with all those potatoes, vegetables, and tender ham. We only needed a yummy garlic bread stick made from my one simple yeast bread recipe.
We LOVE soup when the weather gets cold! Here are some of our favorite recipes that we promise will bring some hygge into your home! Beef Noodle Soup, Taco Soup, Lasagna Soup, and Beer Cheese Soup. Hungry for more? Type soup in the search bar for more; some are FAST! What cozy soups do you make in the wintertime?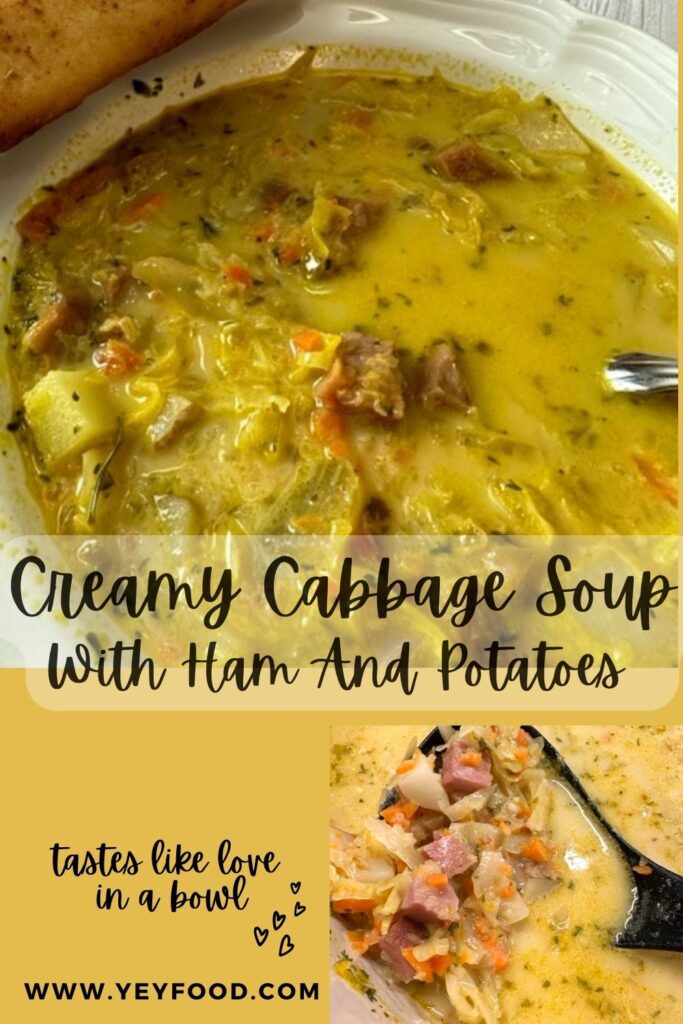 More recipes from us: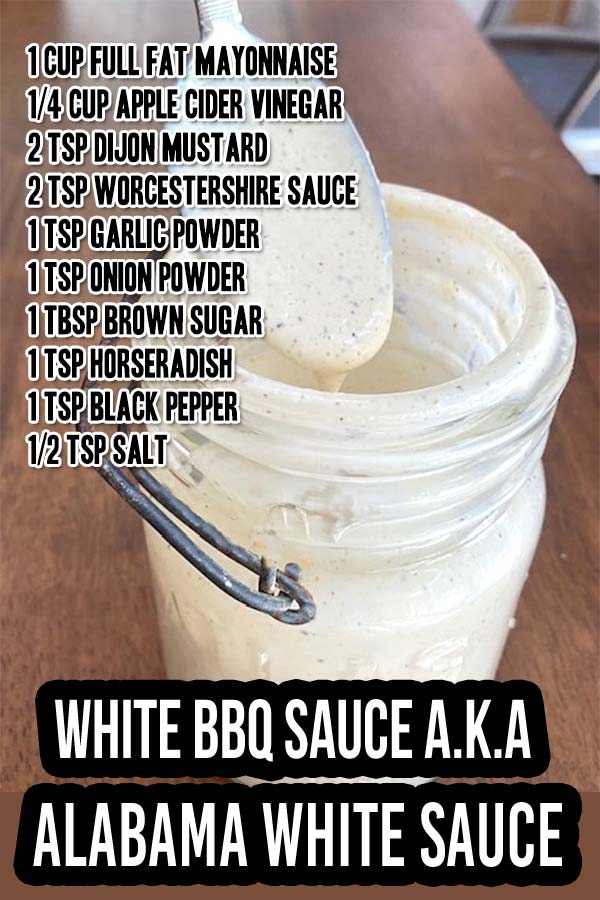 Easy 1 Pan Classic American Goulash
German Sauerkraut Casserole With Bacon And Brown Sugar
If you like these recipes, you are our people! You can check some related articles below or search via categories on the right. But be warned; you will be on here for hours. Enjoy!
So, please share this recipe on your social media accounts like Facebook, Instagram, Twitter, and Pinterest. We would be honored and ever so grateful; thank you!