Creamy Delicious Instant Pot Macaroni And Cheese Recipe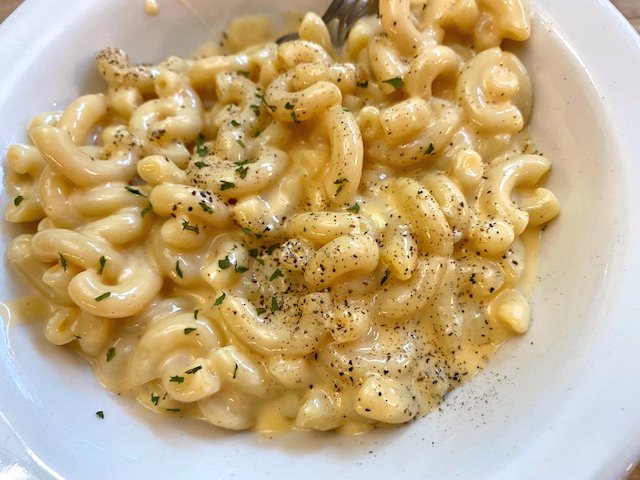 Macaroni and Cheese might be one of life's all-time favorite comfort foods. We all grew up with the familiar blue box, but as good as it is, homemade from scratch is infinitely better, with the silky smooth creaminess of real cheese oozing through tender elbow macaroni.
I would never have thought of pressure cooking pasta, but I'm here to tell you it is amazing and a complete game changer for this old girl! I was astonished to learn there is no better, faster, and tidier way to make macaroni and cheese than in an Instant Pot! It blew my mind.
Don't be looking for diet food here. If low-cal is what you're after, move along. This recipe is for super creamy, rich, and delicious macaroni and cheese.
My inspiration and affirmation for the enjoyment of great food is Julia Child. She is the one who told us the three secrets of French cooking are butter, butter, and butter, or in this case, cheese, cheese, and more cheese.
Julia also wisely counseled us to eat great food in small portions and savor every bite. Have you ever noticed the small, beautiful portion size on plates served in the finest restaurants?
On the other hand, if you have hungry hollow-legged teenagers who burn calories like I wish I still did, they will love to heap their plates and come back for more! My grandson told me I should always make mac and cheese this way, that it's "fire." FYI, That means super good!
Instant Pot Macaroni And Cheese Is A One Pot Wonder
Begin by putting a one-pound box of elbow macaroni in the Instant Pot with four cups of water, one-half teaspoon salt, and two tablespoons of butter. You can add some dry mustard and a few drops of hot sauce if you want. I did not but if you like a little more bite in yours, go for it.
You can use any pasta shape you want, but the cooking time might vary. Here is an excellent article on calculating cook times on all shapes of pasta. I am still amazed at how well it works, and I'll be experimenting with many ways to use this newfound knowledge. No boil-overs, no clock-watching! Hooray!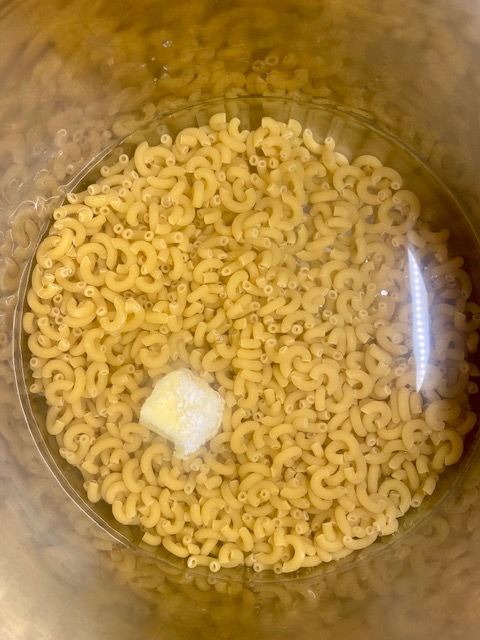 Lock the lid and set the pot to pressure cook on high for three minutes. When the time is up, allow the pressure to drop naturally for a minute or two, then quick release. The steam will contain some butter, which can be a little messy, so I placed a dishtowel on top of the pot to catch it.
Leave the Instant Pot on the "keep warm" setting. Open the pot carefully and stir the pasta well to distribute any remaining liquid. You do not need to drain the pasta. The starch stays in the pasta and helps to thicken the creamy sauce.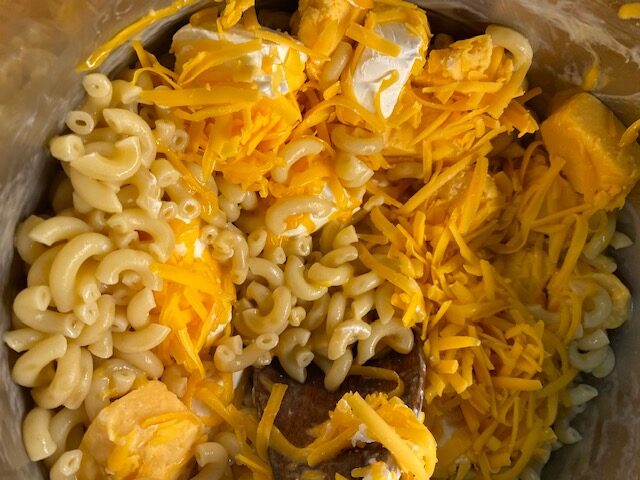 Next, add the cubed Velveeta and cream cheese a few pieces at a time, and stir between each addition. Then, gradually add the grated cheddar cheese and stir until it melts into the pasta. If the sauce seems too thick, you can add some milk or even cream!
Yield: 8 servings
Instant Pot Macaroni And Cheese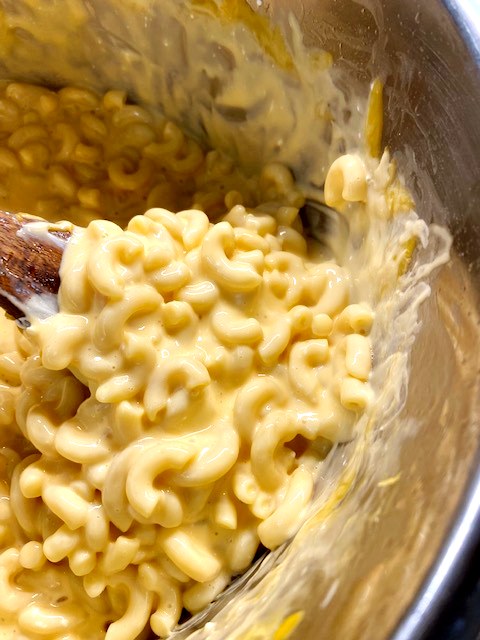 This recipe is for rich, creamy, delicious macaroni and cheese you make from scratch in an Instant Pot.
Additional Time
15 minutes
Ingredients
One 16-ounce package of elbow macaroni
4 cups water
1/2 tsp salt
2 Tbsp butter
one 8-ounce block of cream cheese, cubed
One cup ( six ounces) of Velveeta cheese, cubed
8-ounces (or more if desired) of sharp cheddar cheese, grated
Salt and pepper to taste
A few drops of hot sauce, optional
1 Tbsp dry mustard, optional
Instructions
Put macaroni, water, and salt in Instant Pot, lock, and set to high-pressure cook for three minutes.
Allow natural release for one or two minutes, then quick release. Put a dishtowel on the Instant Pot when releasing pressure to catch any butter in the steam.
Stir pasta well to distribute any remaining water, do not drain.
Leave Instant Pot on the "keep warm" setting.
Add cheeses gradually, stirring well, until everything melts evenly.
Season to taste with salt and pepper,
Refrigerate leftovers and reheat in the microwave, adding a little milk and stirring once or twice while it warms.
The sauce will be velvety and smooth, the pasta tender and delicious. Season it to taste, adding salt and pepper until it tastes perfect to you. At our house, macaroni and cheese is often a meatless main dish, and we have a vegetable like broccoli, green beans, or peas on the side. You may want to stir the veggies right into the pasta.
You can also stir in bacon, cubed ham, baby spinach, artichokes, or even crab or lobster if you feel especially fancy. Play around with your favorite cheeses, like Boursin, Parmesan, or Fontina.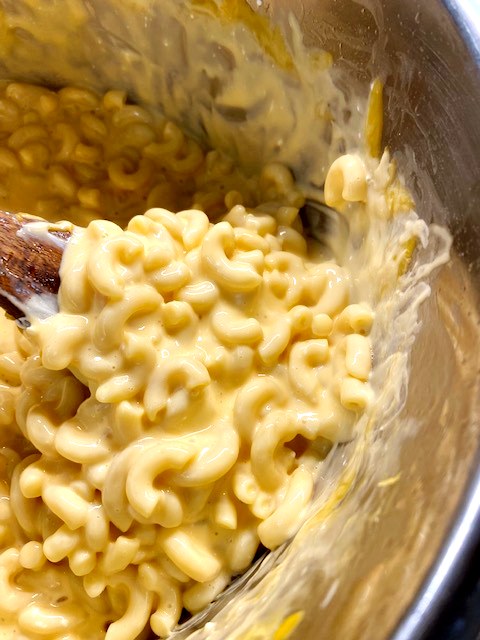 I couldn't wait for dinner, so I served myself a small bowlful sprinkled with seasoned pepper and parsley. When I was finished, and sure no one was looking, I licked the bowl.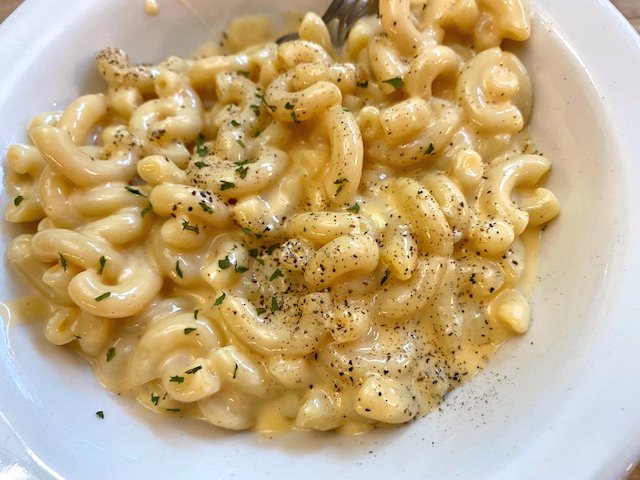 This recipe makes a big batch, enough to serve eight. Since there are just two of us at home now, we reheat the "planovers" in the microwave with a little bit of milk, stirring it once or twice as it warms. I tell you, this macaroni and cheese is just as good on day three as on day one!
Does it surprise you that you can use an Instant Pot for cooking pasta? Have you got a recipe you'd share using this method? Here are some of our most popular pasta recipes, Summer's Best Colorful Pasta Salad, Best Ever Tuna Noodle Casserole, and Easy One-Pot All American Goulash.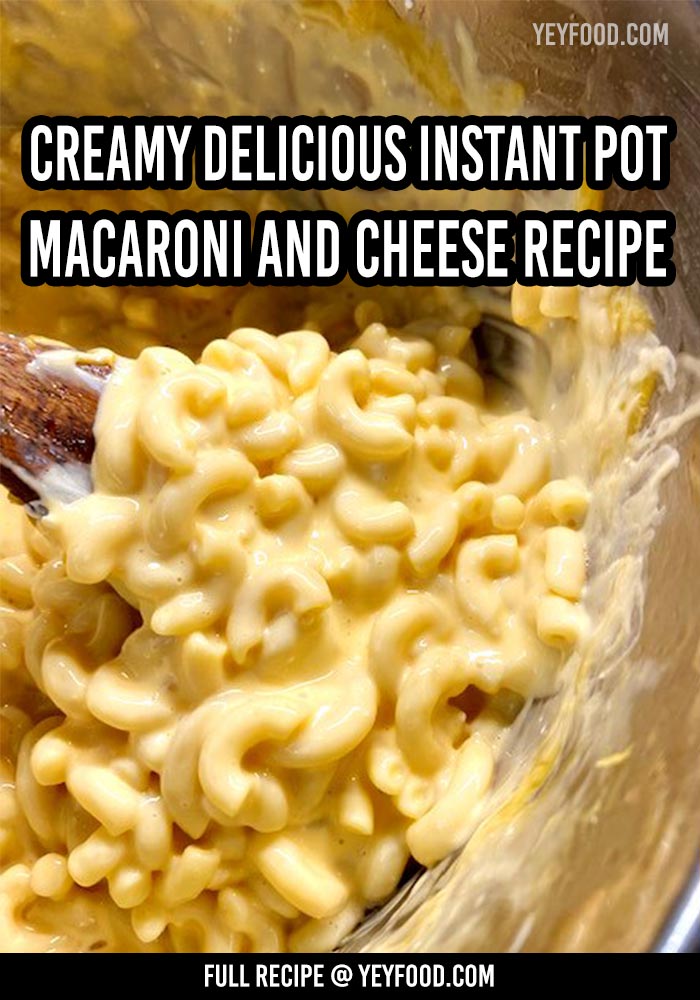 MORE TASTY RECIPES FROM US!!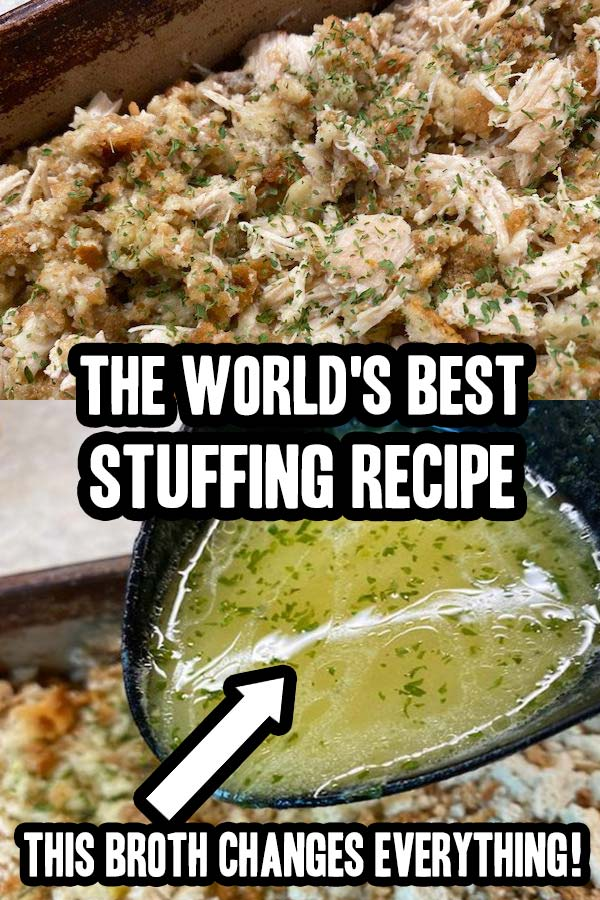 Easy 1 Pan Classic American Goulash
German Sauerkraut Casserole With Bacon And Brown Sugar
If you like these recipes, you are our people! You can check some related articles below or search via categories on the right. But, be warned; you will be on here for hours. Enjoy!
So, please share this recipe on your social media accounts like Facebook, Instagram, Twitter, and Pinterest. We would be honored and ever so grateful; thank you!