Best Ever Tuna Noodle Casserole Recipe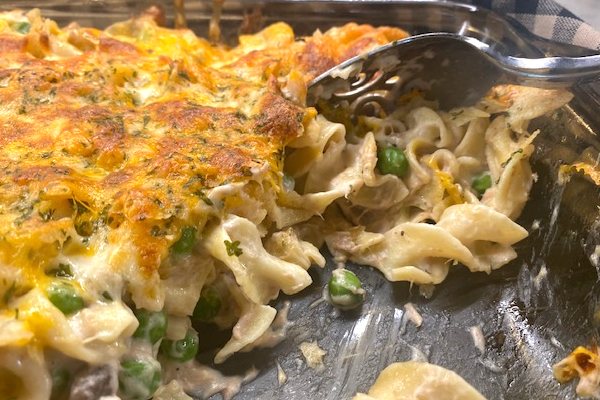 Tuna noodle casserole has been around for decades, and there is little middle ground amidst the love/hate spectrum of this ubiquitous dish. Translation: you either love it or hate it. I'm here to persuade you that if you add just a few extra ingredients, you can zhoozh it up to be a pretty tasty little dish that will certainly come in handy during Lent, if nothing else.
Tuna casserole goes way back to the days before mushroom soup came in a can, but by the time that happened, about 1934, anyone who could operate a can opener could stir up this recipe. It was then that lunchroom ladies and housewives embraced the bland concoction into their mealtime rotation.
A reluctant cook or a lazy cook can make a mess out of almost any meal because their preparations are half-hearted and grudgingly carried out. You can transform this old standby from mundane to marvelous if you move the dial just a teeny bit. Here's how.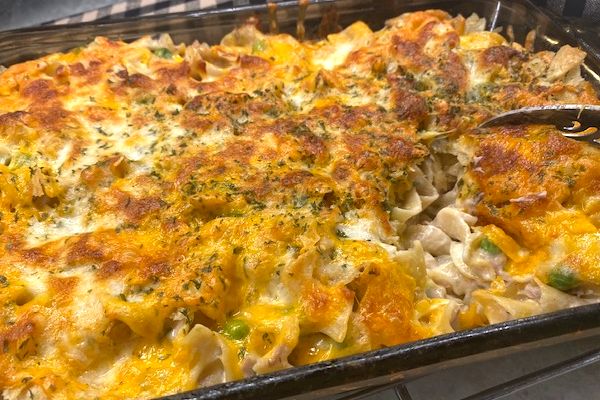 It's Easy To Zhoosh Up Your Tuna Noodle Casserole Here's How
There are oodles of recipes out there for tuna casserole, and we'll begin there and add some pizzazz. It's very easy to do. Begin by cooking a twelve-ounce package of wide egg noodles as directed on the label, then drain them and put them in a greased baking dish. I used one a little smaller than a nine by thirteen because I wanted it to be thicker and not dry out as much.
Let's talk about noodles for a quick minute. No one declared you must make this casserole with wide egg noodles! There are nearly a zillion wonderful shapes of pasta you can use instead, everything from thin spaghetti to bowties or rotini. Sooo, if the hunger for tuna casserole strikes you, look in your cupboard before you jet off to the store, where you will probably overspend! 😉
Next, combine a can of mushroom soup with a cup of whole milk and a half-cup of sour cream. Stir that up until it's all combined, and add two five-ounce cans of water-packed tuna, drained, and a cup or more of frozen peas or frozen mixed vegetables. I used a twelve-ounce can of water-packed tuna because that's what I had on the shelf, and we like tuna!
Here's where the fun begins! Top with one and one-half cups of coarsely crushed plain potato chips. For us, plain Lays brand chips are the holy grail of potatochipness, but they don't pay me to say so! Sour cream and onion potato chips or sour cream and cheddar potato chips would certainly be fun to try! It's the amazing crunchy mouthfeel of the chips that make this casserole such a joy to eat!
Then, top that with a mixture of one and one-half cups of grated sharp cheddar cheese and about one-half cup of grated mozzarella. The "mozz" adds interesting meltiness that we love in the topping.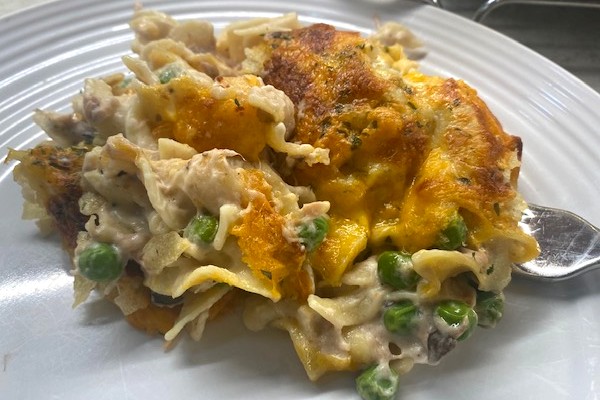 Bake at 350 degrees for about 25 minutes, or until the tuna noodle casserole is hot and bubbly and the cheese begins to brown a bit. So incredibly yummy! I find myself looking forward to Fridays in Lent simply so we can enjoy this wonderful comfort food!😊
If you are looking for other yummy things to eat on Fridays during Lent, here are a few of our favorites, Low-carb Keto Shrimp and Asparagus, Incredible 20 Minute Salmon Dinner, Minestrone Soup. Do you have a favorite dish you serve during lent or on Meatless Mondays! C'mon! Please share!
Yield: 6 servings
World's Best Ever Tuna Noodle Casserole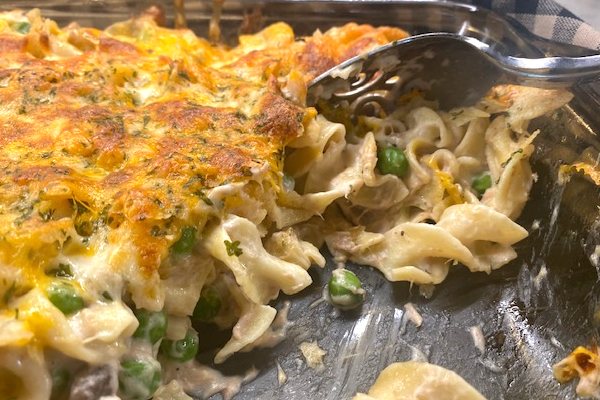 A zhoozed-up tuna noodle casserole with cheese and crushed potato chips.
Ingredients
12-ounce bag of wide egg noodles
One 10.5-ounce can of cream of mushroom soup
1 cup whole milk
2 5-ounce cans of water-packed tuna, drained well
1 cup or more of frozen peas or frozen mixed vegetables
1/2 cup sour cream
1 1/2 cups crushed plain potato chips
1 1/2 cups grated sharp cheddar cheese
1/2 cup grated mozzarella cheese
Instructions
Preheat oven to 350 degrees.
Spray or grease a baking dish and set it aside.
Cook a twelve-ounce package of wide egg noodles according to the directions on the label and drain.
Put noodles in the greased baking dish.
Combine soup, milk, sour cream, tuna, and vegetables in a bowl and stir into the noodles.
Put crushed potato chips on top of the noodle mixture.
Spread the shredded cheeses over the potato chips.
Bake at 350 degrees for about 25 minutes, or until everything is hot and bubbly and cheese begins to brown.
Notes
Use any pasta shape you like, and feel free to experiment with potato chip varieties!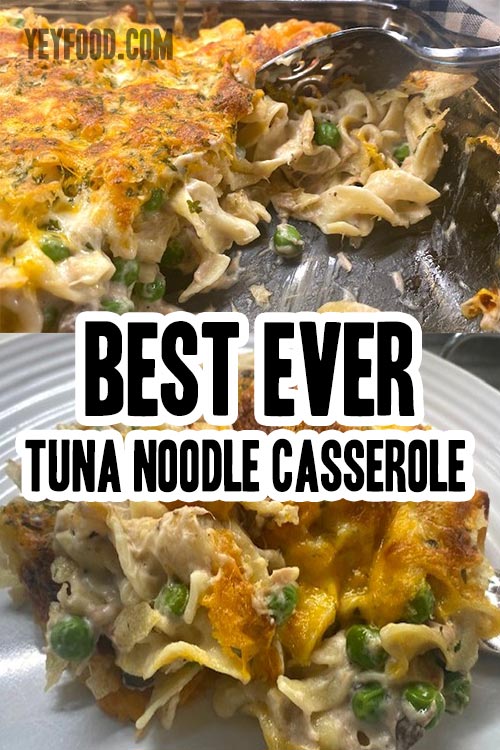 MORE OF OUR QUICK AND EASY FAMILY-STYLE RECIPES: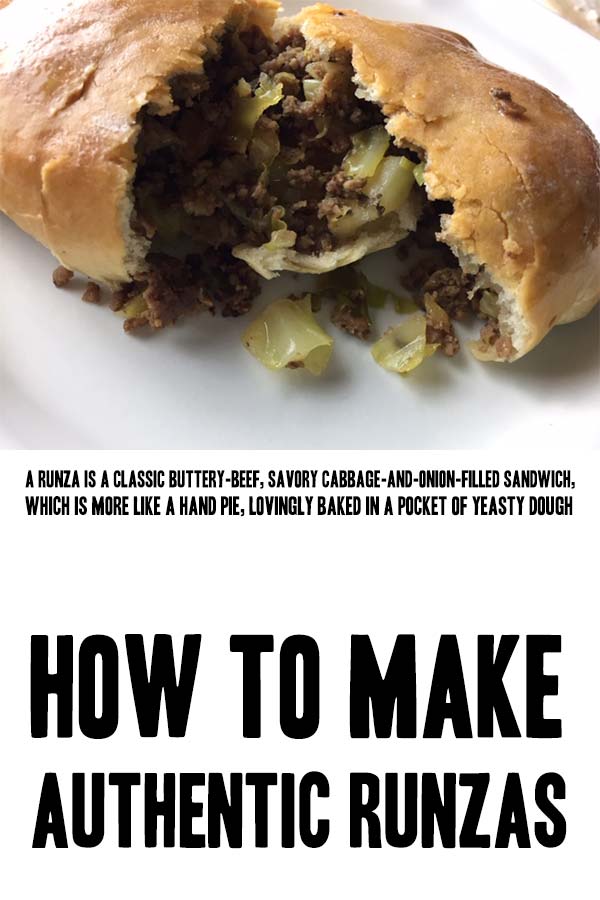 The Ultimate Bread and Butter Pickle Recipe
The Number 1 Practically Perfect Poppy Seed Bread
How To Make Authentic Runzas Right In Your Very Own Kitchen
If you like these recipes, you are our people! You can check some related articles below or search via categories on the right. But, be warned; you will be on here for hours. Enjoy!