10 Quick Weeknight Meals That Are Terrifically Tasty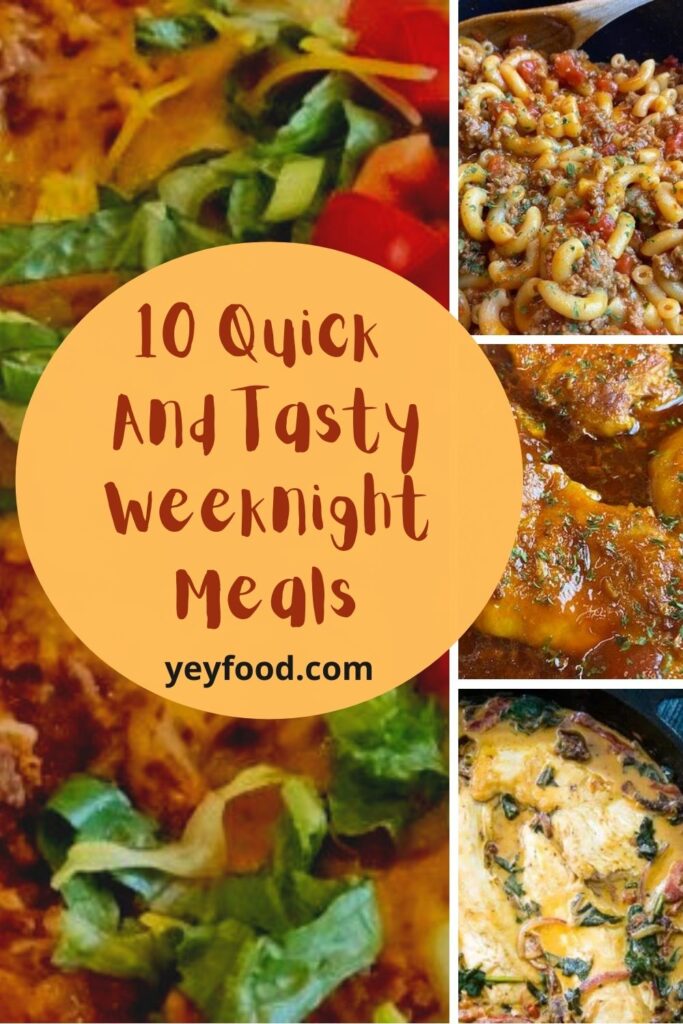 Could you use some ideas for quick weeknight meals? Few things strike fear in a mom's heart, like hearing, "I'm starving, when do we eat?" That dreaded cry seems to come on exactly those days you have no idea what you're going to make, and it's already 5:00!
Here are ten quick and easy weeknight meals, tasty recipes that give a whole new slant on "a flash in the pan" or "fast food!" Each recipe is easy to make right in your very own kitchen.
There are no fancy or unpronounceable ingredients, and several dishes are one-pot meals. Hallelujah! Next time you're at the store, pick up some of the simple pantry ingredients that will make you the diva of dinnertime!
Here's 1 Fantastic Flash In The Pan Salmon Dinner
Soy sauce, fresh garlic, and honey transform salmon from average to extraordinary! The super-speedy glaze is fantastic. Garlicky, sweet, and salty, what's not to love? Best of all? This quick weeknight recipe includes ingredients and a timeline for a complete meal, all delicious, with everything ready in under 30 minutes! Boom!
Fabulous Salmon That's On The Table In Twenty Minutes
4 Quick Weeknight Chicken Recipes So Good You'll Want To Lick Your Plate
Baked Salsa Chicken is a quick and easy recipe for those busy days. You need a quick weeknight meal! Juicy chicken breasts flavored with taco seasoning are smothered with salsa and cheddar cheese and baked to perfection! It's excellent served with Fiesta Rice; there's a bonus link for that recipe too! Add a sprinkle of chopped cilantro, and your family won't be able to get enough of this chicken salsa recipe! They'll be requesting it for dinner over and over again!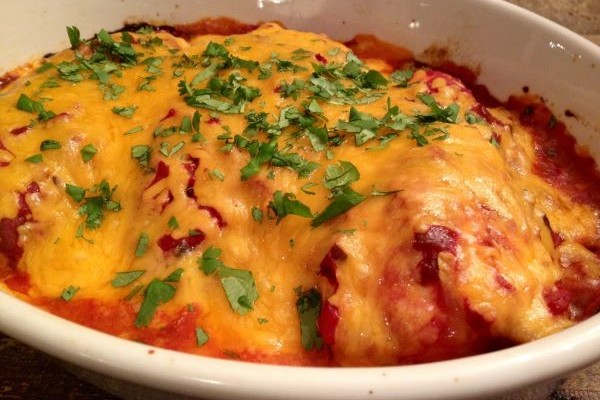 Chicken Curry is a family favorite that's super fast and true comfort food! The sauce is quick and easy to make, and the warm curry seasoning is not hot and spicy at all. It's just right.
Want to take it to warp speed? Buy pre-cooked rotisserie flavored chicken in a pouch, or cut up a rotisserie chicken you grab on the way home. It's great with chicken apple sausage, too! Suggested products are included!
How To Make Chicken Curry In A Hurry
Sun-Dried Tomato Chicken is a fast, fantastic meal that can be on your table in just thirty minutes! It starts with fork-tender chicken cutlets simmered in a creamy, delicious, wine-kissed sauce. Baby spinach, sun-dried tomatoes, and red onions pack it with loads of color and flavor! It's a beautiful, colorful presentation that's amazingly easy to make!
Sun-Dried Tomato Chicken Skillet Recipe
Houdini Chicken got its name because it helps you escape the kitchen fast! Make the simple sauce, pour it over the chicken, and pop it in a 350-degree oven. It bakes unattended for an hour or so while you disappear to do something more fun. Serve the succulent, fork-tender dish to your family, maybe with some rice, and watch it vanish magically!
4 Ingredient Houdini Chicken Recipe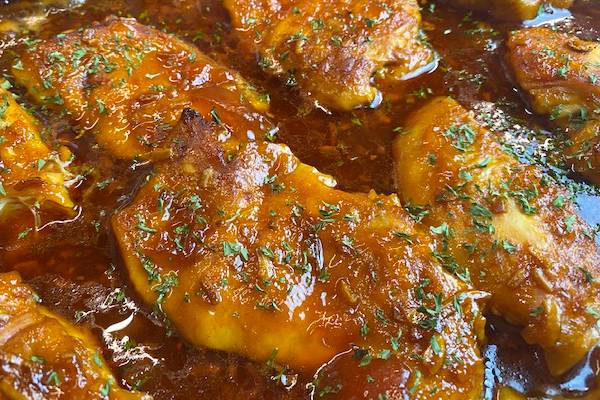 1 With Venison Egg Roll In A Bowl It's Gorgeous Tasty And Keto Friendly
Here's a bonus recipe if you have venison on hand! This Eggroll in a Bowl is a super quick colorful cabbage bowl made with a combination of ground venison and pork. (No venison? No worries. Shelby tells you how to substitute.) It's a healthy, keto-friendly take on the Asian Egg Roll without the wrapper and none of the carbs. Amazingly, it's ready in about 20 minutes. How's that for fast and fantastic?
Egg Roll In A Bowl With Ground Venison
3 Amazingly Quick Weeknight Meals One-Pot Wonders Using Ground Beef
Taco Tuesday just got an upgrade! Why not change up your Taco Tuesday this week with our One Pot Taco Beef and Rice? Here's a taco skillet recipe that's fast, easy, and delicious! We think it will soon become a family favorite. This recipe delivers all the fabulous flavors of a taco. Eat it on its own, with corn chips, or pile it inside taco shells!

One-Pot Chili Mac and Cheese is an easy dinner recipe that combines two all-time comfort food favorites, mac and cheese, and chili. This recipe, made entirely in one pot, is filled with cheesy, saucy goodness! Kids and grownups alike will love this tasty chili mac and cheese recipe!
Goulash is as American as Mom and apple pie. Here's the easiest and the most fantastic recipe for classic goulash like your grandma's. Make it in a non-stick skillet with a tight-fitting lid and never, ever have to boil and drain the macaroni. Seasoned just right, it's a favorite of kids of all ages, ready in under 30 minutes! So fast we call it go-go goulash!
Quick And Easy American Goulash In One Pan
1 Miraculous Microwave Meatloaf Recipe
Few things beat a good old-fashioned meatloaf for comfort food. Surprise! You can make a delicious meatloaf right in your microwave oven in about twenty minutes. The tangy glaze you brush on in the last few minutes gives it a delightfully appetizing appearance. There's a bonus recipe for quick and tasty skillet potato wedges to serve alongside it.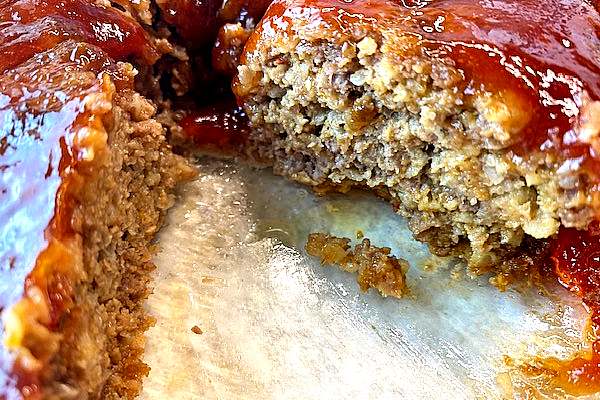 I was a "working mom" most of my life. Wait. That is such a silly label. Moms all work very hard; it's the most demanding job we'll ever love. But does mealtime seem to come around faster and faster as the kids grow? You are not alone! It seems we barely get the dishes done and someone is "starving" again!
I hope you find some new favorites here that can become part of your mealtime rotation. You have no idea how much I love hearing from you. Do you have a quick and easy dish you go to, like pulling a rabbit out of your hat? You would make my day, er, my month if you'd share one of your favorite recipes with me! Happy suppertime, everyone!
Please share this post on your social media accounts like Facebook, Instagram, Twitter, and Pinterest if you enjoyed this recipe today. It would sure tickle me, and I'd be ever so grateful, thank you!
If you haven't already, check out our Facebook page, where we post easy, delicious, and family-friendly recipes every day!
More recipes:
Super Delicious German Dessert Recipes
Amazing Frosted Brownie Cookies