This Recipe Has Three Whole Cups Of Zucchini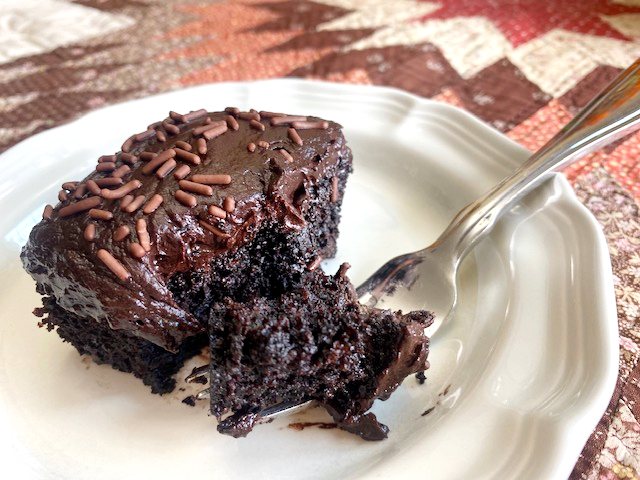 Zucchini cake recipes start appearing everywhere when zucchini flourishes as it does now. There's an old joke in Nebraska that you should never leave your car unlocked in late summer because if you do, you will find zucchinis in your back seat.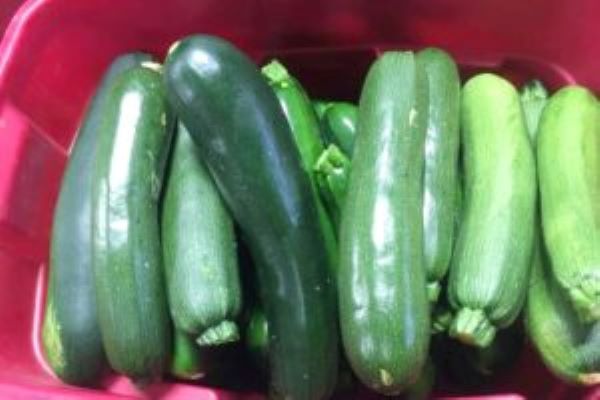 If that happens to you, here is a recipe for the most delicious, dark, fudgy zucchini cake ever. This cake uses three cups of grated zucchini in a thirteen by nine-inch pan! The zucchini adds wonderful density and moisture to the cake, but you can't taste it!
Zucchini is mostly water, so they virtually disappear into the cake; they have so little flavor of their own; all you taste is chocolate!! Don't peel the zukes; their green skin is full of vitamins! This mahogany-colored cake disguises the green peels making them completely unnoticeable.
Zucchini is an ingredient similar to bananas or applesauce in baking. It adds a wonderful texture, volume, and moistness to baked goods and adds an extra boost of nutrition.
The unique thing about this recipe is I used Hershey's Special Dark Dutch Cocoa for a truly decadent, rich dark chocolate zucchini cake and frosting. Although all cocoa powders can vary from light brown to a richer dark brown, "Dutched" cocoa has been treated with an alkali wash that makes it less acidic and gives it a noticeably darker color and a richer, smoother, more mellow flavor.
Not into dark chocolate? You can also use regular cocoa in this recipe and the frosting. If you want to know more about the difference between natural and Dutch-processed cocoa, here's an in-depth post on the subject.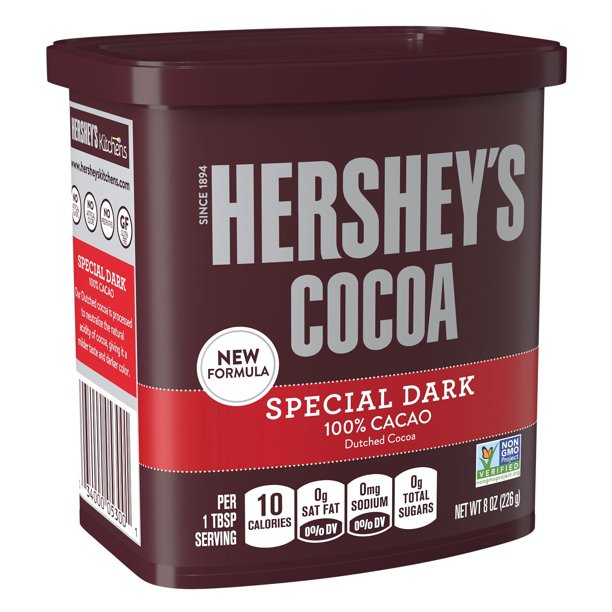 Here Is How You Make This Delicious Dark Chocolate Zucchini Cake
Preheat your oven to 350 degrees. Spray or grease a 13″ by 9″ pan and "flour" it using cocoa powder. This cake is so dark, it will make the cut pieces more attractive than using flour.
Shred three cups of unpeeled zucchini and set it aside. Lightly pile the zucchini into the measuring cup; you don't need to pack it down. Combine the dry ingredients in a mixing bowl and whisk them together. Add the eggs and oil and beat until everything is just well-combined.
Fold in the zucchini and chocolate chips, and ensure they are distributed evenly. Now pour the batter into the cake pan and even it out in the pan. The batter will be quite thick.
Bake the cake in a 350-degree oven for about 50 minutes or until you can insert a toothpick near the center and it comes out clean. The dark is so dark it is hard to tell if it's baked, but the edges of the cake should pull back slightly from the edge of the pan.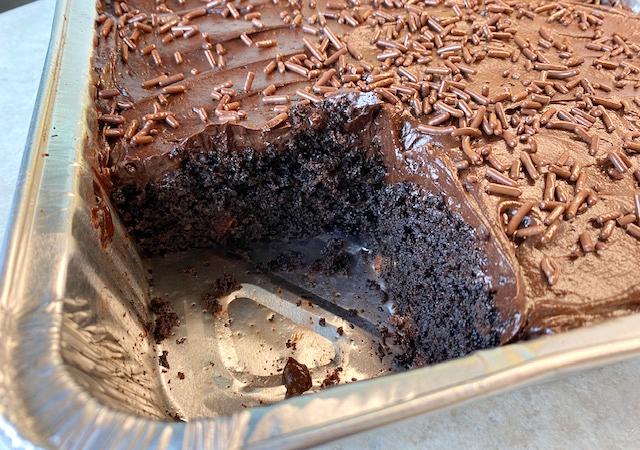 Cool the cake completely before frosting it, then add sprinkles if you like for a fanciful garnish. This chocolate zucchini cake is rich and moist; please cut it into smaller servings. This cake will easily serve sixteen.
Yield: 16 servings
Dark Chocolate Zucchini Cake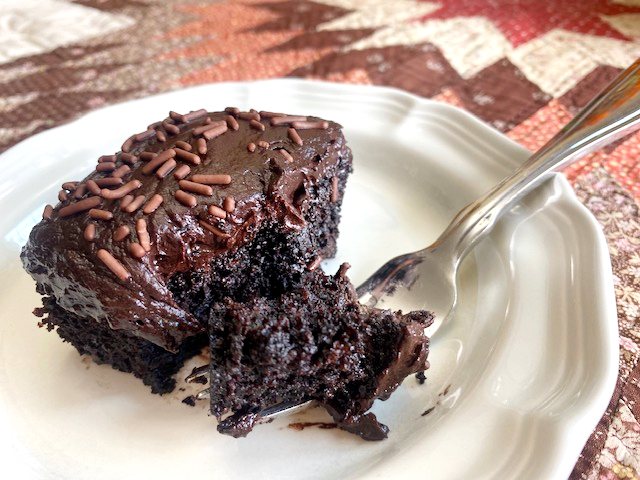 This recipe makes a dark chocolate zucchini cake that is dense, moist, and almost fudgy.
Total Time
1 hour
5 minutes
Ingredients
2 cups regular flour
2 cups granulated sugar
3/4 cup special dark Dutch process cocoa powder
2 tsp baking soda
1 tsp baking powder
1 tsp instant coffee granules
1/2 tsp salt
1 1/2 cups vegetable oil
4 eggs
3 cups unpeeled, grated zucchini
1/2 cup chocolate chips, optional
Chocolate sprinkles, optional. I used Watkins brand to garnish the cake.
Instructions
Grease or spray a 13" by 9" pan and "flour" it with cocoa powder.
Preheat the oven to 350 degrees.
Ccombine dry ingredients in a medium bowl and whisk together.
Add the eggs and oil; mix well until just combined.
Fold in zucchini and chocolate chips, pour the batter into the cake pan and level out the batter.
Bake for 50 minutes or until a toothpick or cake tester comes out clean when inserted near the center of the cake.
Cool the cake completely before frosting.
Yield: Hershey's Cocoa
Hershey's Famous Lickety Split Chocolate Frosting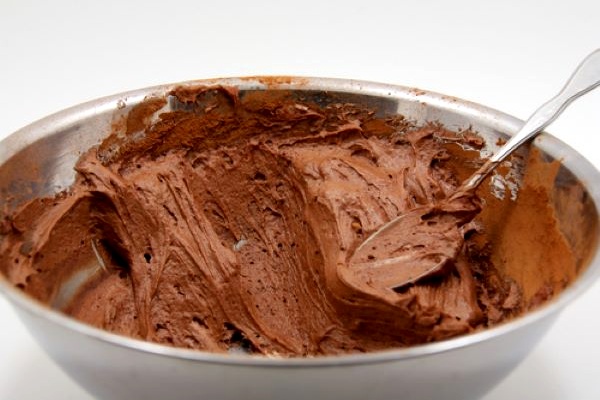 A quick and tasty chocolate frosting you can make with simple pantry ingredients. You can use regular cocoa or dark cocoa to enhance your cake.
Ingredients
1/2 cup (one stick) butter, softened to room temperature.
3 to 3 1/2 cups powdered sugar
2 tsp vanilla
6 Tbsp milk or cream
3/4 cup Hershey's unsweetened cocoa powder, regular or dark chocolate.
1/8 tsp salt
Instructions
Cream butter, add remaining ingredients, and beat, starting slowly, then increasing the speed until you achieve the desired spreading consistency. You may need to adjust the milk and powdered sugar quantities a bit.

Are you a chocoholic? I have family members who honestly believe there is no such thing as too much chocolate! Here are some of our most popular recipes with chocolate in a starring role. Crazy Good Chocolate Cream Puff Dessert, Chocolate Peanut Butter Balls, Chocolate Chip Banana Bread, Frosted Moist Chocolate Cake. What's your favorite chocolate dessert?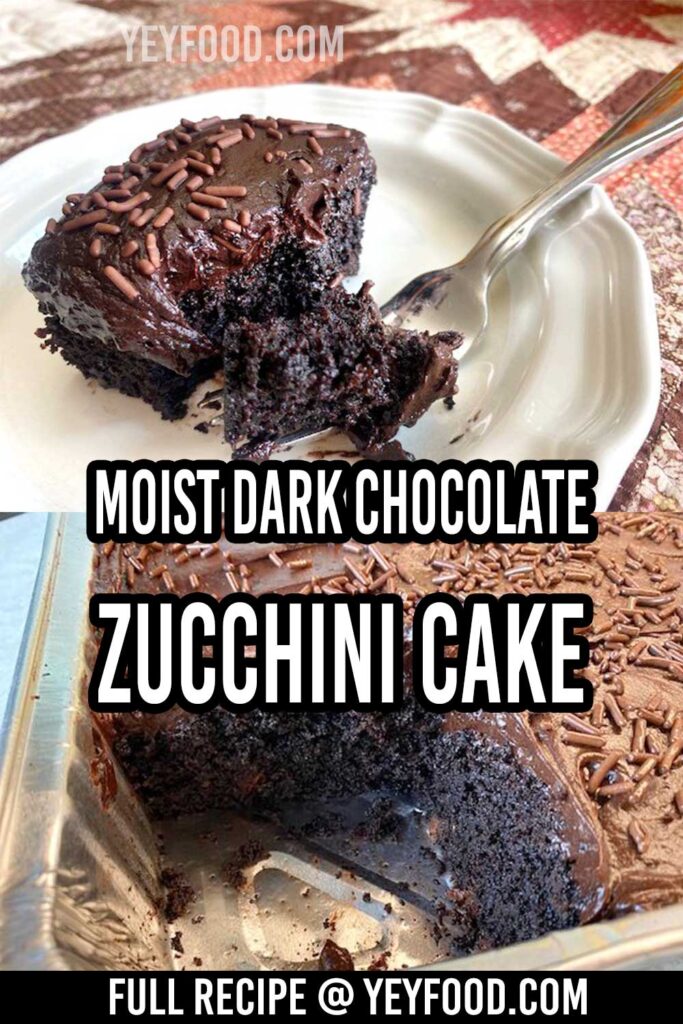 More recipes from us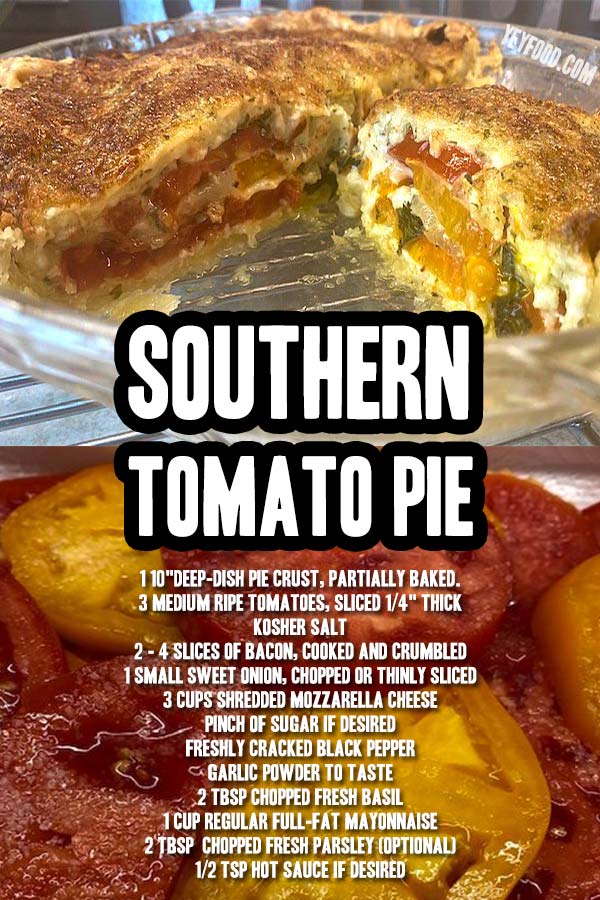 Easy Caramelized Onions In Your Crockpot
How To Make The White BBQ Sauce That's Fascinated Us Since 1925
German Sauerkraut Casserole With Bacon And Brown Sugar
If you like these recipes, you are our people! You can check some related articles below or search via categories on the right. But, be warned; you will be on here for hours. Enjoy!
So, please share this recipe on your social media accounts like Facebook, Instagram, Twitter, and Pinterest. We would be honored and ever so grateful; thank you!