Homemade Chocolate Peanut Butter Balls Recipe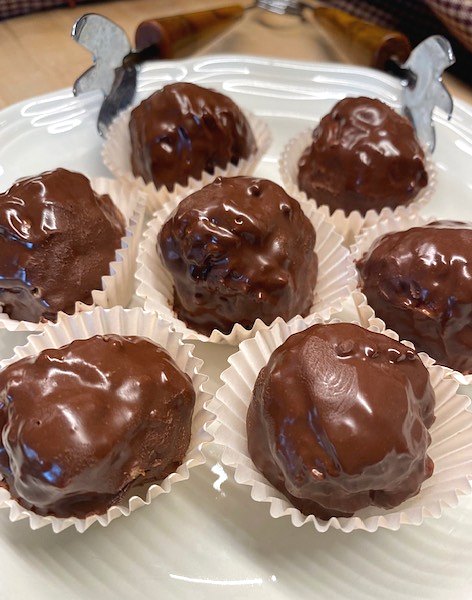 Homemade chocolate peanut butter balls are the first candy to disappear off holiday cookie trays, but why wait? Any day is the perfect time for these easy treats! You can stir up a batch in a jiffy! The taste of these yummy candies is very similar to a Reece's Peanut Butter Cup!
According to CandyStore.com, Reece's cups are the top-selling candy in America. We eat them by the ton! Research indicates over 39% of Americans call it their favorite candy. You can't go wrong with the timeless combination of peanut butter and chocolate. It's a duo as delightful as Fred Astaire and Ginger Rogers.
Let The Kids Help Make These Tasty Chocolate Peanut Butter Balls
They are so easy to do! Combine peanut butter, powdered sugar, butter, and crushed crisp rice cereal in a bowl and roll into walnut-size balls, park them on a parchment-covered sheet pan, and chill.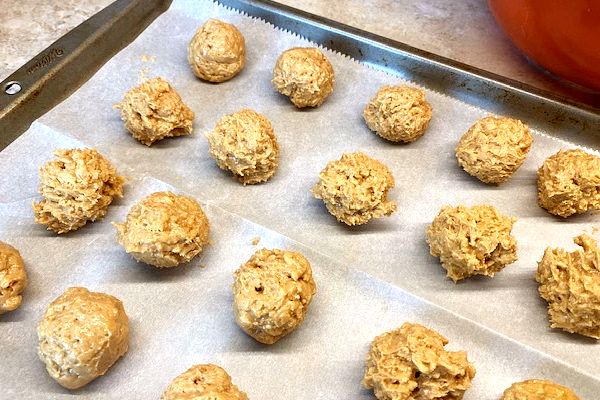 When they are good and cold, dunk them in a bath of melted semi-sweet or milk chocolate chips. I do not have a double boiler, so I put an oven-proof glass bowl (make sure it is oven-proof) on top of a saucepan with some water. Please set the burner on low, so the water barely simmers.
You don't need the water in the pan to touch the bottom of the bowl. As the water simmers, it generates enough gentle heat to melt the semi-sweet chocolate chips with a little bit of shortening to a perfectly melty consistency.
There are lots of nifty tools you can buy for candy dipping! I may buy one before the holidays, but this time I used a skinny fork and a long toothpick to plop the ball into the melted chocolate, give it a roll, and set it back on the covered baking pan to harden. You can drizzle it lightly over the candies for added texture if you have any chocolate left.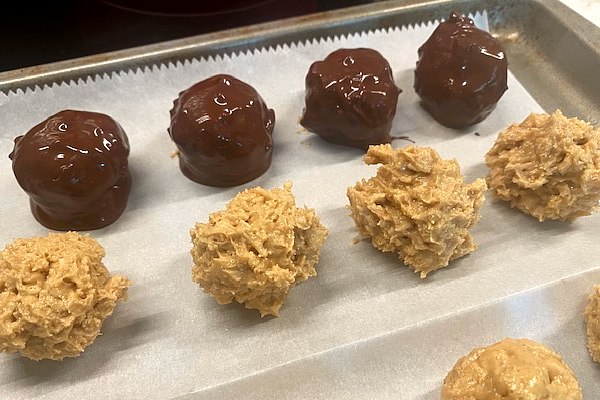 It might also be fun to melt a small amount of peanut butter chips or white chocolate chips to make a pretty drizzle! Sprinkles would be adorable, too! Garnishes always elevate the appearance of a special treat but believe me; these chocolate peanut butter balls taste fabulous, even unadorned!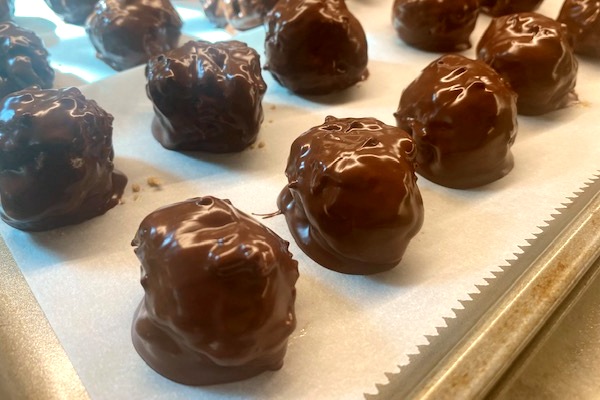 I listed another option for a smoother center in peanut butter balls, using more powdered sugar and omitting the rice cereal on the printable recipe card. These goodies are so quick and easy to make they'll be something fun to do with our grandkids in the first days of Christmas break! I'm going to experiment with these as the holidays grow near!
Yes You Can Freeze Peanut Butter Balls For Gifts Later On
These would be fun to make over the Thanksgiving break because they freeze beautifully and keep a month or more in the freezer! They would be so adorable in a tissue-lined tin and wrapped with a festive ribbon bow! Stack them in layers separated by waxed paper in a freezer container, so you have some ready for cookie platters or gifts!
My family loves sweet and salty combinations, so I'm going to try adding crushed pretzels to the filling or sprinkling finely chopped salted party peanuts or smoked sea salt on top! If you want to combine the top two candies in America into one treat, why not put mini M and M's in the peanut butter mixture? Are you a Heath fan? Try some brickle bits!
Almond butter or cashew butter would be delicious options. You can use any nut butter inside these beauties! Make sure you chill the candy centers thoroughly before dipping them in chocolate.
Yield: 30 candies
Chocolate Peanut Butter Balls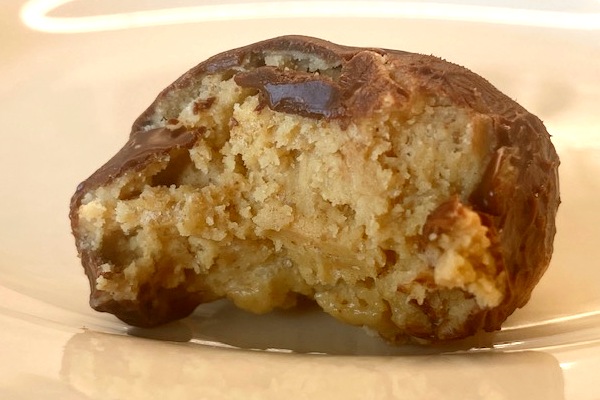 Here is a recipe for an easy-to-make treat with just four ingredients. They are always the first candy to disappear from the holiday tray.
Additional Time
20 minutes
Ingredients
1 cup creamy peanut butter (or use chunky peanut butter if you like!)
1/4 cup butter softened to room temperature
1 cup powdered sugar
2 cups coarsely crushed rice cereal (like Rice Krispies)
2 cups of semi-sweet or milk chocolate chips
2 Tbsp regular shortening (like Crisco)
Instructions
Mix peanut butter, powdered sugar, and butter until well blended.
Stir in the crushed rice cereal until it is evenly distributed.
Roll in thirty one-inch balls, about one tablespoon each.
Place on a rimmed baking pan covered with wax paper or parchment paper.
Chill at least 30 minutes or overnight. If the peanut butter balls are really cold, they will be easier to handle, and the chocolate coating will harden more quickly.
Melt the chocolate chips and shortening over a double boiler or melt in the microwave in a microwave-safe bowl in twenty-second increments, stirring after every stop.
Dunk peanut butter balls in melted chocolate and set them back on the baking sheet until they are completely covered.
Chill until chocolate sets up (hardens) completely.
Store in an airtight container either on the counter or in the refrigerator.
Notes
If you prefer a smoother peanut butter filling, you can omit the rice cereal and use these ingredients instead. The instructions are just the same.
1 cup creamy peanut butter
6 Tbsp salted butter softened
2 cups powdered sugar
2 cups semi-sweet or milk chocolate chips. You could even use white chocolate chips for dipping!
1 Tbsp vegetable shortening or coconut oil optional
What's your favorite peanut butter and chocolate combination? Is there a recipe you'd be willing to share? Wait. Are you saying you don't like peanut butter at all? You're kidding. Well, maybe you'll love these instead, Chocolate Covered Coconut Balls.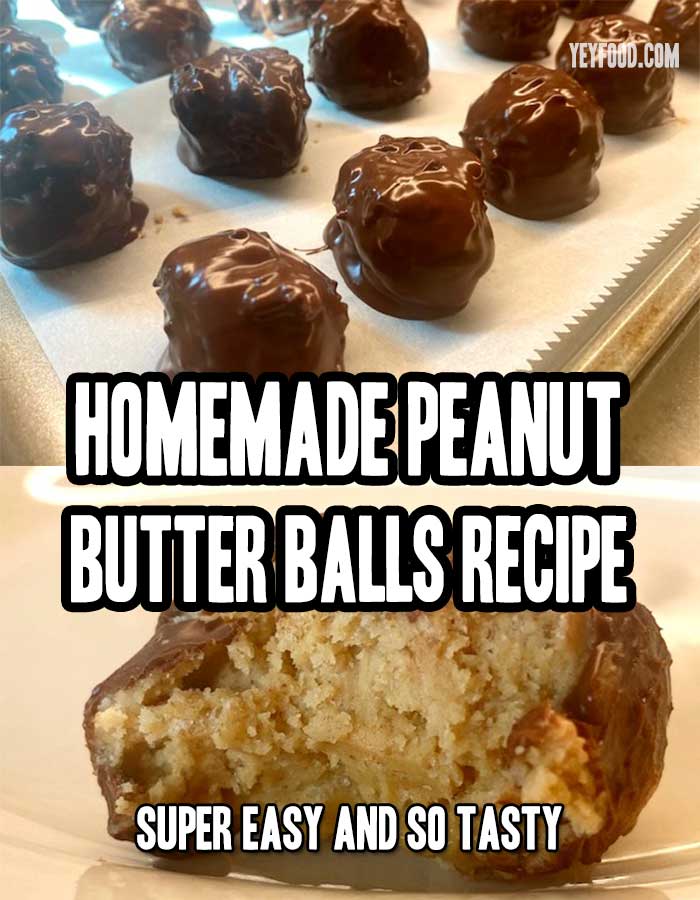 MORE OF OUR QUICK AND EASY FAMILY-STYLE RECIPES: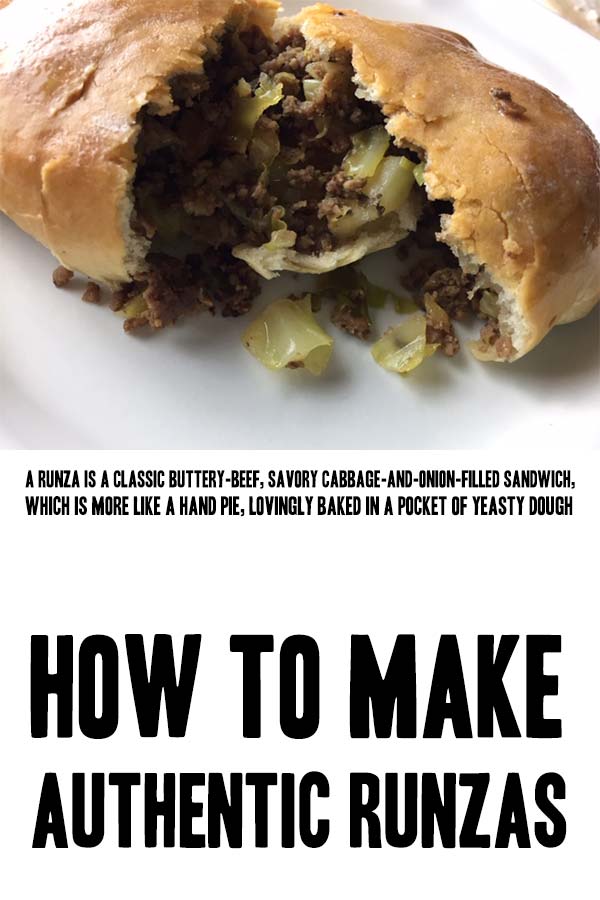 The Ultimate Bread and Butter Pickle Recipe
The Number 1 Practically Perfect Poppy Seed Bread
How To Make Authentic Runzas Right In Your Very Own Kitchen
If you like these recipes, you are our people! You can check some related articles below or search via categories on the right. But, be warned; you will be on here for hours. Enjoy!