Elegant Marinated Asparagus Recipe
Try this easy marinated asparagus recipe! It's crisp, it garlicky, it's delicious! The beautiful green stalks are incredibly tasty and a nutritional powerhouse! You don't need to smother it in a cheesy sauce! Here's a different way to enjoy it!
Asparagus season is here! Grocery stores have huge stacks of fresh asparagus right now. It's abundant, so it's fairly cheap! Today is your opportunity to indulge when the quality is at its peak. Earlier in the spring, I eagerly scan parking lots along the main drag for the stands of plucky folks who grow and sell this gorgeous vegetable.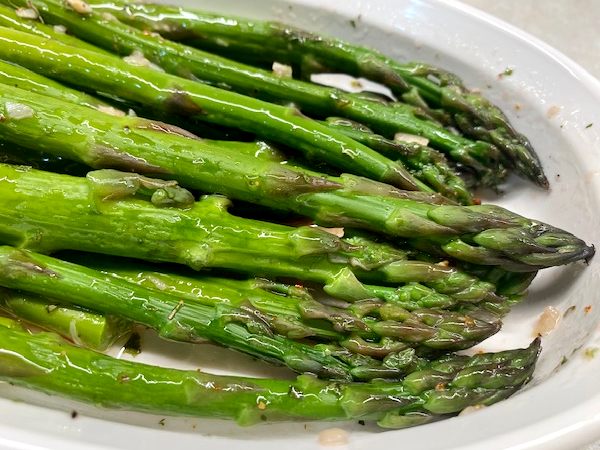 People have been eating asparagus for centuries! An image of asparagus appears on an Egyptian frieze dating 3000 BC. Queen Nefertiti is said to have been a lover of asparagus.
The ancient Greeks ate wild asparagus for the tender shoots, but it was the innovative Romans who first started to cultivate asparagus more than 2000 years ago. If you are intrigued with food like I am, here's a fascinating history of the unique perennial vegetable.
Asparagus is also a superfood loaded with nutrition. Some believe it has nearly magical powers of restoring health, but I eat it because it is incredibly delicious, no matter how you serve it!
Make Elegant Marinated Asparagus In Just 5 Minutes
Begin with one pound of fresh asparagus. Snap off the woody stem end. The magic is that when you bend the stalk, it will snap at precisely the spot where it turns from tough to tender.
Place the stalks in a glass baking dish. Arrange the spears "head to tail," so about half the tips are on one end of the pan and half on the other.
Add about a tablespoon of water, cover the pan with plastic film, and cook in the microwave for 3-5 minutes. Check after 3 minutes. You want to steam the asparagus lightly. You should be able to pierce the stalk easily, but the stalk should still be crisp.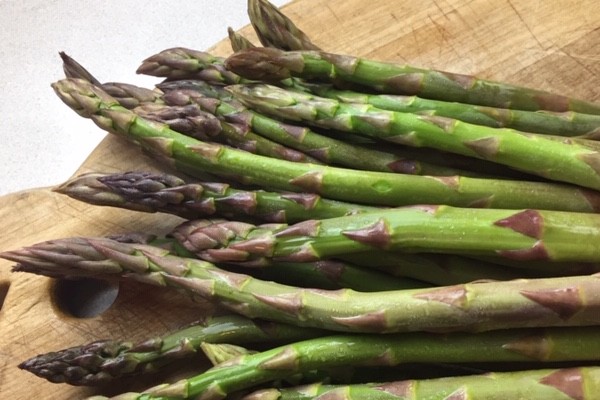 While the asparagus is steaming, whisk or shake up the dressing. Drain and rearrange the asparagus, and pour the dressing over it while it is still warm so it absorbs all the marinade's flavor. Chill and serve! This asparagus would be a perfect addition to a charcuterie board!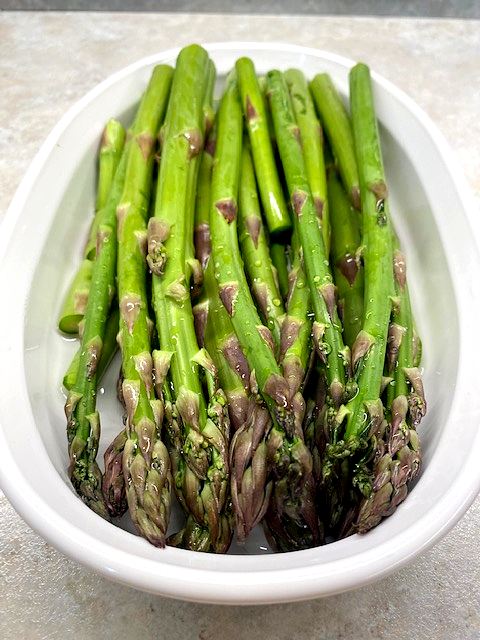 Another way you could use it would be in an appetizer. Spread softened cream cheese on a thin piece of ham, add two or three spears of asparagus and roll it up. Stick toothpicks in the rolled-up ham and cut the roll into slices. Voila! Beautiful hors d'oeuvres!
This marinated asparagus would also be a perfect garnish for a sandwich or a Bloody Mary! Chop it up and add it to a salad or do like I do, grab a spear right from the fridge and eat it plain!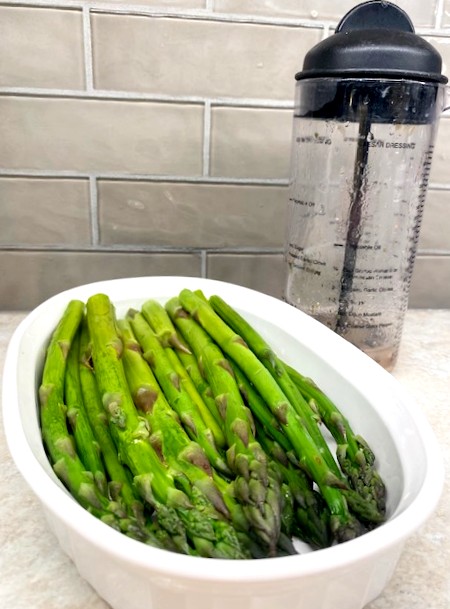 Yield: 16 servings
Elegant Marinated Asparagus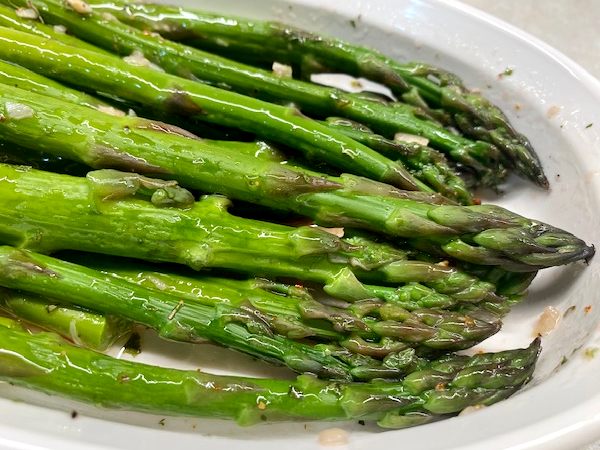 This is a recipe for 5-minute marinated asparagus that is crisp, garlicky, and delicious.
Ingredients
One pound of fresh asparagus
2 Tbsp vegatble oil
1 Tbsp red wine vinegar
1 large clove of garlic, crushed
1/4 tsp salt
1/4 tsp fresh ground pepper
1/2 tsp Dijon mustrad
1/4 tsp thyme
1/4 tsp parsley
Instructions
Lightly steam asparagus until barely tender. Drain.
Whisk together the remaining ingredients and pour over the asparagus while it is still warm.
Chill and serve.
Keeps in the fridge for about a week.
Do you love asparagus? How do you fix yours? Here is an old recipe for a brunch casserole using asparagus with cheese and hard-boiled eggs you might enjoy! Here's how I make asparagus when we serve it as a side dish.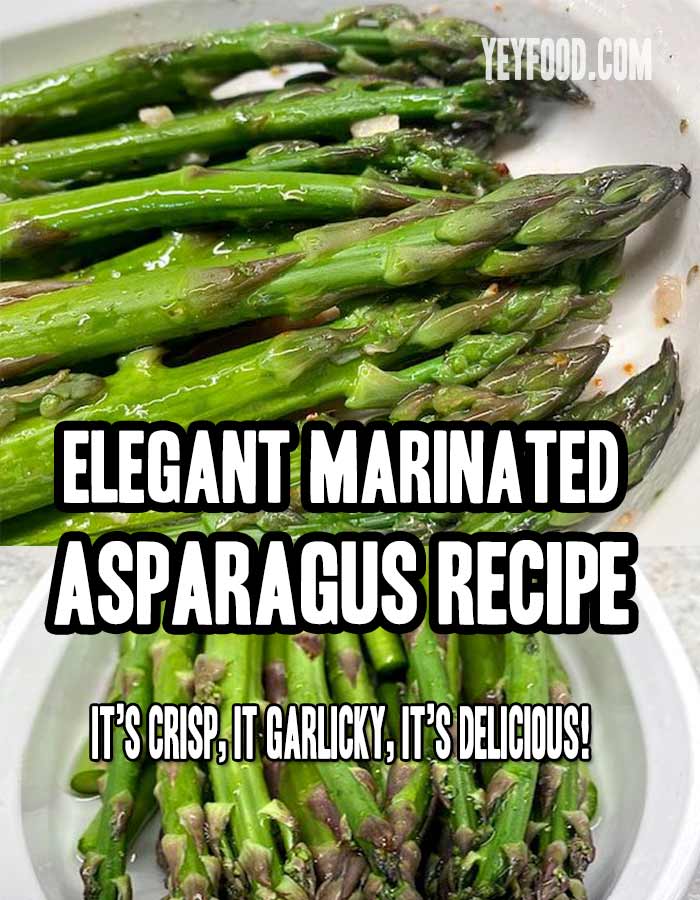 MORE OF OUR AMAZING RECIPES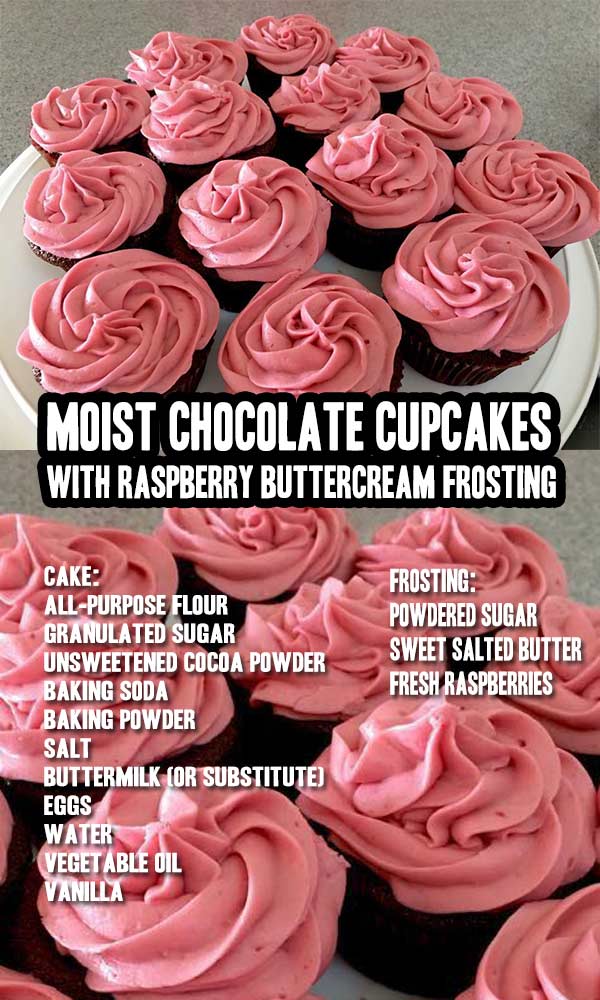 The Ultimate Bread and Butter Pickle Recipe
The Number 1 Practically Perfect Poppy Seed Bread
World's Best Stuffing No Turkey Required
If you like these recipes, you are our people! You can check some related articles below or search via categories on the right. But, be warned; you will be on here for hours. Enjoy!
So, please share this recipe on your social media accounts like Facebook, Instagram, Twitter, and Pinterest. We would be honored and ever so grateful; thank you!