Easy Slow Cooker Summer Tomato Jam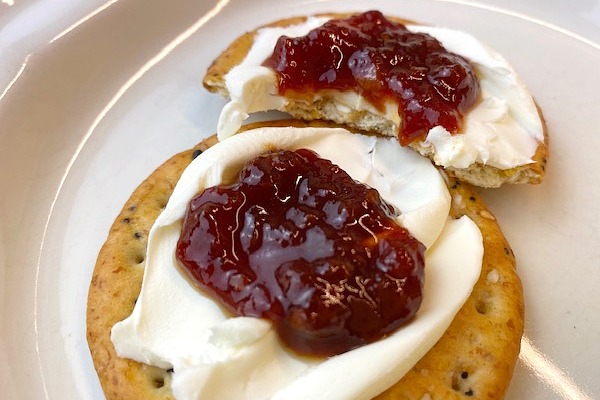 Tomato jam? Hmmm, that's a new one for me, but the idea I could use up a whole flat of tomatoes AND do it in a slow cooker was very appealing! I love putting up some goodies to enjoy when the snow flies, which sure sounded good and easy!
This deep red tomato jam will be so pretty and festive on my table! I need to think of a little green garnish; it will be perfect! And it will be something new and different for a party!
I'm already thinking about how much my guests will enjoy it in December when we get together for our annual cookie exchange!
This recipe works best when you use a meaty tomato like a Roma. They are not quite as juicy as a slicer, so they cook down to a "jammy" consistency more easily.
Wash and core the tomatoes, then cut them in quarters or even smaller. I put mine in the food processor and pulsed them until they were pretty well mashed. If you prefer chunkier jam, go for it; chop them finely or go easy on the Cuisinart!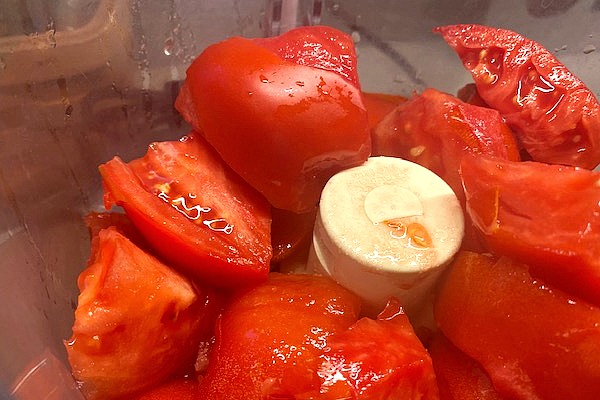 Next, put them in your slow cooker, add the lemon juice, brown sugar, salt, and spices, and let them all cook on high all day or overnight. Depending on your slow cooker, It will take somewhere between twelve and fifteen hours for the tomatoes to cook down to a thick, sticky consistency. Your whole house will smell amazing while it cooks.
The spices you choose are up to you. This combination of cinnamon, ginger, and cloves, with brown sugar and lemon or lime juice, is common. I have also seen cumin, red pepper flakes, and jalapenos.
Some cooks use vinegar instead of lemon or lime juice. You need a certain amount of acidity to balance of sugar used. This recipe does not make a large batch, so you can experiment to find your favorite combo.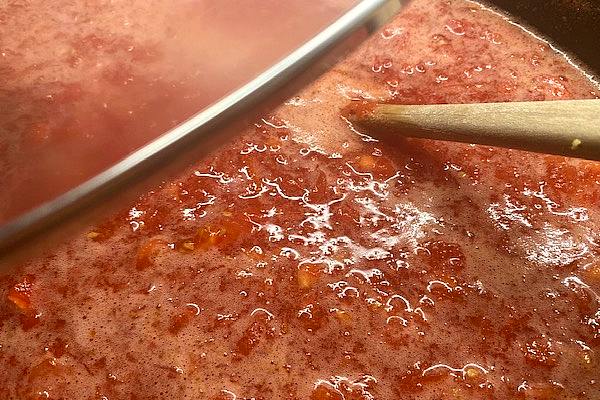 If the tomatoes are especially juicy, leave the lid off the slow cooker, especially at the beginning of the cooking time to allow moisture to escape. You will need to check on your project from time to time to make sure the jam is getting thicker.
Watch the tomatoes closely toward the last two hours because the mixture can burn when the liquid evaporates. I may or may not be speaking from experience. 😆
Put The Yummy Tomato Jam Into Jars To Store For Another Day
This batch cooked down to 4 half-pint jars (after I got done sampling.) Put the jam in glass canning jars with a flat and a sealing ring you have hand-tightened snugly.
You can stop at this stage and put the jars in your refrigerator. The jam will be good to eat now and for about two weeks. If you want to store it in your freezer, leave some extra space in the jar because the jam will expand as it freezes. It will keep in your deep freeze for about a year.
If your freezer space is limited, the jam will be shelf-stable for a year or more in a simple hot water bath treatment. Bring a large pot of water to a boil. The water must be deep enough to cover the top of each jar by an inch or more. We have hard water, so I add about a tablespoon of vinegar to the pot. That way, lime doesn't form on the jars.
Carefully lower the jars into the boiling water with a canning jar lifter. You can find one in the kitchen gadget department. You need one to get a good grip on the jars. They are not expensive and will probably last a lifetime.
Leave the jars in the boiling water bath for 15 minutes to bacteria and to make the jam so hot it will form a vacuum seal in the jar when it cools. Set a timer.
When the timer goes off, remove the hot jars from the canner with the lifting tool. Set each jar gently on a cooling rack. Pick an area where they can cool naturally without touching them. I know it's tempting, but let them cool hands-off.
There should not be a fan or breeze blowing on them. As each jar seals, you will hear a satisfying "ping" sound as the lid pops down. If the jars don't seal, refrigerate or freeze them.
It's gorgeous stuff, isn't it?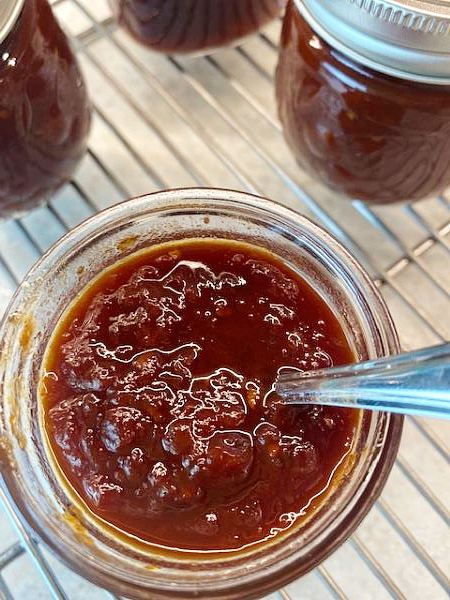 5 Delicious Things You Can Do With Tomato Jam
So now that you have your first few jars of tomato jam, what do you do with it?
Give a jar as a gift. Include a package of good crackers, some cream cheese, and a cute spoon.
Slather it on a burger.
Put it inside a grilled cheese sandwich.
Whisk it into a vinaigrette.
Stir some into a pot of baked beans.
Plop a dollop on top of bean soup.
Oh wait, that's six. What will you do with your tomato jam?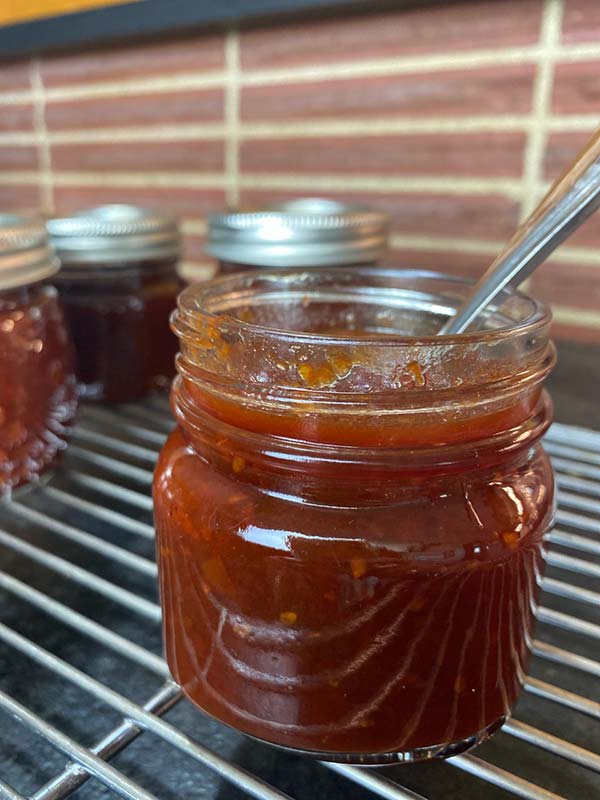 Yield: Four 8-ounce (half-pint) jars
Slow Cooker Tomato Jam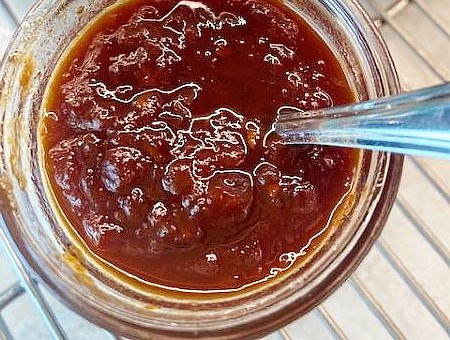 A sweet, sticky, spicy jam you make in a slow cooker. Can be refrigerated, frozen, or canned.
Total Time
12 hours
10 minutes
Ingredients
About 4 pounds of meaty tomatoes
2 1/2 cups brown sugar
1/3 cup lemon juice
1 tsp cinnamon
1/4 tsp ground cloves
1/2 tsp salt or more to taste. (I used more.)
1/4 tsp ground ginger (or you can use fresh ginger, peeled and cut into small pieces.)
1/2 tsp red pepper flakes (optional)
Instructions
Wash and core the tomatoes, then cut them in quarters or even smaller.
For chunky jam, chop finely by hand or pulse a few times in a food processor in batches.
If you like a smoother jam, pulse in a food processor in batches until the tomatoes are mashed.
Put tomatoes into a slow cooker set on high.
Add lemon juice, salt, brown sugar, and spices.
Cook on high for 12 to 15 hours until the mixture has a jam-like consistency.
Watch closely toward the end of the cooking time. When the liquid evaporates, the mixture can burn.
Ladle into jars and refrigerate, freeze, or process in a boiling water bath for 15 minutes. Instructions are in the blog post.
We're so happy that people are getting back to canning, freezing, and preserving fruits and vegetables. It is such a rewarding thing to do, and you can actually see tangible evidence of what you have done! Here are some of our most popular recipes! How To Freeze Corn, Strawberry Rhubarb Jam, How To Freeze Tomatoes Whole, and Homemade Apple Butter.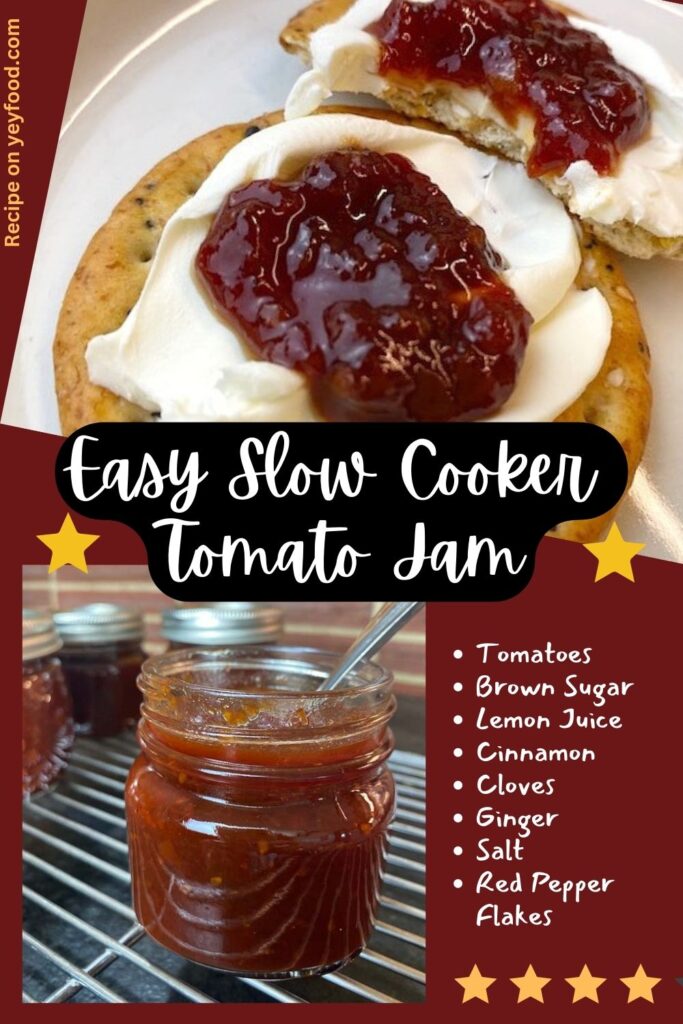 More Yummy Recipes From Us
4 Reasons You Should Freeze Some Sweet Corn This Summer
How To Make The White BBQ Sauce That's Fascinated Us Since 1925
German Sauerkraut Casserole With Bacon And Brown Sugar
If you like these recipes, you are our people! You can check some related articles below or search via categories on the right. But be warned; you will be on here for hours. Enjoy!
So, please share this recipe on your social media accounts like Facebook, Instagram, Twitter, and Pinterest. We would be honored and ever so grateful; thank you!