Let Your Slow Cooker Do All the Work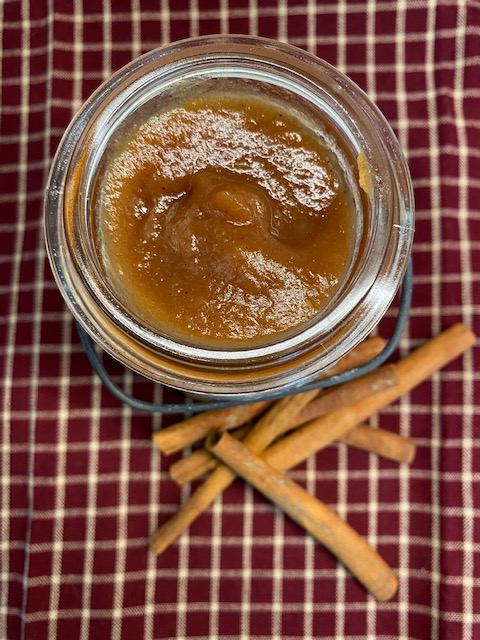 Homemade apple butter is bliss on a biscuit, terrific on toast, and wonderful on waffles. Now is the time to take advantage of the abundance of high-quality newly harvested apples and make some pies, bread, applesauce, and, best of all, homemade apple butter.
When you make it in your slow cooker, you will have an entire day of the most amazing autumn fragrance wafting through your house, far better than any candle you could ever burn. The aroma of apples, cinnamon, nutmeg, cloves, and vanilla creates a cozy smell you will never forget.
Buy This Nifty Tool And Use It For The Rest Of Your Life
The image of grandma sitting on the porch peeling a bushel of apples with her paring knife is charming but not very practical in today's world. Thankfully, the "home arts" have made a resurgence, and it is one of the good things that came out of the pandemic. However, our ability to work quickly and efficiently will help keep us motivated to continue some of these satisfying activities.
If you like to make apple pie, homemade apple butter, or applesauce, buy yourself an apple peeler corer slicer. Go in with your sister or your mom and get one. I've had mine for thirty years, which still works like a charm. It makes apple peeling so much fun; the kids may fight over who gets to help.
You can even get reasonably priced replacement blades for them in our modern throwaway world, where it's almost always easier to replace than repair. Amazon gives high ratings to A peeler from Johnny Apple, and it is under $30. White Mountain made my old one in the picture; I don't think they make apple peelers anymore, but I see vintage ones for sale online, and you can still buy parts!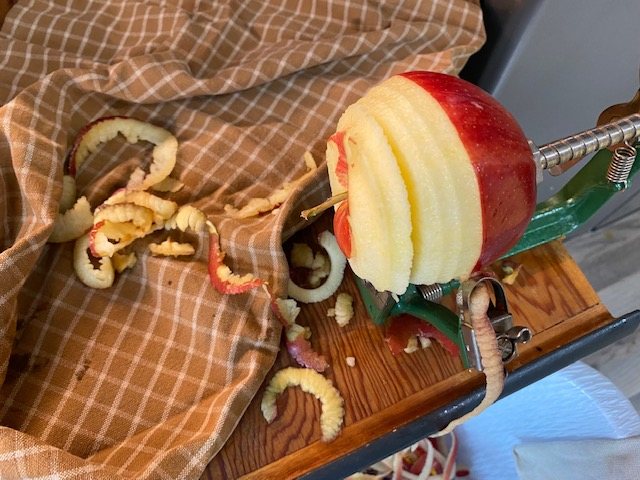 This recipe takes six and one-half pounds of apples. That's about twenty to twenty-five apples, and you can have them all peeled, sliced, and in the slow cooker in less than thirty minutes. Boom!
Then add the sugar, salt, and spices, put the cover on, and go about your business for about ten hours. It's good to give it an occasional stir from time to time.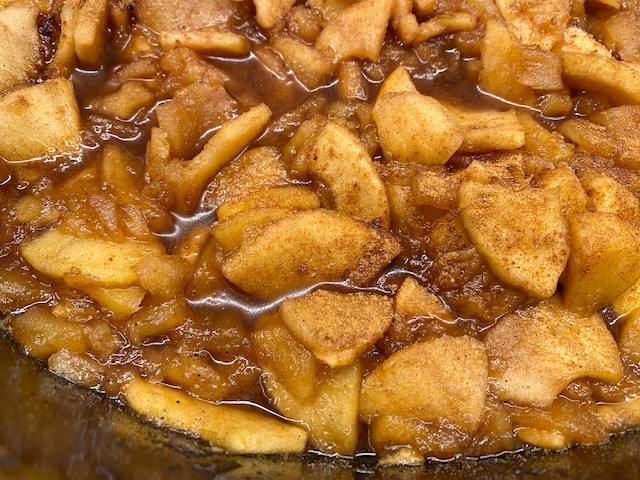 When the apples are cooked and dark brown, remove the cover, add the vanilla and continue to cook for about two more hours to reduce the liquid. Stir it occasionally. Use an immersion blender right in the slow cooker to puree the apples and make the apple butter spreadable. I love my Hamilton Beach immersion blender, and I use it often.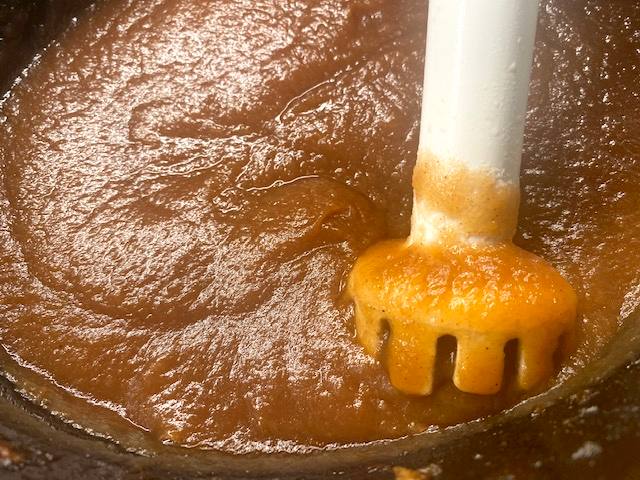 Now spoon the apple butter into clean hot jars. I like to use a canning funnel to keep it tidy. Leave about one-half to three-quarters of an inch of headspace, wipe the rim, put a two-part lid on the jar, and hand tighten it.
if you plan to refrigerate or freeze the Apple butter, you can use good quality freezer containers instead of jars, but it is also perfectly safe to freeze it in jars.
At this point, you can refrigerate it for up to three weeks or freeze it. If you want to preserve the apple butter for long-term storage, process the jars in a boiling water bath for ten minutes, as I describe in my post on jalapeno jelly.
Apple butter makes great gifts. If I am canning homemade apple butter, I like to use eight-ounce jelly jars. Just search "how to gift wrap jars of apple butter," and you will be amazed! Pinterest has loads of fun ideas for making the little jars extra "gifty."
Yield: 80
Homemade Apple Butter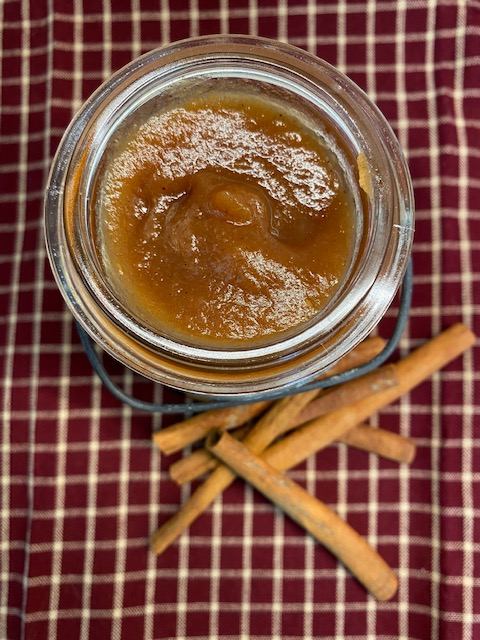 Here's how to make delicious apple butter the easy way in your slow cooker.
Total Time
12 hours
20 minutes
Ingredients
6.5 pounds of apples, peeled and chopped
1 cup granulated sugar
1 cup brown sugar, lightly packed
1 Tbsp cinnamon
1/2 tsp nutmeg
1/4 tsp ground cloves
1/4 tsp salt
1 Tbsp high quality vanilla
Instructions
Core, peel, and coarsely chop apples, then put them into the slow cooker.
Add sugars, cinnamon, nutmeg, cloves, and salt to the apples and stir well to coat.
Cook on low in the slow cooker for about 10 hours, covered. Stir occasionally.
When the apples are soft and dark brown, uncover the slow cooker and add the vanilla.
Continue to cook on low for about two hours to reduce the liquid.
Use an immersion blender to smooth and puree the apples into a spreading consistency.
Spoon into containers and freeze or store them in the refrigerator for up to three weeks.
For long-term storage, apple butter can also be processed for 10 minutes in a boiling water bath.
Have you ever made homemade apple butter? Did you know you can even make it into a pie? Here are some of our other posts using fall apples—Apple cake with cardamom and coffee, Fried apple rings, and Snickers apple salad.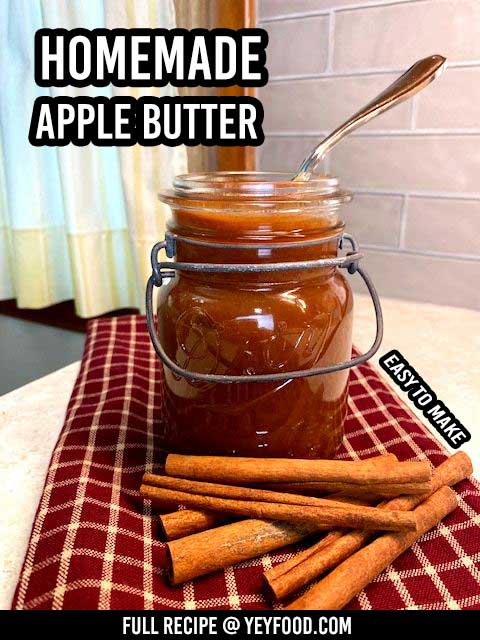 More recipes from us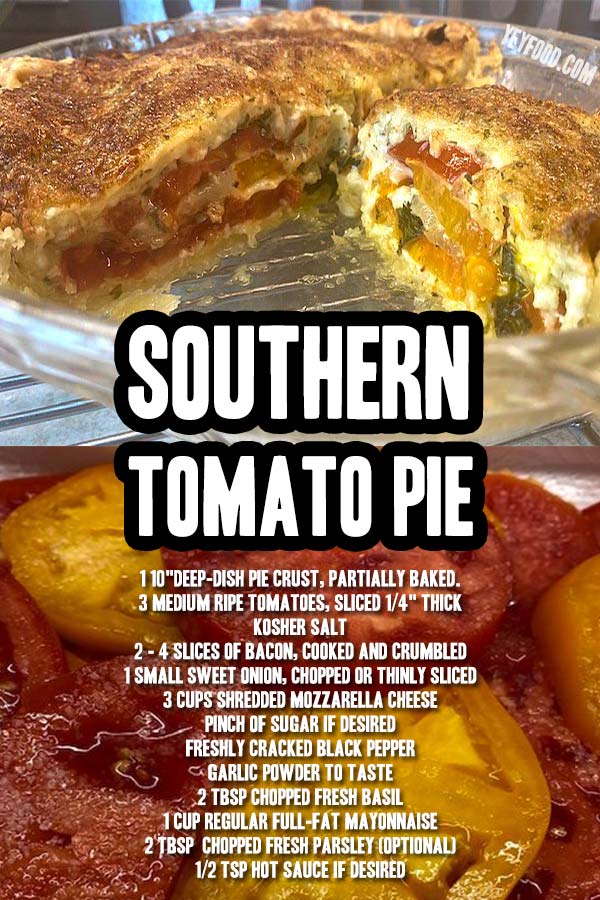 Easy Caramelized Onions In Your Crockpot
How To Make The White BBQ Sauce That's Fascinated Us Since 1925
German Sauerkraut Casserole With Bacon And Brown Sugar
The Quick And Lazy Way To Freeze Whole Tomatoes
If you like these recipes, you are our people! You can check some related articles below or search via categories on the right. But, be warned; you will be on here for hours. Enjoy!
So, please share this recipe on your social media accounts like Facebook, Instagram, Twitter, and Pinterest. We would be honored and ever so grateful; thank you!