A Wonderful Sheet Pan Nachos Recipe For The Weekend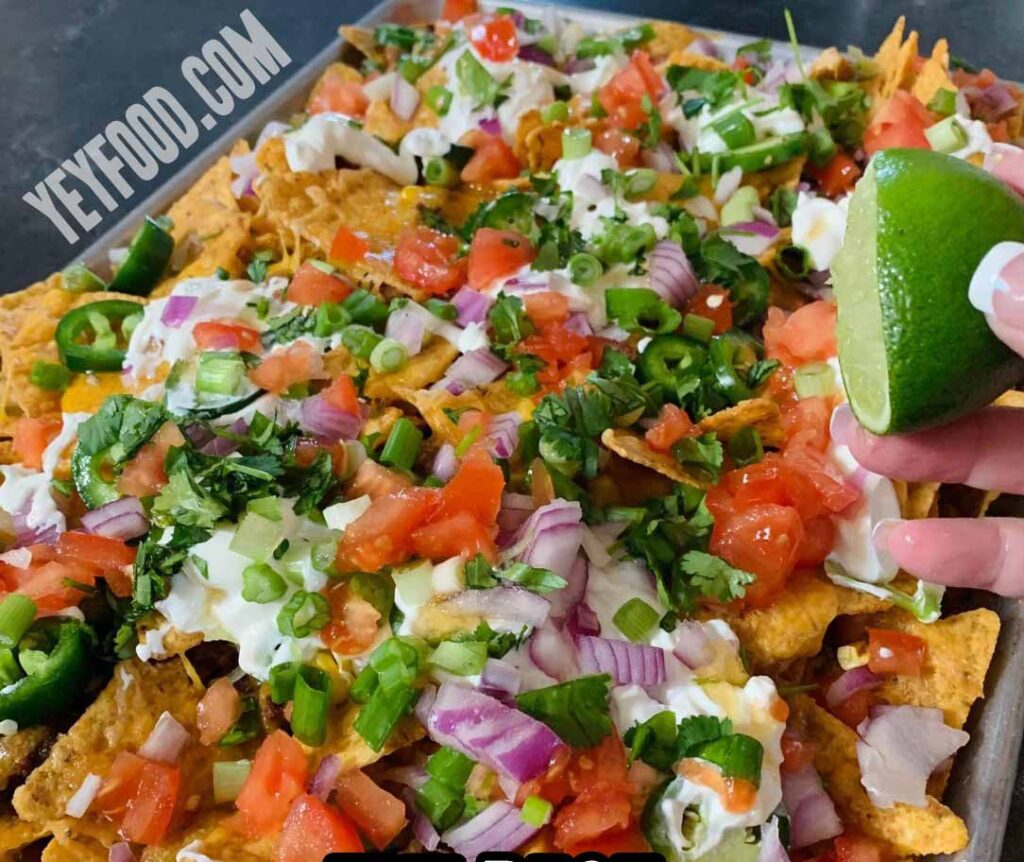 Sheet pan nachos are perfect when family or friends want to kick back and gather at the end of a long week. What shall we eat? How about something that's 1.) easy 2.) fast 3.) delicious 4.) fun, and 5.) perfectly shareable? Cry Nacho!
Who wouldn't love to dig into a glorious mound of seasoned ground beef, crunchy tortilla chips, and melty cheese? Especially when it's all topped with every yummy, colorful thing you ever piled on a plate of nachos! Tasty toppings like tomatoes, jalapenos, red onion, black olives, fresh cilantro, and sour cream?
But wait, there's more! Surround that heaping pan of goodness with bowls of salsa, sour cream, guacamole, and Rotel, and you've got a recipe for the start of the best Friday night ever!
The Best Sheet Pan Nachos Begin With One Pound Of Ground Beef
In a skillet, brown the ground beef and break into crumbles. Add a packet of your favorite taco seasoning and about one-half cup of water. Simmer the mixture for a couple of minutes while preparing the sheet pan.
On a sheet pan with a rim, start with a layer of your favorite tortilla chips, then distribute the taco meat mixture evenly on top of the chips. Next, pile on the grated cheese. Now pop the pan in a 400-degree oven for five to seven minutes, just long enough for all the yummy cheese to get all amazingly melty and gooey.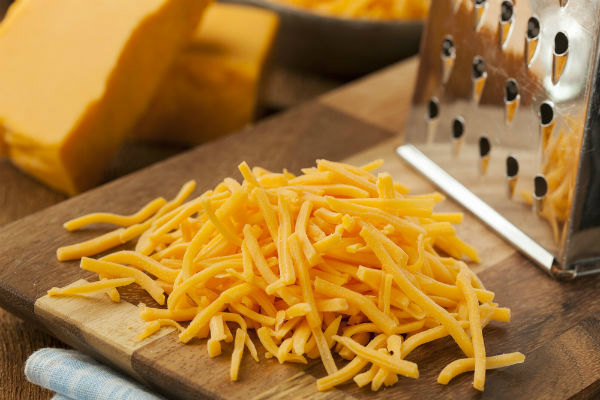 I always prefer to grate cheddar cheese from a block, but you can use packaged shredded cheese, like a Mexican blend. Pepper jack cheese or Monterrey jack are also popular. I was "born to be mild." I have that palate of an 8-year-old, and I'm less adventurous than some when it comes to heat. But when it comes to the cheese you choose, suit yourself!
How Do You Top Sheet Pan Nachos – Any Way You Want
You can go as wild as you want with toppings! Chopped fresh tomatoes, red onion, and black olives add loads of color and tons of flavor! Don't forget jalapenos, chopped or sliced, and green onions! Add black beans, drained and rinsed, to add protein, color, and texture.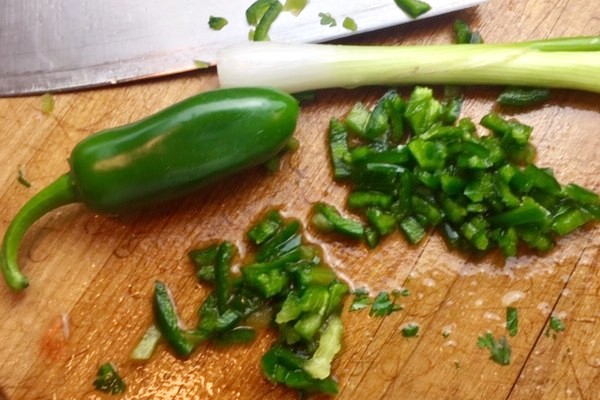 Here's another idea: While the nachos are in the oven, wash out the skillet and char some sweet corn to intensify the natural sugars in the corn. Put about 2 cups of whole kernel corn, canned (drain it first), fresh, or frozen, in the hot skillet with a little oil.
Allow the corn to sit in place without stirring until it gets a little toasty brown and makes a popping sound. Stir, then let it sit again on another part of the kernel until the corn has the level of brown you want. Season with salt and pepper, or sprinkle with a dash of chili powder! This process takes mere minutes and adds a punch of sweetness.
Chop a handful of fresh cilantro for another flavorful topping! It provides another dimension of flavor and gorgeous bright green color!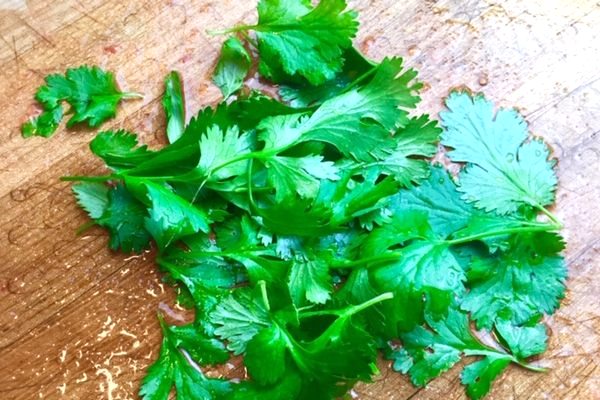 Bring On The Friends And The Condiments for Fun and Feasting
Grab bowls of sour cream, guacamole, lime wedges, and various red and green salsas to serve alongside this panful of yumminess! Let everyone build their personalized dream plate of nachos! This spectacular presentation doesn't keep well, so you want to eat it in one sitting! Tell everyone to come hungry and get ready to indulge!
If you have a smaller crowd or plan to serve this as an appetizer, you can easily cut the recipe in half and make it in a 9″ x 13″ pan. Make this recipe your own by combining your favorite toppings, cheeses, and condiments. You can even make this dish with ground turkey or a beef substitute.
Yield: 8 servings
Sheet Pan Nachos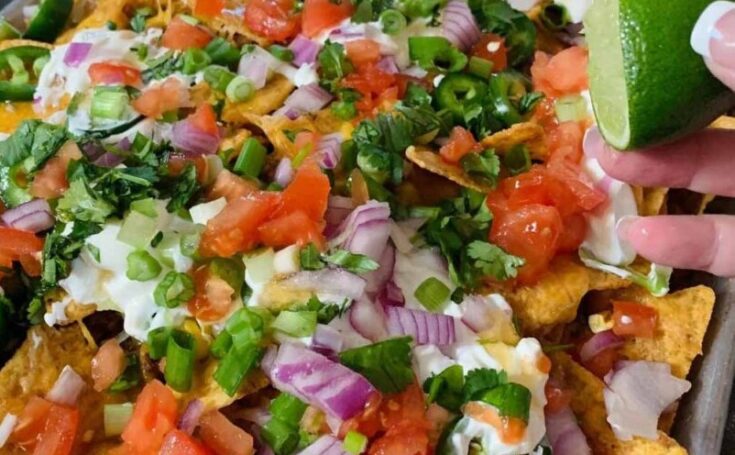 Nachos for a gang made easy buy building them on a sheet pan and popping it in the oven! Add toppings to your heart's content. This recipe is your guide, make It your own.
Ingredients
One pound lean ground beef
One envelope 1.25-ounce taco seasoning
1/2 cup water
One 13-ounce bag or tortilla chips
2 cups shredded cheese of your choice. Cheddar, Monterrey jack, pepper jack, or Mexican blend
Chopped red and/or chopped green onion
Chopped fresh tomatoes
Chopped fresh cilantro
Chopped or sliced jalapenos
Black beans, drained and rinsed
Sweet corn kernels, charred if desired
Condiments as desired for serving: Sour cream, red and green salsas, Rotel, guacamole.
Instructions
Brown and drain ground beef in a skillet. Add taco seasoning and water and simmer briefly.
Pile tortilla chips on a sheet pan.
Spread the meat mixture evenly over the chips.
Spread shredded cheese evenly over the meat mixture.
Bake about 7 minutes in a 400-degree oven, just long enough for the cheese to get melty and gooey.
Add desired toppings and serve with your choice of condiments.
Guests will scoop nachos onto individual plates and add the condiments they like best.
Do you love nachos? Who doesn't? Here is a super-easy way to make nachos for a crowd so you can gather and share food, family, and friendship! What better way to start the weekend?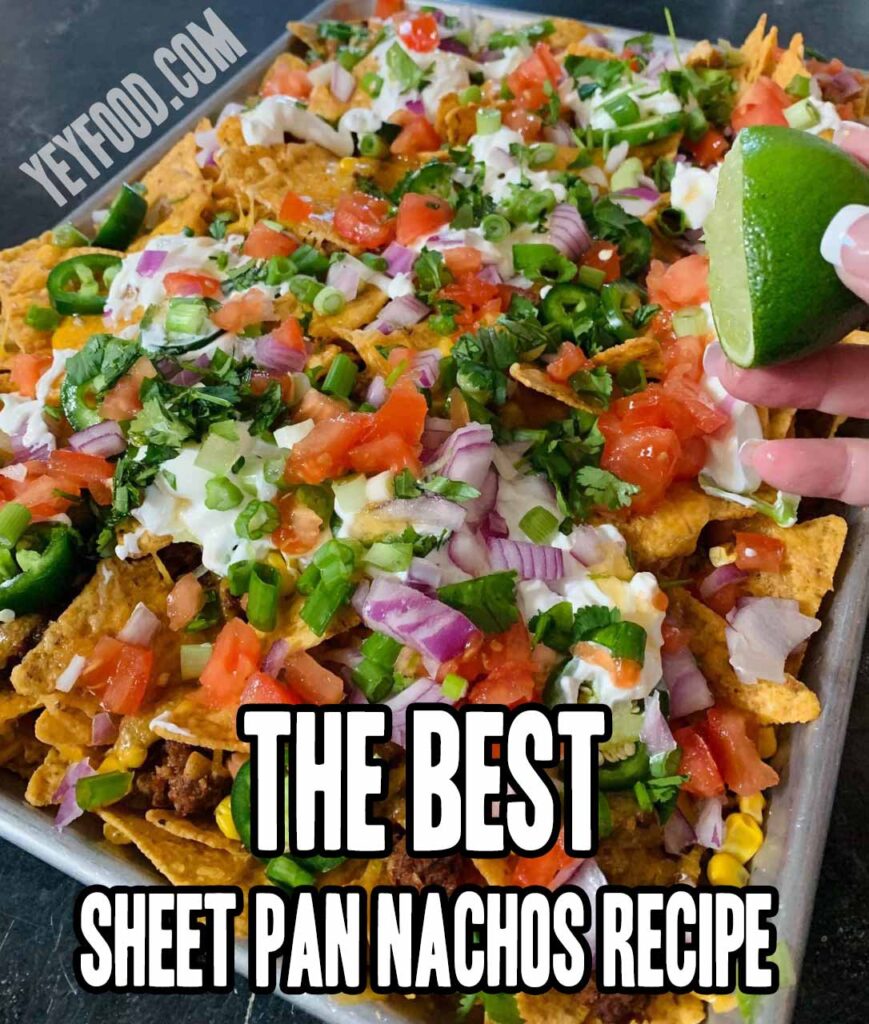 Hey friends, we get crazy tickled when we hear from you! Make sheet pan nachos sometime soon and when you do, snap a photo of you and your friends enjoying some bonding over the best weekend nachos ever and share with us! You will make our day the whole week!!
MORE OF OUR QUICK AND EASY FAMILY-STYLE RECIPES: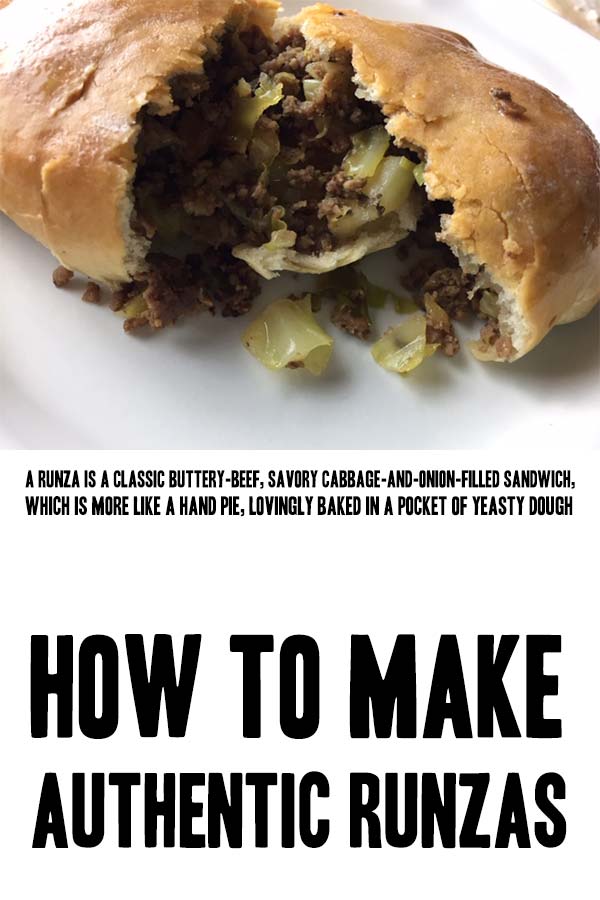 The Ultimate Bread and Butter Pickle Recipe
The Number 1 Practically Perfect Poppy Seed Bread
How To Make Authentic Runzas Right In Your Very Own Kitchen
If you like these recipes, you are our people! You can check some related articles below or search via categories on the right. But, be warned; you will be on here for hours. Enjoy!