No-Mess Hard Boiled Eggs In The Oven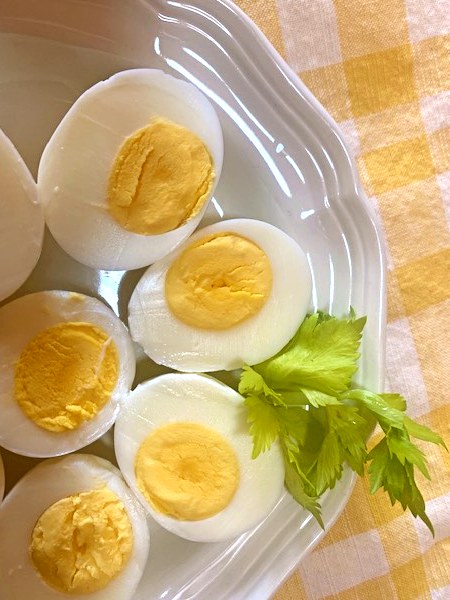 Hard boiled eggs can be, well, hard. How often have you stood over the sink, picking shells off hard-boiled eggs bit by bit? Do pock-marked eggs frustrate the devil out of you when you try to devil the eggs?
Have you ever cut into a hard boiled egg only to find a disappointing and unappetizing green or gray ring around the yolk? We've all been there. I was surprised to learn how easy it is to make them perfect right in the oven! In my fifty-some years in the kitchen, this old dog learned a new trick, which is a game-changer for sure!
This technique is great news for someone who doesn't have an Instant Pot or an air fryer. You don't need a new gadget to make gorgeous eggs that are easy to peel. Just grab a muffin tin and turn on your oven!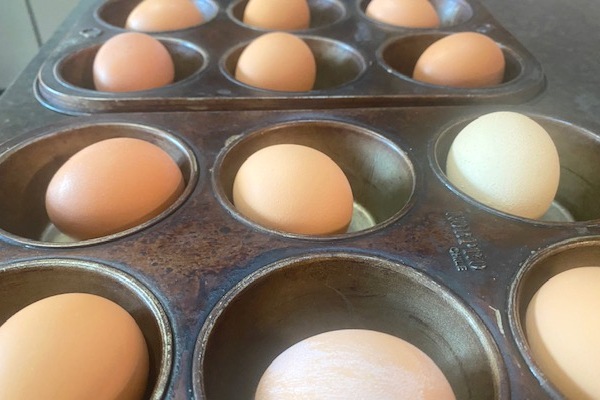 Preheat your oven to 325 degrees. Then, simply put one whole raw egg in each cup. You do this to keep the egg from rolling around while it cooks. Slide the eggs into the oven and set a timer for twenty-five to thirty minutes, depending on how hard you want the yolk when done.
The minute you take the eggs out of the oven, use tongs to put the eggs into an ice bath for at least 10 minutes. That critical step is the secret to shells that peel off with ease!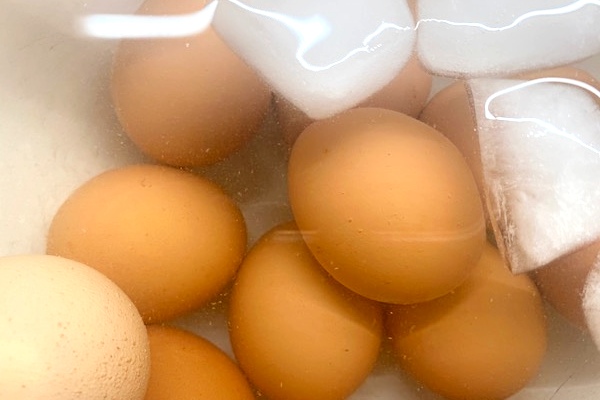 Five More Tips To Make Your Hard Boiled Eggs Egg-zactly Right
All ovens are different, so experiment with two or three eggs to begin until you figure out how many minutes it takes to produce the texture of yolk that's perfect for you! Use an oven thermometer to ensure the temperature. My research indicates 325 degrees is ideal.
Store eggs with the larger blunt side up. The air sac is located on that end of the egg and the longer an egg is stored, the larger the air sac becomes, which moves the yolk closer to the center of the egg. When cooked, the yolk is more perfectly centered in the white. Who knew?
Don't use super fresh eggs. I get my eggs from a farm, and they are often only a few days old. The inner membrane clings tightly to the shell of a fresh egg. However, taking the cooked eggs directly from a hot oven to ice water makes the contents of the eggs shrink and forms a gap that allows much easier peeling.
Pay attention to the size of your eggs when it's time to try this. My experiment began with fresh eggs from young hens (pullets), small but delicious! I cooked them for only 23 minutes. Large and extra-large eggs take longer to cook than small or medium eggs. An extra-large egg can take 30 minutes.
Even if you don't like eggs, tuck this idea away when it's time to dye Easter eggs!! You can do loads of eggs in a single batch this way!
We love hard boiled eggs as a healthy, filling snack. We just sprinkle them with kosher salt and seasoned pepper. Yum!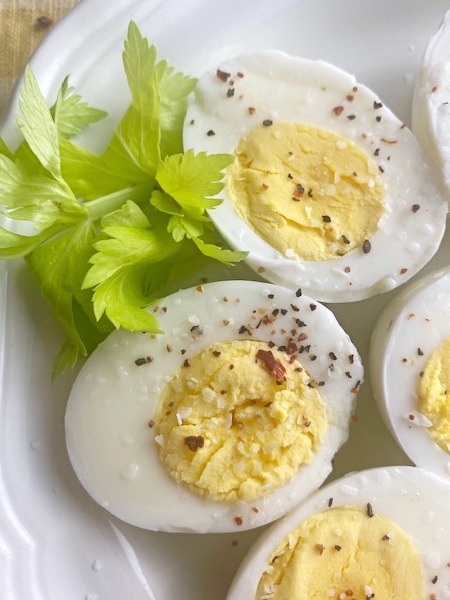 Another one of my favorite treats is sliced hard boiled eggs with plenty of salt and pepper on buttered rye toast. It is simply delicious! Of course, these eggs are perfect for egg salad, potato salad, deviled eggs, or smothered in a creamy sauce, like in this wonderful old recipe for asparagus and egg casserole.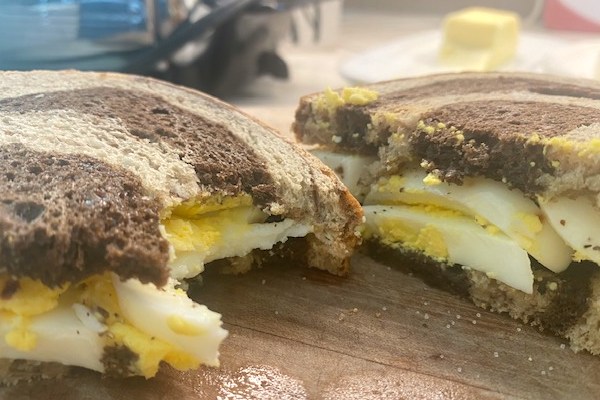 Yield: 12 eggs
Hard-Boiled Eggs In The Oven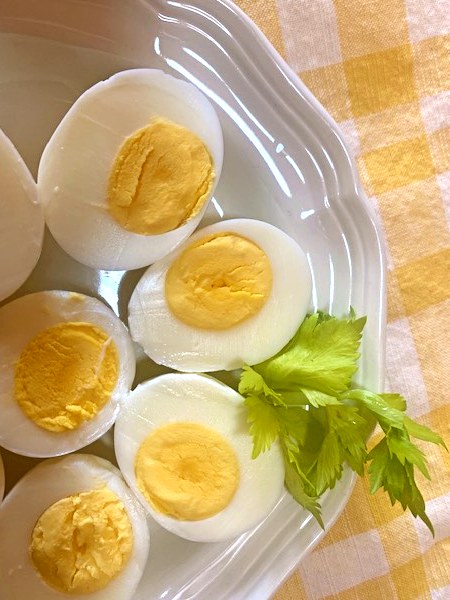 Here is a simple way you can hard boil eggs in the oven without water, special equipment, or any mess.
Instructions
Put raw eggs in a muffin tin and bake at 325 degrees for 25 minutes.
Eggs are a versatile food, a great source of protein, and well suited for a keto diet. They are quick and easy to prepare. According to legend, it's often said that the number of folds (100) in a chef's hat represents the number of ways you can prepare an egg. This may be a great time to find some new recipes for eggs your family will enjoy!
How do you like your eggs? What's your favorite way to serve them?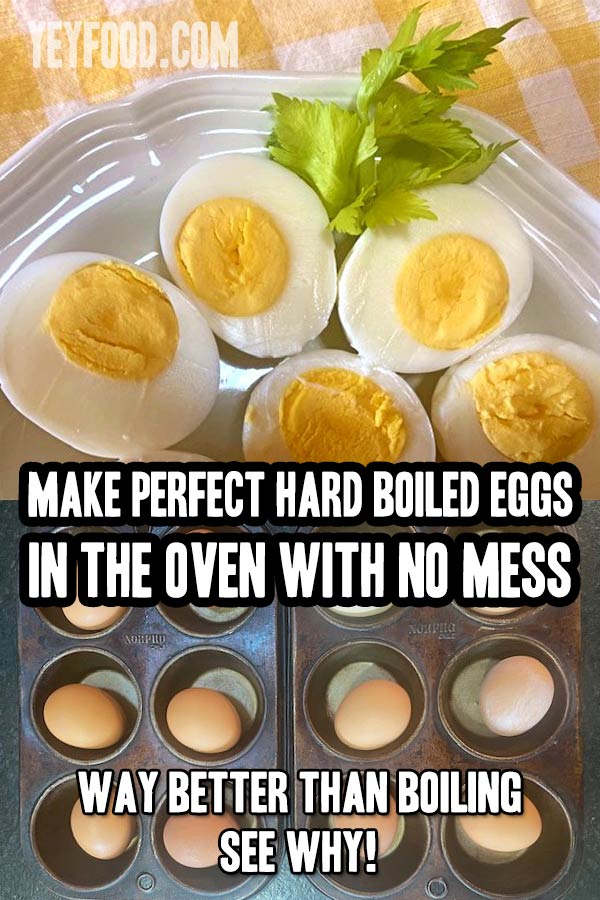 MORE OF OUR QUICK AND EASY FAMILY-STYLE RECIPES: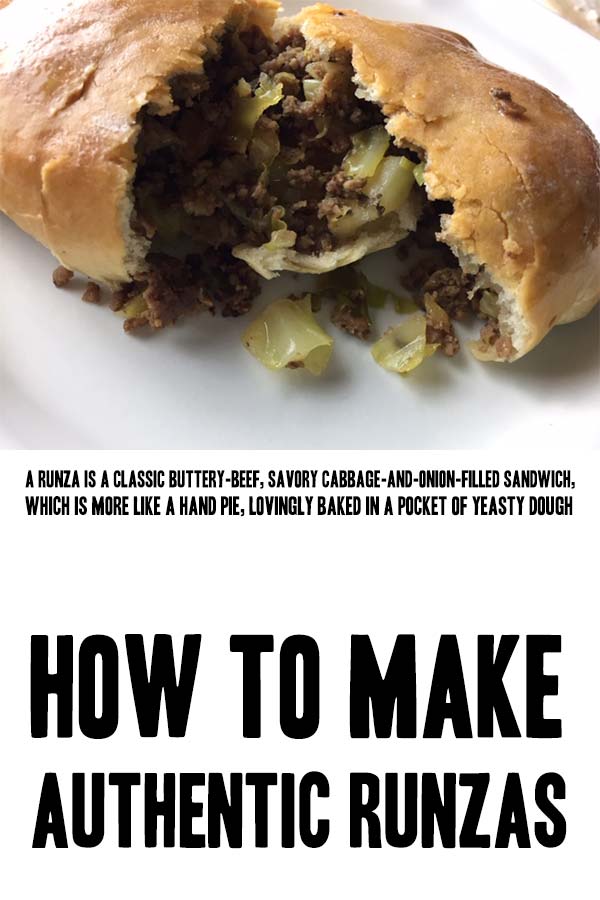 The Ultimate Bread and Butter Pickle Recipe
The Number 1 Practically Perfect Poppy Seed Bread
How To Make Authentic Runzas Right In Your Very Own Kitchen
If you like these recipes, you are our people! You can check some related articles below or search via categories on the right. But, be warned; you will be on here for hours. Enjoy!