Old-Fashioned Comfort Food From Inexpensive Ingredients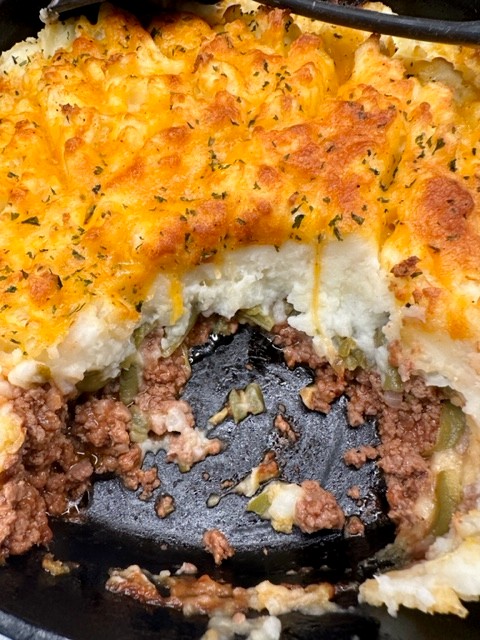 When I was a young bride, a coworker shared her recipe for hamburger pie. But Judy called it hamburger fluff pie because it is topped with mashed potatoes. This is a dish I have been making for over fifty years now, so I guess it must be called a vintage recipe! It fell out of our rotation for a long time for some silly reason.
Our granddaughter joined us for lunch today, so I decided it was time to make it because she loves mashed potatoes. The truth is, ALL our grandkids love mashed potatoes and request them often.
A cast iron skillet makes a great vessel for this casserole, and everything I serve in cast iron seems special because it looks extra tasty. You can make the meat mixture right in the skillet, then top it with potatoes, slide it into a hot oven until the cheese is beautifully browned, and put it on the table to serve!
Why Is Cast Iron So Great For Cooking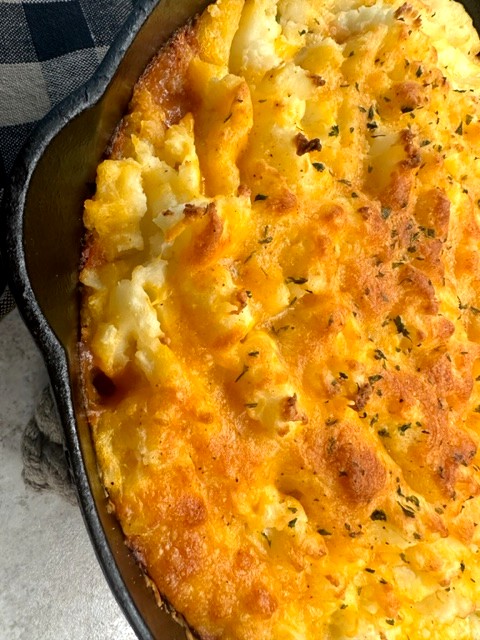 Cast iron is wonderful for any recipe that starts on the stove and ends up in the oven because it retains heat so well and can withstand high temperatures. Cast iron can last for generations when it is used properly. All of mine are even older than me!
If you scratch one or let it get rusty or crusty, it can be restored. Every relationship should be so forgiving! I love the crispiness of anything cooked in iron and how gorgeous food looks against the jet-black background of well-seasoned iron!
No cast iron? Please don't let that stop you! This hamburger pie looks and tastes great in a casserole dish, too!
Here's How To Make This Old Favorite Recipe
I'd say the only tricky part of this hamburger pie recipe is knowing your audience and measuring their love of potatoes. According to the US Department of Agriculture, a "serving size" of mashed potatoes is one cup. It takes about two medium potatoes because they lose volume when boiled.
If you feed small children, they will eat less, but teenage boys would laugh to call that a serving. You can pile mashed potatoes high on the hamburger pie, and I doubt anyone would complain. Since the meat is fully cooked, the pan only needs to be in the oven long enough for the cheese to brown!
Start the potatoes before you make the meat mixture. The key is to cut the potatoes into uniformly sized chunks, so they cook evenly. The potatoes should be tender and easily pierced. I use my cake tester! Set them aside to mash while the meat cooks.
I use butter and milk or half and half to make mashed potatoes. I've made them so often I know I could make them in my sleep! Of course, if you are in a hurry, you can make instant mashed potatoes like the Idahoan brand or use some of the good refrigerated kinds like the ones made by Bob Evans.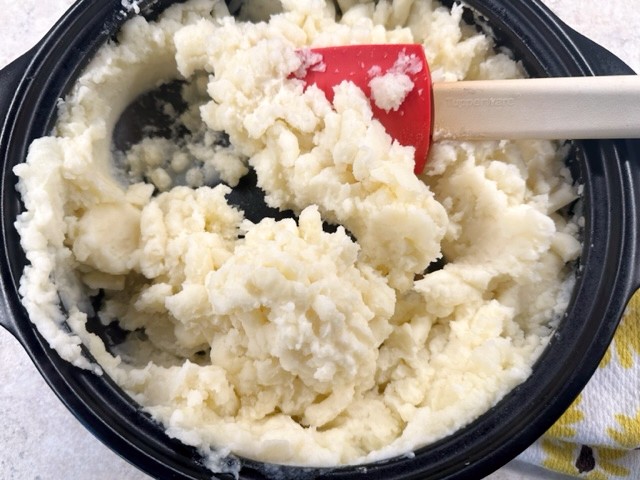 Put the onion right in the skillet when you brown the ground beef to ensure it is fully cooked. Then season the beef the way your family likes it. I used garlic powder, seasoned salt, and black pepper for our hamburger pie.
I love this clever hack for dealing with hamburger grease from Karen at The Food Charlatan. (I love her posts!) Drain any excess fat off the ground beef. Empty grease into a bowl lined with foil, then stick it in the fridge to set up, crumple it, and toss it. Grease is "no bueno" for your drain, and once it's solid, it's tidier in the trash can!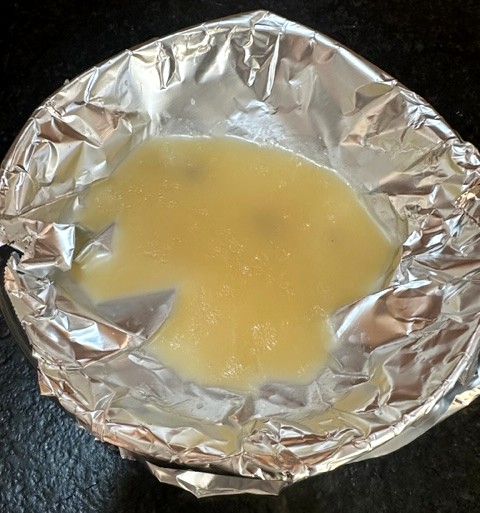 When the beef is browned, drained, and seasoned the way you like, add one 10.5-ounce can of tomato soup and two tablespoons of Worcestershire sauce.
Next, drain a can of French-cut green beans and spread the beans on top of the meat mixture. I prefer French-cut because I think with them, every bite gets some beans!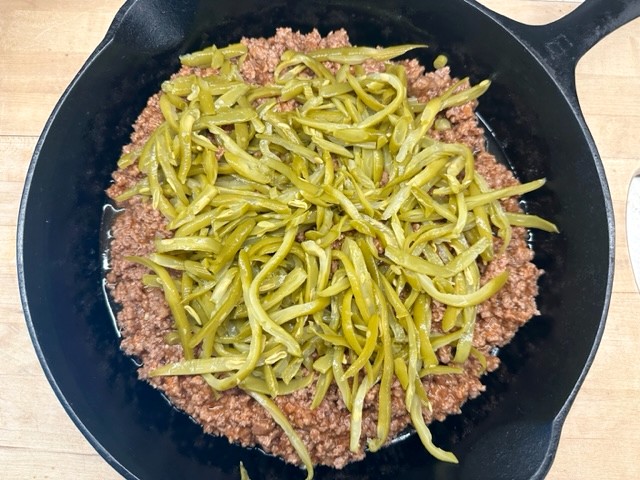 Now spread the mashed potatoes on top and sprinkle it with shredded cheese. I always recommend shredding cheese from a block, but I only had a bag of shredded cheese with taco seasoning this time!
I used it because that's what I had on hand, but I love what it did for beautiful color and just that little hint of spice! It was great! And, of course, I sprinkled on some parsley for color, as usual, because I think parsley is green magic that makes everything taste better! 😉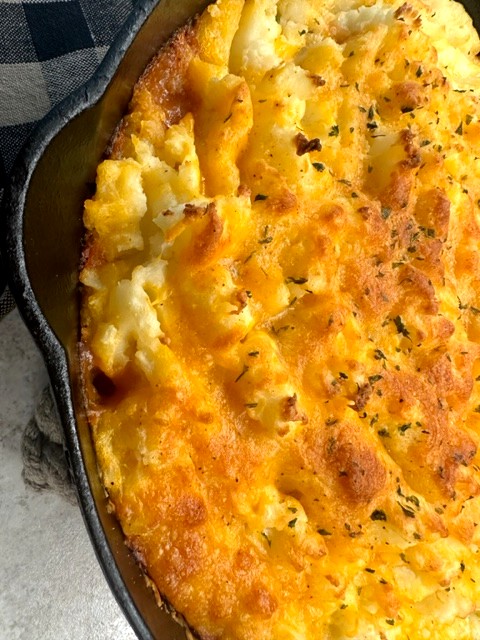 Hamburger pie is a complete meal in a pan! I served it with a tossed salad and some garlic toast. Fruit would be a wonderful accompaniment!
Yield: 6 servings
Vinatge Hamburger Pie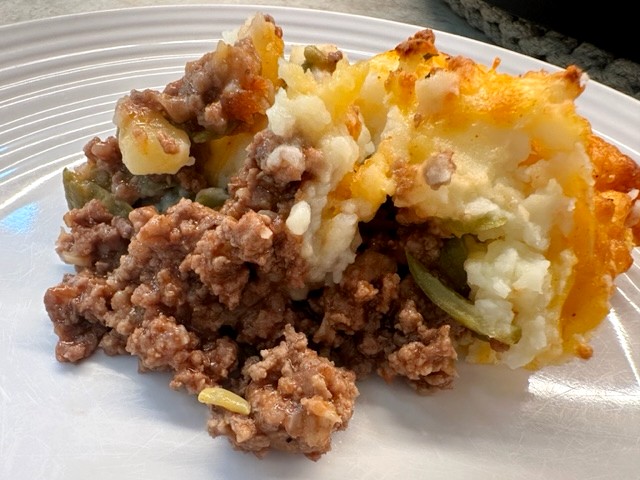 Here's a cozy vintage dish, hamburger pie. It uses the most basic ingredients in the kitchen, and everyone loves it.
Ingredients
1 1/2 pounds ground beef
1 cup chopped onion
1 tsp garlic powder
1 tsp seasond salt or more to taste
1 tsp black pepper or more to taste
One 10.5-ounce can condensed tomato soup
2 Tbsp Worcestershire sauce
One 14.5-ounce can of French cut green beans, drained
6- 8 cups of mashed potatoes
1 cup or more shredded cheese
Instructions
Brown ground beef, along with the onion. Drain any excess grease.
Add tomato soup and Worcestershire sauce and stir well.
Spread green beans over the meat mixture evenly.
Spread mashed potatoes over the top and sprinkle with cheese.
Bake in a hot oven at 400 degrees for 15-20 minutes or until the cheese melts and browns.
We love ground beef recipes because they are easy to use and affordable. Here are some of our favorite recipes using ground beef. One Pot Ground Beef Stroganoff, Shepherds Pie, Comfort Soup, One Pan Classic American Goulash. We eat lots of hamburger! How about your family? Are there any recipes you'd like to share?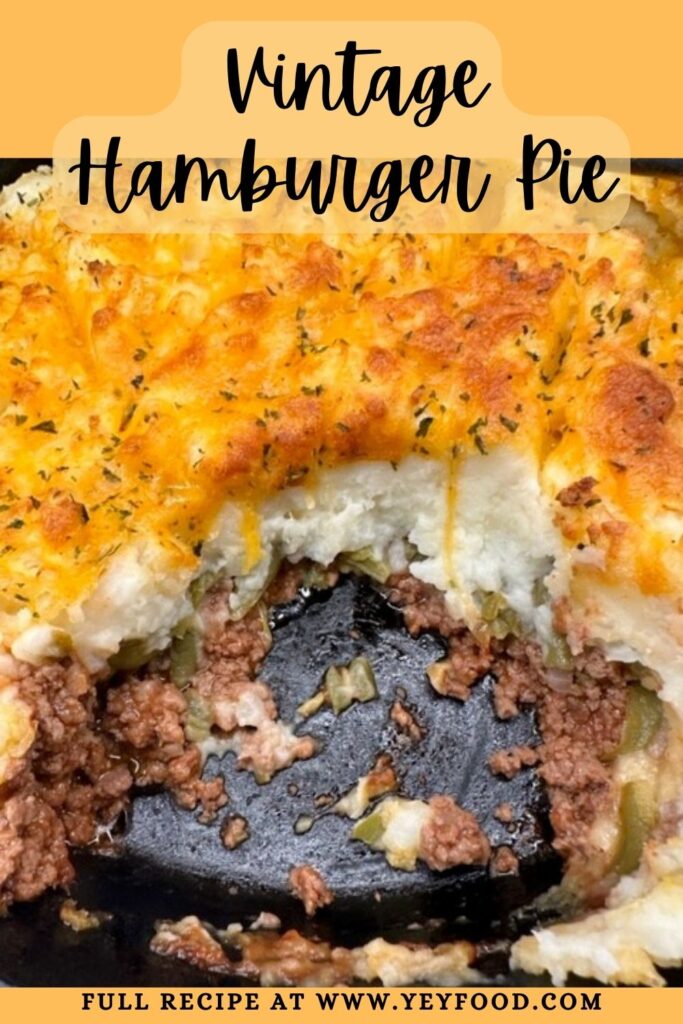 More recipes from us: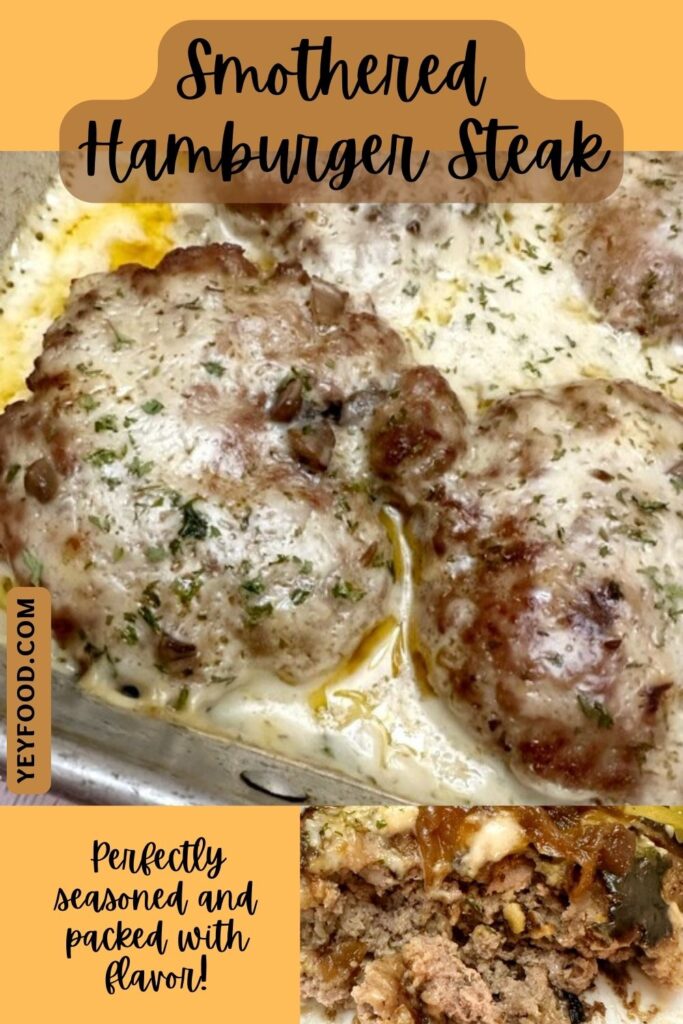 Butter Baked Cod (Poor Man's Lobster)
Easy 1 Pan Classic American Goulash
German Sauerkraut Casserole With Bacon And Brown Sugar
If you like these recipes, you are our people! You can check some related articles below or search via categories on the right. But be warned; you will be on here for hours. Enjoy!