You Don't Need To Boil The Noodles First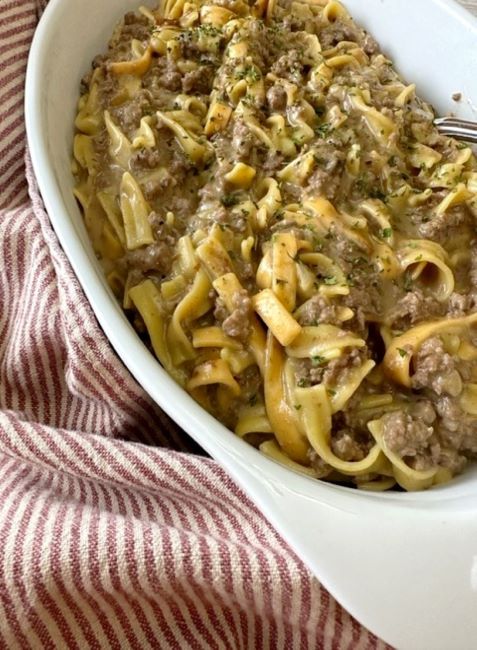 Ground beef stroganoff is one of the tastiest, most satisfying comfort foods there is. When you can make it in one pot without boiling the noodles separately, all of a sudden, it's weeknight-friendly. No extra pot to wash!
One of my best friends in the kitchen is a ten-inch non-stick T-fal skillet with a tight-fitting lid. It is the perfect size for making up to four or six servings. It is ideal when I want to do one-pot recipes with pasta or rice. Now I need a larger one to use when more of the family gathers!
In this recipe, the noodles cook right in the sauce, becoming nice and tender with sticking together. When the pasta cooks this way, the starch from the noodles thickens the sauce perfectly, and there is never a worry about the sour cream curdling; it's almost magic!
How To Make Yummy Ground Beef Stroganoff In 1 Pot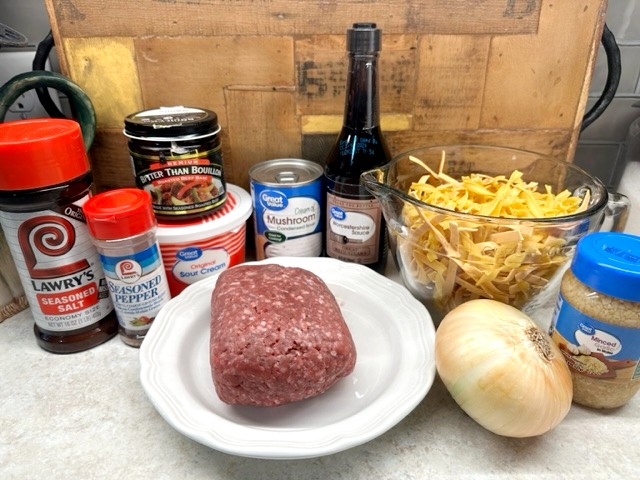 Begin by chopping the onion and putting it into the skillet with the ground beef and garlic to brown together. This ensures the onion gets thoroughly cooked and the flavors all blend nicely. I like to use my Pampered Chef Mix "N Chop to crumble and separate the ground beef as it cooks.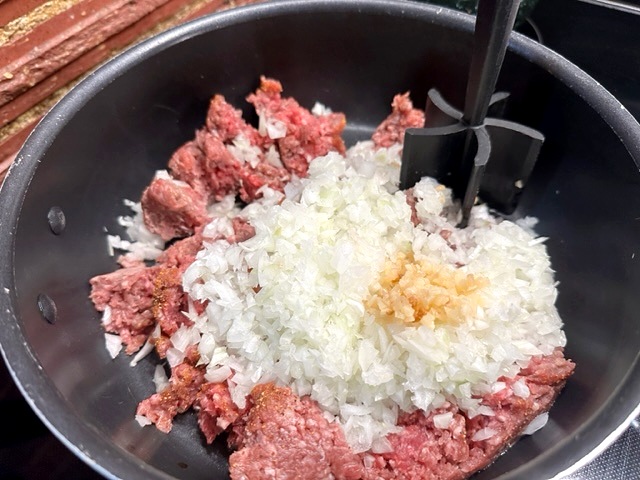 When the beef is cooked, add the water, the bouillon, mushroom soup, salt, pepper, and Worcestershire sauce to the skillet and stir until it's blended.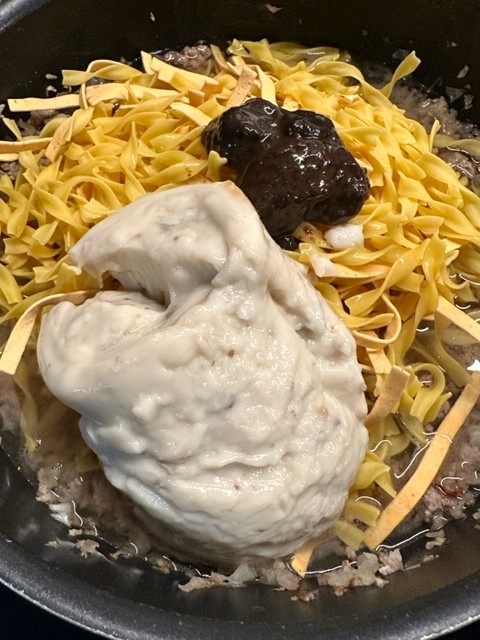 Then, turn the heat down, add the noodles, give it a good stir, and put the lid on the skillet tightly so the mixture can simmer for about thirty minutes. Every ten minutes or so, give the ground beef stroganoff mixture another stir, and if needed, add just a little bit of water so the noodles don't stick together.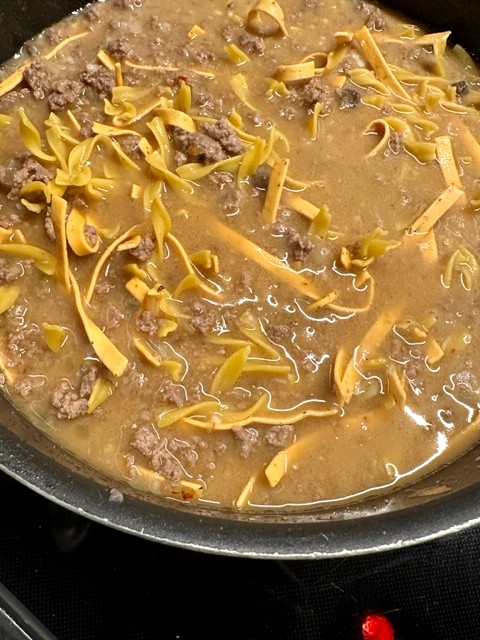 When the noodles are tender, gently fold in the sour cream, and you are ready to serve!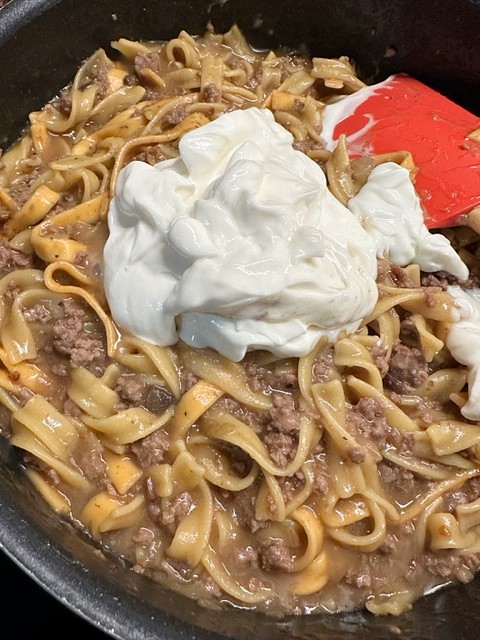 If you read my posts, you know I can never leave a dish ungarnished, even for just Papa and me, so I sprinkled on some parsley for looks! What a tasty supper!
Yield: 6 servings
Ground Beef Stroganoff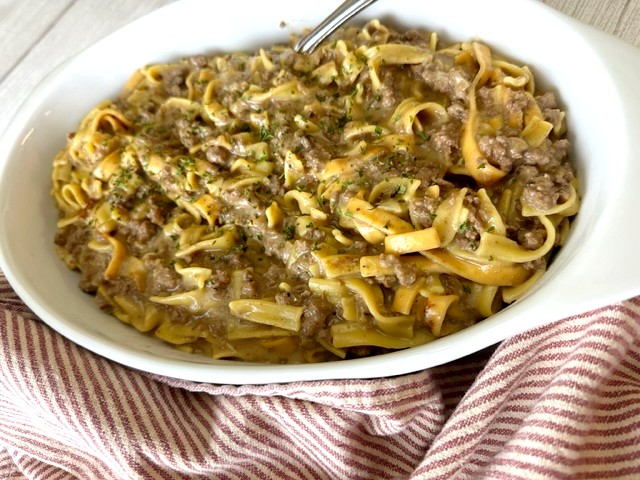 An easy one-pot recipe for hamburger stroganoff that makes this yummy comfort food easy enough for a weeknight!
Ingredients
One pound ground beef
One medium onion, chopped
2 tsp minced garlic from a jar, or 2 cloves of garlic. More to taste
4 cups water
4 cups medium egg noodles, uncooked
One heaping Tbsp Better Than Bouillon roasted beef base.
1 10-5 ounce can of mushroom soup
1 Tbsp Worcestershire sauce
Seasoned salt and seasoned pepper to taste
1/2 cup sour cream
Instructions
Brown the ground beef with the onion and garlic to ensure the onion is fully cooked.
Add water, bouillon, salt and pepper, Worcestershire sauce, and mushroom soup. Stir to blend.
Add uncooked noodles and stir them in well.
Cover the skillet tightly and simmer for thirty minutes. Check every ten minutes or so, stirring and adding a little water if needed.
Carefully fold in the sour cream and serve hot.
Notes
A non-stick skillet with a tight-fitting lid is the best choice for making this stroganoff.
You can use 4 cups of beef broth in place of the water and bouillon.
Ground beef stroganoff is not the prettiest dish, so I suggest serving it with a nice green vegetable for a pretty plate. I wish Papa liked broccoli, but I settled for peas.
This ground beef stroganoff reheats beautifully in the microwave! Luckily, Papa never fusses about leftovers, and we ate it for three meals! I'm sure it would also freeze beautifully.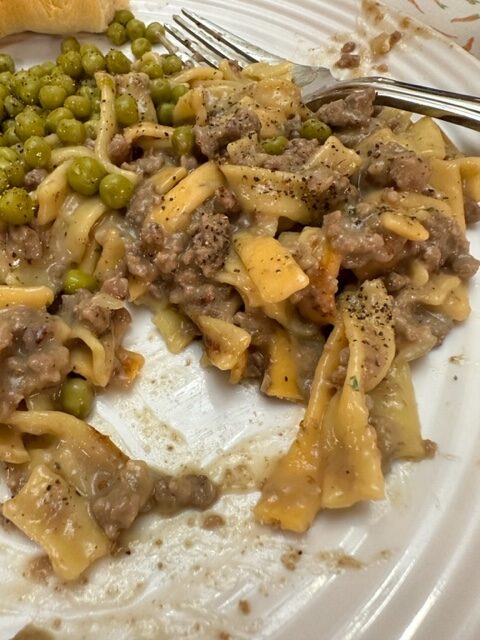 We love to find good one-pot meals we can serve quickly and easily. Here are a few of our favorites. One Pot Lasagna Soup, Easy Delicious Honey Garlic Meatballs, and our most popular ever one-pot dish, Easy One-Pot Classic American Goulash.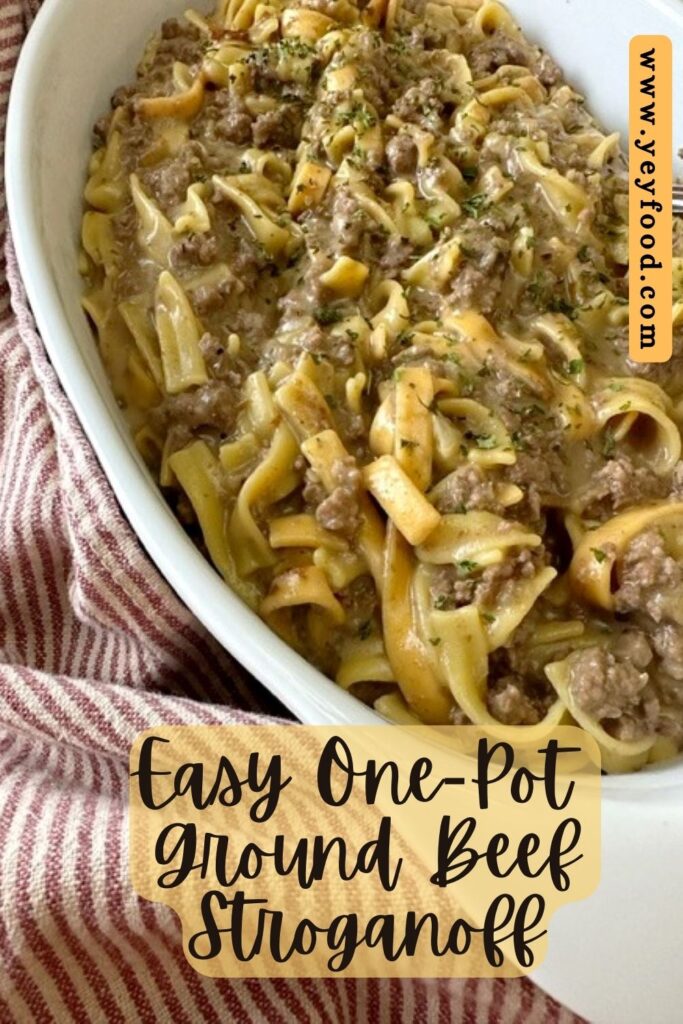 More delicious family-friendly recipes from us: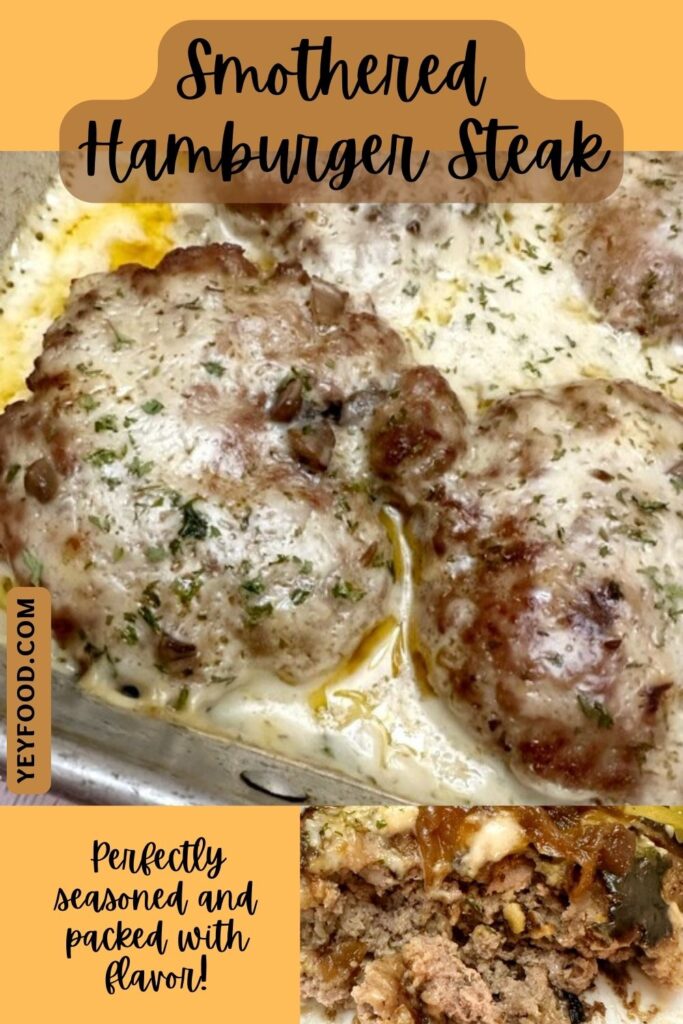 German Sauerkraut Casserole With Bacon And Brown Sugar
If you like these recipes, you are our people! You can check some related articles below or search via categories on the right. But be warned; you will be on here for hours. Enjoy! Here are some other recipes for your busy weeknights.