The Perfect Small Batch Size Dessert For Small Families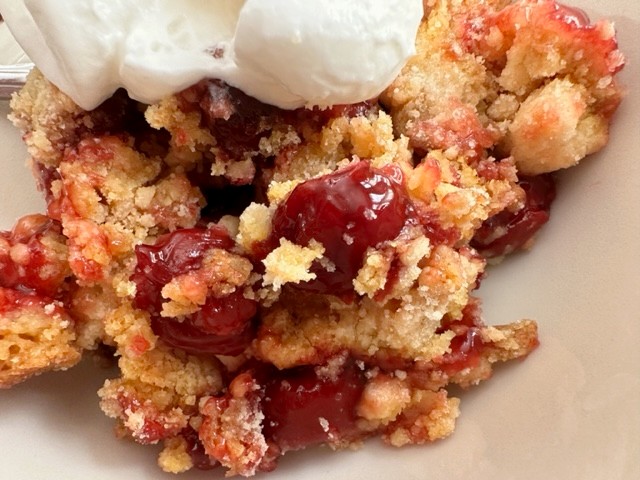 Try this small-batch three-ingredient cherry dump cake when you need a quick and easy dessert that tastes great! Many recipes like this are created to make twelve of fifteen servings, but many households don't need such a big panful.
You can make this recipe in a nine-inch square baking dish, a nine-inch pie plate, or, like I did, in my favorite old eleven-by-seven-inch Pyrex baking dish. All of them have about the same capacity, so you have options!
"Dump Cake," in my opinion, is an unfortunate name for something that tastes this good, but it is descriptive! Our favorite fruit pie is cherry, so cherry pie filling is our top choice for making a dump cake.
You only need three ingredients to make this yummy dessert, and all of them are shelf stable, so you can stash the things you need in the cupboard and fridge and make this dessert at the drop of a hat!
How To Make A Cherry Dump Cake As Simple As One Two Three
Spray or grease the baking dish you want to use and spread the cherry pie filling evenly on the bottom of the pan.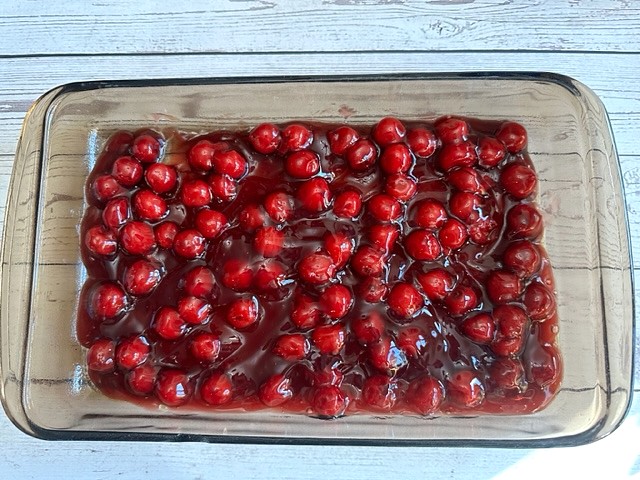 Next, sprinkle the dry cake mix over the cherry pie filling. You should be able to cover all the fruit filling with the cake mix. I find it simplest to cut the top off the bag, fold it to make a "spout," and sprinkle the dry mix right from the bag in a kind of back-and-forth motion.
If you'd like, add about one-half to three-fourths of a cup of sliced almonds on top of the dry cake mix. Some folks like to add some vanilla or almond extract to the cherry pie filling, but that's up to you!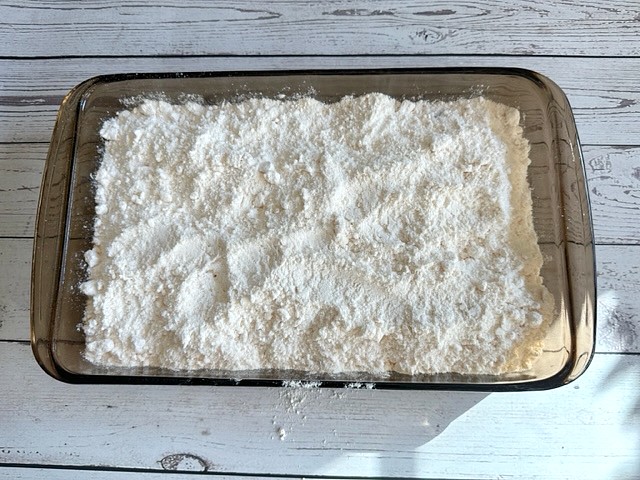 Melt a stick of butter the easy no-splatter way. Remove one-half inch of the wrapper from one end of the stick, and stand the wrapped stick in a glass measuring cup.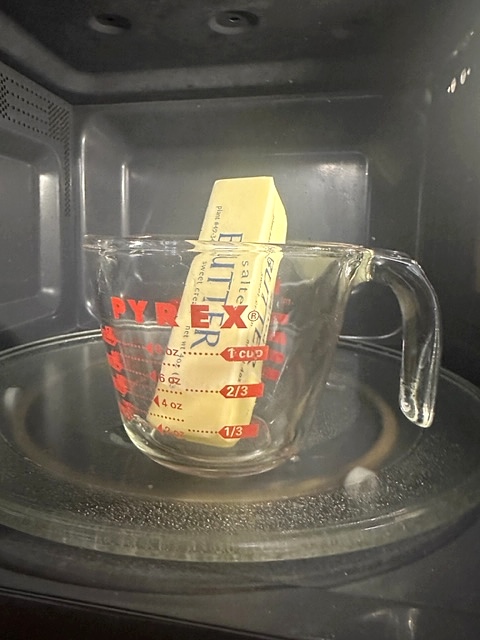 Microwave for thirty to forty-five seconds, then easily use the pouring spot on the cup to drizzle the melted butter over the cake mix neatly, and then discard the wrapper.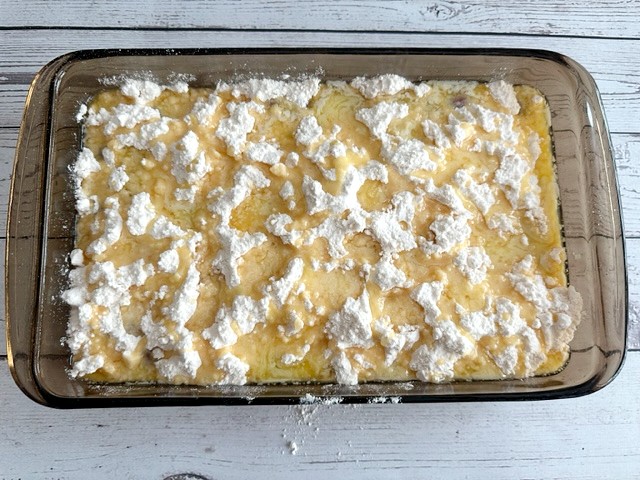 Now pop your cherry dump cake into a 350-degree oven and bake it for about thirty to forty minutes or until you get a nice golden brown crust on top and the pie filling starts to bubble up around the edges of the pan! Yum!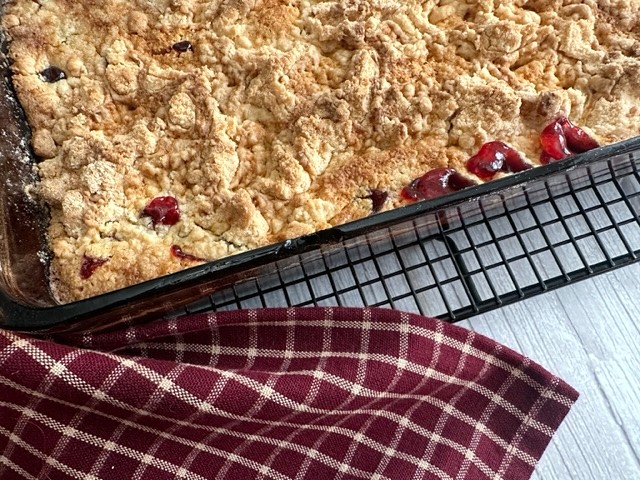 This isn't a cake meant to be cut into tidy squares; this yummy cherry dump cake is for spooning into a bowl while it's still warm. It begs to be eaten with a scoop of vanilla ice cream melting into all the crumbly, buttery nooks and crannies! It tastes great with whipped cream, too!
Yield: 6 servings
Cherry Dump Cake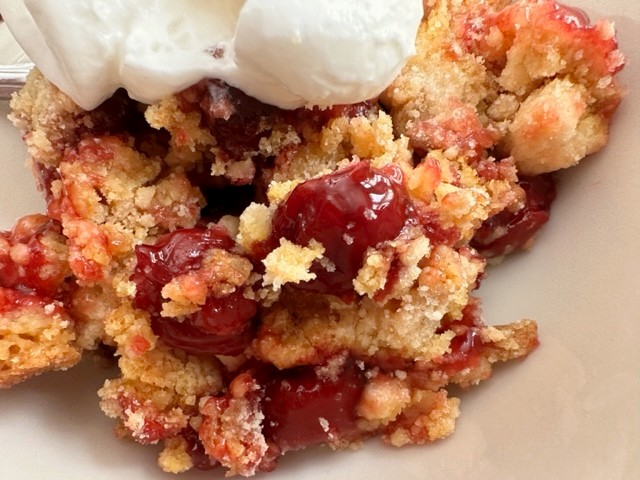 This a quick, easy, and delicious recipe that uses only three ingredients to make a buttery, delicious, spoonable cake that tastes great with ice cream!
Ingredients
One white or yellow 15.25-ounce cake mix, dry.
One 21-ounce can of cherry pie filling
One stick (1/2 cup) of butter, melted
One tsp vanilla OR almond extract, optional
1/2 to 3/4 cup sliced almonds. optional
Instructions
Preheat the oven to 350 degrees.
Grease a nine-inch square pan.
Spread the pie filling in the bottom of the pan. (if you add vanilla or almond extract, stir it into the pie filling.)
Sprinkle the dry cake mix over the pie filling evenly, trying to cover all the fruit filling.
If you add almonds, sprinkle them evenly on top of the cake mix.
Drizzle melted butter over the cake mix.
Bake at 350 degrees for 30 to 40 minutes or until the crust is golden brown.
Serve warm with vanilla ice cream. (Also good with whipped cream!)
Keeps on the countertop for two to three days.
Notes
To make this dessert bigger, use two cans of pie filling and 3/4 cup butter. Bake it in a 9" by 13" pan.
This little dessert will keep on the counter for two or three days. Pop it in the microwave for a few seconds if you like eating it with ice cream. I love it just as much with a dollop of whipped cream!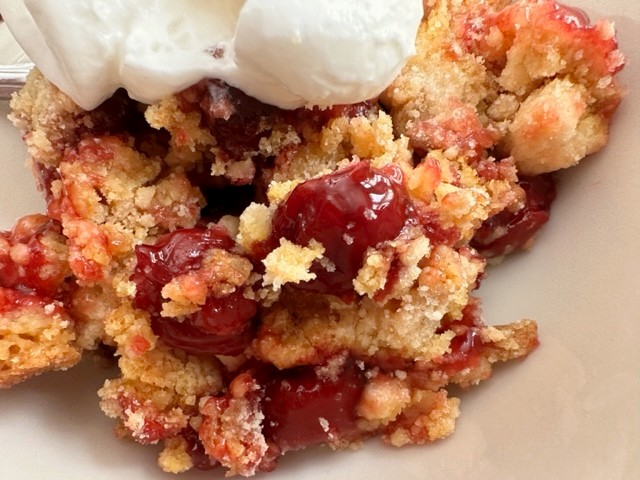 We love dessert, especially when it's quick and easy to make like these! Here are some of our favorite recipes for quick desserts! Easy Lemon Squares, No-Bake Chocolate Dessert, Quick Candy Bar Poke Cake, Peanut Butter Fudge.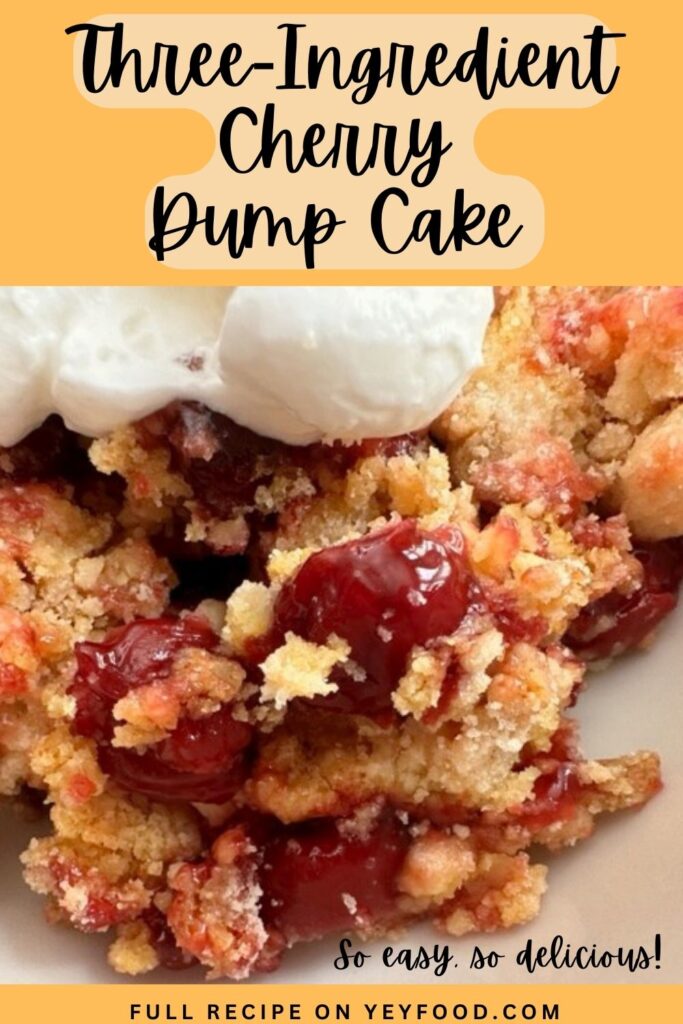 More recipes from us: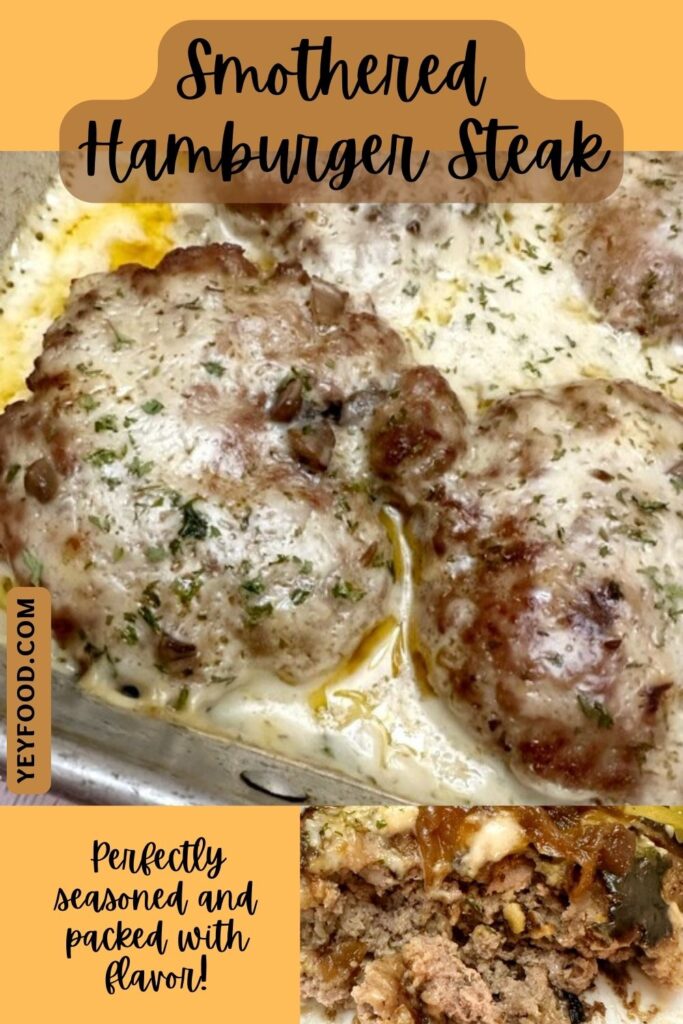 Butter Baked Cod (Poor Man's Lobster)
Easy 1 Pan Classic American Goulash
German Sauerkraut Casserole With Bacon And Brown Sugar
If you like these recipes, you are our people! You can check some related articles below or search via categories on the right. But be warned; you will be on here for hours. Enjoy!