Here's A Quick Family Friendly Chicken Recipe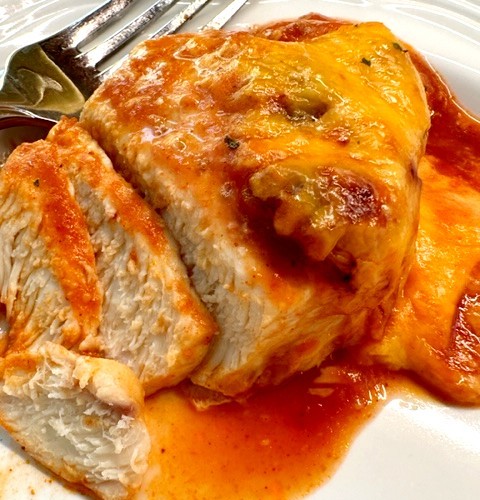 Sloppy Joe Chicken is an ingenious invention by a busy mom who needed something she could make quickly and easily for her family. It can be served in three different ways, making it perfect for kids of all ages and grown-ups! It only takes three ingredients and five minutes to prepare.
I'm very impressed by the think-outside-the-box originality of this yummy recipe because I would never have thought of putting Manwich sauce on anything but hamburger! And why not? I decided to try this recipe when our granddaughter came out for lunch last week, and she gave it two thumbs up!
Manwich is a convenient, ready-to-go, well-seasoned tomato sauce with red and green bell peppers that works well with ground beef or chicken! Manwich comes in three flavor profiles; regular, bold, and thick and chunky. Try all three!
How To Make Fast And Yummy Sloppy Joe Chicken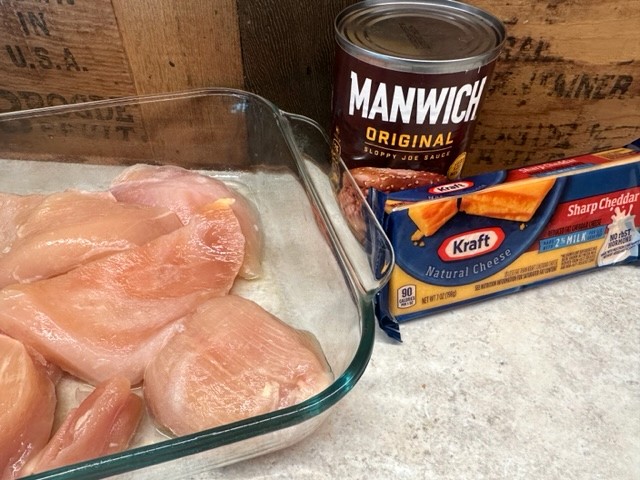 Boneless, skinless chicken breast is a busy mom's friend. It is a great, reasonably-priced source of high-quality protein that most people like. It is low in fat, cooks quickly, requires very little preparation, and adapts to nearly any flavor profile. Boneless skinless chicken may be the most versatile meat you can find!
In this simple recipe, Manwich sauce, a popular tomato-based sauce in a can, keeps the chicken moist as it cooks, and the acidity in the tomatoes helps make the chicken tender and juicy.
A generous layer of shredded cheddar cheese helps keep in all the flavor, and it bakes to a beautiful toasty golden brown top for a beautiful, tasty presentation.
I love using Pyrex glass baking dishes because clean-up is so easy, and if you buy one with a lid, it's great for storing any leftovers! This dish is a snap to prepare! Trim chicken breasts as needed and place them in a thirteen-by-nine-inch glass baking pan in a single layer.
Pour a can of Manwich sauce evenly over the chicken. (I made a half recipe the first time because there are just two of us at home now, so don't let the picture confuse you!)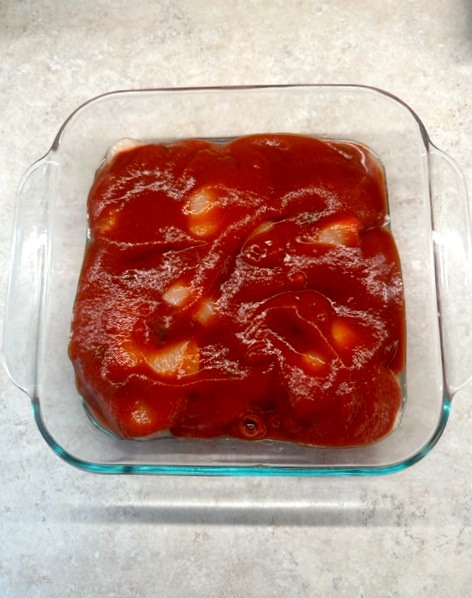 Shred an eight-ounce block of sharp cheddar cheese and spread it evenly over the chicken and sauce. I always recommend shredding cheese from a black, rather than buying shredded cheese in a bag.
Why? Bagged shredded cheese has an ingredient in it that helps to keep the shreds separate, but it retards the melting. Bagged cheese can certainly be used in a pinch because it is a time saver, but shred your own for the yummiest, meltiest results!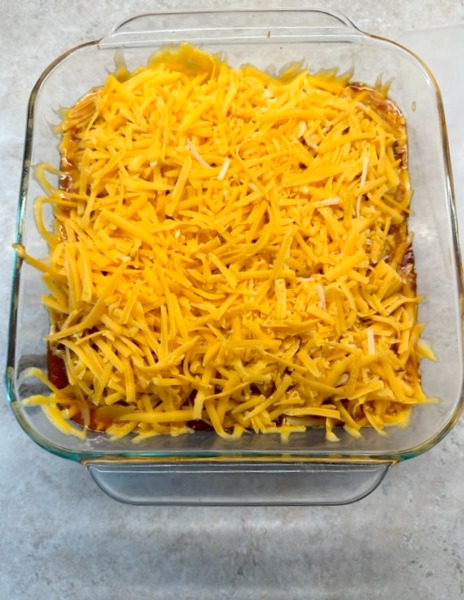 Now pop that pan in a 350-degree oven for about thirty-five to forty minutes. The chicken should have no pink, the juices should run clear, and the cheese should be beautifully browned. Doesn't that sloppy joe chicken look delicious?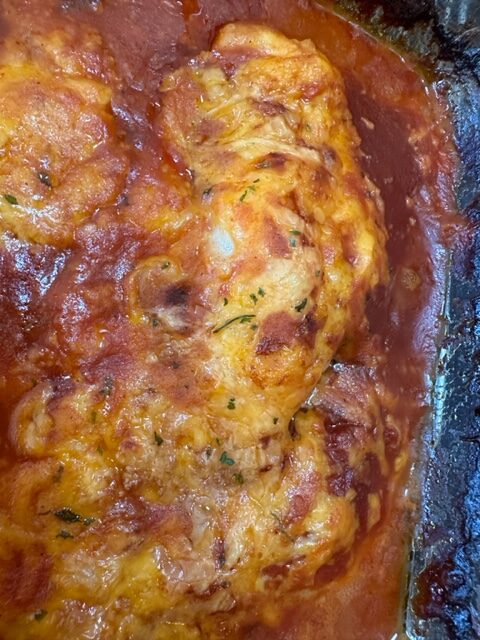 If you have littles at your house, lucky you! Cut the chicken into small bites and serve it with rice or fruit. If you have teenagers, lucky you, serve it on buns for a yummy, albeit messy, sandwich! The chicken breast is delicious for grown-ups when served over a bed of rice with some of the sauce spooned over it!
Yield: 6 servings
Sloppy Joe Chicken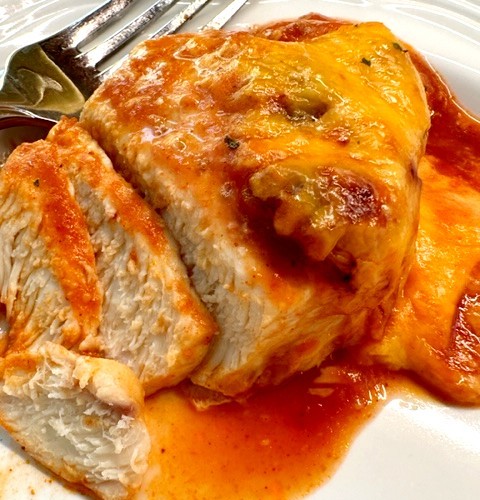 Here's an easy three-ingredient chicken recipe that's perfect for busy families.
Ingredients
2 pounds of boneless, skinless chicken breast
One 15, 15.5, or 16-ounce can of Manwich sauce in the flavor of your choice, regular, bold, or chunky.
One 8-ounce block of sharp cheddar cheese, shredded
Instructions
Preheat oven to 350 degrees.
Trim chicken breasts and arrange them in a greased 13" by 9" baking pan.
Pour Manwich sauce evenly over the chicken.
Spread shredded cheese over the chicken and sauce.
Bake in a 350-degree oven for about 35 to 40 minutes, or until juices run clear and chicken is no longer pink.
Notes
You can slice or shred this chicken and serve it on a bun as a sandwich or serve the whole chicken breast with rice as a side. For small children, cut into small pieces and serve with fruit or your choice of sides.
Sloppy Joe Chicken is a dish that everyone in the house can agree on! So quick, so easy, and so delicious!
We love how fast and easy it is to make wonderful dinners using chicken. Here are some of our most popular chicken recipes. Quick Chicken Picatta, Chicken Quesadillas, Four-Ingredient Cranberry Chicken, and Cheesy Chicken Tater Tot Casserole. Does your family run on chicken? What are some of your favorite recipes?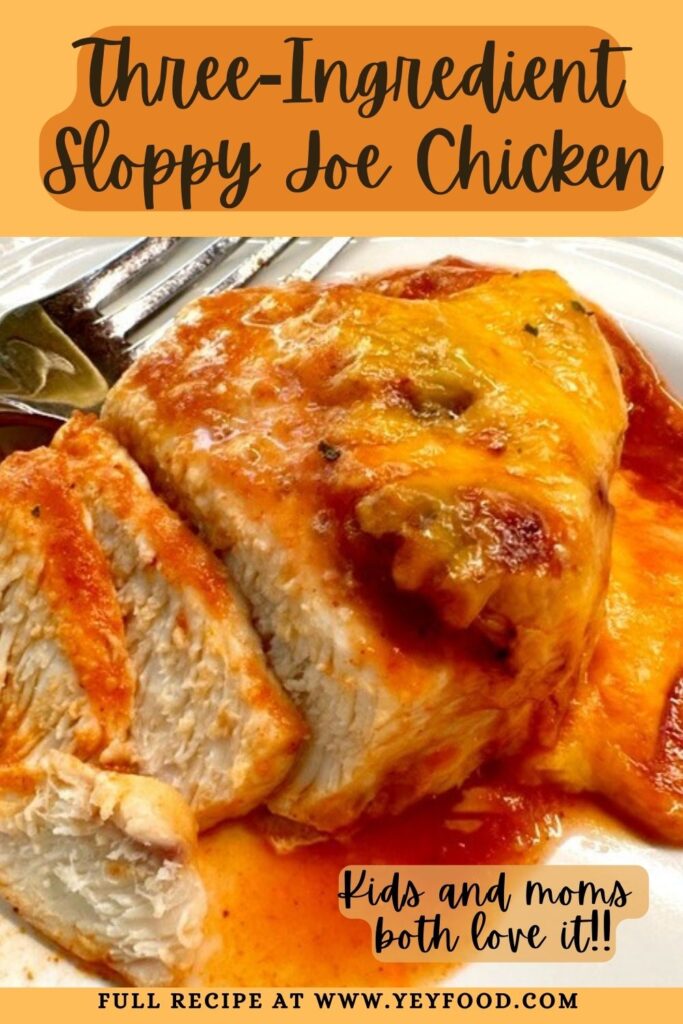 MORE OF OUR QUICK AND EASY FAMILY-STYLE RECIPES: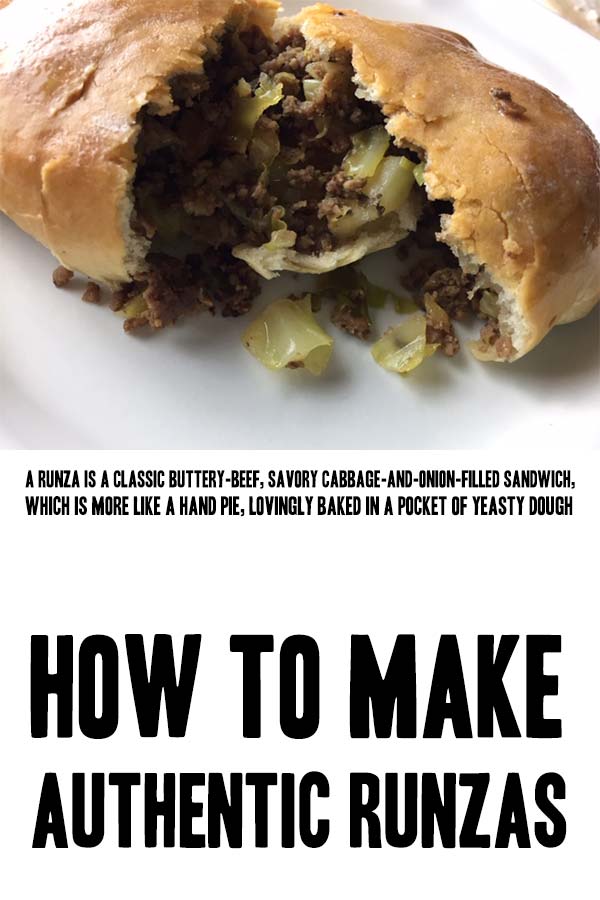 The Ultimate Bread and Butter Pickle Recipe
The Number 1 Practically Perfect Poppy Seed Bread
One Pot Classic American Goulash
If you like these recipes, you are our people! You can check some related articles below or search via categories on the right. But be warned; you will be on here for hours. Enjoy!