Chicken Piccata Has A Back Story As Delicious As It Tastes
Chicken piccata has always been one of my favorite dishes! As you can imagine, food bloggers don't go out to eat a lot, so if I get hungry for something Italian, I figure out a quick way to make it at home!
I think about food all the time! I'm forever reading cookbooks and magazine articles, looking for inspiration before I launch into my own version of how to make something.
Along the way, I'm always fascinated with recipes' origin and history. Who invented it? Where did they make it first? Why did they choose a certain ingredient? In the case of chicken piccata, I discovered this was not a dish served to nobility in ancient Rome, Florence, or Milan!
Food historians (oh boy, would I love that job!) and researchers have never found a recipe for chicken piccata in old Italian cookbooks! Instead, chicken piccata began showing up in the 1930s in Italian neighborhoods when immigrants discovered to their joy, that chicken and veal were far less expensive in America than it was back home.
Piccata is an Italian word derived from the French term piquant. Those clever Italian cooks knew how to make butter, garlic, lemon, and capers into something delicious to whet the appetite, so they did!
Chicken Piccata Is A Thirty Minute Miracle
Ok, maybe not a miracle, but something pretty magical! Here's how easy it is to do! I found a great buy on the boneless skinless chicken breast at $3.99 a pound at my local HyVee market and stocked up. These babies were huge, almost one pound each!
I cut each breast into palm-size cutlets about one-half in thick for my piccata. First, I seasoned them generously on both sides with lemon pepper, garlic powder, and kosher salt.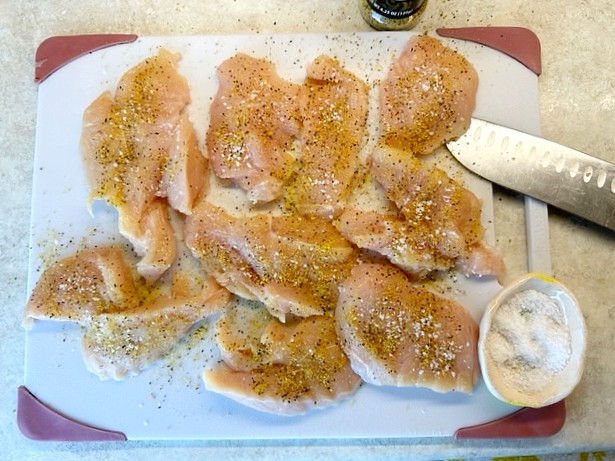 Then I dredged the cutlets in flour, shaking off the excess. I browned them on medium-high heat in my cast iron skillet using one tablespoon of olive oil and two tablespoons of butter.
This is a dish where you should not use a non-stick skillet because you want to capture every tasty brown bit that forms and sticks on the bottom when you make the sauce.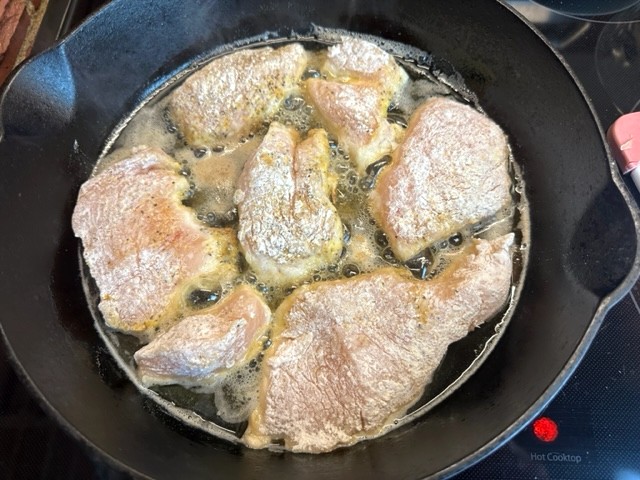 Don't crowd the chicken; you want it to brown, not steam. Do a few pieces at once if needed; you'll be rewarded! Set that beautiful chicken aside while you make the sauce. I put mine in the pie plate I used for dredging; why dirty another dish? 😉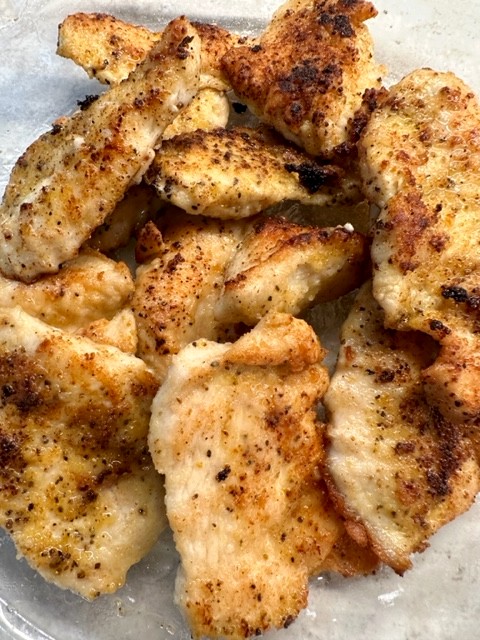 Now put a cup of water, a heaping teaspoon of Better Than Bouillon roasted chicken base, and two tablespoons of butter into the pan and stir, scraping up all those tasty brown bits I told you about off the bottom of the skillet.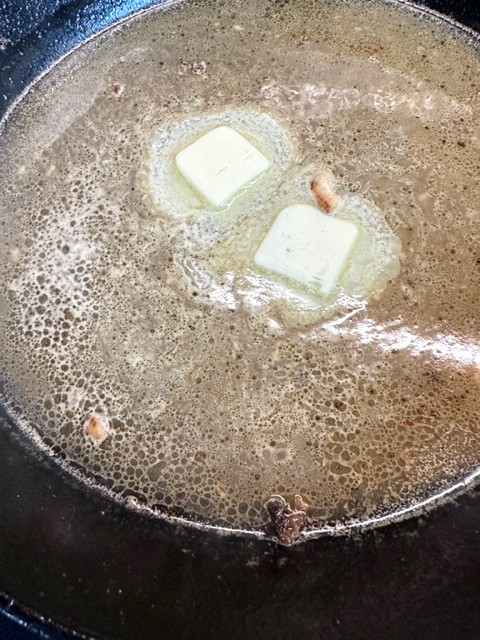 Now stir in the cream and the capers and nestle those golden chicken cutlets back into the skillet, tucking some thin slices of lemon in between the chicken. Add extra capers if you want because they are amazing little flavor bombs!!
If you are unfamiliar with capers, prepare to fall in love with them. You will find yourself adding them to tuna salad, scrambled eggs, sandwiches, and everything where you can fit them! Let this simmer uncovered for about five minutes, then serve.
You can leave out the cream (but why?), but if you do, add another half cup or so of chicken broth. Serve over linguini or spaghetti. I love serving chicken piccata in pasta bowls to capture every bit of sauce!
Our granddaughter came to lunch today. It was her first taste of this Italian American delight, and she loved it! I think you will too!!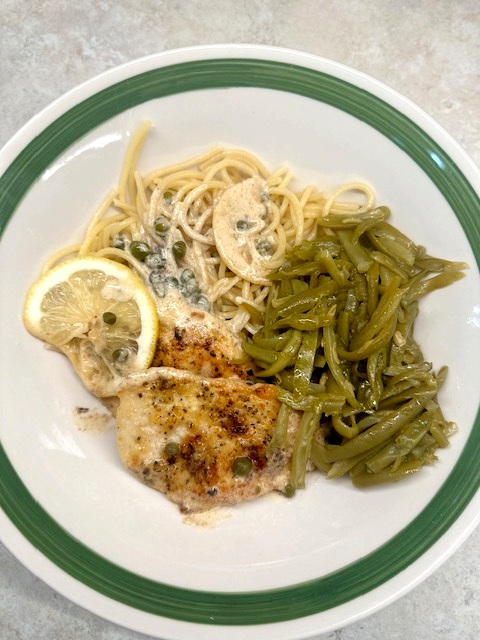 If you are in a hurry, some of the prepackaged chicken tenderloins or thinly sliced chicken breast would be a huge time saver. They are an ideal thickness for this recipe. They will cook quickly and stay tender and juicy!
Yield: 4 servings
Easy Chicken Piccata
Here's a classic chicken dish with lemon and capers you can have on the table in thirty minutes or less.
Ingredients
About 1.5 pounds of skinless, boneless chicken breast, sliced.
Lemon pepper to taste
Garlic powder to taste
Flour for dredging
Kosher salt to taste
About 1 Tbsp of olive oil
4 Tbsp butter, divided
1 cup water
1 heaping tsp Better Than Bouillon roasted chicken base
2 Tbsp capers, drained or more to taste
1/2 cup heavy whipping cream, optional see notes
1 Tbsp lemon juice
Thin slices of lemon, optional
Instructions
Cut chicken breast into palm-size slices no more than 1/2" thick. You can also use chicken tenderloins or thin-sliced chicken to save time.
Season chicken generously on both sides with lemon pepper, garlic powder, and kosher salt.
Dredge chicken in flour and shake off excess.
Put olive oil and 2 Tbsp butter in a skillet on medium-high heat. Don't use a non-stick skillet for this.
Brown chicken on both sides without crowding for a good sear.
Set chicken aside.
Add water, lemon juice, remaining butter, and bouillon to the and bring to a simmer, stirring constantly. Stir up any browned bits from the bottom of the pan into the sauce.
Whisk in the cream and the capers. Reserve some capers for garnish if desired.
Nestle the chicken back into the skillet, tuck lemon slices between the chicken pieces, and simmer for about 5 minutes.
Serve over pasta if desired.
Notes
I used Whirl Butter, a restaurant product, in place of olive oil and butter to brown the chicken.
You can omit the cream if you like, but add 1/2 cup more chicken broth.
Who doesn't love a quick chicken dish, especially one this amazingly delicious? Here are some of our favorite recipes. Four-Ingredient Cranberry Chicken, Fast Chicken Fajitas, Best Grilled Chicken Quesadillas. Do you have a hurry-up chicken dish your family loves? Would you let us in on your secret?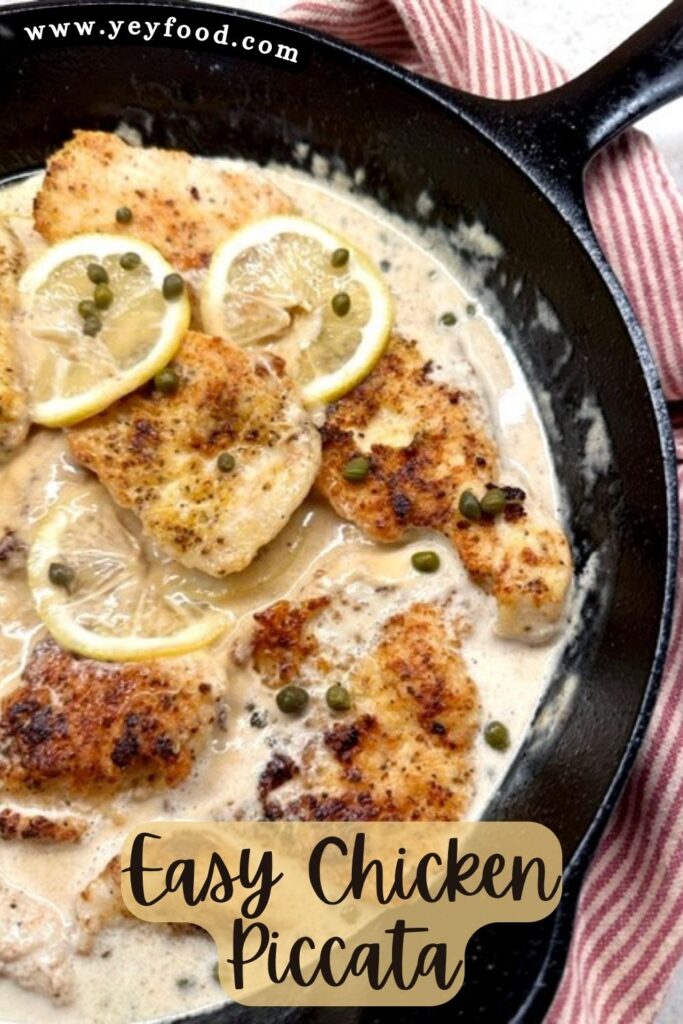 More recipes from us: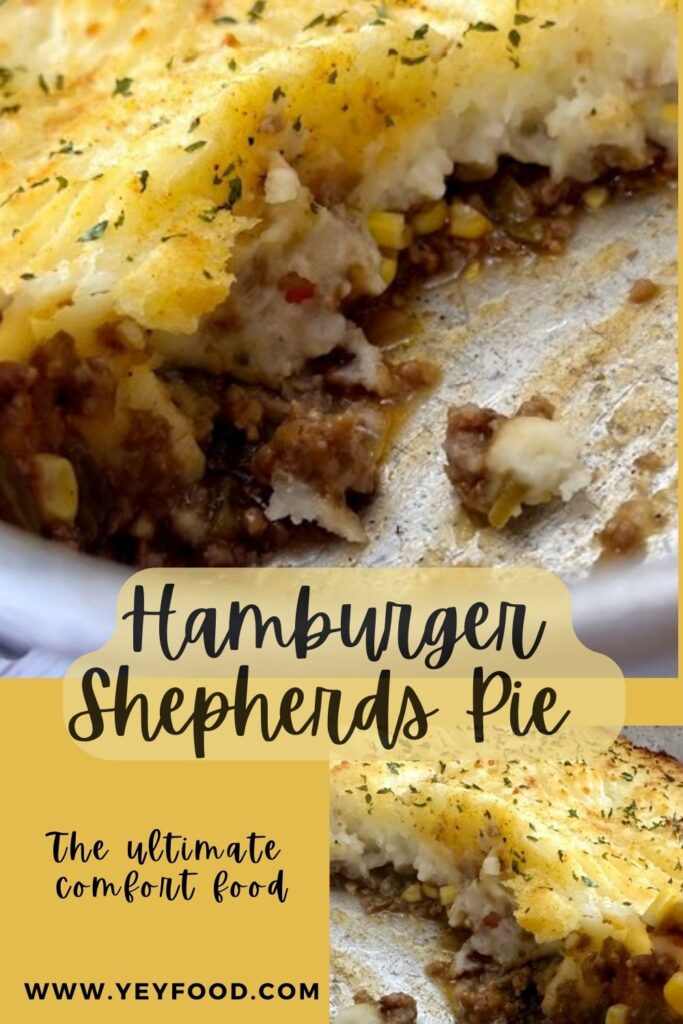 Butter Baked Cod (Poor Man's Lobster)
Easy 1 Pan Classic American Goulash
German Sauerkraut Casserole With Bacon And Brown Sugar
If you like these recipes, you are our people! You can check some related articles below or search via categories on the right. But be warned; you will be on here for hours. Enjoy!