Cabbage And Sausage Make A Delicious Soup You Will Crave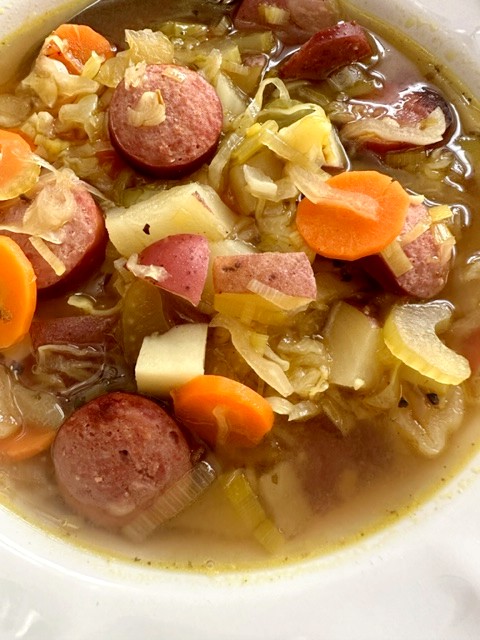 Here is an easy cabbage soup you can put together quickly and be ladling into bowls in under an hour. There are so many layers of flavor, and the broth is amazing. It tastes like it simmered all day in an Old World kitchen.
Like so many old-fashioned recipes, this delicious soup starts with simple ingredients. The way you bring them together gives it a fantastic flavor that makes you want seconds!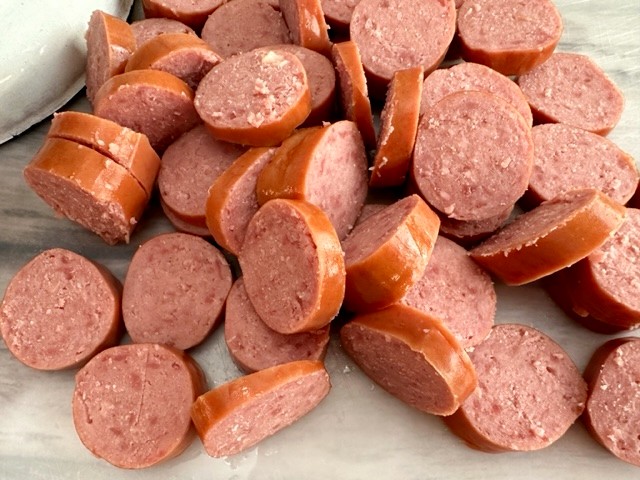 This soup begins with sausage. I chose Hillshire Farms Beef Polska Kielbasa. One twelve-ounce ring sliced thin is enough to give the whole pot of cabbage soup a deep, rich flavor.
The vegetables are also simple and wholesome. Cabbage, leeks, carrots, celery, red potatoes, and garlic provide a colorful and flavorful combination of flavors and textures to the soup. Leeks are related to onions but have a milder flavor and are often easier on your tummy if onions bother you.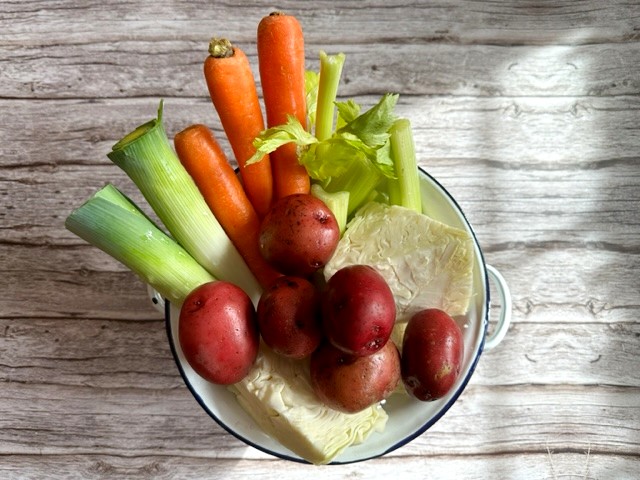 Slice and dice all those yummy veggies. This step will take about the same length of time as it takes for the soup to cook! I always think vegetables are a thing of beauty! All the vivid colors remind us how nourishing they are!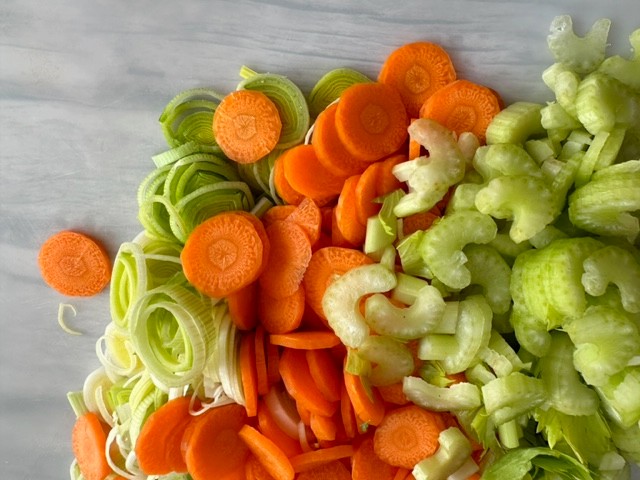 The seasonings you use are simple and readily available, too. I wasn't sure about Italian seasoning, but it is absolutely perfect! You can buy it in the spice aisle, and here's a recipe to make homemade Italian seasoning! I would take it easy on adding any salt until you have the soup put together, but this soup can take a lot of pepper; it seems to enhance all the flavors a lot.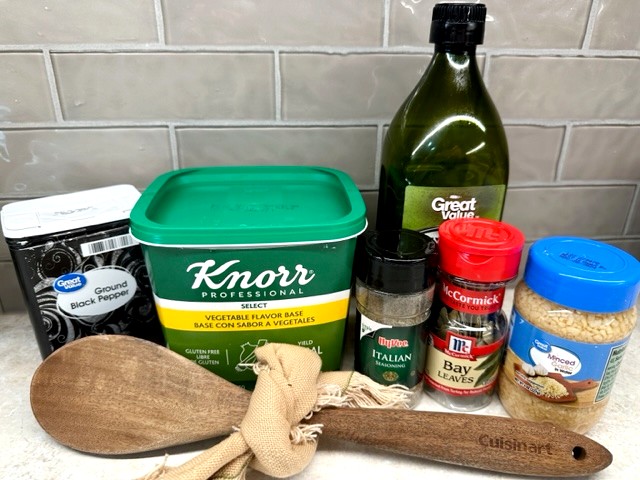 Here's How To Make A Pot Of Yummy Cabbage Soup With Sausage
Begin by putting olive oil in a soup pot and lightly brown the sliced sausage. As you can see, some of my slices got a little browner than others, which adds some extra flavor. Remove and set the sausage aside for the next step.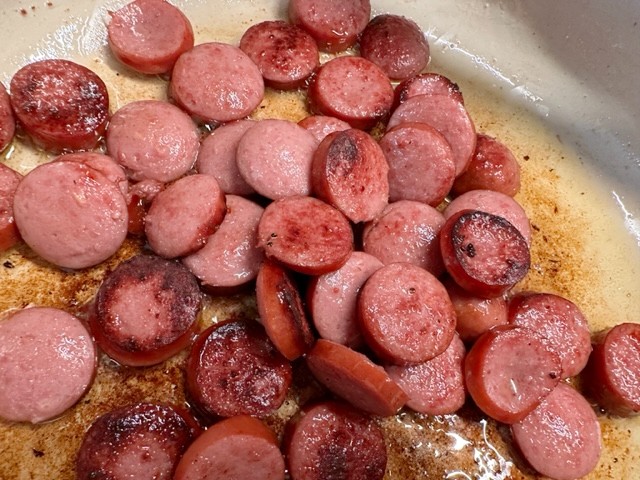 Saute the leeks, celery, garlic, and carrots for about five minutes in the oil remaining in the soup pot. The vegetables should soften and begin to get fragrant. I did not have fresh garlic that day, so I used some from a jar, and it works well, too, but fresh is always even better!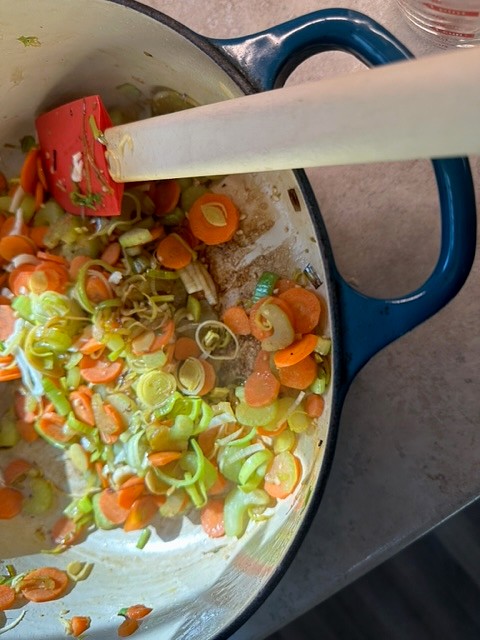 Now add your broth to the pot and stir up all the tasty browned bits of the bottom of the pot into the broth. I use a wooden spoon with a flat, straight edge.
You can use prepared vegetable broth or even chicken broth, but for the best flavor, I insist on Knorr brand vegetable soup base or bouillon cubes mixed with water.
I use this product in so many things; I buy it in the restaurant pack that makes eleven gallons of broth! It has a long shelf life, and I share it with friends and family!
Add the bay leaf, potatoes, and cabbage to the broth and let it simmer until the potatoes are tender. It took about fifteen minutes, and the fabulous cabbage soup was ready to eat! Remove the bay leaf before serving the soup!
Yield: 8 servings
Cabbage Soup With Sausage and Potatoes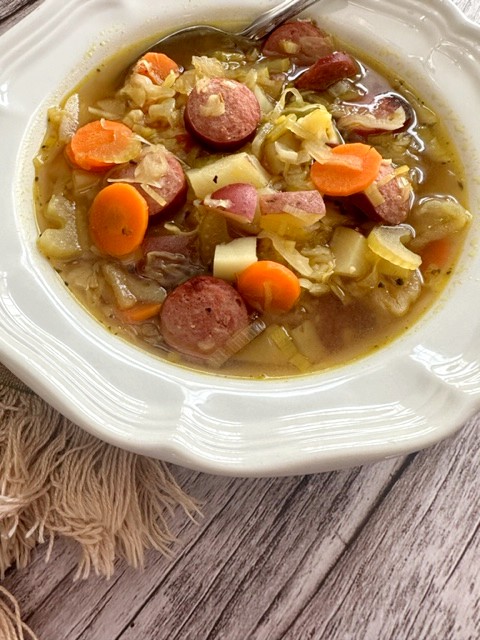 Here's a hearty soup that you can make in less than an hour with simple ingredients. So packed with yummy flavors, this is a great comfort food!
Ingredients
One 12-ounce ring of Hillshire Farms Beef Polska Kielbasa
2 Tbsp olive oil
2 medium size leeks, thinly sliced. Use only the white and pale green parts.
3 carrots, scraped and sliced. About 2 cups.
6 small red potatoes (about one pound), scrubbed, skin-on, diced. About 2 cups
2 stalks of celery, sliced
One small head of cabbage, shredded and cut into short pieces. About 4-5 cups
2 quarts of water
scant 1/4 cup of Knorr Vegetable Flavor Base or 4 large cubes of Knorr Vegetable Bouillon
2 tsp minced garlic from a jar or equivalent
2 tsp Italian seasoning
one bay leaf
Kosher salt and pepper to taste.
Instructions
Slice the polska kielbasa sausage about 1/2" thick. In a large soup pot, brown it lightly in the olive oil and set it aside.
Add the leeks, carrots, and celery to the oil in the soup pot and saute it for four or five minutes.
Add the cabbage and garlic and continue to saute for another four or five minutes.
Add the water, potatoes, vegetable bouillon, bay leaf, Italian seasoning, salt, and pepper to the pot and simmer until the potatoes are tender.
This soup can take a lot of pepper.
Add black pepper if desired. Remove the bay leaf before serving.
Notes
The vegetable bouillon is fairly salty, and the sausage is, too. Wait and taste before adding salt.
Knorr is my favorite brand of vegetable bouillon by far, but you can use whatever kind you prefer. You can also use chicken bouillon.
My husband had been looking warily at the pot and wasn't sure about it at all. I think it was all the cabbage. He didn't say a word, but he was skeptical about it. After his first spoonful, he said, "Wow, I am pleasantly surprised! This soup is absolutely wonderful!"
Almost all soups taste even better the next day when you reheat them because the flavors have time to really get to know each other. This yummy cabbage soup is no exception!
Spring isn't far away, but we're still in soup season! Here are some of our most popular soup recipes. Lasagna Soup, Split Pea Soup, Ground Beef And Vegetable (Comfort) Soup. Hungry for more? Type "soup" in the search bar on the home page for more tasty recipes. What is your family's favorite soup?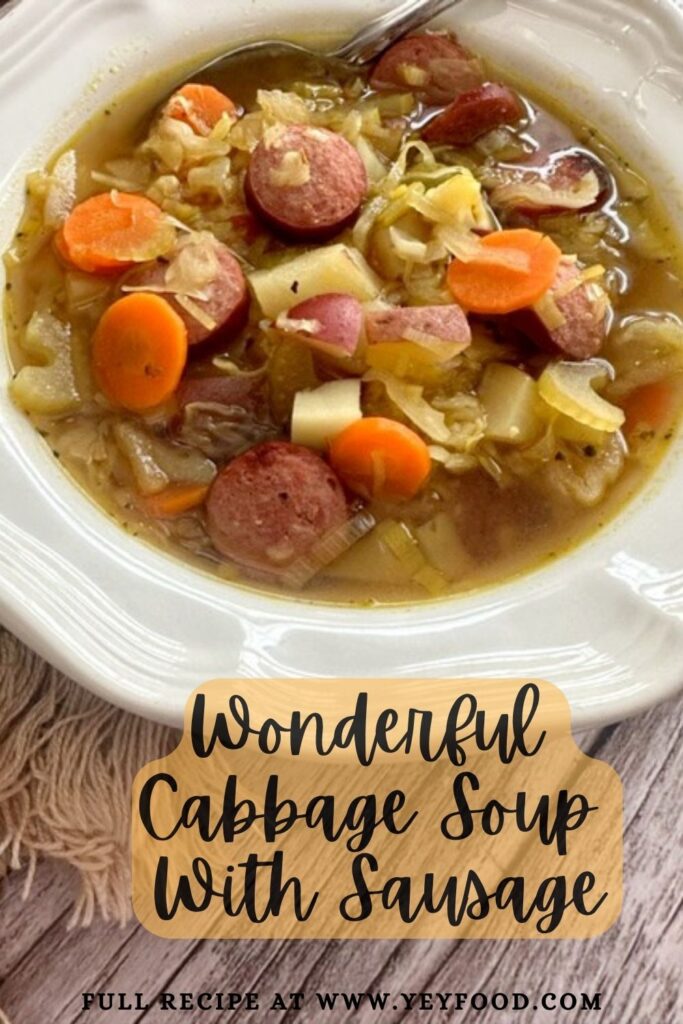 More family-friendly recipes for you: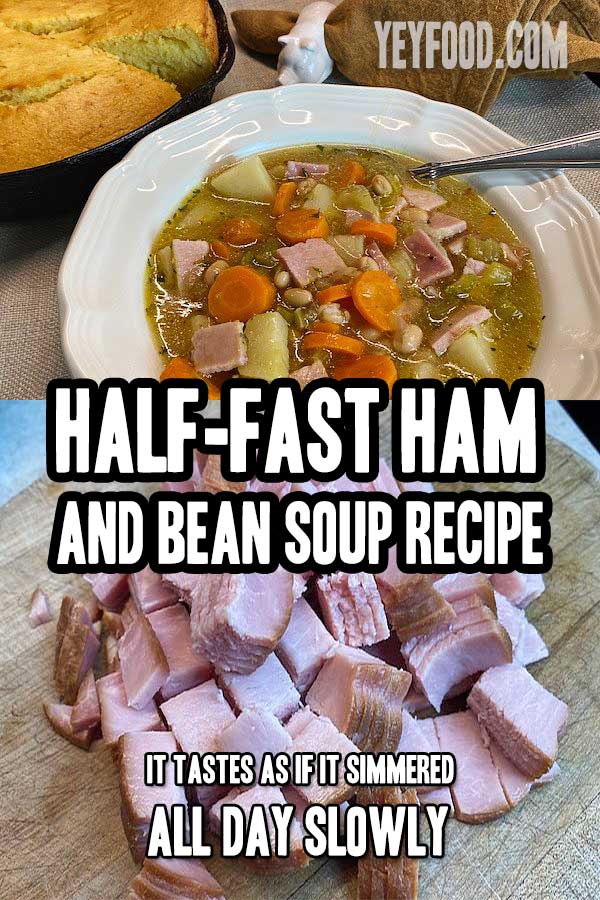 Easy 1 Pan Classic American Goulash
German Sauerkraut Casserole With Bacon And Brown Sugar
If you like these recipes, you are our people! You can check some related articles below or search via categories on the right. But be warned; you will be on here for hours. Enjoy!
So, please share this recipe on your social media accounts like Facebook, Instagram, Twitter, and Pinterest. We would be honored and ever so grateful; thank you!