Perfected With A Pinch Of Flaky Sea Salt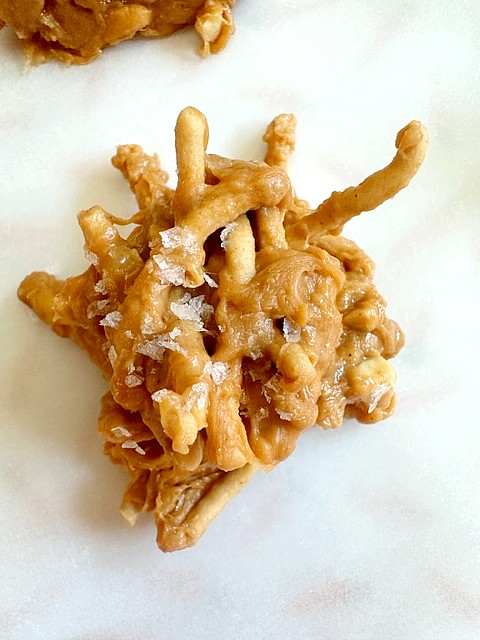 These no-bake peanut butter haystacks have been around so long that my friends and I, all grandmothers, remember our grandmas making them!! That alone should testify to how darn good they are! Anything that's been around for over 50 years has definitely stood the test of time!!
Crunchy chow mein noodles have been a part of American cuisine since the 1940s! Interestingly, the first canned Chinese food was brought to America by an Italian American shortly after World War 2. Over the years, the products have improved greatly and are still popular today!
The crisp, crunchy chow mein noodles made from wheat have become toppings for salads, stir-fries, casseroles, and no-bake cookies. These tasty little noodles have that slight bit of saltiness and that intriguing umami flavor that make peanut butter haystacks so craveable.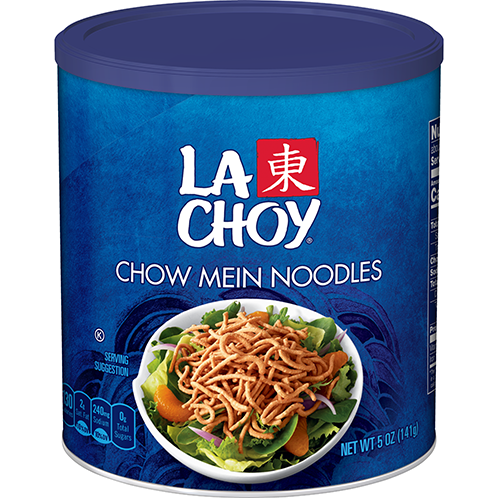 Umami? For years, we were taught there are four basic taste groups: sweet, sour, salty, and bitter. Umami, or the "fifth taste," is a relatively recent discovery. Officially named as a distinct taste in the 1980s, umami is true savoriness. Chow mein noodles have that special flavor component that makes them marry so well with sweet ingredients.
Last year around Christmas time, shoppers scurried to snap up dwindling supplies of the coveted noodles. It seems as if wheat shortages due to a bad crop year were to blame for the unexpected barren shelves that continued into spring. Everyone loves using them in no-bake cookies!
Golden Peanut Butter Haystacks The Ultimate Sweet And Salty Treat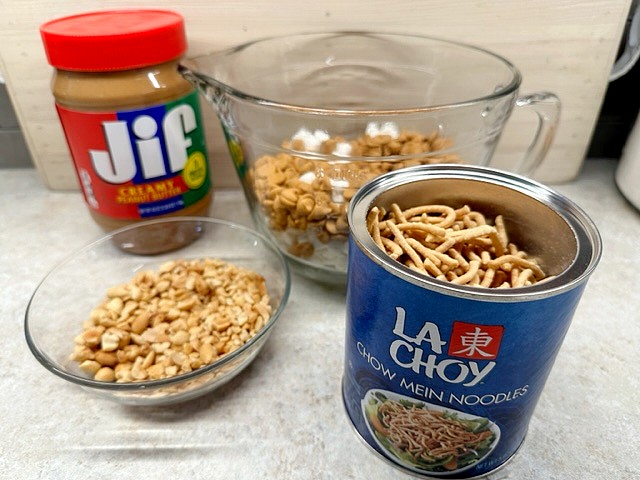 Have you ever thought about the magic marriage of sweet and salty? Have you ever wondered why certain things taste so good together? For example, why does a little salt make caramel taste so incredible? Why is bacon so delicious with maple syrup-drenched pancakes? Why is kettle corn so addictive?
I never stopped to think why I love dipping crisp, salty french fries into my chocolate shake, but there it is again, that heavenly duo of salty and sweet!
Culinary experts know how critical it is to strike the perfect balance between sweet and salty. In the world of chef speak, it's called flavor layering. These yummy peanut butter haystacks have amazing flavor layering!
We all love a treat that's easy to make, and in the summer, we love it when we can avoid turning on the oven or stove and keep our kitchen cool. These golden peanut butter haystacks are easily made in the microwave in record time. Before you begin, cover your work surface with non-stick parchment paper (Reynolds is my favorite,) waxed paper, or a silicone mat.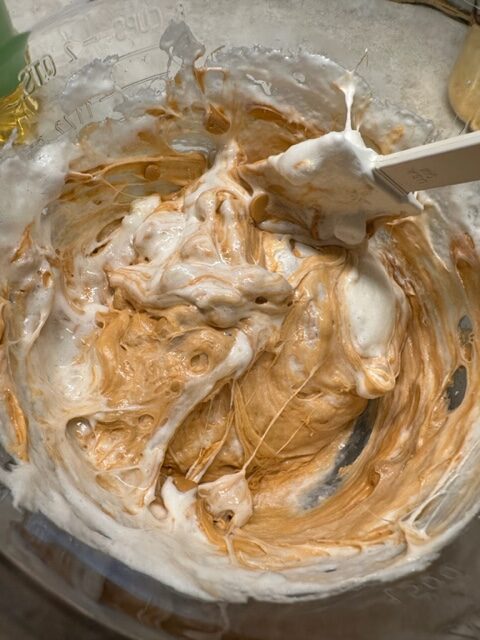 Melt three cups of miniature marshmallows with a package of butterscotch chips in a microwave-safe bowl. Cook them in 30-second increments on high power, stirring well between bursts. Depending on your microwave, it should take about three minutes.
Stir in one and one-half cups of creamy peanut butter until everything is well blended. Finally, fold in a five-ounce can of chow mein noodles and a cup of coarsely chopped salted peanuts. It's a stiff mixture; you need a sturdy spoon to work fast while it is still warm.
Use two greased or sprayed spoons or a cookie scoop to plop them onto the work surface you covered. Working quickly, before the cookies set, sprinkle just a pinch – a few grains- of Maldon Flaky Sea Salt onto each cookie. Want even more umami flavor? Try some smoked flaky sea salt! Wow!!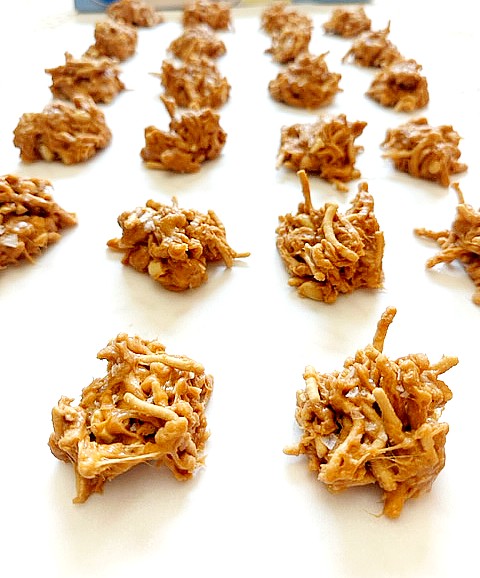 The marshmallows in this recipe make the haystacks a little chewier, and the chopped peanuts add another layer of crunch. But I'm telling you, that tiny bit of salt on each cookie sends your tastebuds soaring!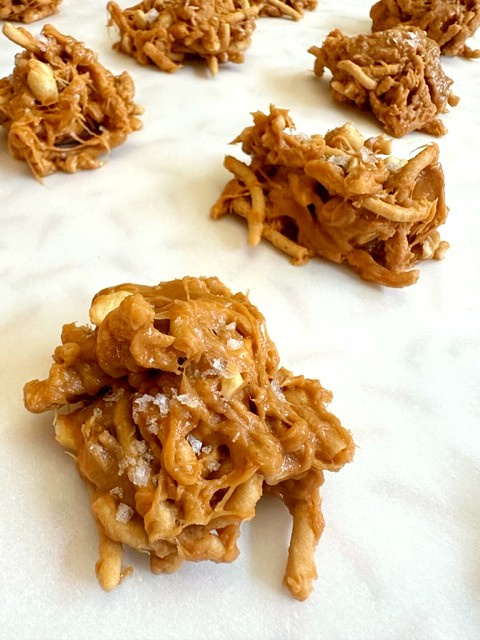 Keep the peanut butter haystacks in a tightly covered container on the counter and watch them disappear! You can keep them in the fridge, but I think they are chewier and better at room temperature.
You can also freeze these little rascals to keep them out of sight if you need help with the temptation. There is no twelve-step program for haystack addiction, and it's real!
Aren't no-bake cookies the best, especially in the summer? Well, who are we kidding? They are wonderful any time of year. Here are some more you might like. No-Bake Cornflake Cookies, No-Bake Chocolate Peanut Butter Bars, No-Bake Five Ingredient Frito Bars.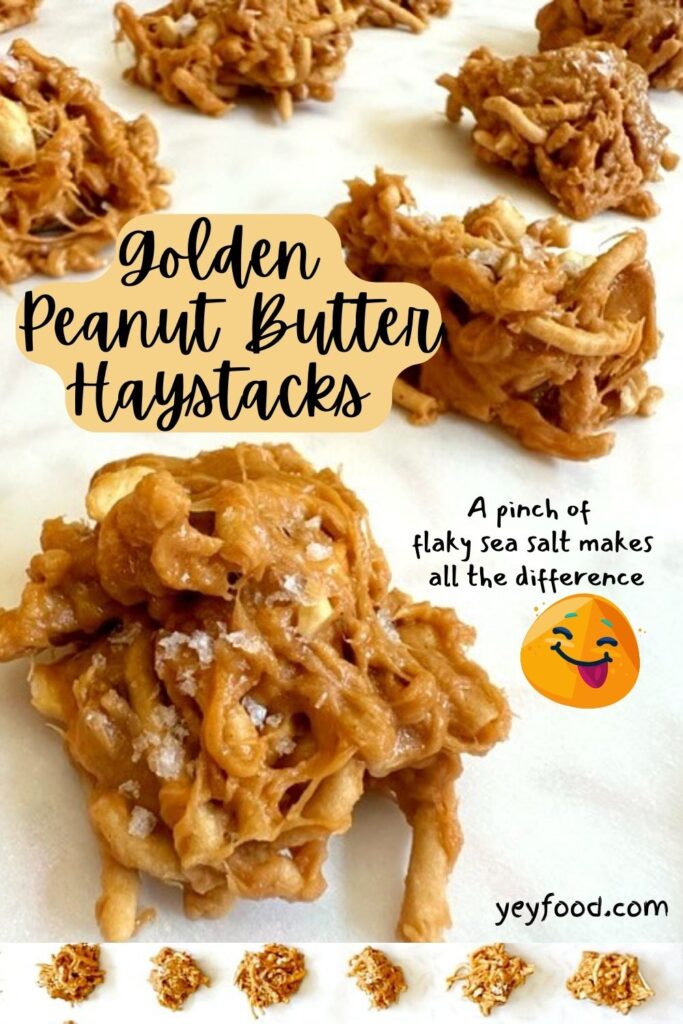 Printable recipe:
Yield: 24 cookies
Golden Peanut Butter Haystacks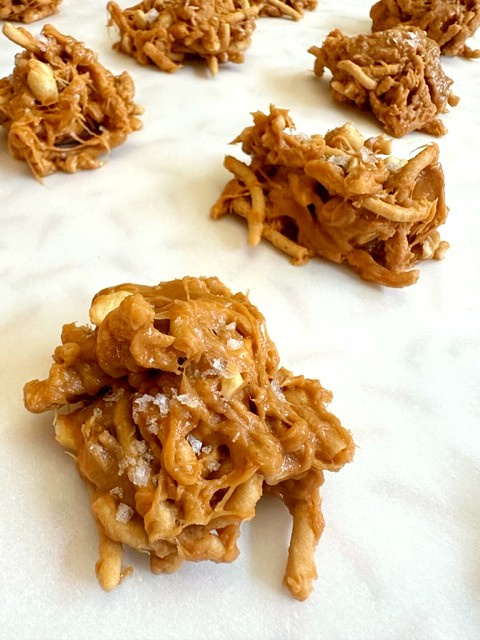 A classic no-bake cookie using chow mein noodles, but with a twist!
Ingredients
Three cups miniature marshmallows
One 11-ounce package of butterscotch chips
1 1/2 cups creamy peanut butter
1 cup coarsely chopped salted "party" peanuts
One 5-ounce can chow mein noodles
Flaky sea salt
Instructions
Melt marshmallows and butterscotch chips in the microwave. Be sure to use a microwave-safe bowl.
Cook in thirty-second increments, stirring between bursts until the mixture is melted smoothly.
Stir in the peanut butter until well blended.
Fold in the peanuts and chow mein noodles.
Drop by tablespoons onto parchment paper, waxed paper, or a silicone mat.
Working quickly, sprinkle a few grains of flaky sea salt on each cookie before they set.
Store in a tightly sealed container at room temperature with waxed paper separating the layers.
The haystacks can be frozen for three months or more.
Nutrition Information:
Yield:
24
Serving Size:
1
Amount Per Serving:
Calories:

213
Total Fat:

13g
Saturated Fat:

5g
Trans Fat:

0g
Unsaturated Fat:

6g
Cholesterol:

0mg
Sodium:

188mg
Carbohydrates:

22g
Fiber:

1g
Sugar:

14g
Protein:

4g
If you enjoyed this recipe, please share it on your social media! I would love for more people to try this delicious and easy-to-make recipe. If you have any questions or feedback, please feel free to leave a comment below. I would love to hear from you! Shhh… Join our secret foodie group on Facebook
MORE OF OUR TASTY FAMILY-FRIENDLY RECIPES
If you like these recipes, you are our people! You can check some related articles below or search via categories on the right. But be warned; you will be on here for hours. Enjoy!