Top It With Rich Thick Cream Cheese Frosting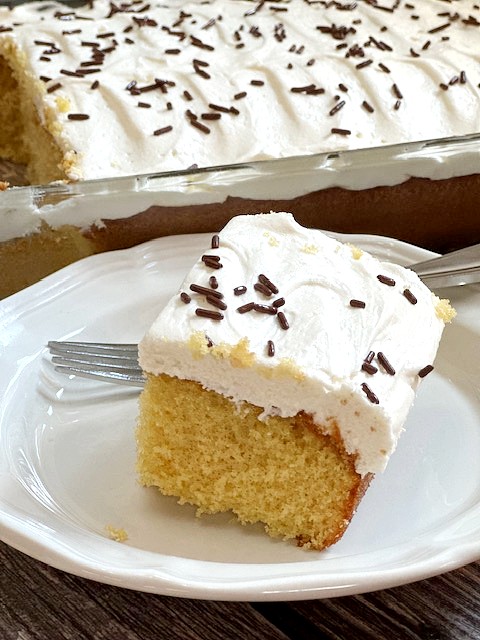 Let's go back in time to a hot summer evening when the sun was slipping down on the horizon. We pulled into the A&W drive-in for a root beer float in a frosty mug. We'd been waiting all day for this treat!
The drive-in became magical as the sun left the evening sky. The neon lights flickered on, casting a colorful glow on the surroundings, creating a vibrant backdrop for our evening together.
A car hop would place our root beer floats, napkins, straws, and a spoon on an aluminum tray perched on the driver's side window. We'd hand her our money, and she dispensed our change from a silver coin holder clipped on her belt.
Then she glided away on her roller skates and disappeared back to the kitchen. It was an experience, a taste that will forever whisper "summertime."
A&W drive-ins were renowned for frosty mugs filled to the brim with creamy vanilla ice cream drenched in their crisp, fizzy homemade root beer. It was the perfect finish to a day at the swimming pool or a baseball game. Ah, the memories! This delicious cake captures the nostalgic vibes of these old-school drive-ins.

It's Easy To Bake Some New Memories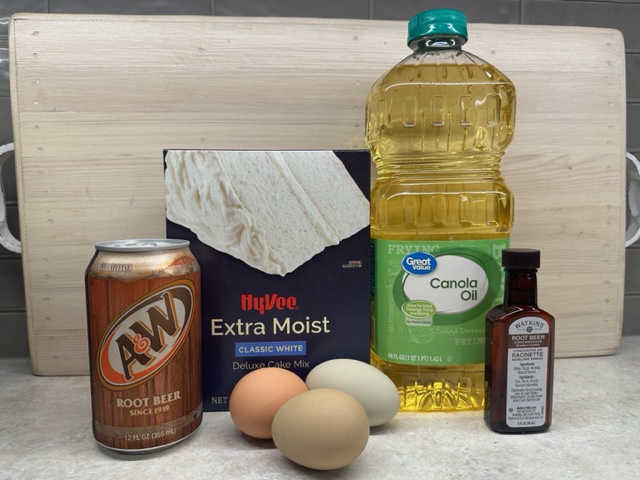 The ingredients are pretty simple. This 13 x 9 cake starts with a white cake mix. Eggs, oil, root beer, and Watkins root beer extract give the moist, delicious cake that unmistakable flavor we remember. You can buy Watkins products at Menards, Walmart, or online. McCormicks also makes a root beer extract. This ingredient is a must for full flavor!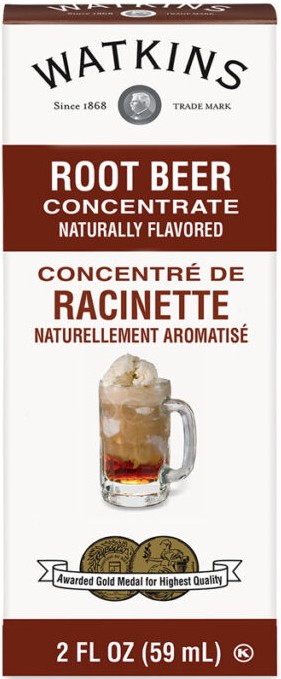 It's fun to watch how excited all the ingredients get when you pour the root beer into the bowl with the cake mix. The whole thing erupts with fizz, and the unmistakable aroma of root beer fills the air.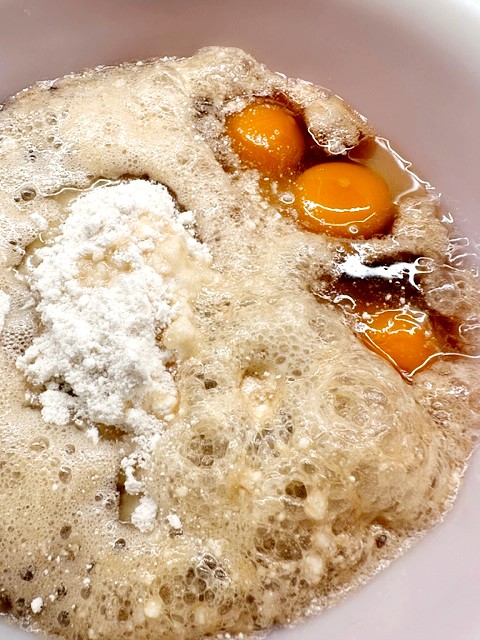 Mix up the batter and pour it into a 13″ by 9″ pan you have sprayed with non-stick spray, then bake it in a 350-degree oven for about thirty to thirty-five minutes, or until the edges pull away from the pan ever so slightly and a toothpick stuck in the center of the cake comes out clean.
Let the cake cool completely on a rack before loading it with the thick layer of root beer cream cheese frosting!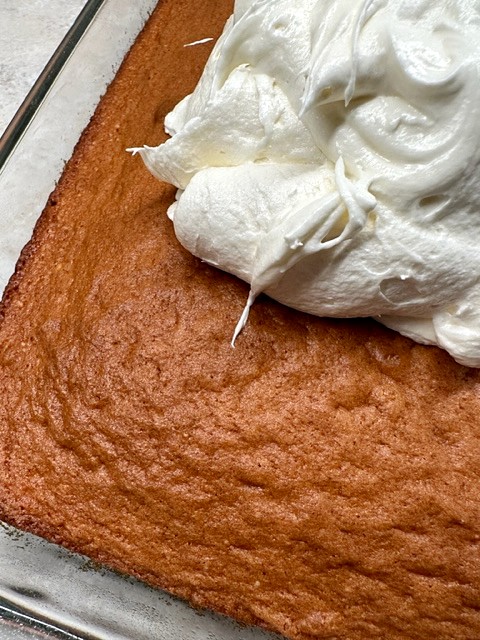 The recipe makes a lot of frosting; it goes on nice and thick, the way cream cheese frosting should! It reminds me of the foamy top of a root beer float, and the flavor does not disappoint!
The plain white frosting seemed to beg for just a little touch of fancy (you know me and garnishes!), so I added some brown chocolate sprinkles! This cake is fantastic, and it really tastes like a root beer float!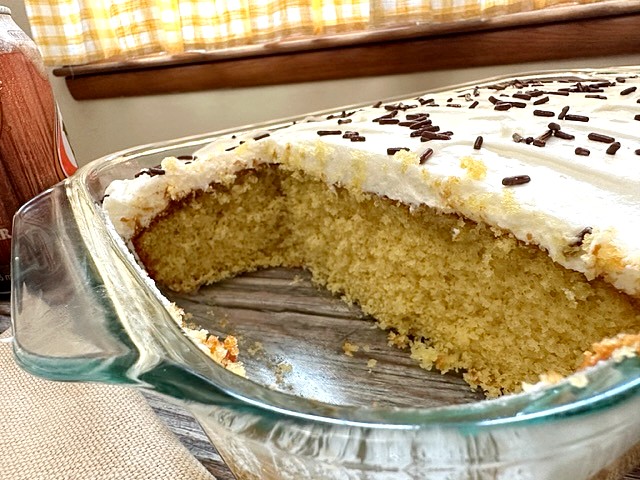 I got so swept away in nostalgia I had to play with this cake a little bit. My first summer job was a car hop at a rival drive-in back in the day called Dog & Suds! We didn't wear roller skates, but we sure had the change dispensers! 😉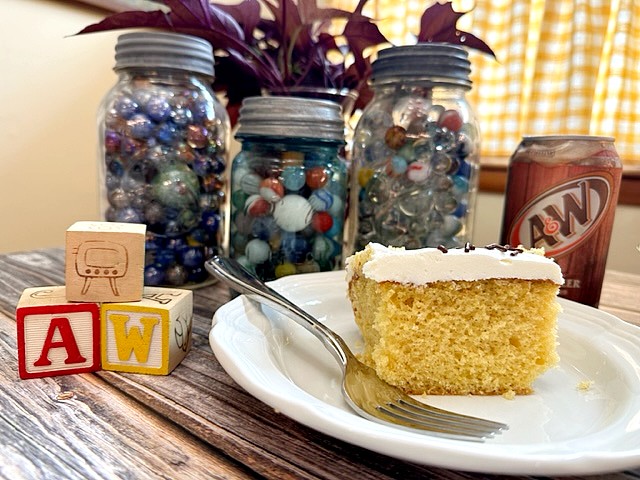 Thanks for joining me on a trip down memory lane to those treasured moments at the classic drive-in restaurants like A&W or Dog & Suds. The delightful root beer floats were iconic to the summers of my young self.
This cake belongs on the table at your next picnic, family reunion, weekend at the lake, or your Fourth of July celebration. I hope you let it become part of the nostalgic atmosphere that makes your summer evenings so special!
Yield: 15 servings
Root Beer Float Cake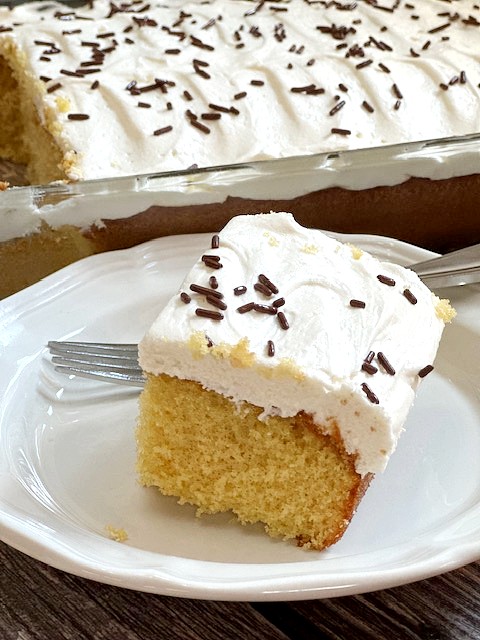 An easy, yummy root beer-flavored cake with thick root beer-flavored cream cheese frosting!
Ingredients
CAKE
One 15.25-ounce package white cake mix
1 cup root beer
¼ cup water
1/2 cup vegetable oil
3 eggs
1 tsp. root beer extract
FROSTING
4 cups powdered sugar
One  8-ounce  block of cream cheese, softened
½ cup butter, softened (one stick)
1 tsp. root beer extract
1 tsp. vanilla
Instructions
Preheat oven to 350 degrees.

Combine cake mix, root beer, water, oil, extract, and eggs in a large bowl. Beat on low speed for 2 minutes or stir by hand for 3 minutes.

Pour into a greased 13×9-inch baking pan. Bake at 350° for 30-35 minutes, or until a toothpick inserted comes out clean.

Cool completely on a wire rack, then frost. Keep any leftover cake in the refrigerator.
For the frosting:
Beat the cream cheese, butter, and extracts in a small bowl. Gradually fold in the powdered sugar.

Beat until soft peaks form. Frost the cooled cake. Store in the refrigerator before serving.
Nutrition Information:
Yield:
15
Serving Size:
1
Amount Per Serving:
Calories:

428
Total Fat:

24g
Saturated Fat:

9g
Trans Fat:

0g
Unsaturated Fat:

13g
Cholesterol:

69mg
Sodium:

219mg
Carbohydrates:

51g
Fiber:

0g
Sugar:

44g
Protein:

4g
Oh, how we do love our cake around here! Here are some of our favorite picnic-size cake recipes! Quick Candy Bar Poke Cake, Oreo Dirt Cake, Beautiful Rhubarb Poke Cake. What cake do you take to summer picnics or potlucks?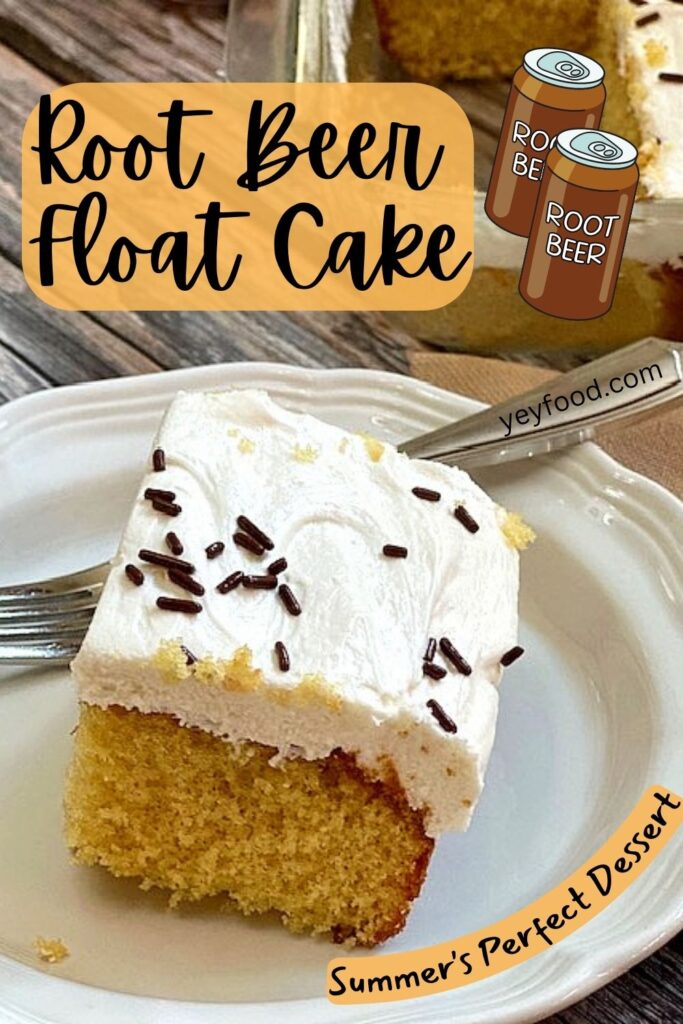 MORE OF OUR TASTY FAMILY-FRIENDLY RECIPES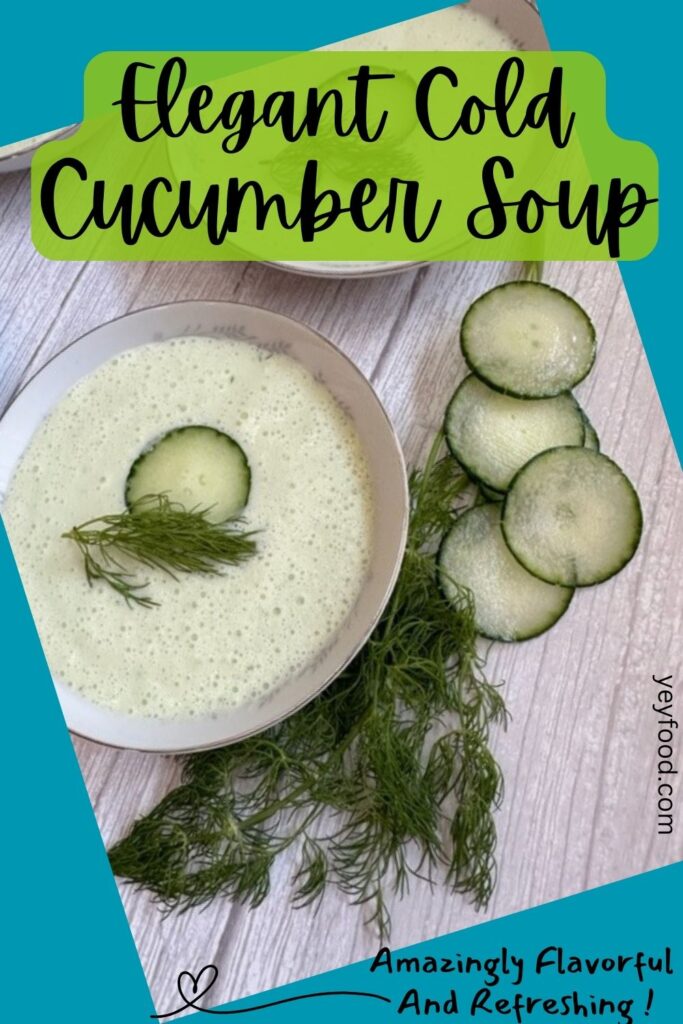 4 Reasons You Should Freeze Some Sweet Corn This Summer
How To Make The White BBQ Sauce That's Fascinated Us Since 1925
German Sauerkraut Casserole With Bacon And Brown Sugar
If you like these recipes, you are our people! You can check some related articles below or search via categories on the right. But be warned; you will be on here for hours. Enjoy!