This Old 4-Ingredient Recipe Is As Good As You Remember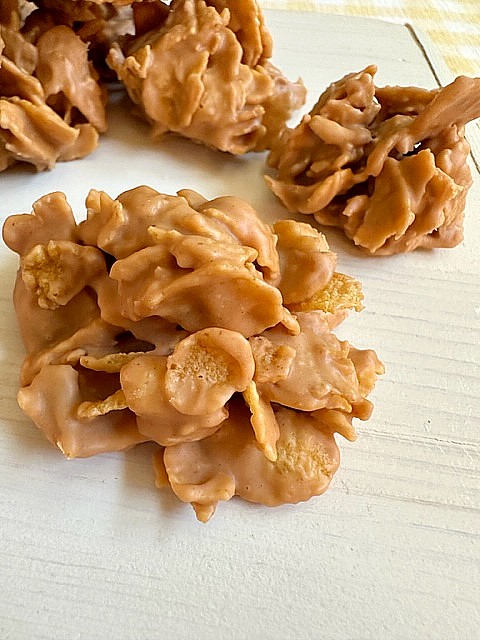 Hello, everyone! Happy summer! I want to remind you about the irresistible charm of no-bake cornflake cookies with peanut butter and butterscotch chips.
Do you remember these no-bake cornflake cookies? Our girls grew up on a farm and rode the school bus every day to a very small rural school where the school lunches were actually good! The lunchroom ladies knew all the kids and their families and worked hard to ensure there were always some special treats for everyone.
So many former students from that little school had fond memories of their cafeteria experience that one woman put together a cookbook with many of the original recipes, Recipes With Class. Like so many other small rural schools, the school is closed now, but the memories from the cafeteria are still alive!
The little school received many government commodities like cheese, rice, walnuts, dry eggs, pureed prunes, and peanut butter. The cooks got extremely creative in using these interesting ingredients.
This cornflake cookie recipe was a highlight for our oldest daughter and brought back happy memories when she saw it on page 19. The recipes in the cookbook are the full-scale original quantities created for a school full of kids, so I had to scale the recipe down from fifteen cups of cornflakes!
Let's Take A Cornflake Cookie Trip Down Memory Lane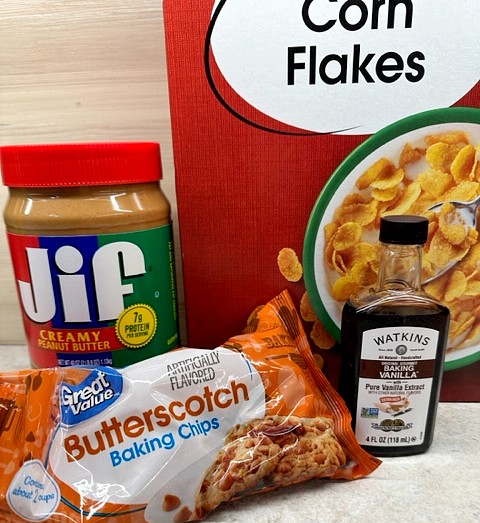 These crispy, delightful cornflake cookies only take four ingredients, and you don't have to turn on the oven or go near a stove! It's so easy to make them in the microwave!
Measure four cups of cornflakes into a bowl that gives you enough room to stir and set that aside for a few minutes!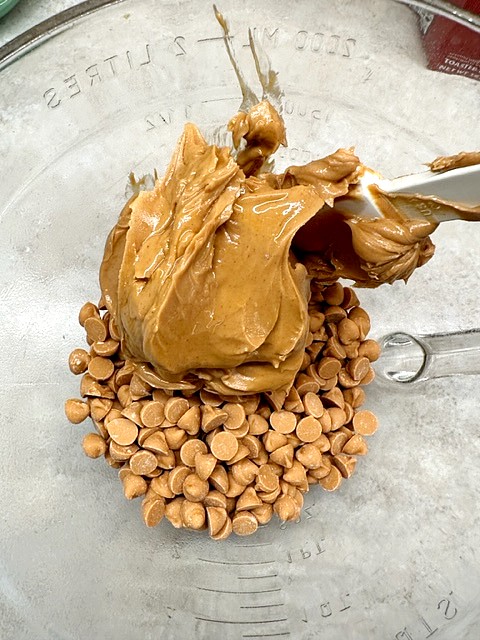 Combine one eleven-ounce package of butterscotch chips with one cup of creamy peanut butter in a microwave-safe bowl. I ALWAYS choose Jif! Melt them in thirty-second increments, stirring in between, and stop when the mixture is smoothly combined; stir in a teaspoon of vanilla.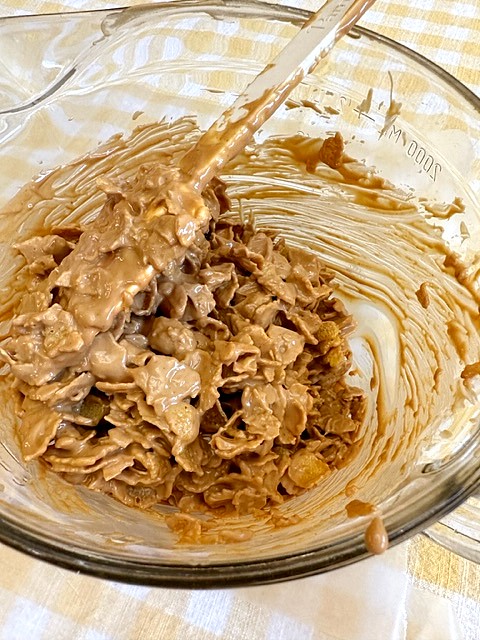 Pour the yummy warm mixture over the cornflakes and gently stir them together with a rubber spatula. I think the cookies are best when the cornflakes aren't all smashed.
Spread waxed paper or parchment paper on baking pans and plop the mixture on them using two tablespoons or a cookie scoop. I used two spoons (first, I sprayed them with non-stick spray,) one to scoop and one to push the cookies onto the paper.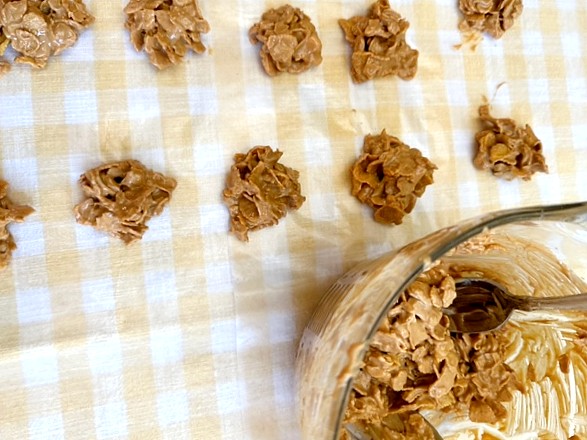 I spread waxed paper right on top of my tablecloth; THEN, once they were set, I moved them onto a baking sheet to chill. Don't be Betty. Oops, too many distractions!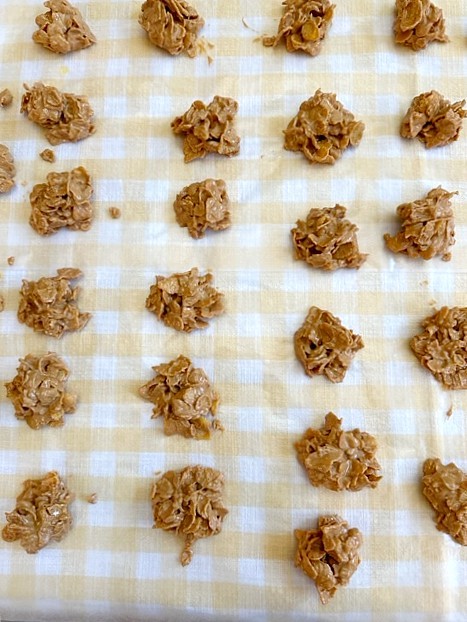 That's it, except for licking the bowl! This makes about 30 two-inch cookies. Keep them in a tightly covered container in the fridge or a cool place, or you'll be licking your fingers! 😉
Top 5 Reasons To Make These Awesome No-Bake Cornflake Cookies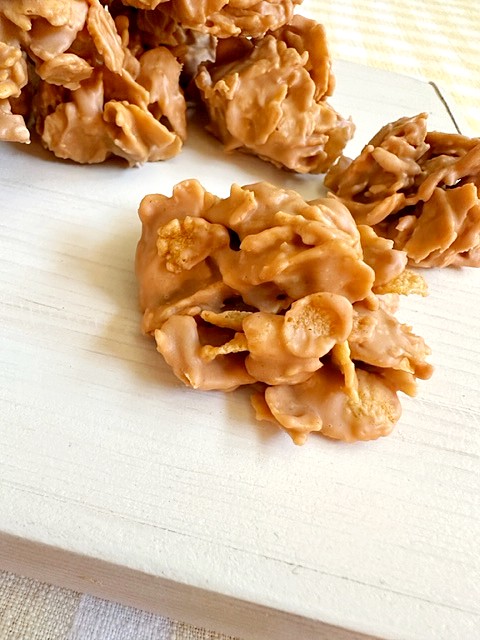 Pure Nostalgia: Remember those precious school lunch days? I hope they are good memories! These cookies will transport you right back to childhood laughter and carefree moments.
Effortless Goodness: Have the kids help! You don't need to go near the oven or the stove! They are so easy, and you get maximum deliciousness with minimal effort! Gotta love it! ❤
Gluten-Free Joy: Yay! These yummy treats are pure gluten-free indulgences!
Playful Crunch: Gotta love that creamy, crunchy, slightly salty, and sweet texture and taste!
Peanut Butter Perfection. Butterscotch Bliss. It just doesn't get much better than this!
Cornflake Cookies Your Way
You may want to stir some chopped salted peanuts into the mixture while it's warm, or how about some mini chocolate chips? Someone suggested a sprinkle of flaky salt on each cookie, and I, a sweet and salty lover, heartily embraced that suggestion!
You can use frosted flakes if you have a bigger sweet tooth or Special K if that's what's in the cupboard. Next time, I will try pressing the warm mixture into a greased pan and making cornflake cookie bars!
Yield: 30 cookies
No-Bake Cornflake Cookies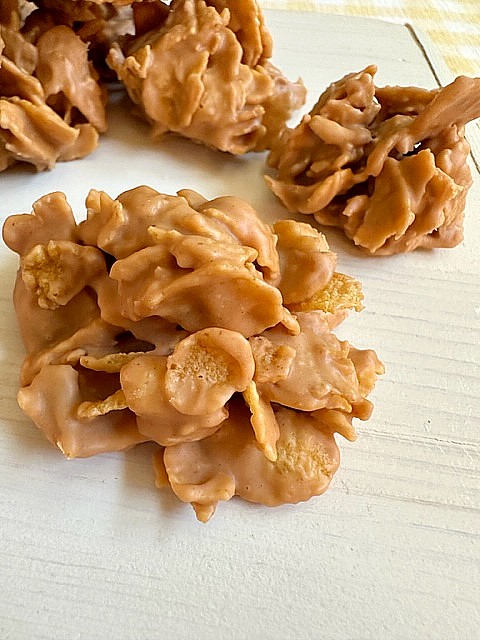 A nostalgic, easy, no-bake cornflake cookie with peanut butter and butterscotch chips. They are short on effort and long on yumminess.
Ingredients
One 11-ounce bag of butterscotch chips
One cup of creamy peanut butter
4 cups of cornflakes
1 tsp of vanilla
Instructions
Put the cornflakes in a bowl big enough to stir and set aside.
Melt chips and peanut butter in a microwave-safe bowl in 30-second intervals, stirring between bursts. Repeat just until it's all smooth and melty, then stir in a teaspoon of vanilla.
Pour the warm mixture over the cornflakes, and working gently, use a rubber spatula to coat the cornflakes evenly with the creamy mixture.
Drop by tablespoons onto waxed or parchment paper-lined baking sheets and cool.
Keep in a tightly covered container in the refrigerator or a cool place.
When summer rolls around, we're all about easy sweets that do not require us to turn on the oven and heat the kitchen! Here are some fun recipes for you to try: no-Bake 5 Ingredient Frito Bars, Luscious No-Bake Layered Lemon Dessert, and Festive Oreo Bark.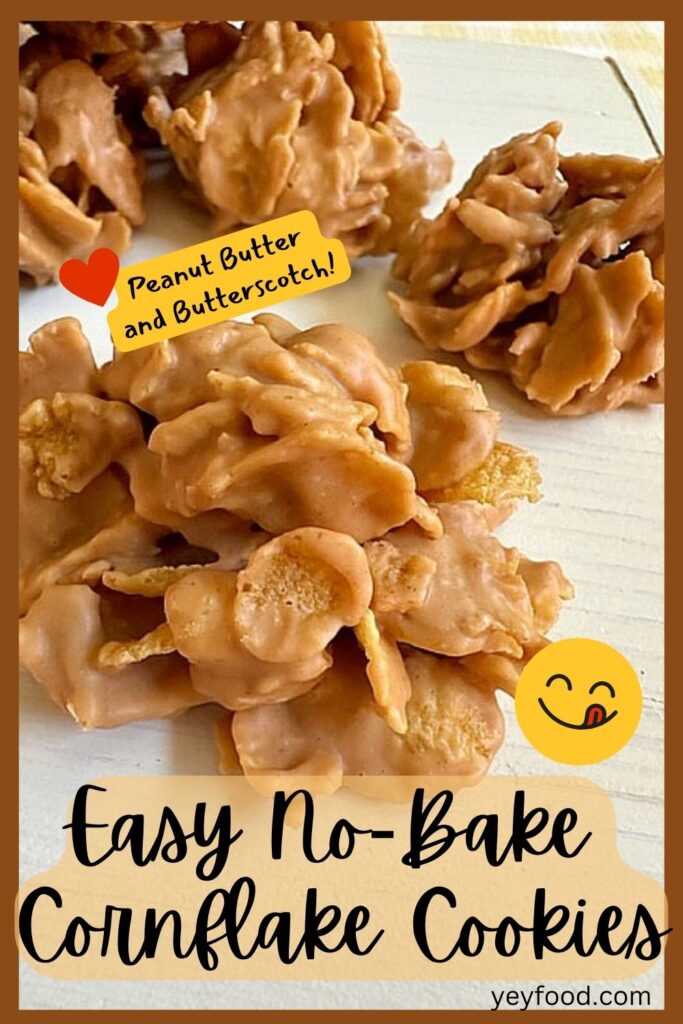 More recipes from us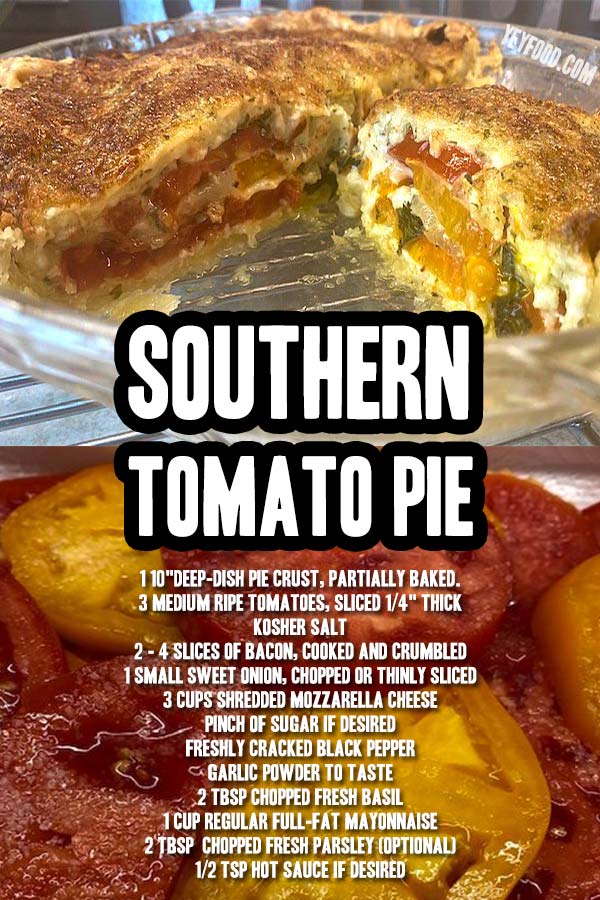 S'mores Bars How To Make Them Super Fast and Super Good
How To Make The White BBQ Sauce That's Fascinated Us Since 1925
German Sauerkraut Casserole With Bacon And Brown Sugar
If you like these recipes, you are our people! You can check some related articles below or search via categories on the right. But be warned; you will be on here for hours. Enjoy!