Quick And Delicious In A Ritz Cracker Crust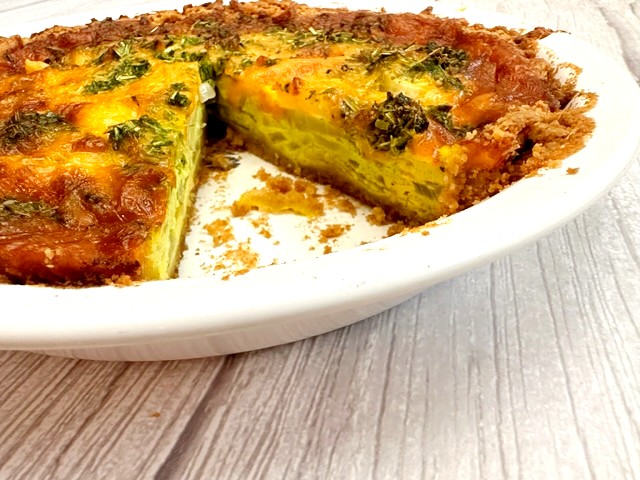 You will love how easy it is to make this cheese and onion pie. It's made in a simple Ritz cracker crumb crust. Get that? No pie crust to deal with, and you know how good Ritz crackers make everything taste! Right now is the perfect time to make one because Vidalia onions are in season! Yay!
You can make this yummy onion pie with any sweet onions. Still, since we're in the middle of the very limited Vidalia onion season, they make the BEST onion pie because they are so naturally sweet. That sweetness of the onions in the creamy custard filling loaded with cheese baked into that slightly salty Ritz cracker crust is simply amazing!! Wow!
This savory dish is fancy and special enough to call it quiche instead of pie! Serve it at a ladies' luncheon, a baby shower, or a bridal brunch. But, it's simple and humble enough to take to the harvest field or eat on the deck after a ball game. It's incredibly versatile, tasty hot or at room temperature, and reheats well in the microwave.
Three Things Make Vidalias Perfect For This Onion Pie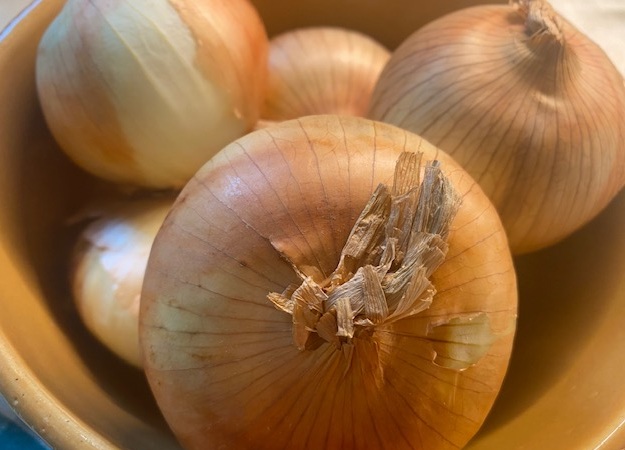 Vidalia onions have a short season; they're only available for a few months each year. Please make the most of them! If you're curious to know more, read all about Vidalia onions here.
Vidalia Onions can only be grown in a specific twenty-county area in Georgia, where the soil, with its low sulfur content, is ideal for growing the flattish, extra-sweet onions with far less acidity than typical sweet yellow onions. No other onion from any different locale can bear the name Vidalia. "Vidalia onion" is a name protected by law since 1986.
Vidalia onions are only available from April to August every year, and no onion shipped before the official pack date can be labeled "Vidalia."
Vidalia onions are so sweet, have such distinctive flavor, and have such low acidity; they are ideal for eating raw on sandwiches, salads, salad dressing, or pickled in a vinaigrette.
Let's Make A Cheese And Onion Pie
Make the crust first. If you have one, it's really easy to do in a food processor. Crush the Ritz crackers, flour, and salt until the crackers are all ground into crumbs, then add the melted butter and process until all the butter is absorbed evenly into the crumbs.
Dump the crumbs into a nine-inch pie plate and press the crumbs into place, bringing the sides up to the rim of the pan. Bake it for 6-8 minutes at 400 degrees.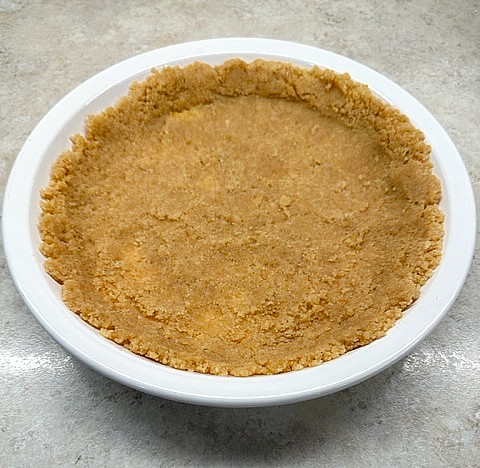 Peel and slice the onion very thin and put them into the pie crust, separating the onion into rings as you go.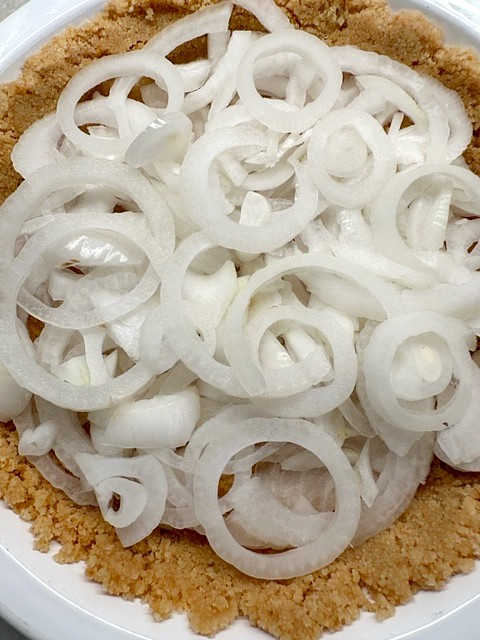 Spread the shredded cheese evenly on top of the onions. I had sharp yellow cheddar cheese on hand, so I used it. I always recommend grating cheese from a block because the bagged kind of shredded cheese has a coating that keeps the shreds from sticking to each other and doesn't melt as nicely.
Now mix the custard mixture of eggs, cream, snipped chives, and salt and pepper. I did this right in the food processor without washing it out after doing the crumbs!
Next time I make this 🙂, I will try sharp white cheddar cheese. It might make a prettier pie. I would also stir my chives into the custard mixture after it's blended to keep the bits of chive whole. It will taste the same but look better.
Carefully pour the custard over the cheese and onions and gently shake the pie plate to settle everything. Now bake it for about 45 minutes or until the custard is done in the middle. You can test this by sticking a thin-bladed knife in the center of the filling. It should come out clean.
If the top of the pie starts getting dark, put some foil on top. Next time, I will do that a little sooner!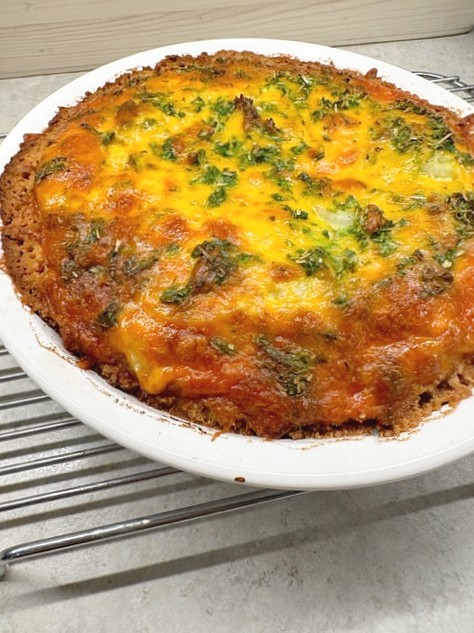 Let the onion pie cool a little before eating it so it cuts into pieces that sit nicely on the plate. Serve it with fruit, a tossed salad, or some beautiful fresh asparagus. Cover and refrigerate any leftovers.
Yield: 8 servings
Cheese And Onion Pie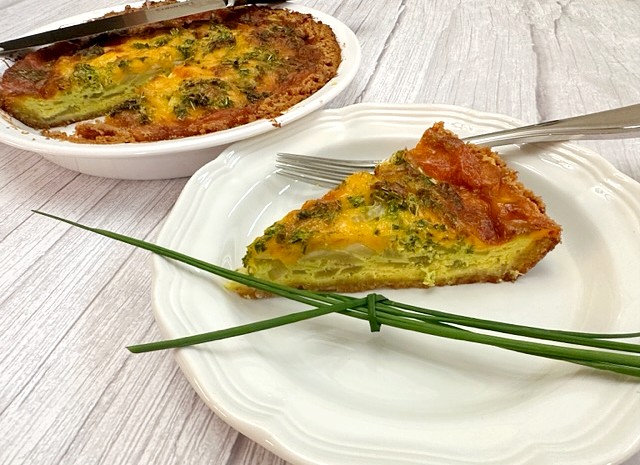 A savory onion and cheese main dish pie in a Ritz cracker crust.
Ingredients
CRUST
One sleeve of Ritz crackers, about 35 crackers
1/2 cup flour
6 Tbsp butter, melted
1/2 tsp salt
FILLING
1 Vidalia onion, peeled and sliced very thin
3 large eggs
1/2 cup light cream
1/2 cup snipped chives
1/4 tsp salt
1/2 tsp fresh cracked black pepper
6 ounces sharp cheddar cheese, shredded (about 1 1/2 cups)
Instructions
Preheat the oven to 400 degrees.
Crush the crackers with the flour and salt in a food processor, ensuring there are no big chunks of cracker; all the crumbs should be fine.
Add the melted butter and pulse until all the butter is absorbed into all the crumbs.
Pat the crumbs into your 9" pie plate. Bake for 8 minutes.
Whisk the eggs, cream, salt, and pepper, then stir in the snipped chives.
Separate the onions into rings and arrange them in an even layer in the crust.
Then spread the shredded cheese evenly over the onions.
Pour the custard mixture over the onions and shake the pie plate to make sure the custard mixture is evenly settled in the cheese and onions.
Bake for about 45 minutes or until the custard is set in the center. You can check if the custard is done by poking a thin-bladed knife into the center of the filling. It should come out clean. You may need to loosely cover the pie with some foil near the end of the baking time if your crust is getting too brown.
Let the pie cool a bit before slicing so each piece sits nicely on the plate. It's good warm or at room temperature. Cover and refrigerate the leftovers. Reheat in a microwave oven.
We are really into onions. Especially Vidalia onions! Here are some fun recipes using those sweet yummy Vidalia onions! Quick Pickled Vidalia Onions, Easy Beer-Battered Crispy Onion Rings, Vidalia Onion Potato Salad With Ranch. Have you ever eaten Vidalia onions?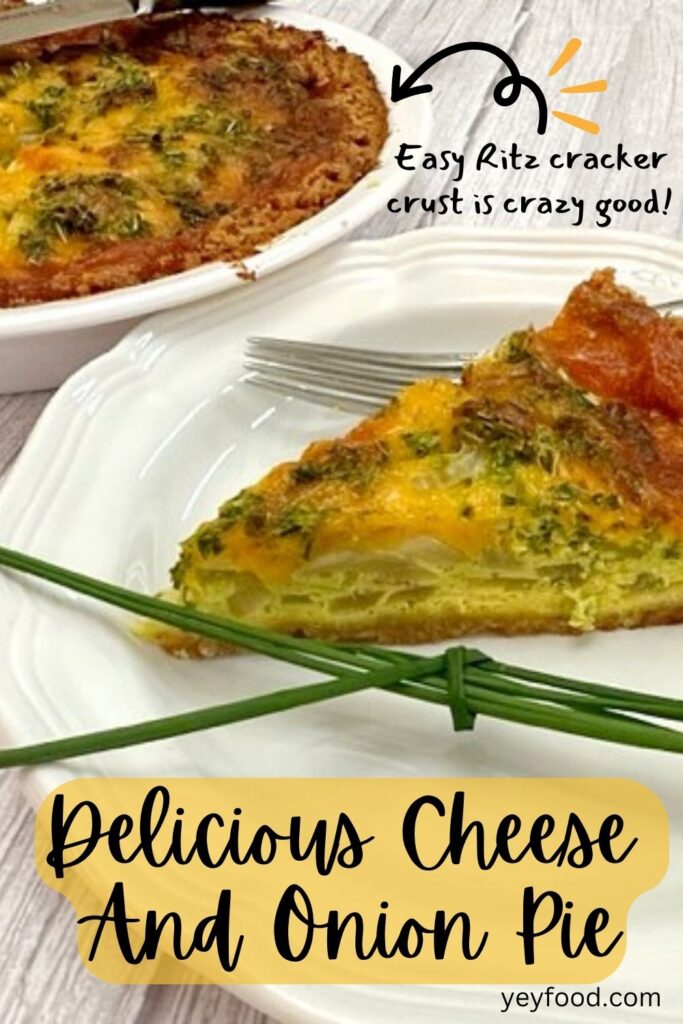 MORE OF OUR QUICK AND EASY FAMILY-STYLE RECIPES: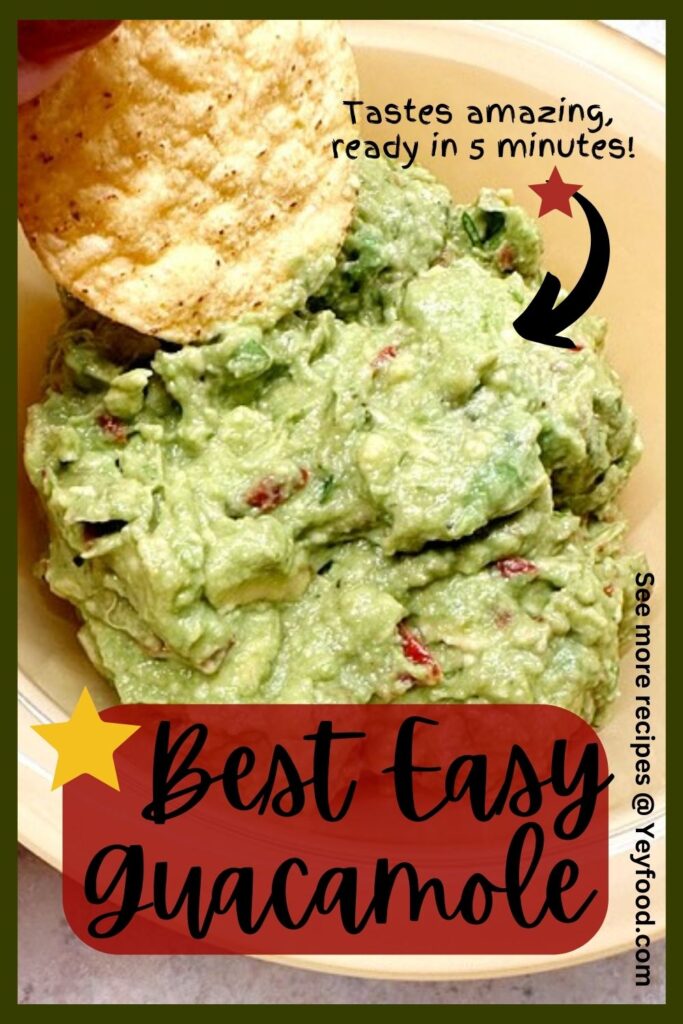 The Ultimate Bread and Butter Pickle Recipe
The Number 1 Practically Perfect Poppy Seed Bread
One Perfectly Amazing Butterscotch Cake
If you like these recipes, you are our people! You can check some related articles below or search via categories on the right. But be warned; you will be on here for hours. Enjoy!