The Tastiest Guacamole To Ever Grace a Tortilla Chip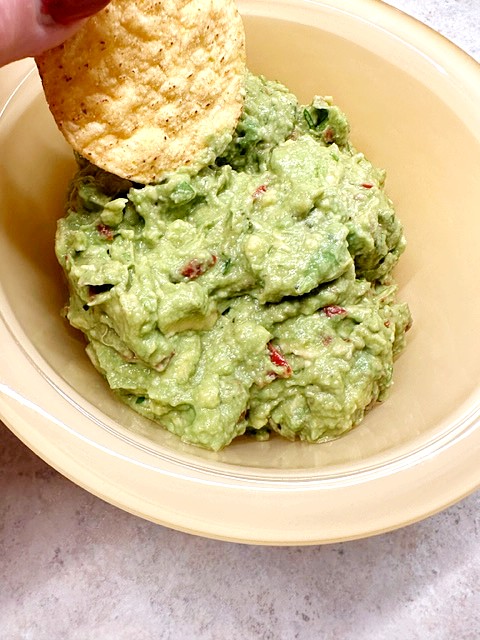 It's not often you find avocados on sale, so when I did, I thought, "Holy Guacamole, this will be perfect to take to the lake this weekend!"
What was even more amazing, these avocados, while small, were at the perfect stage for mashing! I was excited to carry home my bargain, a mesh bag full of perfectly guac-worthy avocados, ready to go.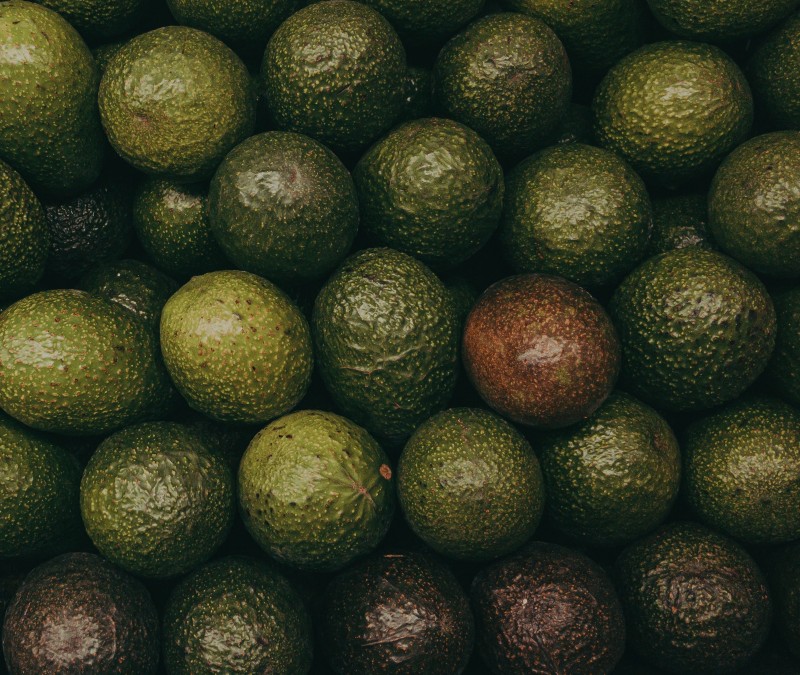 When you learn more about avocado farming, it's easy to understand why they are a little spendy, especially where we are, far from where they grow the best. Most of the avocados sold in the US come from Mexico.
An avocado tree finally reaches fruit-bearing maturity between five and thirteen years of age. That's amazing! And it takes nine months for an avocado to grow from the blossom to ripe fruit! That's how long it takes for an entire human baby to develop!
Avocados are not easy to grow; they are a bit fussy. They grow best at temperatures between 70 and 100 degrees Fahrenheit. You will also need massive amounts of water and fertilizer to grow avocados successfully. For example, It takes about a million gallons of water to produce 100,000 pounds of avocados on an acre of land.
The Easy Way To Undress A Ripe Avocado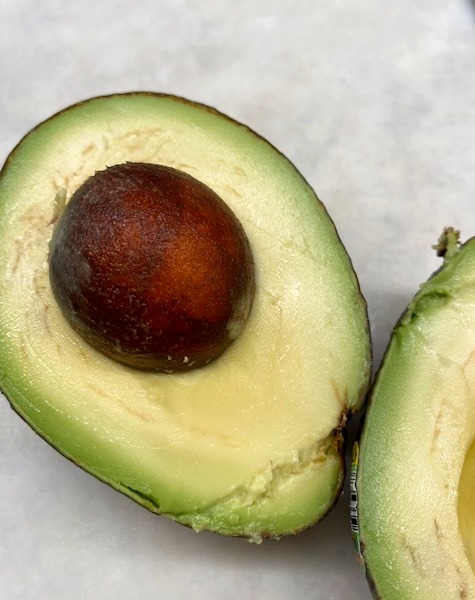 Cut the avocado in half around the length of the fruit and twist, leaving the whole pit on one side of the fruit.
Use the knife tip to stab the pit and remove it. Then, grab a spoon to scoop the flesh out of the skin into a bowl. Mash the avocado but don't mash out all the lumps; leave it chunky.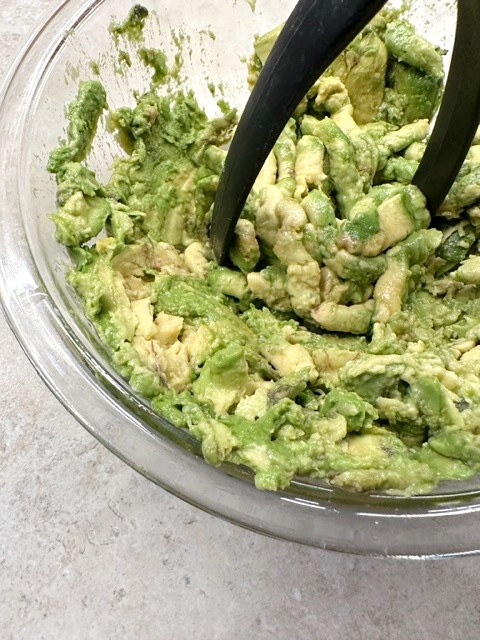 Avocados brown easily when the flesh is exposed to oxygen, so stir in the lime juice immediately to retard browning.
I found a recipe that uses garlic powder and onion powder, which sure saves some chopping. Once you have the avocado mashed in a bowl, you are just a few ingredients and a few minutes away from dipping a tortilla chip in the bowl of delightful holy guacamole!
Yield: 12 servings
Holy Guacamole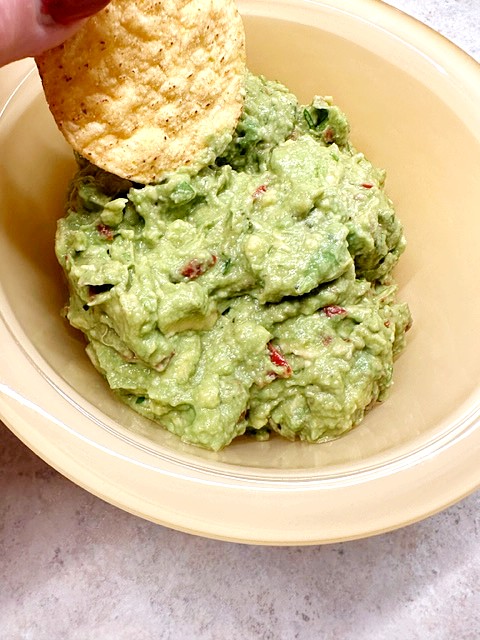 This is a very simple and basic recipe that makes a great bowl of guacamole. It's easy to do, and it is ready in about five minutes.
Ingredients
3 average ripe avocados
2 Tbsp lime juice
1/2 tsp dried cumin
1/2 tsp garlic powder
1/2 tsp onion powder
1 1/2 tsp kosher salt
1/2 tsp black pepper
2 tbsp chopped fresh cilantro or to taste
2 small roma tomatoes, seeded and chopped fine
Instructions
Scoop the flesh out of the avocados into a bowl and mash slightly.
Stir in the lime juice, cumin, salt, pepper, onion powder, and garlic powder.
Fold in the diced tomatoes and chopped cilantro.
Press plastic film directly on the guacamole and extend it up the sides of the bowl tightly to keep out as much air as possible to reduce browning.
Let the ingredients get to know each other by chilling for 30 minutes (or devour immediately if you want!)
Serve with tortilla chips.
Notes
Feel free to add jalapenos, cheese, crisp crumbled bacon, chopped onion, or salsa to make this guacamole your own. Great as a side to any Mexican dish.
You Can Jazz Up This Recipe Any Way You Like
The basic recipe would work just great, but I had some goodies tucked away I wanted to add to this holy guacamole because a day at the lake with the family was the perfect opportunity.
I had dried some cherry tomatoes last fall and packed them in olive oil. I had some left in the jar, so I added them to the guacamole instead of the fresh tomatoes.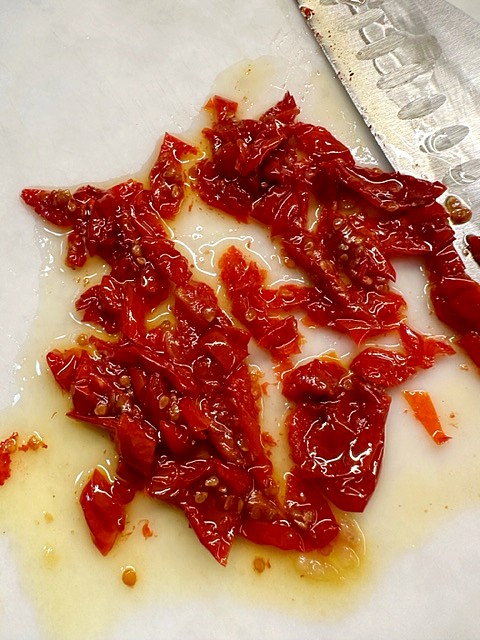 Instead of the garlic powder, I used the oven-roasted garlic I had tucked away for this project. It tasted wonderful and was a great chance to use it creatively!
Guacamole Add-Ins If You Want To Get Creative
Here are some more add-ins to customize your guac.
Chopped onions, red, sweet, yellow, or white
Diced jalapeno, chipotles, or any other hot or sweet peppers
Salsa
Chili powder, paprika, or Mexican oregano
Cotija cheese
Finely chopped vegetables for crunch
Crisp crumbled bacon
Liquid smoke
What Are Some Things I Can Do With Guacamole
Oh my goodness, there is no limit to your fun with a bowl of guacamole! Here are just a few suggestions.
Add a generous scoop of guacamole to your tacos or burritos for a creamy and tasty accent. Guac pairs well with grilled meats, beans, salsa, and sour cream.
Use it as a spread for sandwiches and wraps instead of mayonnaise!
Thin guacamole with lime juice and olive oil to create a tasty dressing for salads.
Guacamole Stuffed Chicken: Make a pocket in chicken breasts and stuff them with guacamole before baking or grilling. The guacamole keeps the chicken moist and adds a burst of flavor.
Top toasted baguette slices with guacamole and garnish with chopped tomatoes, cilantro, or crumbled feta cheese. It's a delightful variation of a traditional tomato bruschetta.
Guacamole is best served fresh; now you have creative ways to use any leftovers. When you refrigerate guacamole, press plastic film directly on the surface and bring the film up the sides of the bowl to keep out as much air as possible. This will help retard browning.
Oh my, how we love to eat at Yeyfood, and my family is noteworthy in our appetite for fun food. We even have a name for it, "snackage." Feel free to borrow the term; it comes in handy when you are hungry for something but don't know what.
Here are some of our favorite "snackage" recipes. Cowboy Caviar, Best Pizza Rolls, and Sheet Pan Nachos. What is your favorite thing to eat when a snack attack hits?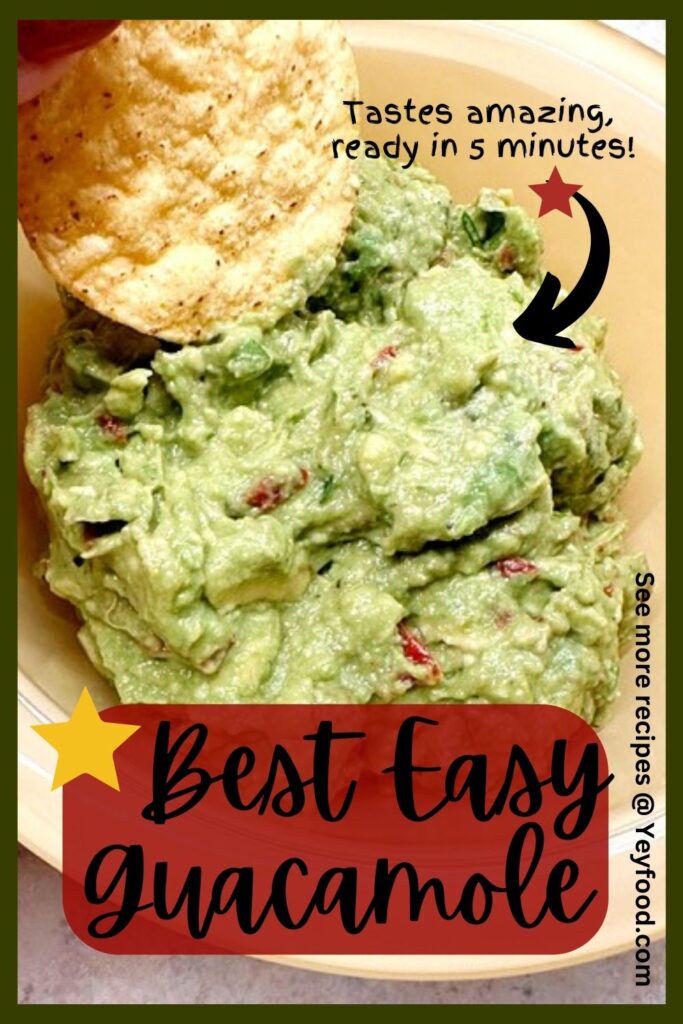 MORE OF OUR TASTY FAMILY-FRIENDLY RECIPES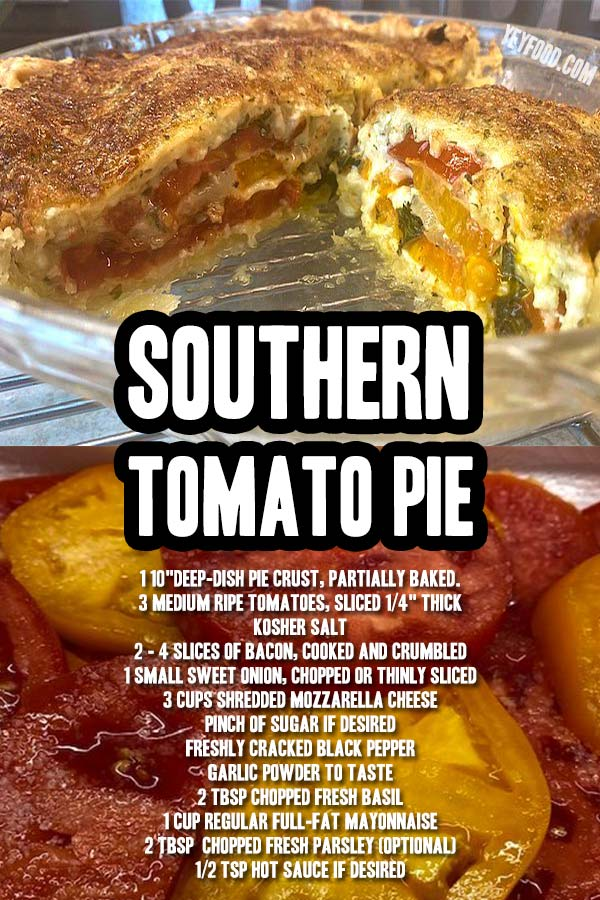 4 Reasons You Should Freeze Some Sweet Corn This Summer
How To Make The White BBQ Sauce That's Fascinated Us Since 1925
German Sauerkraut Casserole With Bacon And Brown Sugar
If you like these recipes, you are our people! You can check some related articles below or search via categories on the right. But be warned; you will be on here for hours. Enjoy!