Red White And Blue Sugar Cookie Bars Melt In Your Mouth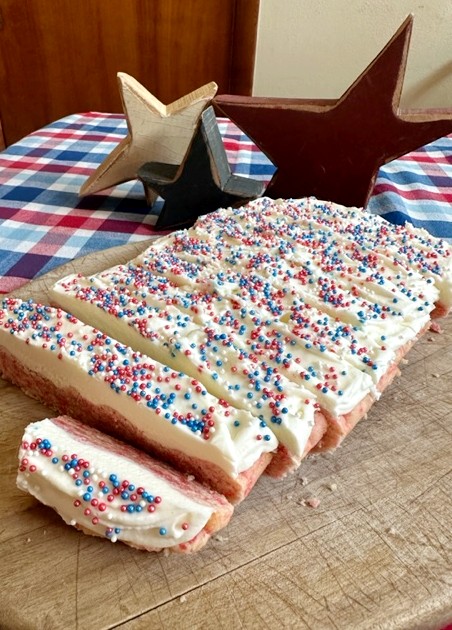 These patriotic cookie bars look festive and taste amazing! They are thick, buttery, soft sugar cookies with the most amazing buttercream frosting.
They melt in your mouth when you bite into them! We celebrate patriotic holidays all summer long, and these yummy patriotic cookie bars are perfect with a cold glass of lemonade!
We love the wee bit of crunch the red, white, and blue sprinkles add when you eat them, and they have such a happy look on a plate! I had a hard time staying away from them and tried to limit myself to one or two a day, so I was glad to have help from my grandkids so they wouldn't stick around to tempt me!
The terrific thing about these sugar cookie bars is you can change them for any holiday by changing the sprinkles or tinting the buttercream! How fun for Christmas, Valentine's Day, or Easter! This truly is a treat for all occasions!
I think they'd be beautiful for fall, too! There are so many fun sprinkles out there for every season! You could even tint the icing in a fall shade! The bars stayed nice and fresh in a tightly covered container for almost a week!
Patriotic Cookie Bars Are A Snap To Make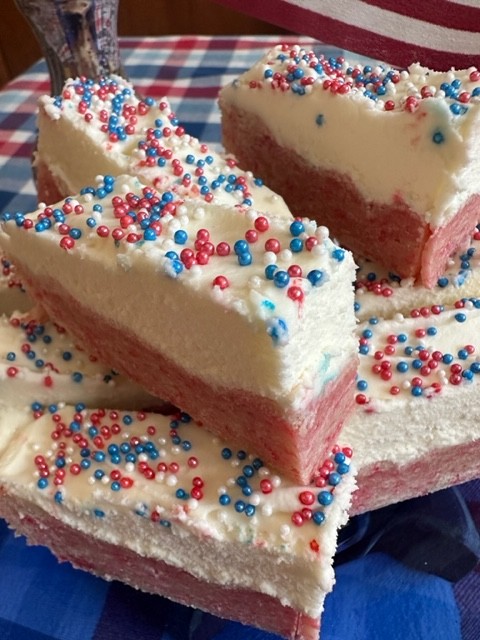 Preheat your oven to 350 degrees and line a square baking pan with parchment paper. You can use a 9″ by 9″ pan or even an eight-inch square pan. I used a favorite glass pan that's 7″ by 11." (I'm such a rebel!) I use it a lot for small-batch bar cookie recipes.
Cream together a stick of butter and a cup of sugar until it's fluffy, then beat in an egg and a teaspoon of vanilla. A touch of salt is always a good thing in a sweet cookie, so use salted butter or add a teaspoon of salt if you're using unsalted butter.
This dough is thick, so I found my trusty Danish whisk the perfect tool! Stir in the flour and baking powder until no flour is showing. Finally, stir in the sprinkles before pressing the dough into the pan.
I made these tasty bars for St. Patrick's Day, too, and here's what the dough looked like with green sprinkles!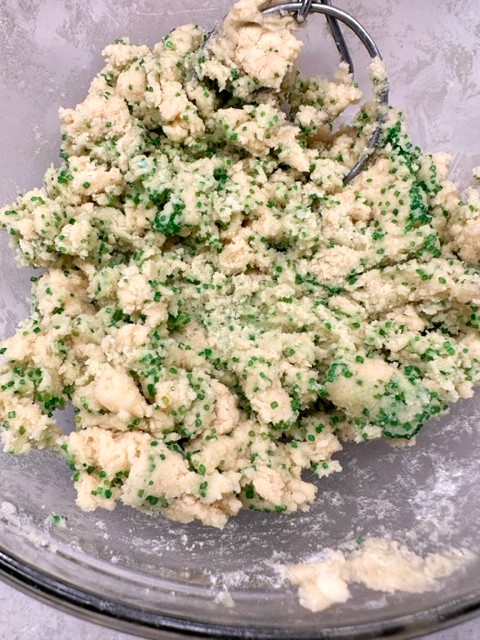 Pat the dough into place using your hands or the back of a spoon to get it as evenly distributed and level as you can. Now bake for about twenty minutes or until the top is a light golden brown. Let the patriotic cookie bars cool in the pan until you lift the cookie in one piece.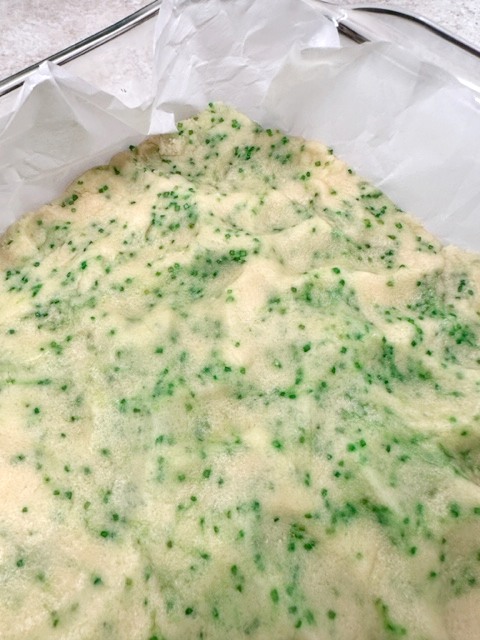 Lift the patriotic cookie bar from the pan onto the rack and let it cool completely before you frost it. While it's cooling, mix all the frosting ingredients until fluffy, spread on the cooled cookie bar, and add sprinkles as desired.
Cut the bar into one-inch wide strips, then cut the bars into three-inch long pieces. This is a sweet, rich cookie, so smaller pieces are ideal.
I used coarse red sugar sprinkles for the dough in these patriotic cookie bars and tri-color sprinkles for the garnish. You could also tint the buttercream icing with food coloring to make any shade you want!
When Easter rolls around, you can make the same sugar cookie bars and add pastel buttercream and springy sprinkles. These bars are a wonderful treat any time! Look how fun!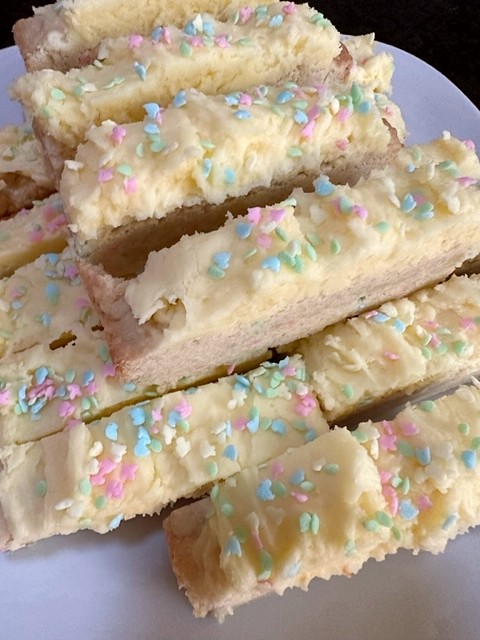 These delicious patriotic cookie bars are irresistible! They have a buttery vanilla flavor, and the texture is similar to shortbread. Of course, buttercream frosting adds a delightful flavor to anything you bake!
Yield: 24 bars
Sugar Cookie Bars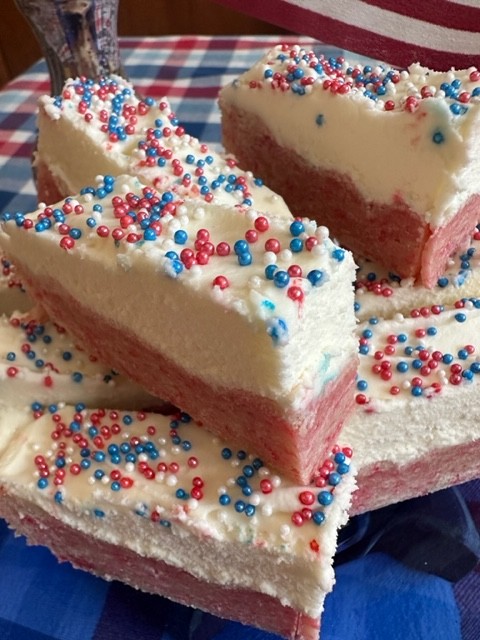 Delicious sugar cookie bars are thick, chewy, and topped with amazing buttercream frosting.
Ingredients
Sugar Cookie Bars
One stick of softened butter
1 cup white sugar
One large egg
1 tsp vanilla
2 cups all-purpose flour
1 tsp baking powder
3 Tbsp seasonal sprinkles
Buttercream Frosting
One stick of softened butter (if you use unsalted butter, add 1 tsp of salt)
3 Tbsp cream cheese, softened
2 cups powdered sugar
2 Tbsp milk
Sprinkles for garnish
Instructions
Preheat the oven to 350 degrees.
Line a 9" square baking pan with parchment paper or wax paper.
Beat the butter and sugar until the mixture is fluffy, then beat in the egg and vanilla.
Stir in the flour and baking powder. The dough will be quite thick. I found my Danish whisk was a great tool to use.
Finally, gently fold in the sprinkles and press the dough evenly into the pan.
Bake for about 20 minutes or until light golden brown.
Cool and lift the bar out of the pan before frosting.
Mix all the frosting ingredients until fluffy, spread on the cooled cookie bar, and add sprinkles as desired.
Cut the bars into one-inch wide strips, then divide the bars into thirds so you end up with a cookie bar about one inch by three inches long. This is a sweet, rich cookie, so smaller pieces are ideal.
Notes
You can use a nine-by-nine or an eight-by-eight square pan. If you use the smaller pan, the cookies will be thicker and may take a few more minutes to bake.
Vary the sprinkles by the season, and you'll always have a fun cookie bar for any occasion!
Oh boy, we do have a sweet tooth and love our cookies and bars here at Yeyfood. Here are some of our most popular cookie recipes! Five-Ingredient Frito Bars With Peanut Butter, Fast And Easy S'mores Bars, and Busy Bar Lemon Bars.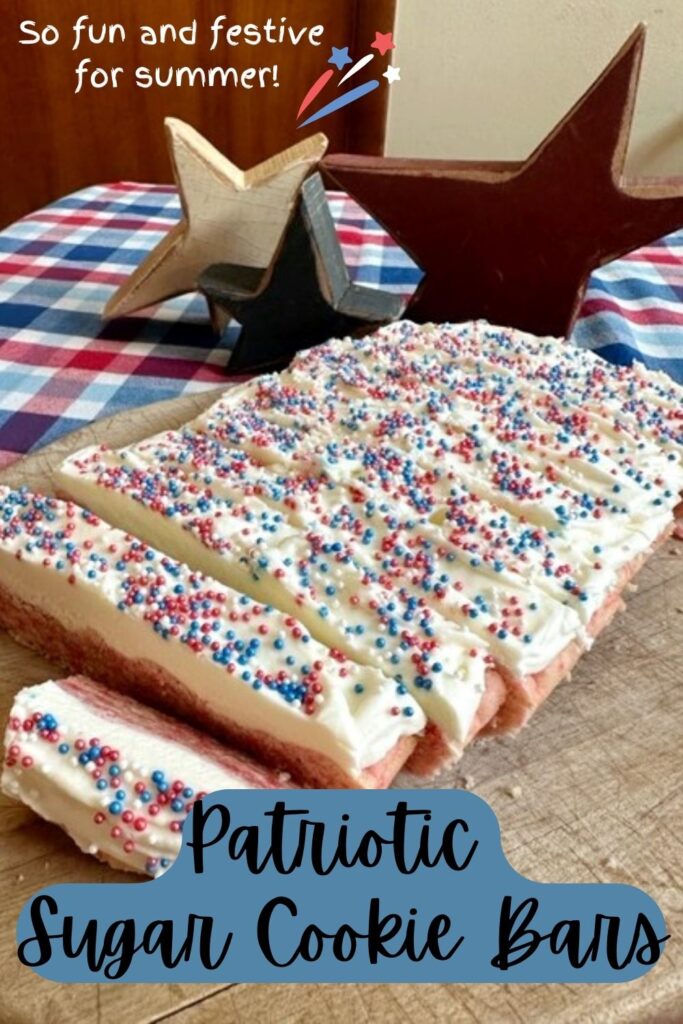 MORE OF OUR QUICK AND EASY FAMILY-STYLE RECIPES: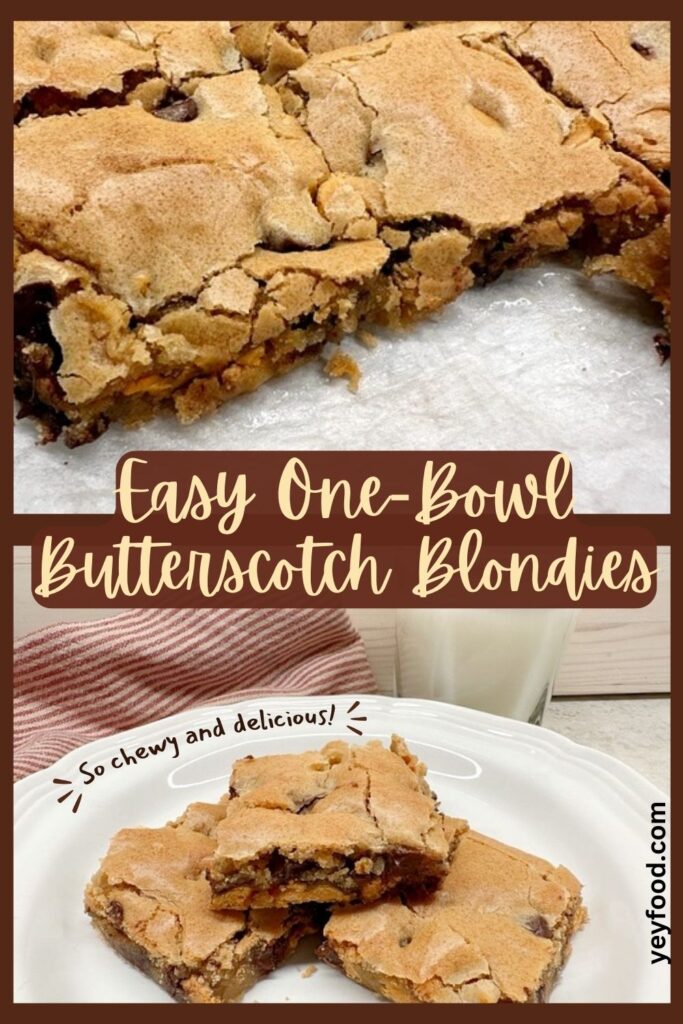 The Ultimate Bread and Butter Pickle Recipe
The Number 1 Practically Perfect Poppy Seed Bread
One Perfectly Amazing Butterscotch Cake
If you like these recipes, you are our people! You can check some related articles below or search via categories on the right. But be warned; you will be on here for hours. Enjoy!